* Sarah Snyder is a model and Instagram sensation.
* She gained fame for her relationship with Jaden Smith, the son of Will Smith.
* She has been in acting and modelling projects with Calvin Klein, Vogue Japan, MiuMiu, Hugo Boss and more.
* She was arrested in 2015 for stealing a Hermès Birkin bag, however all charges were later dismissed.
* Her current net worth is estimated to be around $400,000.
 
Sarah Snyder is a popular model and an Instagram sensation, who became even more popular for her love affair with Jaden Smith, the son of the Hollywood legend, Will Smith. Let's find out more about her current relationship status, net worth, parents, etc.
Early life and family
Sarah Irene Snyder was born on 30 July 1995, in New York City USA, under the sign of Leo and holding American nationality. Nothing at all is known about her parents or any siblings; she's never posted a single photo of parents nor any details about their age or occupation, keeping her and their private life low-key. It is known though that Sarah spent her childhood and youth in New York City, but later moved to California to pursue her modelling and acting career.
Educational background
Sarah matriculated from her local high school in New York in 2013. By this time, she had already appeared in four movies and decided to continue working and earning money, skipping higher education paths, diving straight into the world of modelling.
Career
Acting career
When Sarah was only 13 years old, she got her first role in the horror movie entitled "Skeleton Key 2" (2008). Written and directed by John Johnson, it was the sequel of his movie "Skeleton Key" (don't confuse with Iain Softley's eponymous movie with Kate Hudson) telling another story of a company of friends who get into trouble and are chased by zombies, vampires and the Devil himself.
Sarah's role was tiny, but her appearance got her the chance to win the main role of the girl named Dotty in another horror movie, "Scarlet Rain" (2010). In 2012 Sarah appeared in the drama "Greencastle", in which she played Holly, then in 2013 the in the part of Donna in the horror movie "Dead Woman's Hollow". That movie was her last work as an actress for the moment, though she is signed for the main role in such future projects as "Night of the Living Dead: Genesis" and "Ghoul Society", although  the precise release dates are still not known, so there is no indication of when one can see Sarah on the silver screen again.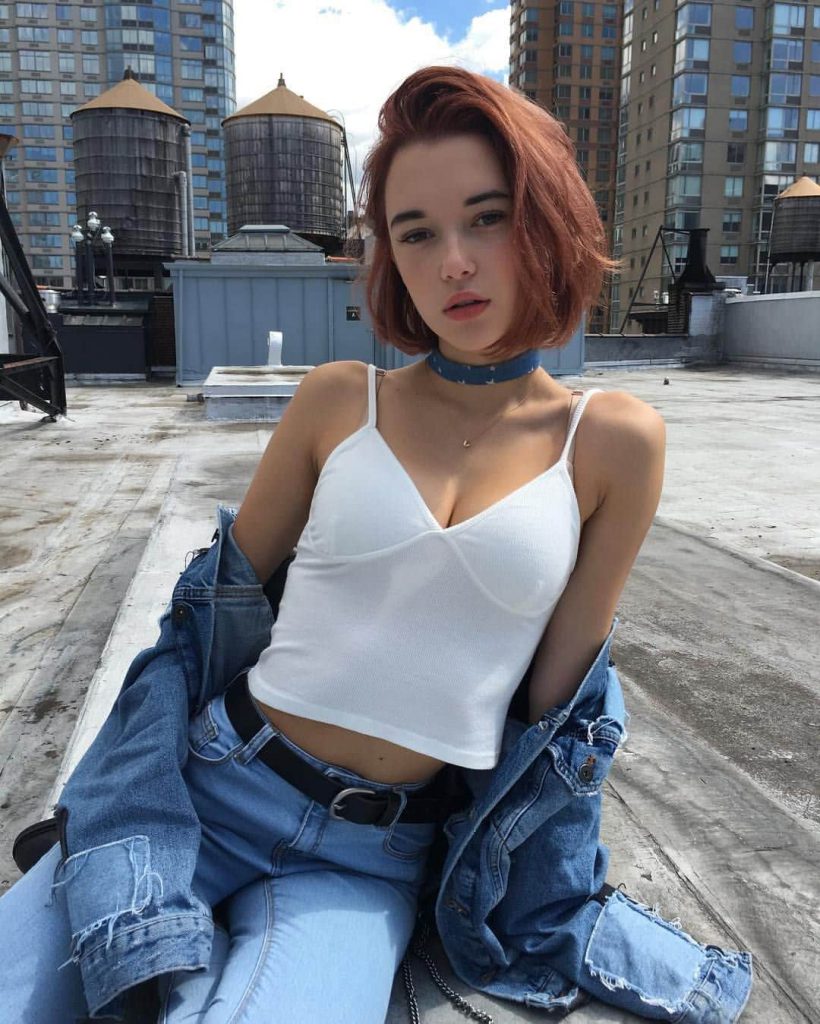 Modelling career
Done with acting for the time being, Sarah switched to another field of her dreams, modelling. In 2014 she participated in the project called "Urban Abstract Photography", which was a real breakthrough for Sarah as she was noticed by many model agencies and brands, who wanted to work with her. Sarah was offered work with Calvin Klein, "Forever 21", "UNIQLO" and many other brands. In December 2017 she also worked for "Vogue Japan", and appeared on the cover of the "Vogue Japan February 2018" magazine. "Hugo Boss" in Germany asked Sarah to become the face of the luxury fashion house, and she also participated on the catwalk show for "MiuMiu", sharing in one of her Instagram posts that she would be forever grateful for this opportunity, and thanked Katie Eleanor Grand for making it happen. She also has other commercial contracts with such brands as "Juicy Couture", "Iceberg" and "W Korea".
Personal life, ex-boyfriend Jaden Smith
Sarah became even more popular during her two-year affair with Will Smith's son, Jaden. Sarah met Jaden in 2015 – they instantly felt a mutual interest and started dating. They didn't try to hide their relationship, and appeared together at many events and shows, holding hands, hugging and kissing. Thus they were caught by paparazzi at the New York Fashion Week 2015, at the premiere of the "Pitch Perfect 2" movie in April 2015 and at the premiere of the "Suicide Squad" movie in August 2016, along with Jaden's father, the actor Will Smith, who played one of the main roles in the movie. At the beginning of 2017 some rumors appeared about Sarah's cheating on Jaden, as she was caught with Gunner Stahl, a photographer.
Some of their photos were posted on social media platforms, though neither Sarah nor Jaden commented those rumors; on the contrary, they kept appearing at various events and behaved as nothing really happened. However, the couple broke up in 2017 without comment from either of them. Nothing is known about Will Smith's attitude to their relationship, but many people who knew the couple in person suspected Sarah was involved in drug use. As she was three years older than Jaden, she was considered to influence him badly, as some photos of her appeared on the internet, displaying her with a tablet she held at the tip of the tongue (suggesting that she was taking LCD or something similar).
For some people their break-up was a sigh of relief as they were worried about Jaden. Before her relationship with Jaden, in 2013 Sarah dated Paul Wesley, the star of the series "The Vampire Diaries", and Ian Connor, a model, from 2014 to 2015. She was also once noticed having dinner with Leonardo DiCaprio, the legendary Hollywood actor. However, their relationship was not confirmed.
Who is Jaden Smith?
Sarah's ex-boyfriend Jaden Smith was born Jaden Christopher Syre Smith on 8 July 1998. From a young age he started his acting career, as his father Will Smith helped him on his way. Jaden is also a rapper (just as his celebrity father), songwriter and singer, dancer and entrepreneur, and owns a brand called MSFTSrep. Neither Jaden nor his sister Willow ever attended school, as they were always on homeschooling.
— sarah (@sarahfknsnyder) September 25, 2018
Jaden started his career in 2003 when he was only five years old, appearing in the "All of Us" series (2003-2007). Later he could be seen in "The Pursuit of Happyness" (2006), "The Day the Earth Stood Still" (2008) and "The Karate Kid" (2010) in which he played Dre Parker and received $3 million for starring in the movie. Later he appeared in such movies and series as "After Earth" (2013), "The Get Down" (2016-2017) and "Brothers in Atlanta" (2016). In 2017, his first music album entitled "SYRE" was released, followed by his second album entitled "ERYS" in 2019. In 2013, when he was only 15 years old, he dated Kylie Jenner for almost a year.
56 days in prison
In 2015 Sarah was arrested by he Bedford police for stealing a "Hermès Birkin" bag which cost $15,000 from the consignment shop called "Penny Pinchers" in Bedford, New York. Even though she provided evidence consisting of plane tickets, photos and her cell-phone records, proving that she was in Miami at the time of the theft, after four months of investigations she was imprisoned for 56 days.
Her attorneys won a bail for her, paying $8,000 as a fine. As soon as she was released from the jail, Sarah took a photo of herself in a T-shirt with her mugshot on it and posted it on her Instagram with the caption: '56 nights', and ter then-boyfriend Jaden Smith also took a picture of himself in similar T-shirt to show his support for his girlfriend. On 10 February 2016 all the charges against Sarah were dismissed. She then posted two photos of herself quitting the court, and holding a blue Birkin bag in her hands showing that she could afford such luxurious accessories, and had no need to steal them.
Social media presence
Sarah is very active on her Instagram account, posting daily, and accumulating over 1.7 million subscribers and keeps getting more popular each day on the platform. She also had a Twitter account, but was never active on it. It is worth saying that her ex-boyfriend Jaden Smith is also very popular on Instagram, having over 13 million subscribers on his account.
Appearance, clothing style
Sarah has a blonde bob hairstyle, though earlier she dyed her hair red and dark chocolate brown; she has hazel eyes. Sarah is 5ft 8ins (1.73m) tall, weighs around 114lbs (52kgs); her vital statistics are 32-22-32. She has a tattoo to the right from her navel, depicting a dream catcher. As to her clothing style, she loves wearing haute couture clothes, and often chooses such brands as Balenciaga, Fendi, Versace, etc.
Net worth and salary
According to authoritative sources, Sarah's current net worth is estimated to be around $400,000, accumulated by working hard both as an actress and a model. She keeps getting offers from various brands and companies, has many commercial contracts with them, so her net worth is going to grow in future. It is also worth mentioning that her Instagram account is another source of her income, as one sponsored post there costs up to $5,800. As to her ex-boyfriend Jaden Smith, as of 2019, authoritative sources estimate his net worth to be around $8 million.
Movies
Art Department
| Title | Year | Status | Character |
| --- | --- | --- | --- |
| The Hunger Games: Mockingjay - Part 2 | 2015 | construction office assistant | |
| The Hunger Games: Mockingjay - Part 1 | 2014 | construction office assistant | |
| Earth to Echo | 2014 | construction pa | |
Miscellaneous
| Title | Year | Status | Character |
| --- | --- | --- | --- |
| Star Trek Into Darkness | 2013 | production assistant | |
Source:
IMDb
,
Wikipedia