Who is Sean Garcia?
American boxer Sean Garcia was born under the zodiac sign Scorpio on 24 October 2000, in the USA. He's perhaps known best for being the younger brother of Ryan Garcia, a popular American professional boxer who was in 2021 crowned World Boxing Council (WBC) Interim Lightweight Champion; Sean's become interested in boxing mostly thanks to his brother, and is currently a amateur middleweight boxer.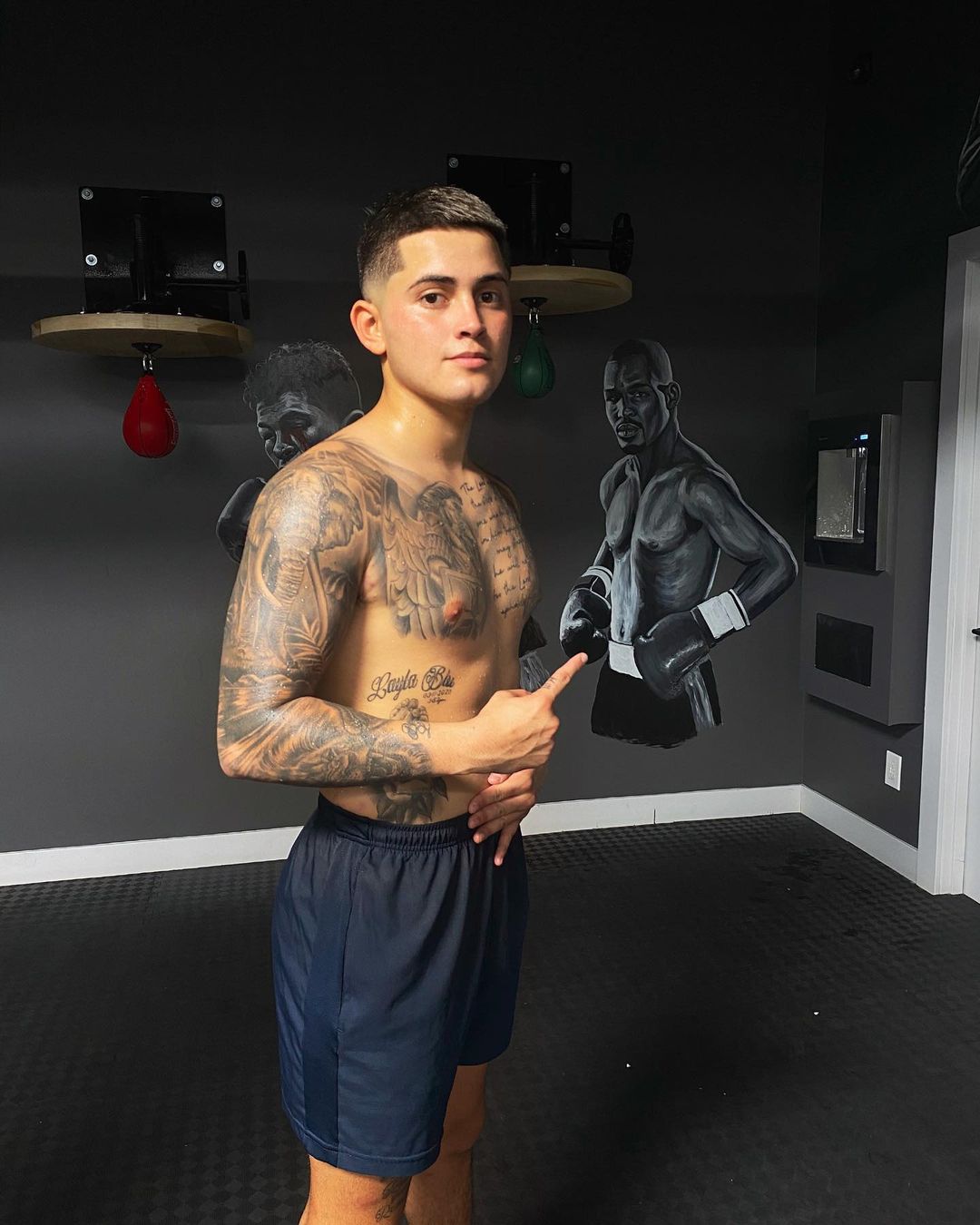 Education and early life
Sean was raised in the US alongside his brother Ryan and three sisters Kayla, Sasha and Demi, by their father Henry Garcia who was also once a professional boxer, and mother Lisa Garcia who's a housewife; not many other details have been shared about Sean's family because they prefer to be left out of media.
Sean studied at a local high school in California, and was into multiple activities during his time there as he enjoyed practicing boxing together with his brother, as well as playing soccer and wrestling with his peers. He matriculated in 2019, and then began pursuing boxing rather than enrolling at college.
Sean's career
Sean's yet to make a name for himself in boxing but has still made some notable progress; he won the Junior Division Championship in the 110lbs category in 2016, and then also the Prep National Championship which took place in Dallas, Texas USA. He's since had six bouts and has won all of them – many videos of the fights can be found uploaded onto YouTube.
Sean often boxes with his brother Ryan who gives him advice and teaches him techniques, and this has helped him with his career.
Most popular YouTube videos
Sean's quite popular on YouTube even though he doesn't have his own channel; this is because many other users have posted videos of him, with most of these featuring him boxing and exercising with his brother. We're about to cover Sean's three most viewed videos as these have contributed to his popularity.
His #1 video "RYAN GARCIA BRINGS BACK BODY SHOT CHALLENGE WITH BROTHER SEAN" was posted by Gave Rivas on 21 January 2022, and has since been watched over three million times, and numbers over 40,000 likes; it features Sean and his brother Ryan taking part in the internet's Body Shot Challenge.
His second most popular video "FUN IN CAMP FOR CAMPBELL: CANELO WRESTLES & SPARS RYAN GARCIA & BROTHER SEAN; FOREARM TO THROAT" was posted by FightHype.com on 28 October 2020, and to date has been watched close to two million times; it features Canelo as he's fighting and wrestling Sean and Ryan.
His #3 most viewed video "CANELO LIGHT SPARRING SEAN GARCIA" was posted by Team Batman on 28 October 2020 and has since been watched over 1.4 million times, while it numbers over 40,000 likes; it features Sean sparring Canelo.
Sean's steadily building a fanbase for himself on the internet; he's today followed by close to 200,000 people on Instagram, but has posted only 13 pictures and videos, most of which feature him boxing, gambling and spending time with his daughters. Sean's also revealed a couple of details about his everyday life in his Instagram content, including that he enjoys spending his spare time in nature, listening to music and travelling around the US.
Sean's followed by over 50,000 people on Twitter, but has recently deactivated his account for unknown reasons, but which he's done several times before, so his fans are expecting his return. He mostly tweets about his upcoming fights, although he also occasionally shares his thoughts on various matters with his fans.
He seems to be using Facebook only to chat with his friends and family members, and thus doesn't allow his fans to befriend him on this network; he still often uploads the same pictures and videos that can be found on his Instagram account.
Sean doesn't use TikTok but is nevertheless popular on the network as various users have uploaded videos of him, and all of these together have been watched over 500,000 times.
Love life and relationships
Sean prefers to keep his family away from media, but it's known that he's been engaged to his long-term girlfriend Surrissa since 19 October 2019, as well as that they have two daughters together, named Ellie and Layla, and often features the girls in his Instagram content.
It's widely believed that Sean met Surrissa while they were attending the same high school, although this hasn't been addressed by him;  some of Sean's fans believe that he and Surrissa exchanged vows in a small and private ceremony in 2022 but this is yet to be confirmed; there are also rumors circulating the internet, claiming that he and Surrissa have separated, but none of these have been addressed by Sean.
There are no other girls whom he's perhaps been with, that we know about; Sean's engaged to Surrissa as of October 2023, and they have two daughters together.
Interesting facts and hobbies
Sean's a huge fan of tattoos, and his arms and chest are nearly entirely inked, while he also has tattoos on his neck, stomach and legs; he often shows these off in his Instagram pictures.
Sean's passionate about travelling and has been to a number of US states and European countries, mostly to keep his brother company while he's boxing.
He enjoys spending his spare time in nature, whether if it's at the beach, high up in the mountains or deep in the woods.
Sean's deeply religious, and goes to church at least once a week.
Dwayne 'The Rock' Johnson is Sean's favorite actor, and some of his favorite movies are the franchise "Fast and Furious", "Jungle Cruise" and "Central Intelligence".
Appearance and net worth
Sean's age is 22. He has brown eyes and black hair, weighs around 150lbs (68kgs) and is 5ft 8ins (1.73m) tall.
His net worth's been estimated at over $100,000 as of October 2023, and his brother Ryan's at over $20 million.