• Season Hubley is an American singer and actress, best known for being the former spouse of Kurt Russell.
• She is widely recognized for appearing in 1970s and '80s movies, including "Lolly-Madonna XXX" (1973) and "Escape from New York" (1981).
• She and Kurt Russell met in 1979 on the set of "Elvis", and they married later that year, they had a son in 1980.
• She has continued to act in movies and TV series until 1999, and her net worth is estimated at $4 million.
• She is presumed to be single and lives in New York City.
 
Who is Season Hubley?s
Season Hubley is an American singer and actress, but who is probably best known for being the former spouse of renowned American actor and Golden Globes nominee – Kurt Russell. She is also widely recognized for appearing in 1970s and '80s movies, including "Lolly-Madonna XXX" (1973), "Catch My Soul" (1974) and "Hardcore" (1979) as well as "Escape from New York" (1981) and "Vice Squad" (1982).
Early Life, Childhood and Education
Susan Brooks 'Season' Hubley was born under the zodiac sign of Pisces, on the 14th March 1951, in New York City, USA, as one of four children of Julia Kaul (née Paine) and Grant Shelby Hubley, who was not only a writer but an entrepreneur and an oil investor as well.
She is of white ethnicity and of American nationality; her siblings include two sisters named Julie Simpson Levy and Sara Hubley Beeken, as well as a brother Grant Shelby Hubley Jr. who, under the name of Whip Hubley, is known as an actor as well, and is most popular for appearing in the 1986 blockbuster movie "Top Gun", as well as Mischa in the 1987 comedy drama film "Russkies". There aren't any relevant yet available details regarding Season's educational background that have been publicly released.
Acting Career
Into the world of acting Hubley dived in the early 1970s, when she landed her debut on-camera acting appearance in the 1972 TV comedy movie "Bobby Jo and the Good Time Band", appearing in the title role. Later that year, she also made her debut small screen appearance in an episode of "The Partridge Family" TV series. Her career was set on the rising path in 1973, when she starred as the title character in the action crime drama movie "Lolly-Madonna XXX".
After staring in the 1974 musical drama film "Catch My Soul", Season honed her skills through the rest of the 1970s by appearing in a streak of TV series, including the Golden Globes-nominated "Kung Fu", "The Rookies", "Good Heavens" and "Starsky and Hutch". Between 1976 and 1977 she starred in the recurring role of Salina Magee in the TV series "Family", after which she also appeared in "Kojak", "Visions" and "Loose Change". All this high-profile engagements helped Season Hubley to establish herself as a promising young actress, and set her career on the path to stardom.
To a greater prominence she came in 1979, when she appeared as Niki in the crime drama film "Hardcore", after which she was cast for the role of Priscilla Presley in John Carpenter's Golden Globe-winning biographical drama movie about the "King of Rock and Roll", Elvis Presley, simply entitled "Elvis". These accomplishments were followed with several leading roles in action movies such as "Escape from New York" (1981) and "Vice Squad" (1982).
In 1985 Season appeared in the episode of "Alfred Hitchcock Presents" TV series named "Final Escape," which was followed by another streak of leading roles in critically praised movies and TV movies, such as "Under the Influence" (1986), "Tomorrow's Killer" (1987) and "Shakedown on the Sunset Strip" (1988).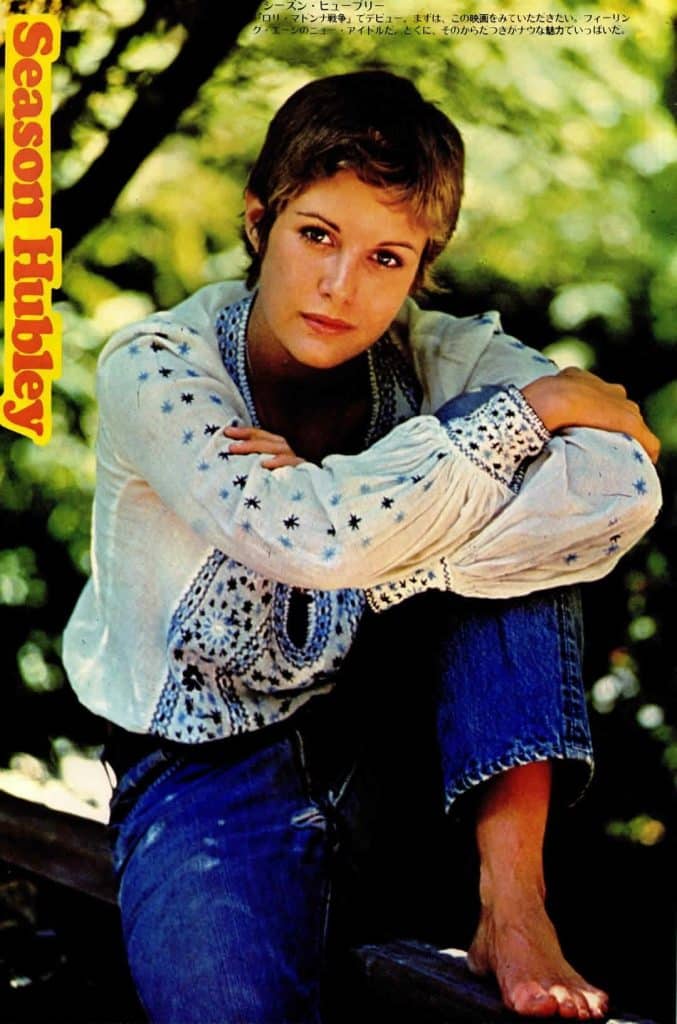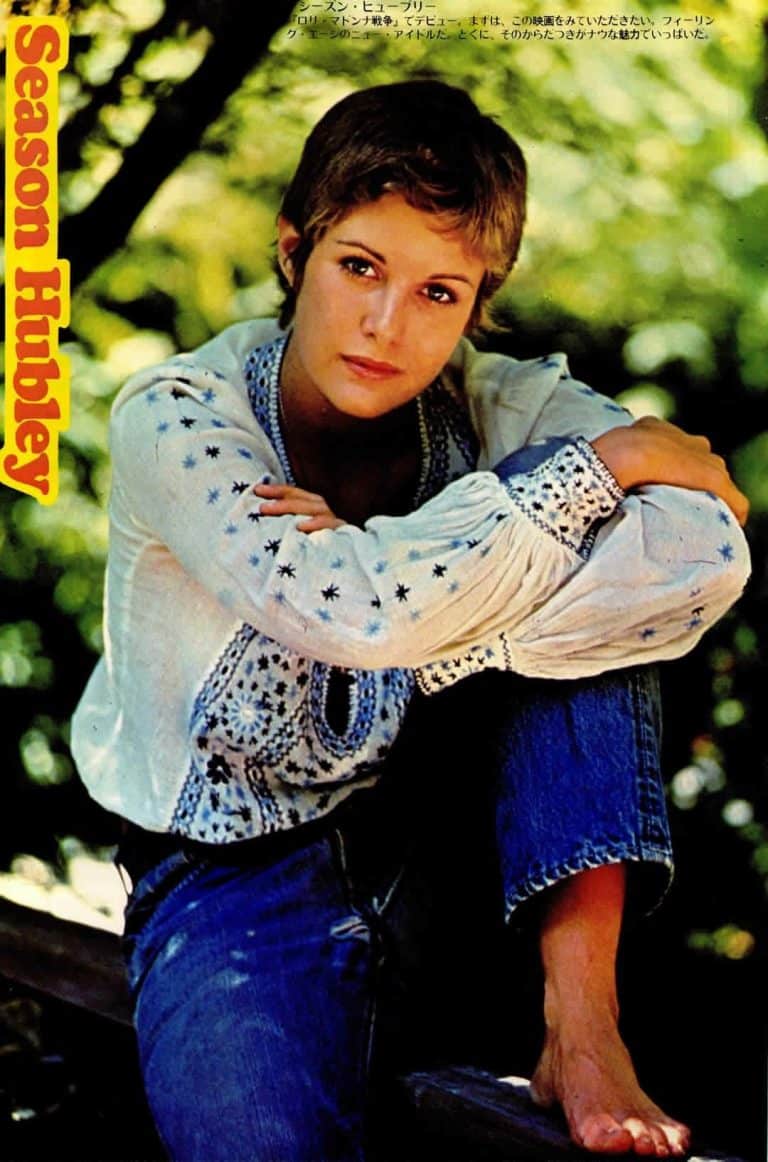 Throughout 1992, Hubley appeared in the recurring role of Angelique Voynitzheva Marick in 120 episodes of the Primetime Emmy Award-winning TV series "All My Children", which were followed by numerous appearances in TV series including "South of Sunset" and "Beverly Hills, 90210", as well as in movies such as "No One Would Tell" (1996) and "Kiss the Sky" (1998). The latest on-camera appearance in Season Hubley's acting career occurred in 1999, when she appeared in an episode of the "Flipper" TV series, acting alongside her brother Whip Hubley and Jessica Alba.
Marriage with Kurt Russell
Season and Kurt first met in 1979 on the set of "Elvis", in which he starred in the title role while she portrayed Presley's (former) wife Priscilla. The romance seen on the big screen soon became reality, and they married later that year, and on the 16th February 1980 the couple welcomed their only child, a son named Boston Oliver Grant Russell. However, after four years of marriage, Hubley and Russell divorced and parted their ways in 1983.
Kurt Russell was born on the 17th March 1951, in Springfield, Massachusetts, USA, the son of a Hollywood Golden Age actor Bing Russell.
Upon matriculating from Thousand Oaks High School in 1969, he joined the California Air National Guard as a member of the 146th Tactical Airlift Wing, in which he served 'til 1975. Kurt began his acting career in the early 1960s, when he debuted portraying the title character of the ABC's TV western series "The Travels of Jaimie McPheeters", which was followed by appearances in TV series such as "The Virginian", "Gunsmoke", "Gilligan's Island" and "The Legend of Jesse James".
After honing his professional acting skills through a streak of on-camera appearances during the 1970s, in 1980 he was nominated for the prestigious Emmy Award for his performance in "Elvis".
To greater prominence he came in the 1980s, when he made several memorable appearances in movies such as "Escape from New York" (1981), "The Thing" (1982) and "Silkwood" (1983), for which he earned a nomination for the prestigious Golden Globes award. He earned huge praise for starring in the 1986 action comedy movie "Big Trouble in Little China", which was followed by a memorable appearance in the action comedy film "Tango & Cash" (1989). During the 1990s, Russell was cast for a number of leading roles in high-profile movies, including "Tombstone" (1993), "Stargate" (1994) and "Breakdown" (1997) to name a few, while throughout the 2000s he appeared in popular and critically praised movies such as "3000 Miles to Graceland" (2001), "Poseidon" (2006) as well as "Grindhouse" and "Death Proof" in 2007.
"If it hadn't been for video cassette, I may not have had a career at all."
— #KurtRussell, on his cult films

See him on THE QUEST — 7:45a ET on @gettv

What's your favorite role? pic.twitter.com/WB0bKnZM5o

— getTV (@gettv) February 1, 2020
Some of his more recent on-camera appearances include major roles in films including "The Art of the Steal" (2013), "Furious 7" (2015), "Bone Tomahawk" (2015), as well as "The Hateful Eight" (2015), "Deepwater Horizon" (2016), "The Fate of the Furious" (2017), "The Christmas Chronicles" (2018), and most recently Quentin Tarantino's latest masterpiece "Once Upon a Time… in Hollywood" (2019).
Private Life
After divorcing Russell, in 1992 Season Hubley married David Hayball who is known for being a 'behind-the-camera-guy' – as a member of Camera and Electrical Department, he left his professional mark on movies such as "Pray for Death" (1985), "Kill Me Again" (1989) and "Illicit Behavior" (1992), as well as on popular TV series including "Malcolm in the Middle", "Huff", "The Riches" and "The Shield".
However, this marriage was short-lived as well, as it ended with a divorce in 1994. When it comes to her personal life, there aren't many more available details regarding her private affairs, or current situation, but she's presumed to be single. She resides in New York City, and lives her life under the mass media's attention; she isn't active on any popular social media networks.
Season stands 5ft 4ins (1.65 m) tall – her other body measurements are unknown
Net Worth
Have you ever wondered how much wealth this 68-year-old American actress has accumulated so far? How rich Season Hubley is? According to authoritative sources, it is estimated that her net worth as of late 2019, revolves around $4 million, all acquired through her prosperous acting career, between 1972 and 1999.