Who is Canon W. Jack Curry?
American celebrity child Canon W. Jack Curry was born under the zodiac sign Cancer on 2 July 2018 in the USA; he's only known for being the son of Stephen Curry, a famous American professional basketball player currently competing in the National Basketball Association (NBA) with the Golden State Warriors.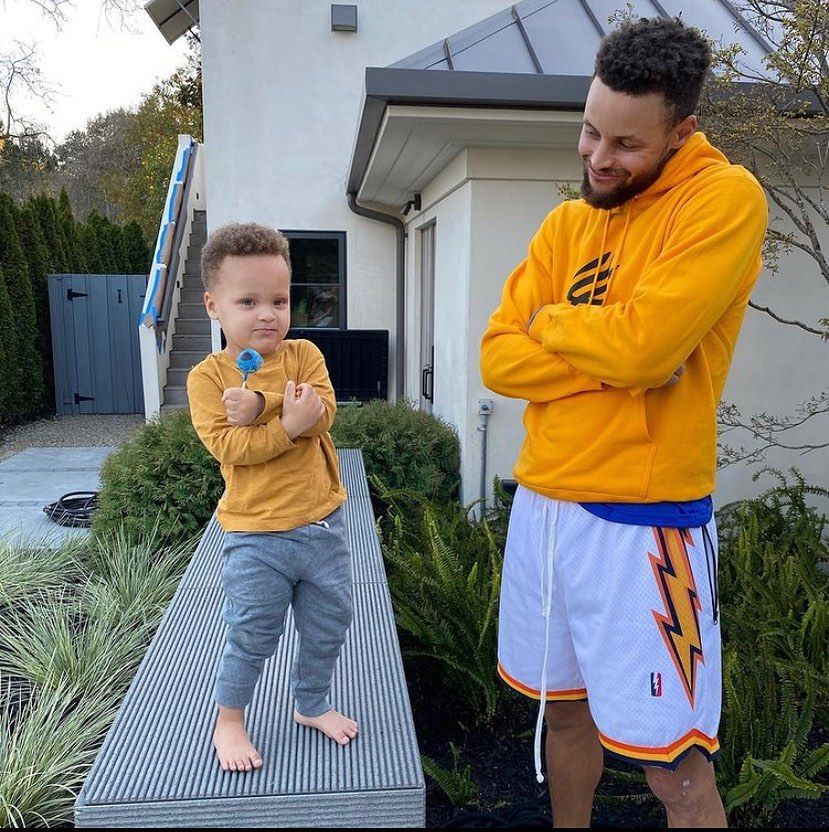 Parents and early life
Canon's being raised in California alongside his older sisters Riley (born in 2012) and Ryan (born in 2015), by their father Stephen and Canadian-American mother Ayesha Alexander who's an actress, cooking personality and cookbook author.
Canon's parents met at a church in Charlotte when they were 15 and 14 years old, and they married in a private ceremony on 30 July 2011. The family of five is currently living at their home in Atherton, California for which Stephen paid $31 million in July 2019.
Stephen's keeping his children away from the media's attention, wanting them to be able to lead normal lives.
Age, height and net worth
Canon's age is five. He has brown hair and eyes, weighs around 40lbs (18kgs) and is 3ft 7ins (1.1m) tall.
His father Stephen's net worth's been estimated at over $160 million, as of October 2023.
Who is his father Stephen Curry?
Wardell Stephen Curry II was born under the zodiac sign Pisces on 14 March 1988 in Akron, Ohio USA. He's widely believed to be the best basketball shooter and one of the best players of all time; he's a nine-time All-NBA selection, a nine-time NBA All-Star, an NBA All-Star Game Most Valuable Player (MVP), an NBA Finals MVP, a two-time NBA MVP, and a four-time NBA champion.
Stephen Curry has passed Mark Jackson for 22nd most assists in NBA playoff history. pic.twitter.com/hCMl9BVaKu

— Golden State Warriors (@warriors) May 11, 2023
Stephen was raised in Charlotte, North Carolina alongside his younger brother Seth, who's today also a professional basketball player, by their American former professional basketball player father Dell Curry who spent most of his career with the Charlotte Hornets, and mother Sonya Alicia Curry who was a housewife. The family moved to Toronto, Ontario, Canada after Dell signed a contract with the Raptors, and after his retirement they moved back to Charlotte.
Stephen studied at Charlotte Christian School, where he became known for his basketball skills; upon matriculating in 2006, he enrolled at Davidson College, where he played college basketball for the Davidson Wildcats, and it was during his college career that he became famous. While attending his sophomore year, Stephen gained national attention when he led the Wildcats to the NCAA Tournament's Elite Eight, earning a reputation as a clutch shooter and a great scorer. He averaged 28.6 points per game during the tournament, and became the NCAA's leading scorer; Stephen's basketball performance at college set the stage for his future success in the NBA.
He declared for the NBA Draft in 2009 and was selected as the seventh overall pick by the Golden State Warriors; his transition to the professional league was smooth, and he immediately showcased his scoring prowess. During his rookie season, Stephen averaged 17.5 points per game, and established himself as a rising star.
However, his early career was plagued by ankle injuries that raised concerns about his durability; he underwent multiple surgical operations and rehabilitation, which threatened to derail his promising career, but, Stephen was able to overcome his injuries and return to the basketball court.
His breakout season was 2014-2015, when he won his first NBA Most Valuable Player (MVP) Award. He set a new single-season record for three-pointers made with 286, and led the Warriors to a franchise record of 67 wins. Stephen's style of play revolutionized the game, as he often made three-point shots from incredible distances, earning him the nickname 'The Baby-Faced Assassin'.
In the 2015 NBA Finals, Stephen and the Warriors faced off against the Cleveland Cavaliers. While the Warriors fell short, Stephen's amazing performance established him as one of the league's best players. The following season saw him lead the Warriors to an NBA-best 73-9 regular season record, breaking the Chicago Bulls' previous record of 72 wins. Stephen won his second consecutive MVP award, solidifying his status as a superstar.
In 2017 and 2018, he helped lead the Warriors to back-to-back NBA championships, capturing his first and second NBA titles, which cemented his legacy as one of the greatest players in the modern era.
Stephen's impact on the NBA extends beyond his basketball skills; he's been a pioneer in player empowerment, particularly with his contributions to the players' union and his advocacy for positive social change. Off the court, he's known for his philanthropic efforts, including a substantial donation to his alma mater, Davidson College, to fund their men's and women's basketball programs.
Stephen's brand and influence have grown significantly, and he's become a global ambassador for basketball; his shoe line with Under Armour is highly popular, and he has a substantial fan following, both in the US and internationally.
As the years have passed, Stephen's continued to set new records and milestones in his career; in 2021, he became the all-time leader in three-pointers made, surpassing Ray Allen's previous record.
In the 2021-2022 NBA season, Stephen's abilities were once again on full display; he led the league in scoring, averaging over 30 points per game. This amazing performance not only reinforced his status as one of the greatest shooters of all time, but also highlighted his ability to adapt and maintain a high level of play as he aged.
Stephen's also had a successful international career, representing the US at the Olympic; he won a gold medal with Team USA at the 2010 FIBA World Championship and followed it up with gold medals at the 2014 FIBA World Cup and the 2016 Rio Olympics.
Stephen's also interested in politics, and endorsed Joe Biden during the Democratic National Convention in August 2020; he voiced his support for the election reform bill For the People Act in December 2021, and most recently in 2023, Stephen opposed the forming of multi-family housing in the wealthy enclave of Atherton, where he's today living with his family.