Who was Carlos Parra?
The late Mexican singer-songwriter Carlos Parra was born under the zodiac sign Aquarius on 23 January 1997, in Sinaloa, Mexico. He was steadily making a name for himself in the music industry as he and his brothers' band Los Parras was becoming more and more popular, however, Carlos was involved in a serious car crash on 6 May 2023 and died at the scene.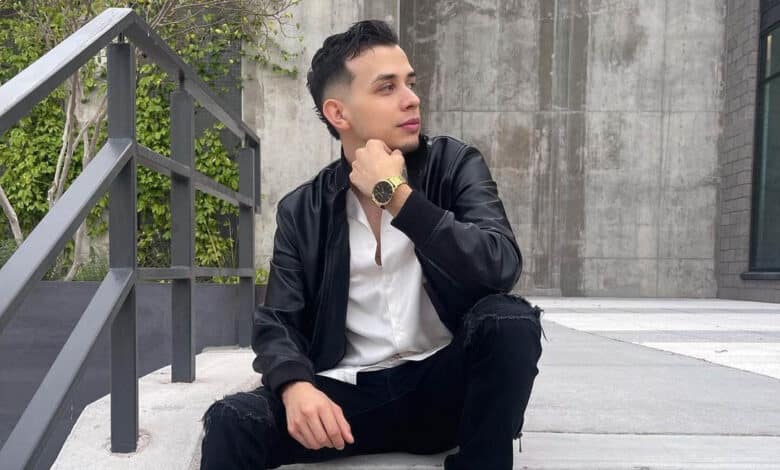 Education and early life
Carlos was raised alongside his brothers Cristhian and Cesar Parra in Sinaloa, but no details have been disclosed about their parents as they prefer to stay away from media; it's widely believed that Carlos' father is a car mechanic and his mother a nurse, but this remains unconfirmed.
Carlos fell in love with music while attending a local elementary school; his parents often played music at home, and Carlo was nine when they enrolled him at a school for the performing arts, at which he was into both music and acting. He went on study at a local high school in Sinaloa, and was a member of a school band; some of Carlos' other interests included playing soccer, dancing and appearing in school plays.
He matriculated in 2015, and then began working on his career rather than enrolling at college.
Carlos' career
Carlos and his band Los Parras began attracting attention in 2017, with the release of their debut album "Yo ya Te Olvide"; their hit singles "Jugando a la Baraja" and "Para Que Lo Notes" were released in the following year. They then signed with La R Records, and went on to perform all around Mexico, plus steadily becoming popular in Latin American countries.
Upon gaining recognition, Carlos decided to found his own band The Vineyards, and was a member until his untimely death.
YouTube channel
Carlos was quite popular on his YouTube channel "Carlos Parra", which he launched on 11 November 2014; it's today subscribed to by over 650,000 people, and numbers more than 43 million views of all Carlos' 58 videos combined. He was initially focused on uploading only music videos, but eventually transitioned to creating content which featured him during his everyday life, whether he was spending time with his girlfriend, pulling pranks on his family or travelling. We're going to cover three of the most popular videos amongst these, as they contributed to Carlos' popularity.
The #1 video "IGNORANDO A MI NOVIA POR 24 HRS – CARLOS PARRA" has been watched over 2.2 million times since it was uploaded on 14 May 2020, and features Carlos pulling a prank on his girlfriend by ignoring her for an entire day.
His second most popular video "PREGUNTAS INCÓMODAS CON MI NOVIA – CARLOS PARRA" has been viewed over 2.1 million times since 20 September 2020 and features him and his girlfriend answering some of his fans' most frequently asked questions.
Carlos' #3 most viewed video "ASÍ NOS CONOCIMOS LILLIAN Y YO (FUE AMOR A PRIMERA VISTA) / STORY TIME" was uploaded on 21 February 2020 and has since been watched more than 1.8 million times; it features Carlos and his girlfriend Lillian speaking about how they met and fell in love.
Carlos was popular on various social media networks; his Instagram account is still today followed by over 1.4 million people, and numbers over 1,200 pictures and videos uploaded onto it. Carlos was mostly into uploading pictures which showed him during his everyday life, whether he was driving expensive cars, making music or spending time with his friends.
He was also quite popular on Twitter, but it seems that Carlos' account on this network has been removed.
Carlos' Facebook page is today followed by more than 560,000 people – his final update was on 23 April 2023, two weeks before his death.
He was a TikTok star; Carlos' TikTok account today numbers over 1.7 million followers, and all his videos together have amassed more than 17.6 million likes. His final update was on 3 May 2023, when he posted a video which featured him spending time with his mother and girlfriend.
Love life and relationships
Carlos avoided speaking about his love life in public until he met and fell in love with Mexican social media personality and YouTuber Lilian Griego.
Lilian's today followed by more than 3.8 million people on Instagram, and has posted close to 600 pictures and videos onto the network; much of her content still features her and Carlos spending time together. Lilian's also quite popular on YouTube as her self-titled channel's today subscribed to by close to a million people, while all her 92 videos combined have been watched nearly 80 million times.
There are no other girls whom Carlos had perhaps been with, that we know about; he was in a relationship with Lilian Griego at the time of his death, didn't marry and had no children.
Interesting facts and hobbies
Carlos was a huge fan of expensive cars and his Instagram account is still filled with pictures featuring him driving or standing close to cars such as Mercedes, Maserati and BMW.
He was passionate about travelling and visited over 40 countries around the world; the final picture that Carlos uploaded onto his Instagram account featured him visiting the Great Pyramid of Giza in Egypt.
Carlos spent most of his spare time with his girlfriend and mother, and he often referred to them as the two most important women in his life.
He was physically quite active, as he enjoyed playing soccer, tennis and basketball with his friends; Carlos also occasionally worked out at the gym.
One of his favorite actors was Vin Diesel, and some of Carlos' favorite movies were "The Chronicles of Riddick", "The Last Witch Hunter" and "Find Me Guilty".
Appearance and net worth
Carlos was 26 at the time of his death. He had black hair and brown eyes, weighed around 175lbs (80kgs) and was 6ft 1in (1.85m) tall.
Carlos' net worth was estimated at over $500,000 at the time of his death.