Andrew Davila is an American YouTuber and social media personality who's most famous for uploading comedy, challenges, and pranks on his self-titled YouTube channel.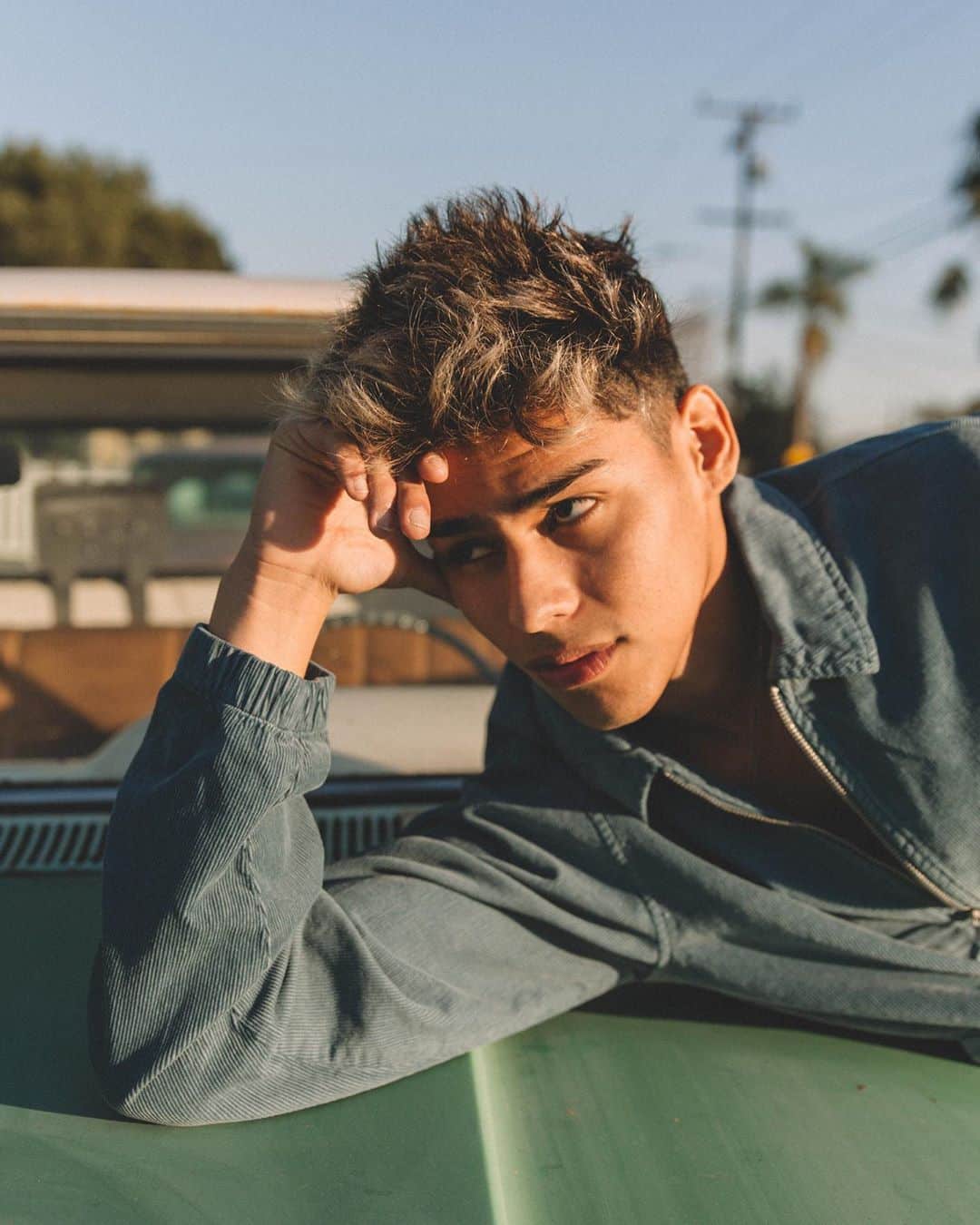 Age, Early Life, and Education Background
David Andrew Davila hails from Texas, USA, and was born under the Cancer zodiac sign on 26 June 2000, which makes him 23 years old as of 2023. He was brought up in a well-established Christian family by his mother, Karla Davila who's a housewife, and his dad who's a businessman, but whose name he hasn't disclosed. Davila often features his mother on his social media accounts. He has two younger siblings: a sister and a brother named Leilani and Yael respectively.
Andrew has remained tight-lipped about his educational background.
Hobbies and Interests
Davila is a huge fan of music and his best-loved song is Drake's "In My Feelings." Some of his favorite musicians include Travis Scott, Post Malone and Justin Bieber. Davila is also a fan of movies starring Emma Watson and Tom Holland.
He is a big soccer fan and has disclosed that he wanted to pursue a football career before venturing into social media.
The Texan YouTuber is a huge lover of animals, especially dogs, and often flaunts his pet dog on Instagram.
He's keen on traveling, and has toured numerous states for work and leisure. Curiously, he's disclosed that his dream travel destination is Area 51, a USAF Base in Nevada.
Andrew is bilingual, speaking fluent Spanish as well as English.
Career
Self-Titled YouTube Channel
Andrew accumulated a decent fan following after launching his Instagram account, which encouraged him to branch out to YouTube. He opened his self-titled channel on 18 August 2014 but only posted his first video "IM BACK!! MAKEUP CHALLENGE WITH ANDREW AND ROBERT !!" on 4 March 2018. Davila's channel has almost 150 videos, which have attracted 348 million views, and has over 3.6 million subscribers. Some of his most popular videos are "MAKING LEXI TRY MY FAVORITE MEXICAN CANDY!" (posted on 28 September 2020) and "REACTING TO OUR OLD YOUTUBE VIDEOS!! Ft. Lexi Rivera" (uploaded on 15 August 2021) which have 10.6 million and 9.9 million views respectively. Andrew frequently makes YouTube videos with his friend, Sebastian Sanchez.
Collaborative Channel
On 25 February 2017, Davila launched the collaborative channel "Sunset Park," which uploads content about the lives of a group of six best friends including Ethan Bradberry, the Strokes Twins (Alan and Alex), Moe Adams and Moe Bradberry; the group lived as flat mates in Los Angeles. The channel was formed to document the squad's adventures, and create memories of a lifetime; the channel's description reads, 'We are Sunset Park! A squad of young versatile, and like-minded individuals who teamed up together to dominate the Social Media and Entertainment Marketplace globally. We are dedicating this channel to showcase what a group of friends living in the same house can create when it comes to entertaining others!'
The squad has uploaded over 90 videos, which have attracted almost 15 million views as of late 2023, and the channel has around 115,000 subscribers. Two of the most popular videos are "The Homeless Millionaire Prank (Coby Persin)" (uploaded on 19 July 2017) and "I'm Obsessed with Sponges (ANDREW DAVILA)" (Uploaded on 29 July 2017), which have accumulated over 11 million and 265,000 views respectively as of late 2023.
Gimme some new tunes to listen to pic.twitter.com/W6PQYls4fu

— Andrew Davila (@andrxw20) November 25, 2020
TikTok
Davila began his career on TikTok in 2015. He predominantly posts funny videos, pranks, and viral game challenges, which has seen him garner a huge fanbase of over 8.6 million followers and over 113 million likes.
Music Videos
Andrew has appeared in various videos, in 2019 in a video for Brent Rivera and
MyLifeAsEva's "Bad Fajitas (Senorita Parody)". In 2022, he was seen in the music video for the song "Little Kids Nowadays" by Brent Rivera and LIV.
Other Social Media Platforms
Davila joined Instagram in mid-2017. He goes by the name (@andrewdavila_) and has over three million followers. In October 2014, he opened his Twitter account (@andrxw20) and is currently followed by around 31,000 fans.
Personal Life
Davila is dating the American YouTuber, social media sensation, former gymnast, and actress Lexi Rivera. Previously, Rivera was dating the prominent YouTuber, Ben Azelart (2018-2020). Davila often collaborates with Rivera to make YouTube videos. He's unmarried without any children as of 2023.
Currently, Davila resides in Los Angeles, California.
Height, Weight, and Physical Appearance
Davila is of Hispanic roots and has a pair of dark brown eyes and dark brown hair. He is 5ft 10ins (1.78m) tall and weighs approximately 155lbs (70kgs). He wears shoe size 8(US). Some of Davila's distinctive features include a dimpled smile, chiseled facial features, and has pierced his ear.
Net Worth
Andrew uses his widely followed social media platforms to promote various brands, which has seen him accumulate a good net worth. He's reputedly worth s much as $800,000 as of late 2023.
Andrew Davila's Girlfriend, Lexi Rivera
Lexi was born Alexa Brooke Rivera under the Gemini zodiac sign on 7 June 2001, in Huntington Beach, California, and so is 22 years old as of 2023. She is the younger sister of the national championship hockey player, Blake Rivera, who has played with the Jr. Ducks Hockey squad, Brent Rivera, who is a popular social media personality and actor, and Brice Rivera, who is also a social media personality.
Lexi is fond of posting challenges and pranks on her self-titled channel, which has over 14.5 million subscribers. Her most popular video is "I'm Pregnant?" which was uploaded on 21 September 2019 and has accumulated over 42 million views as of late 2023. All of Alexa's 300+ videos have garnered over 3.5 billion views.
Andrew's Friend and Frequent Collaborator, Sebastian Sanchez
Sebastian Sanchez hails from Colombia, born under the Aries zodiac sign on 8 April 1996, which makes him 27 years old as of 2023; his mother is actress Milena Granados. Sanchez began his social media career in 2013 when he opened an Instagram account. He transitioned to YouTube in the year that followed. Sanchez became popular for his TikTok account (@sebassanchezg) which has over 1.7 million followers and at least 46 million likes. He predominantly posts comedy and prank videos, and often collaborates with other TikTok stars. Sanchez is also an actor, famous for his portrayal of Dylan in the TV series "Un Bandido Honrado."