Who is Annalise Bishop?
Annalise is the daughter of the renowned actor Jamie Foxx, whose real name is Eric Marlon Bishop. She's the younger of Jamie's two daughters, with the other being Corinne Foxx. Annalise has largely been kept out of the public eye, with her father aiming to provide her with a relatively private upbringing. As of October 2023, Annalise hasn't yet pursued a career, including in the entertainment industry, but given her family's background, it's possible she might in the future.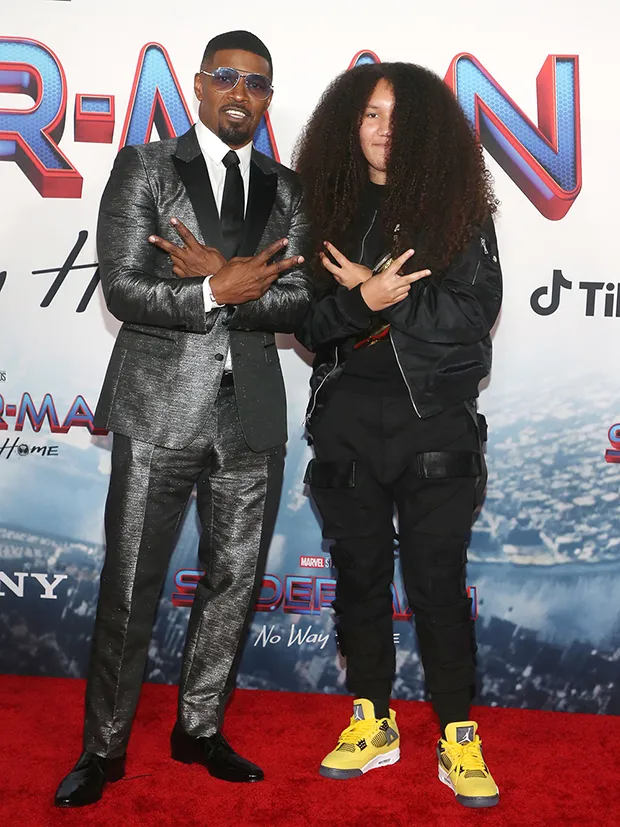 Early Life
Annalise was born on 23 October 2008, in Los Angeles, California, to actor and singer Jamie Foxx and his then-girlfriend Kristin Grannis, who works as a therapist and has her own practice in Agora Hills, California. Overall, little is known about the details of Jamie's and Kristin's relationship, as they managed to keep it private for a long time. They apparently separated several months after Annalisa was born, but seem to be on amicable terms and committed to co-parenting their daughter.
Life Away from the Spotlight
By the time Annalise was born, her older sister, Corinne Foxx, had already made a mark as a model and actress. However, Annalisa's parents were determined to give her a life as normal as possible. Jamie often spoke about the importance of grounding his children, and ensuring that they understood the value of hard work and humility. As a result, Annalise's appearances in public have been limited.
This conscious decision to keep Annalise away from the media glare has allowed her to have a childhood that's as normal as it can get for someone with such a famous lineage. She attends a local high school, and indulges in various activities as any child her age would.
The few times she's made a public appearance she was accompanying her father at red carpet and award events. She made her debut in 2015, at only six years old, appearing alongside Jamie at the Grammy Awards, having a chance to meet music stars such as Taylor Swift and Jay Z.
In addition, with her father and older sister, Corinne, in January 2020, the trio attended the annual Screen Actors Guild Awards, and were also present for the premiere of the hit movie "Spider-Man: No Way Home", in which Jamie reprised the role of Spider-Man's nemesis, Electro.
Interests and Passions
In his interviews, Jamie has often shared stories of his daughter's musical talents. He's spoken about Annalise's piano playing skills, saying that she often plays for him while he sings and wants to accompany him on a tour someday.
Furthermore, music isn't Annalise's only interest. She's also an exceptional athlete, and is particularly passionate about basketball and football. She often plays in her spare time, and isn't afraid of playing on the boys' team, holding her ground against much taller and stronger players.
Whether Annalise chooses to pursue these interests professionally in the future remains to be seen.
Bond with Family
One of the most heartwarming aspects of Annalise's life is her close bond with her family. She shares a special relationship with her father, who often gushes about her in interviews. Their bond is evident in the rare photos that surface online, in which they're seen sharing candid moments.
Her relationship with her elder sister Corinne is also noteworthy. Corinne has already made a name for herself in the entertainment industry, and serves as a role model for Annalise. The sisters share a close bond, and Corinne often speaks about the joys of having a younger sibling to share life's moments with.
Jamie Foxx Wiki Bio
Born Eric Marlon Bishop on 13 December 1967, in Terrell, Texas, Jamie was raised by his grandparents after his parents' separation. This upbringing instilled in him a strong sense of discipline, and a deep appreciation for hard work. His early exposure to music and performance came from the church choir, where he first showcased his vocal prowess.
Jamie's foray into the entertainment world began with comedy. After finishing college, he moved to Los Angeles, where he started performing at open-mic nights. His unique style, blending humor with real-life observations, quickly caught attention. After gaining popularity, he landed roles in several TV shows, most notably "In Living Color", a comedy sketch show that was instrumental in launching the careers of several African-American comedians. His comedic prowess led to "The Jamie Foxx Show", a sitcom that ran from 1996 to 2001, and solidified his reputation as a leading comedic actor.
Despite achieving success as a comedian, Jamie harbored ambitions of becoming a serious actor. His breakthrough came with the movie "Any Given Sunday", in which he played a young quarterback. However, it was his portrayal of Ray Charles in the biopic "Ray" that truly showcased his acting depth. The role earned him an Academy Award for Best Actor, making him only the third African-American to receive the honor at the time.
Following the success of "Ray", Jamie starred in a number of other critically-acclaimed movies. In 2004, he starred alongside Tom Cruise in the action drama "Collateral", playing the role of a taxi driver who's taken hostage by a hitman, which earned him an Oscar nomination for Best Supporting Actor. Five years later, he played Nathaniel Ayers, a talented musician struggling with schizophrenia in "The Soloist", further highlighting his ability to navigate complex roles.
Perhaps his most recognized role to date has been in Quentin Tarantino's "Django Unchained" (2013), in which he played the titular role of Django, a freed slave seeking to rescue his wife. The film was both a critical and commercial success.
In 2017, Jamie was part of the ensemble alongside Jon Hamm, Jon Bernthal, and Kevin Spacey in the hit action drama "Baby Driver", written and directed by Edgar Wright.
More recently, he's starred in successful films such as "Spider-Man: No Way Home" (2021), "They Clones Tyrone" (2023), and "Burial" (2023).
Parallel to his acting career, Jamie pursued his passion for music. His debut album, "Peep This", was released in 1994. However, his second album, "Unpredictable", released in 2005, was the one that catapulted him to musical stardom. The title track, along with hits such as "Blame It", showcased Jamie's versatility as a singer. Over the years, he's collaborated with artists including Kanye West, T-Pain, and Chris Brown, further cementing his place in the music industry.
Beyond entertainment, Jamie has been an active voice in various social and humanitarian causes. He's consistently used his platform to advocate for racial equality, criminal justice reform, and disaster relief efforts. His commitment to making a difference is evident in his involvement in various charitable initiatives, and his outspoken stance on pressing social issues.
As of October 2023, Jamie's net worth has been estimated at more than $170 million.