Nadia Hilker is a German actress and former model, who found recognition playing Nita in "Allegiant" in 2016, the final movie in "The Divergent Series" franchise that started with "Divergent" in 2014. After settling in Los Angeles, Nadia rose to prominence as Luna in the TV series entitled "The 100" in 2016 and 2017, and Magna in "The Walking Dead "from 2018 to 2022. She is in a long-term relationship without children.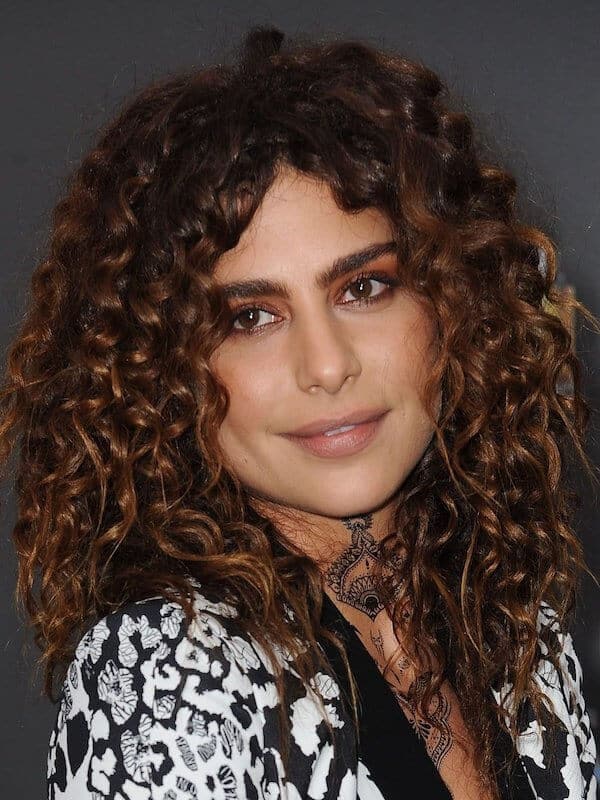 Early life
Nadia Hilker was born on 1 December 1988 in Munich, Bavaria, then West Germany, and raised in the countryside alongside her older brother. Nadia stated that she got along with her brother well because they were both kindred spirits, and enjoyed building treehouses in the nearby forest when growing up. She also provided an example of them flying to Paris for coffee on the Champs-Élysées Avenue because of cheap tickets provided through her mom's job. Nadia's mother came to Germany from Tunisia, while her father is a native German. She worked for the German airline Lufthansa, while her father worked in IT (information technology).
Nadia liked dancing at an early age, and her parents sent her to ballet lessons starting at age four. She also told WinterisComing.net that she grew up with horses, whch distracted her when she filmed "The Walking Dead", as she wanted to pet and connect with them.
Early education, source of career
Nadia's love for ballet survived past her early years, and her parents sent her to attend The Royal Academy of Dance in London, England. While she loved the experience, a talent agent spotted Nadia's natural beauty, and she became a model. C&A, a fashion brand, and Clearasil, a brand selling products for younger skin, hired her for their commercials, and Nadia quickly appeared on the covers of international and German magazines.
However, Nadia knew that modeling wasn't her life-long profession, telling The Last Magazine 'that she wasn't tall and curvy enough, and a food lover.' Nadia also admitted to being bullied in school because she was different, and dressed like singer Erykah Badu. She studied economics in college but didn't graduate, quitting after she broke off a four-year relationship.
Career
Nadia became interested in acting through her modelling career, and sought the help of a talent agent at 17 to start her career; after an audition, Nadia debuted in the German TV movie translated to "Room with Aunt." She told RogerEbert.com that it compared to shooting drugs; she found something that felt right, and knew that she couldn't stop doing it. However, Nadia was unsure about her prospects, because Germany seemingly hired children or slightly older women, usually blonde women with blue eyes, which wasn't her type; consequently, she later felt depressed during gaps between jobs. However, being lonely and unhappy taught Nadia what she wanted and who she was. Moreover, her parents supported her decision not to start another career but to wait for the right role. Nadia had a back-up plan of becoming an airline stewardess, if acting didn't work out.
She starred in two TV movies, "The Route" in 2010 and "Don't Trust Anyone Under 30" in 2011, and was cast in two TV shows, "SOKO 5113" and "Alarm for Cobra 11" in 2010.
Nadia mostly starred in TV series for the next two years, the most notable being "The Other Woman," a mini-series in the "Rosamunde Pilcher" franchise. Nadia was cast in the short film "In the Gallery" in 2014, produced in Munich, and which premiered in cinemas in Berlin, Germany, but became surprisingly popular in Turkey. She acted in national TV shows until 2016, except for the 2014 feature film "Spring," playing the lead female cast member, Louise.
Debuting in Hollywood
Nadia attempted to kickstart her international career by playing Ruby in the 2015 TV movie, "Breed." That's roughly when she moved to Los Angeles permanently, according to her interview with SerienJunkies.de. Subsequently, Nadia was cast as Nita in "The Divergent Series: Allegiant" in 2016, alongside Shailene Woodley and Theo James. Nadia had watched the movie beforehand and liked the message, but didn't consider herself a fan of the film. Furthermore, she didn't think that she would get the role, telling her agent that she'd 'only end up wasting five hours of her life.'
She shared her funny experience meeting Veronica Roth, the author of the books that the movie was based on, with ShowBizJunkies.com. Nadia said that 'seeing a beautiful, young, 25-year-old woman shocked her, as she expected Veronica to be an older woman with a red bob and weird earrings.' Meeting her cast member Bill Skarsgård also reduced the stress of being the new kid in a movie with a budget of over $100 million, as he was also a newcomer to Hollywood. That same year, Nadia appeared in another movie, "Collide" alongside Nicholas Hoult, Anthony Hopkins, Ben Kingsley and Felicity Jones
Starring in "The 100"
Nadia found recognition from American audiences when she landed the role of Luna in "The 100," the dystopian TV show that mixes elements of drama, mystery and science-fiction. Nadia appeared in seven episodes in 2016 and '17. Starring in the show equally disgusted her, but made her hopeful, according to her interview with Collider. Her non-violent character realizes that humanity is on a path of suffering and destruction, because other characters didn't stop war and bloodshed, a century after a nuclear catastrophe destroyed Earth. However, Nadia thinks that the show has a beautiful message, that humanity should learn and change to prevent killing based on religion, skin color, and ideologies. Simultaneously, she knows that people could kill under the right circumstances, if others push them beyond their limits or threaten their lives.
Nadia wished to have more scenes with Jessica Harmon, who played Niylah, and Tasya Tales, who portrayed Echo, as they got along well behind the scenes. Nadia told TVFanatic.com that she remembers feeling disappointed and upset with how her character died, as she felt that fans would be heartbroken by how quickly it went down.
Nadia Hilker (Luna)#The100Cast #The100 #NadiaHilker #Luna pic.twitter.com/uA22wwky9K

— The 100 💜 (@T100FanForever) September 23, 2022
Regardless, she said that she would invite most of "The 100" cast to her wedding, and that starring in the show made her want to do more fight scenes in the future. Nadia also claimed that she would attend fan conventions, as the fans healed her insecurities by sharing their messages of bullying and unacceptance, which motivated her to turn them into positives.
Playing Magna
Nadia took a one-year break from acting, and returned to TV screens in the fifth episode of the ninth season of the renowned AMC TV show, "The Walking Dead" in 2018. She portrayed Magna, a survivor group member looking to settle in Alexandria, the community where most of the series' main characters reside. She told SerienJunkies.de that she rapidly watched the show about five weeks before the casting directors offered her the role. Nadia played one of the rare openly LGBTQ+ characters ,and was promoted to series regular a season after her debut.
Nadia stayed in the show known for killing side characters and some main ones until season 11's episode 24, the series finale, and even had a happy ending with her girlfriend. She didn't expect that and hoped that the writers would change their minds, until she received the script. Nadia told Insider magazine that she wanted to be killed in action, or have a heroic death. Her goal was to turn into a walker, the name for the zombies in the TV show. After her departure, Nadia considered ASL (American Sign Language) the most beautiful language in the world, as two actresses, Lauren Ridloff and Angel Theory, are hard of hearing or deaf.
Favorite things
Nadia revealed on her IMDb profile that she loves documentaries, thrillers, and action movies, but has enjoyed some horror films. Contrastingly, she doesn't watch TV, and even finds it weird in modern times. Despite that, she liked the "Narcos" television series, which premiered in August 2015. Nadia also claims to be good at writing and that 'writing was the only creativity that helped her grow and explore the world.' She named Michal Jackson as her primary musical influence. Outside of listening to music and writing, her favorite hobby is cooking, admitting that she's a pasta lover.
Nadia has a dog named Pacho, who since she got him has turned the upsetting feeling of coming home from a long trip into excitement.
Nadia's become more involved with mountaineering in recent years. She reported reaching one of the summits of the Dolomites, the UNESCO World Heritage Site set in Italy's part of the Alps, in July 2023.
Moreover, Nadia told HollywoodChicago.com that she's fluent in three languages: English, German and French. However, she is uncomfortable discussing politics or economics in English, because she thinks the language barrier makes her sound uneducated.
Boyfriend Joe
Since late 2019, Nadia has publicly dated an entrepreneur named Joe, who also goes by Joey; he's is involved with Slash, a neuroscience-driven digital agency. They enjoy traveling, and spent time on an unnamed beach in April 2023. She also shared a picture of the Branco Mykonos Hotel in Mykonos, Greece, in September 2020.
Physical characteristics
Nadia Hilker has curly dark brown hair, sometimes partially dyed blonde, and dark brown eyes. Nadia is 5ft 8ins (1.73m) tall and weighs 121lbs (55kgs). Nadia used to hate her curly hair, because she felt it was 'different and bigger than normal.' However, she stopped using the relaxer and straighter formulas at some point, and embraced her hair as her armor.
Net worth
Nadia Hilker's net worth's estimated at $1 million. Although the number seems high, Nadia has lived in Los Angeles for nearly a decade, traveled to luxurious vacation destinations, and returned to Germany during the COVID-19 pandemic. Moreover, she's had a few noteworthy roles, particularly in the movie "Allegiant," which grossed about $180 million worldwide. She also starred in "The Walking Dead" and "The 100," in which the lead actors allegedly receive between $100,000 and $650,000 per episode.
Nadia explained to RogerEbert.com that she is picky about acting gigs, because she wants to work for 20 or more years. She doesn't care about money or fame, only about being a respected artist, who does something fun and meaningful.