Who is Nicholle Tom?
Nicholle is an American actress, probably best known for her role as Maggie Sheffield in the TV series "The Nanny" (1993-1999), in addition to many other roles she has had in her career.
Wiki: Age, Childhood, and Education
Nicholle Marie Tom was born on 23 March 1978 in Hinsdale, Illinois USA, the daughter of Charles and Marie Tom. She has a twin brother David, an actor perhaps best known as Billy Abbott in the soap opera "The Young and the Restless", and she has an older sister, Heather Tom, an actress as well, known for her work in several soap operas, including "The Young and the Restless", "One Life to Live", and "All My Children", among others.
Nichole studied acting at Young Actors Space.
Career Beginnings and Early Success
In the early '90s, Nicholle Tom began her career with minor TV roles. She appeared in "Jim Henson Presents Mother Goose Stories" in 1990 and played Zoey in an episode entitled "The Butler Did It" of "The Fresh Prince of Bel-Air" in 1991.
Nicholle secured her first major role in 1992, as Ryce Newton in the film "Beethoven", starring Charles Grodin and Bonnie Hunt and which follows the comedic misadventures of a family and their mischievous St. Bernard dog, Beethoven. Tom reprised her role as Ryce Newton in "Beethoven's 2nd", which continues the adventures of the lovable St. Bernard, Beethoven, and his interactions with the Newton family.
Success with "The Nanny"
From 1993 to 1999, Nicholle Tom played the role of Margaret 'Maggie' Sheffield in the hit TV series "The Nanny", starring alongside Fran Drescher as Fran Fine, Charles Shaughnessy as Maxwell Sheffield, and Daniel Davis as Niles.
"The Nanny" revolves around Fran Fine, a witty and fashionable woman from Queens in New York City, who becomes the nanny for the three children of a wealthy Broadway producer, Maxwell Sheffield. Tom's character is the eldest of the Sheffield children, depicted as a smart and fashionable teenager, who often finds herself caught up in the comedic chaos of the household.
The show's witty humor, memorable characters, and engaging storylines made it a massive success, propelling Nicholle to stardom; her role as Maggie Sheffield cemented her status as a talented actress in the entertainment industry.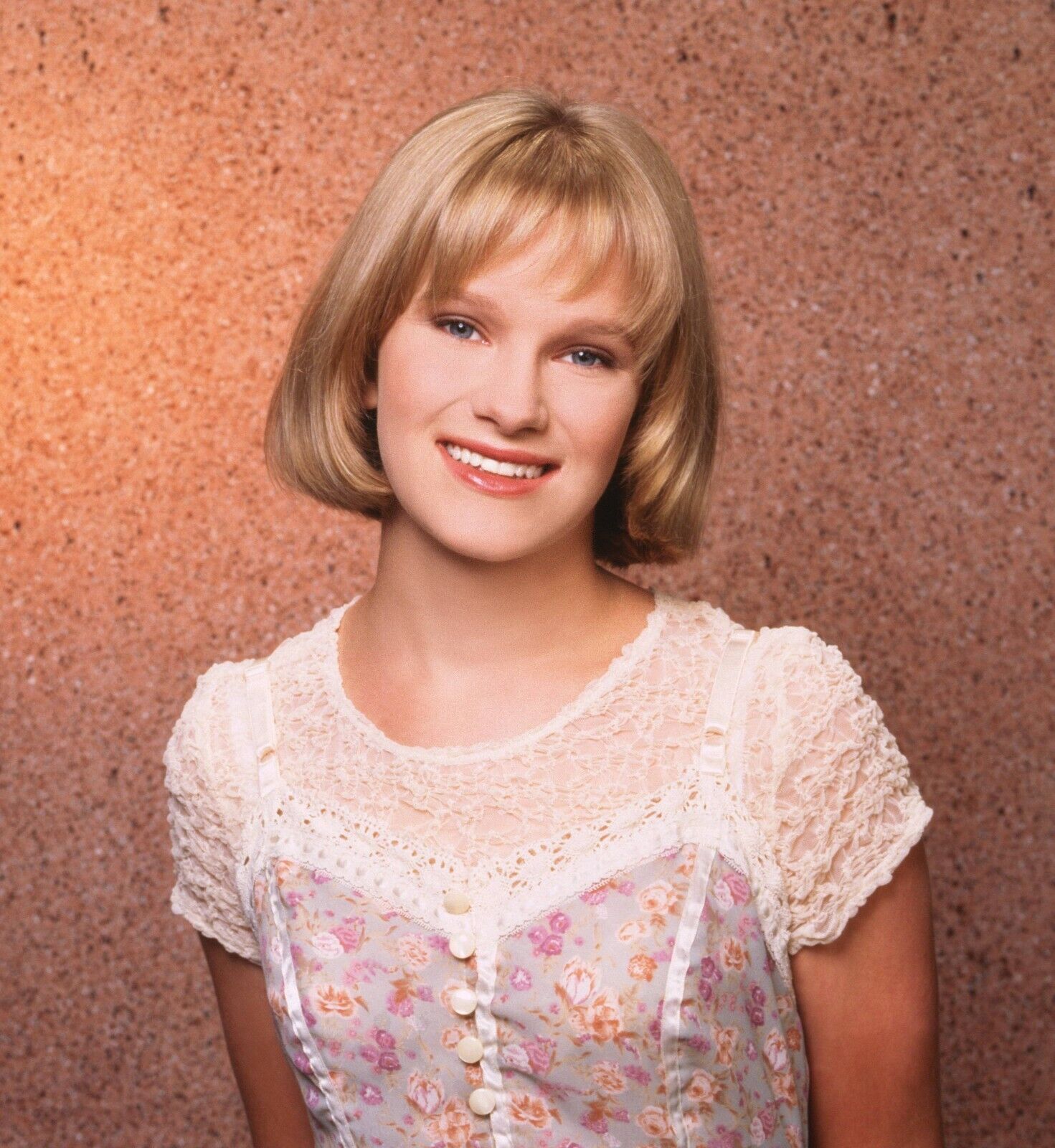 Other Projects and Continued Success
In 1996 she featured in the film "For My Daughter's Honor", co-starring Gary Cole. Then in 1999, Nicholle starred as Alexis in the TV movie "The Sterling Chase", co-starring Patrick Warburton and Jennifer Beals, and which revolves around a successful businessman who unexpectedly becomes the guardian of a teenage girl named Alexis.
She began the 2000s with the role of Tracy in the crime thriller "Panic", directed by Henry Bromell, and co-starring William H. Macy. In 2001, Nicholle Tom the role of Teen Reporter Cassie in the film "The Princess Diaries". The main stars of the film included Anne Hathaway as Mia Thermopolis, Julie Andrews as Queen Clarisse Renaldi, and Hector Elizondo as Joe. The story follows Mia, an ordinary teenager who discovers her royal heritage and with guidance from her grandmother and loyal driver, undergoes a transformation into a princess.
From 2006 to 2007, Nicholle Tom played the role of Tara Wentzel in the TV series "The Minor Accomplishments of Jackie Woodman", which also starred Laura Kightlinger as Jackie Woodman. The show revolves around the life of Jackie Woodman, a struggling actress and aspiring writer, as she navigates the ups and downs of her career and personal life in Los Angeles.
After a few years of minor and unpopular roles, Nicholle re-emerged with the role of Becca in the short film "Mi Corazon" (2014). Three years later, Tom appeared alongside Jordan Belfi and Erin Chambers in the film "Saturn Returns". Directed by Shawn Tolleson and written by Gregory Lemkin and Shawn Tolleson, the movie centers around five college friends on the verge of turning 30, who reunite in Mammoth Lakes, California for a wedding. However, their plans are disrupted when a long-lost sixth friend, along with an ex-convict, unexpectedly arrives, forcing them to re-evaluate their lives and choices.
The same year, she shared the screen with Andrea Ferrell, John Livingston and Irene Ng in the film "The Sterling Chase", while in 2018 she starred in the film "F the Prom".
In the 2018 TV series "Walk the Prank", Nicholle Tom portrayed Anne Shuster, alongside Jillian Shea Spaeder, Brandon Severs, Cody Veith and Bryce Gheisar, in a comedy series in which kids orchestrate elaborate pranks on unsuspecting individuals.
Most recently, she starred as Vicky White, alongside Adam Mayfield and Lauren LaStrada in the film "Prisoner of Love", which revolves around Vicky who is known as a respected churchgoer and loving daughter, but becomes entangled in a complicated relationship with convicted murderer Casey White. The film was directed by Jodi Binstock and written by Guy Nicolucci.
Tom is currently involved in two upcoming projects – in "Martinez, Margaritas and Murder!" she plays the role of Erika; this film is in post-production and revolves around Freddy Martinez, whose friends are being systematically murdered. He teams up with a private investigator to set a trap for the killer known as The Bedroom Butcher. The movie is directed and written by James Helsing, and also features René Mena and Time Winters.
In her other upcoming project, "Good Grief", Nicholle Tom portrays Shawna. This film is also in post-production and tells the story of a passive artist who must navigate the opinions and expectations of family, supposed friends, and a toxic boyfriend after her mother's sudden death, as she plans her mother's funeral. It's directed by Jaclyn Bethany, written by Emily Rued, and co-stars the latter and Johnny Whitworth, and Melanie Cruz.
Voice Acting
Aside from her on-screen roles, Nicholle Tom is also notable for her voice acting as Supergirl in multiple animated projects. She voiced Kara In-Ze / Supergirl in "The New Batman Adventures" in 1998, which was her debut as the voice of the beloved superhero. Next, from 1998 to 2000 she gave her voice to Supergirl in four episodes, while in the animated series "Justice League Unlimited" she voiced Kara In-Ze / Supergirl across seven episodes.
Net Worth
According to authoritative sources, Nicholle Tom's net worth is estimated at $500,000, as of mid-2023.
Personal Life, Married, Husband, Children
Nicholle Tom is very secretive about her personal life. She's been linked to such celebrities as Bryan Kirkwood, and Chris James, while she also lived for three and a half years with celebrity magician Justin Willman. According to reports, she is now in a relationship with Robbie Laughlin, E! News correspondent, and TV and radio personality.
Appearance and Body Measurements
Nicholle Tom has blonde hair and blue eyes. She stands at a height of 5ft 7ins (1.7m), weighs approximately 120lbs (55kgs), with vital statistics of 33-24-33, bra size 38B.