Who is Oliver Masucci?
German actor Oliver Masucci was born under the zodiac sign Sagittarius in Stuttgart, (then) West Germany on 6 December 1968. He has 55 acting credits and is perhaps known best for playing Anton Vogel in the 2022 adventure family fantasy movie "Fantastic Beasts: The Secrets of Dumbledore", which starred Jude Law and Eddie Redmayne, and was directed by David Yates. It follows Professor Albus Dumbledore as he's helping Newt Scamander and his friends in their fight against Grindelwald, and the movie was nominated for six awards.
Oliver's currently shooting for the upcoming movies "Shelter Me", "BAD DIRECTOR" and "The Palace", as well as for the mini-series "One Trillion Dollars".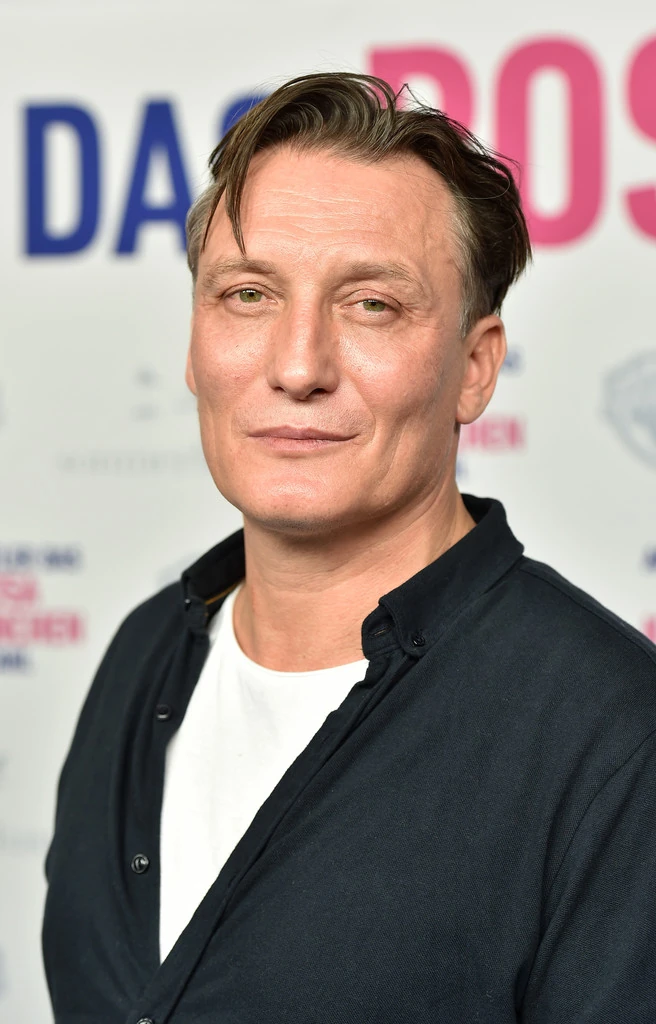 Education and early life
Oliver was raised in Bonn, Germany alongside his brother Marco Masucci, by their German mother and Italian father; not many other details have been shared about Oliver's family, because he respects their privacy.
He studied at a local high school in Bonn and was passionate about a number of activities during his teenage years, as he appeared in many school plays, played soccer and was on the school's debate team. Oliver matriculated in 1987 and then found work to financially support himself; he enrolled at Berlin University of the Arts in 1990, graduating with a Bachelor's degree in acting in 1994.
Roles in movies
Oliver's debut film role was starring as Andy in the 1992 drama "Andy", and some of his following roles were in the 2002 short drama "Die Rote Jacke", the 2002 drama "Madrid" and the 2003 animated horror comedy "Wir Können Alles. Außer Hollywood: Independent Days Vol. 01" (voice role).
In 2004, he played Ares de Saintclair in the popular mystery thriller "Blood of the Templars", which starred Mirko Lang and Harald Krassnitzer, and was directed by Florian Baxmeyer; it follows The Templar Knights as they're protecting the Holy Grail, and the movie was nominated for only a single award. The remainder of the decade saw Oliver appear in the 2006 action comedy "Crocodile Alert" and the 2009 action "Volcano".
He starred as Antonio in the 2011 comedy "Was Ihr Wollt", and it was in 2015 that he gained recognition, when cast to star as Adolf Hitler in the fantasy comedy "Look Who's Back", which also starred Thomas M. Koppl and Marc-Marvin Israel, and was written and directed by David Wnendt. It follows Adolf Hitler who's awoken in the 21st century, and the movie won two of its nine award nominations.
It's time to clock in for the #DayShiftmovie. WATCH NOW on #Netflix! #ImpossibleDreamEntertainment #YvetteYatesRedick #ShaunRedick #JamieFoxx #DaveFranco #SnoopDogg #Action #Comedy #Horror #Hunters #Vampires

Posted by Actress Yvette Yates on Friday, August 12, 2022
In 2016, Oliver played Ugly Joe in the western "Winnetou & Old Shatterhand", which starred Wotan Wilke Mohring and Nik Xhelilaj, and was directed by Philipp Stolzl. It follows the friendship between Apache chief Winnetou and a German railroad engineer, and the movie won four of its 11 award nominations.
Some of Oliver's most recent movie roles have been in the 2022 action fantasy comedy "Day Shift", the 2023 crime drama "German Crime Story: Deadlock" and the 2023 drama "Herrhausen – Der Herr des Geldes".
Roles in TV series
Oliver's debut TV series role was playing Josef Kiel in two episodes of the 1994 crime action "Die Wache", which starred Aram van de Rest and Bernd E. Jager von Boxen, and follows the people working for the Cologne police; the series aired its 243 episodes from 1994 through 2006.
The remainder of the '90s saw Oliver appear in an episode of the drama "Stadtklinik", the crime drama "In the Name of the Law" and the crime thriller "A. S."
The year 2001 saw him play Lohengrin in the episode "Teil 1" of the biographical mini-series "Die Manns – Ein Jahrhundertroman", which starred Monica Bleibtreu and Armin Mueller-Stahl, and follows the lives of members of a German literary family; the mini-series won 11 of its 13 award nominations. Oliver appeared in only three other TV series in the 2000s: in a 2005 episode of the crime drama "SK Kolsch" and the crime action "Cologne P. D.", and a 2010 episode of the action crime adventure "Alarm Fur Cobra 11 – Die Autobahnpolizei".
In 2017 and 2018, he played Hagen Kuscha in 12 episodes of the crime drama "4 Blocks", which starred Veysel Gelin and Kida Khodr Ramadan, and was created by Bob Konrad and Hanno Hackfort. It follows Toni who's trying to leave his business with the Arab gangs behind him, but has learned that it might not be as easy as he had thought; the series won 16 of its 23 award nominations.
Oliver's three most recent TV series roles have been in five episodes of the 2021 drama "The Girlfriend Experience", six episodes of the 2023 crime thriller "German Crime Story: Gefesselt" and eight episodes of the 2023 mystery science fiction "The Swarm".
Other credits
Oliver sang the song "Wanted Dead or Alive" in the 2018 movie "Herrliche Zeiten".
He's currently co-producing the upcoming movie "BAD DIRECTOR".
Some of Oliver's recent talk-show appearances have been in "CFF Talks TV Series", "Titel, Thesen, Temperamente" and "Leute Heute".
Awards and nominations
Oliver's won four of his nine award nominations. His first win was a 2016 Bambi Award for Film – National for his performance in "Look Who's Back", and he then won a 2018 Grimme Award for Fiction, for "Dark", a 2021 German Film Award for Best Performance by an Actor in a Leading Role, for "Enfant Terrible" and a 2021 Bavarian Film Award for Best Actor, for "Chess Story".
Love life and wife
Oliver's amongst the most secretive of actors as he can rarely be heard speaking about his love life in public, and we thus know about only a single woman whom he's been with.
He's today married to non-celebrity German Marie Baeumer; not many details have been disclosed about Marie, and her profession and age remain undisclosed, as well as the date of her and Oliver's wedding. They have three daughters together, and Oliver uploaded a picture with their oldest daughter Milla Masucci and wished her a happy 15th birthday in July 2019; he hasn't featured his wife in any of his pictures and videos.
There are no other women whom Oliver's perhaps been with, that we know about; he's married to Marie Beaumer as of August 2023 and has three daughters with her.
Interesting facts and hobbies
Close to 200,000 people are following Oliver on Instagram today, and he's posted more than 560 pictures and videos onto the network, with most featuring him during his everyday life.
Oliver loves to travel and has recently vacationed on the Spanish island of Mallorca; his dream travel destination's Miami, Florida.
He enjoys being in nature, whether if he's visiting national parks around Europe or is hiking up the German hills.
Oliver likes to cook in his spare time, and occasionally uploads videos of him cooking onto his Instagram account.
He's donated money to several German charity organizations.
One of his favorite actors is Christoph Waltz, and some of his favorite movies include "Spectre", "Dead for a Dollar" and "The Hateful Eight".
Appearance and net worth
Oliver's age is 54. He has brown hair and eyes, weighs around 190lbs (85kgs) and is 6ft 1in (1.87m) tall.
Oliver's net worth's been estimated at over $1.5 million, as of August 2023.