Niko Omilana
The English-Nigerian YouTuber Niko Omilana – who made headlines in 2021 for standing for London mayor at the elections – was born on 4th March 1998, in Staffordshire, England. Known for his hilarious pranks and parody videos, the social media sensation is a member of the Beta Squad, and founder of the NDL Movement (Nico Defense League).
Career
At 13 years old, Niko created his YouTube channel, and began regularly uploading comedy skits and FIFA gameplay videos. One of his earliest collaborators was childhood friend Johnny Carey; to date, one of his most popular YouTube series is "Fake Employee Prank", in which he's pretended to work at Asda, Ikea, Starbucks, and other stores. According to online biographies, the prankster was kicked out of every Asda and Ikea store in the UK and Ireland as a consequence of these videos.
Niko's current collaborators include AJ Shabeel, KingKennyTv, and Chunkz. In February 2019, the Staffordshire native founded the Beta Squad alongside Kenny, AJ, Sharky, and Chunkz. With millions of subscribers, the group of YouTubers – who are all of Somali or Nigerian descent – announced that they would be moving in together shortly after the group was created.
In late March 2021, Niko announced his candidacy for the London mayoral elections and began campaigning days later. On 19th April of the same year, he famously told the prime minister at the time, Boris Johnson, to "shush". Two weeks later, he released a satirical manifesto stating that he wanted to make public transport free for "under 18s and over 69s".
Amazingly, Niko received 2% of the votes and placed fifth at the end of the mayoral elections. During a short but memorable interview with BBC News reporters, the YouTuber stated that he had done it "for the vibes". Although we probably won't be seeing Niko at Mansion House anytime soon, his brief sashay into the world of politics did wonders for his YouTube channel, as he gained thousands of new subscribers.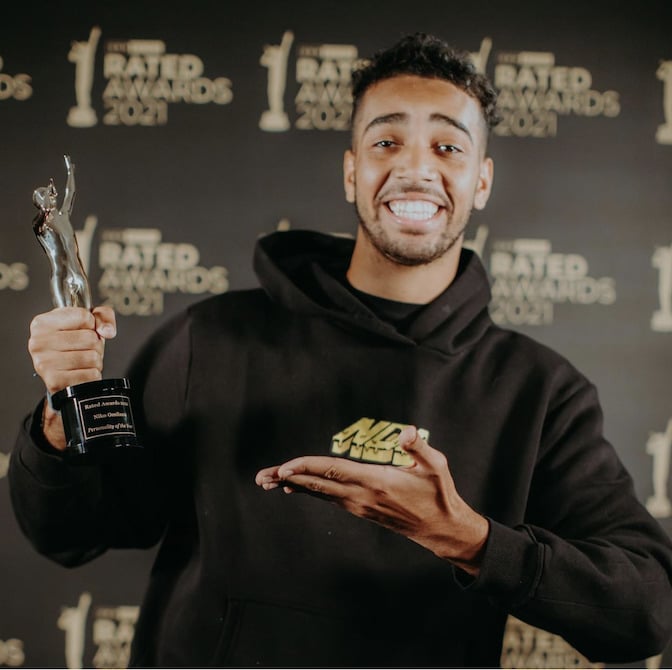 Most recently, Niko teamed up with YouTuber JiDion for a joint series entitled "The Biggest Menace", with both participants undergoing a series of challenges chosen by the other person. The first part of the series set a high standard, as JiDion was arrested by French police and detained for a day after pulling a prank in the Louvre Museum of Paris.
In the past, Niko has trolled YouTubers Jake and Logan Paul, as well as their father and trainer. Although we don't know if there's any real animosity between the YouTubers, Niko was actually kicked out of the KSI vs Logan Paul boxing match, which led to him being banned from attending the AnEsonGib vs Jake Paul fight. Nevertheless, Niko disguised himself and got past security by entering the arena using a fake name (Reng Sayeed, a play on words of "Ring Side"). When security realized, he was escorted from the premises mid-fight.
Personal Life
The YouTuber, who is 6ft 3in (190cm) tall, has a cat who was a birthday gift from AJ in 2020. When the Beta Squad moved houses, Niko was forced to leave the cat with his family in Stafford, as their new landlord didn't allow animals in the property. However, in a recent mukbang video with the other Beta Squad members, Niko claimed to be allergic to cats.
Niko participated in the Soccer Aid 2023 charity match, where he met and spoke to fans and played against celebrities such as Tom Hiddleston, Danny Dyer, and Gary Neville. Donations from the match, which was broadcast live on ITV1, went to UNICEF.
Although the content creator doesn't publicly broadcast his love life, he's been in a relationship with online it girl Sophie G (@soppyg on Instagram) for the last few years. Not much is known about Sophie, but Niko regularly posts cute comments on her Instagram photos, and has been doing so since at least 2020. The brunette graduated from Brunel University London in 2018, and is known for her love of travelling, regularly jet-setting to exotic locations such as Tenerife and Orlando.
Beta Squad
As mentioned, the Beta Squad was founded by Niko and includes some of his closest friends. At first, the YouTubers lived in Gerrards Cross, Buckinghamshire, but later relocated to a $5 million mansion on the outskirts of London. Kenny moved out to take care of his sick mother, and in April 2022, the Beta Squad shared in a mukbang video that the mansion had been repossessed by the bank due to a legal dispute involving the landlord. Their current living situation is unknown.
The Beta Squad specialize in challenge videos, although their most-viewed uploads include pranks such as "We Pretended To Work At The Grocery Store", which has been seen millions of times. Niko and his collaborators also founded their own football club, Beta Squad FC, and played against Yung Filly's team Afillyates Club de Futbol in September 2019.
Although the Beta Squad stopped posting in August 2019 for unspecified reasons, they returned in February 2020; another hiatus followed until October of the same year. The group go way back, as Chunkz and Sharky began making videos in 2015; AJ, who was at first Chunkz's cameraman, began appearing alongside the dynamic duo a few weeks later, and in 2016, they met close friends Niko and Kenny.
When the Beta Squad was first founded, fans wanted YouTubers such as Johnny Carey, Darkest Man, and Loai to join the group. However, long-time followers now agree that the group wouldn't be the same with new members, as it would throw off the dynamic.
After uploading the video in which they pretended to work at a grocery store, the Beta Squad was met with backlash due to Sharky telling the Sikh store manager: "I think it's sick that you are Sikh." The YouTubers promptly released a statement in which they said: "Religion shouldn't be joked about, and we apologize to anyone who was offended by our comments."
The Beta Squad members have an estimated combined net worth of $5 million, thanks to their social media following, endorsements, and other ventures.