Who was Canserbero?
Canserbero was a Venezuelan rapper and singer-songwriter, best known for such songs as "Es épico", "C'est la mort", and "Maquiavélico", among others.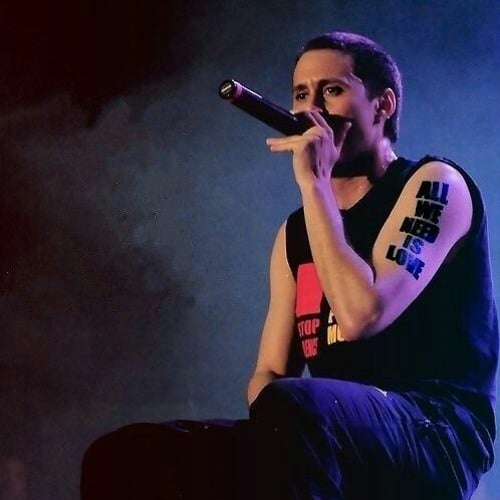 Canserbero Wiki: Age, Childhood, and E
Tyrone José González Orama was born on 11 March 1988, at the General Hospital of Lídice Dr. Jesús Yerena in Caracas, Venezuela, to parents José Rafael González Ollarves and Leticia Coromoto ducation Orama. At the age of four, his family moved to a neighborhood called Las Ánimas de La Pica in Palo Negro, Aragua state, where he spent his childhood and adolescence. In 1997, when he was around nine years old, he tragically lost his mother and was left under the care of his father.
The Venezuelan star studied law and political science at the University Bicentennial Aragua but dropped out to focus on music and social activism.
Career Beginnings
When he was 11 years old, he began performing rap shows under the name Canserbero, inspired by the term "perro cerbero" (Latin for Cerberus, the guardian from Greek mythology). Influenced by reggae and reggaeton initially, his musical tastes shifted to hip-hop and hard rock after his half-brother's tragic murder.
Canserbero's early work in the Latin American rap scene started with his participation in the band Códigos de Barrio in 1999, in which he collaborated with Manuel Galvis (Blackamikase) and Leonardo Díaz (Afromak). Despite limited resources, they recorded several songs, making an impact on the Latin American rap scene.
In 2000, his older half-brother was murdered, influencing him to explore critical genres such as hard rock and hip-hop. He studied Informatics in 2003, and joined Lil Supa in a group called Basyco, performing rap with conscious themes. Together, they released the album "Can+Zoo Índigos", further solidifying his place in the Latin American rap scene.
Rise to Prominence
He released his debut solo album, "Vida" in 2010, receiving widespread acclaim. The album's success led to him receiving the best hip-hop Artist award at the Dixtorxión Awards in 2011, further increasing his recognition across Spanish-speaking countries.
His second album "Muerte", released in 2012, further solidified his position in the Latin American rap scene. The album received acclaim for its raw and honest portrayal of human emotions and tackled sensitive topics such as depression, suicide, and social inequalities. Comprising 14 self-composed tracks, this album is considered one of the most significant works in the history of Spanish rap.
Throughout the year, he performed several concerts in Colombia, Mexico, and Venezuela. The following year, he collaborated with rapper Apache on an album titled "Apa y Can". The album featured tracks such as "Ready" and "Stop", the latter expressing strong criticisms towards Venezuelan police. In 2013 to 2014, Canserbero performed in various concerts across Latin American countries, including Chile, Argentina as well as Spain. In 2013, he also lent his vocals to Mala Rodríguez's song "Ella" from the album "Bruja".
Death at the Peak of Popularity – how did Canserbero Die?
Canserbero had plans for more music projects in 2015, including new songs and, new concerts, and a tour in Costa Rica; however, his life, as well as his music career, was cut short.
On 20 January 2015, the Latin American music scene was struck with sorrow when Canserbero, the talented rapper and artist known for his emotive and powerful lyrics, was found dead outside the Camino Real building in the Andrés Bello urbanization in Maracay, Venezuela. His tragic passing led to conflicting accounts and unanswered questions surrounding the circumstances of his death.
Several versions emerged regarding what had transpired that day. One hypothesis suggested that Canserbero had jumped from the building's tenth floor, raising concerns about his mental state at the time. Close associates initially claimed that he had been residing in the apartment of Carlos Molnar, a friend and fellow musician, due to his alleged struggle with schizophrenia. Tragically, Molnar was also killed on the same day, the victim of a fatal stabbing.
The tragic story of Canserbero: the rapper who departed in strange circumstances

He was a well-known Venezuelan rapper… he left this world in strange circumstances. Although Canserbero was found with no signs in front of a residential building, he wasn't the only victim. His best friend was on the tenth floor with his body covered in marks. The scene was gruesome and so the investigations began. Clues pointed to the fact that Canserbero had put an end to both their lives. However, the only witness decided to flee the country and left open the question of whether it had all been a planned crime…Subscribe for more https://bit.ly/yt-upsocltheenigma

Posted by The Enigma on Tuesday, March 15, 2022
The case caught the attention of the Ombudsman of Venezuela, Tarek William Saab, who decided to reopen the investigation in March of that year. His scrutiny revealed intriguing details surrounding the kitchen window, which had been modified before the incident. The removal of window protections raised questions about the methodical nature of the events, leading to the second hypothesis of murder. According to Saab, the Roman villas (window protections) had been taken out before Canserbero's fall, and someone had later put them back, casting doubt on the sequence of events.
Natalia Améstica, Carlos Molnar's wife and the main witness, provided her account of the events, narrating that Canserbero had entered her room and fatally stabbed her husband before choosing to take his own life. However, some family members refuted the suggestion that Canserbero suffered from any mental illness, asserting that he didn't have as much blood on his hands as one would expect if he'd committed such a violent act.
Additionally, during a tour in Chile and Argentina, Canserbero reportedly earned around $6,000 from his performances, and entrusted this money to Carlos Molnar's apartment, but it wasn't found after the incident.
To this day, the exact circumstances of Canserbero's death remain unclear and a subject of debate. The investigation and the conflicting accounts have left many with lingering questions, and the truth behind this tragic event continues to elude the public. Some argue that it was a revenge killing, because it is theorized that Molnar had murdered Tyrone's brother years ago.
Others speculate that it was a crime of passion, alleging that Canserbero was found by Carlos having sex with his girlfriend. Consequently, Tyrone would have stabbed Molnar and shortly afterward committed suicide.
Canserbero's body was laid to rest in the Metropolitano Cemetery of Maracay, and his epitaph reads the phrase "ni más, ni menos" ("neither more, nor less"), a poignant reminder of his enigmatic legacy and the unresolved mysteries surrounding his untimely passing.
Net Worth
Sources estimate that Canserbero's net worth at the time of his death was over $5 million.
Personal Life, Dating, Girlfriend, Single
His personal life was a mystery, and there is no information about him dating anyone, celebrity or not. Reports state that he was single and focused on his music.
Activism
In 2013, Canserbero actively participated in a non-profit organization called "24-0", dedicated to promoting a culture of life and advocating for an end to violence and death. Canserbero expressed his strong endorsement for this noble cause, echoing the sentiments of pianist César López, who emphasized that no matter our differences, preserving human life should always be paramount.
Following the untimely demise of Canserbero, his family and close companions decided to establish the "El Canserbero Foundation", as a tribute to the rapper's aspirations and dreams during his lifetime. This foundation is committed to fostering collective efforts in communities, encompassing various cultural expressions, literature, sports, and other endeavors.