The Australian actor and model, Evan Evagora, is perhaps best known for his appearances in the film "Fantasy Island", and the TV series "Star Trek: Picard."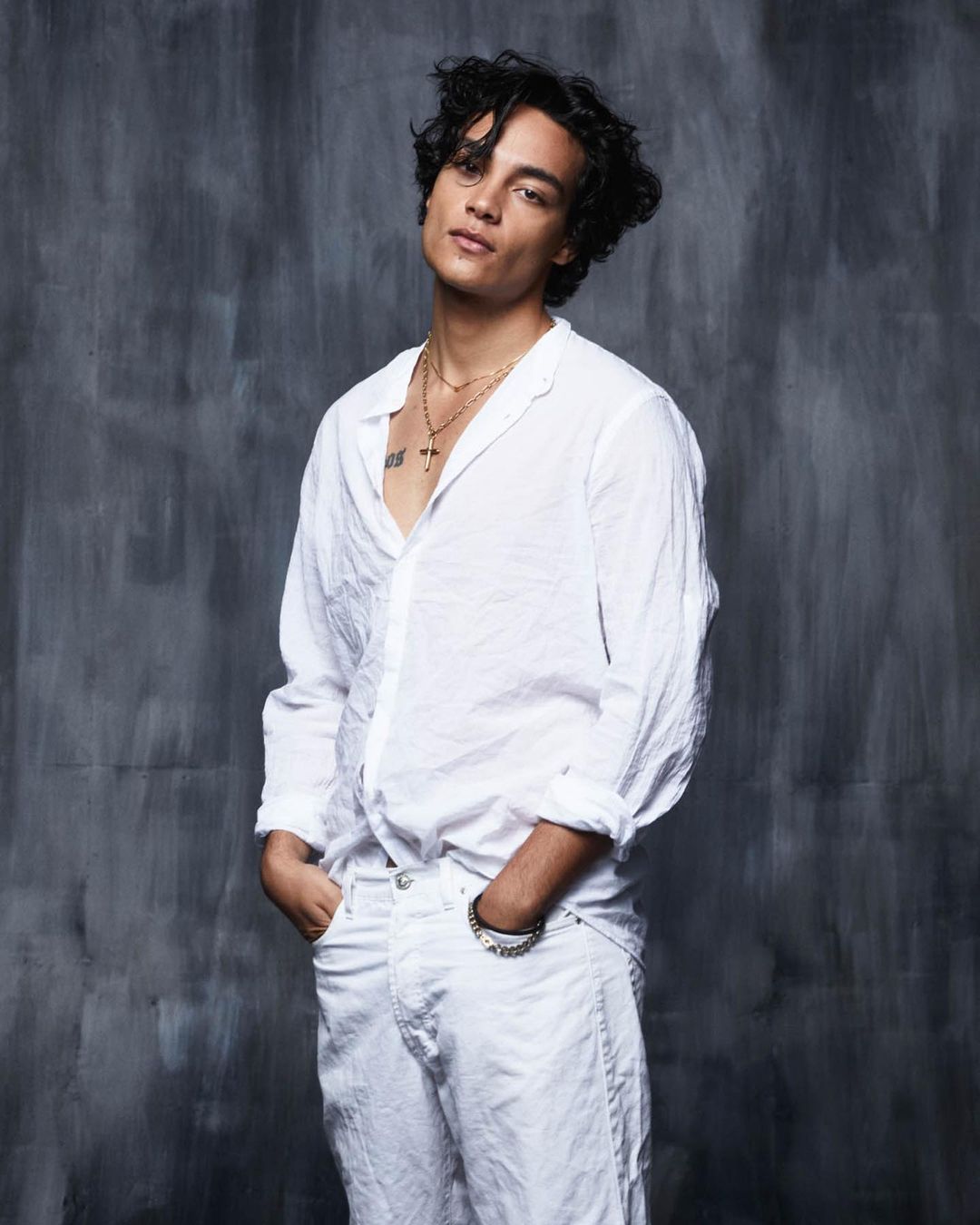 Age, Early Life, and Education Background
Evan Evagora hails from Melbourne, Victoria, Australia, and was born under the Leo zodiac sign on 10 August 1996, which makes him 27 years old as of 2023. He's the son of Marie Evagora, who is of Cook Island Maori and New Zealand roots, and Xristos Evagora. Her parents migrated to Australia when they were young – his dad from Cyprus when he was three years old. and his mother from New Zealand when she was 20. Evan has six elder siblings, two of whom are Lucas Evagora and Peta Eva. Evan excelled in sports as a child, and was influenced by his father (an ex-professional boxer) to train in boxing at an early age.
Moreover, the actor grew up playing Australian Rules football.
In addition to sports, Evagora became interested in acting, and starred in numerous primary school productions. He then attended Kew High School in Melbourne, followed by spending almost 12 months touring Europe with friends after he completed he matriculated. Subsequently, he began attending acting classes in South Melbourne, and after he completed his training, Evan relocated to Sydney to begin an acting career.
Evan has won a state boxing championship. He played Australian rules football for the Fitzroy Football Club in both the Victorian Football League (VFL) and the Victorian Amateur Football Association (VAFA).
Hobbies and Interests
Evan is very keen on traveling and has toured numerous countries including Fiji, England and
France, both for work and leisure.
He's an outdoorsy person who enjoys nature's beauty – some of his best-loved activities include hiking, camping and swimming.
Evan has revealed that he was brought up in a family that was big fans of sci-fi films, so that he grew up watching "Star Trek."
The "Star Trek: Picard" actor is outspoken about issues affecting social justice, and uses his social media accounts to speak against racism.
He is also a lover of animals, and has kept a pet cat.
Career
While he was attending a film school in South Melbourne, Evan was discovered by a modeling agency, and shortly afterwards signed a contract with them. Subsequently, he started working in Los Angeles and Sydney, having made his acting debut with the minor role as Patron in the episode "Broken Bird" of the Australian TV political thriller series "Secret City."
In 2022, Evan landed the role of Elnor, a hand-to-hand combat expert male Romulan (an extraterrestrial race) living during the 24th century, who survives the Romulan supernova event in the CBS All Access sci-fi series "Star Trek: Picard." His performance was well-received – he earned the nickname 'Space Legolas' from internet users due to his striking resemblance with the fictional character from J.R.R. Tolkien's "The Lord of the Rings." Evan shared the screen with the likes of Patrick Stewart, Ed Speleers, Alison Pill and Amanda Plummer, appearing in 15 episodes from 2020-2022.
Evan is the first Australian actor to land a main role in a "Star Trek" television series, admitting that he gained a lot of experience performing alongside the seasoned English actor, Patrick Stewart, in "Star Trek: Picard", revealing during an interview with "Syfy Wire," 'The first time I met Patrick Stewart, I was terrified. It was the worst first meeting; on my first day of filming, I was sooo nervous. Patrick took me aside because he could see the nervousness in me but it's not like he told me a story about being nervous or anything like that. He has this way of making you feel at ease.'
In 2020, Evan portrayed Nick Taylor in the supernatural Horror movie "Fantasy Island." From 2020-2022, he appeared in two episodes of the "Star Trek" after-show program "The Ready Room," which aired on Paramount+. Moreover, Evan made a single-episode appearance in the Australian soap opera "Home and Away" in 2021, then in 2022, Evan lent his voice to the character Nicholas 'Nick' Furcillo in Supermassive Games' drama horror video game, "The Quarry."
Strike a pose 📸 #TheQuarry

Via Evan Evagora's Instagram ❤️https://t.co/MHzkoSyhbG pic.twitter.com/24xcISFuzZ

— Supermassive Games (@SuperMGames) May 11, 2022
Social Media Presence
Evan is active on Instagram (@evan.evagora) with around 42,000 followers. He's fond of sharing his modeling content, fashion, adventure, and travel videos and photos on his account.
Personal Life
Evan has dated the model, Summer Kane, who participated in Tyra Banks' Fox8's modelling contest reality show "Australia's Next Top Model." Summer often uploaded her picture with Evan on her social media accounts. On Valentine's Day in 2020, she shared her photo kissing the "Star Trek: Picard" star as she wished him a happy Valentine's Day.
It is widely rumored that Evan is now in a romantic relationship with the aspiring actress, Zoe Cipres, known for her appearances in the TV series "Grown-ish" (2018) and "Roswell, New Mexico" (2022). The lovebirds are fond of posting their photos online. It's reported that Evan proposed to Cipres in Brooklyn, New York, in July 2022, and shared his photo popping the question on his Instagram account. The duo is reportedly living together in Sydney, Australia, as of 2023.
Height, Weight, and Physical Appearance
Evan is of White ethnicity and has black hair and a pair of black eyes. He stands 6ft 1in (1.85m) tall and weighs approximately 170lbs (77kgs) Evan has inked tattoos on his chest and arm.
Net Worth
Evagora has accumulated most of his net worth from his acting and modeling careers. He's shared the screen with several famous actors, which has significantly increased his fame. Evan's net worth is approximately $200,000, as of 2023.
Who Is Evan Evagora's "Star Trek: Picard" Co-Star, Partick Stewart: Brief Biography
Sir Patrick Stewart OBE is a native of Mirfield, West Riding of Yorkshire, who was born under the Cancer zodiac sign on 13 July 1940, making him 83 years old as of 2023. He's the son of the late British Army Regimental Sergeant-Major Alfred Stewart, and his wife Gladys Stewart, who was a textile worker and weaver. Patrick has been actively involved in acting for over seven decades. He toured and performed with the Royal Shakespeare Company during the early phase of his career in the mid-60s, and went on to appear in numerous plays after making his Broadway theater debut in a production of Shakespeare's "A Midsummer Night's Dream" in 1971.
Patrick made his TV debut in 1967 in the soap opera "Coronation Street", and has since appeared in dozens of films and TV series, gaining international fame for starring in the TV series "Star Trek: The Next Generation" and its sequels, "The Lion in Winter," and "Blunt Talk," and the miniseries "Moby Dick," among others. Patrick has also appeared in numerous acclaimed films, including the space opera movie "Dune," the "X-Men" film franchise, and "Doctor Strange in the Multiverse of Madness" among others.
Patrick is a nominee for Olivier, Golden Globe, Tony, and Emmy Awards. In 1996, he received a star on the historic landmark, The Hollywood Walk of Fame, and 2010 saw Patrick conferred a knighthood by the late Queen Elizabeth II for Services to the Entertainment Industry.