First-time viewers think that there is something between Matt Wetzel and Lizzy Ballard (née Stout), until they discover their age and relationship status. Matt started his YouTube channel, Matt's Off Road Recovery, on 28 March 2019 and has amassed over 630 million views and more than 1.55 million subscribers as of early August 2023.
Most surprisingly, Matt, a rugged-looking, technology-impaired business owner, doesn't do anything extraordinary on the surface. His company, Winder Towing Inc., primarily performs off-road towing and vehicle recoveries, however, through his work, Matt uses his expertise and tools to save people in distress, mainly tourists, during off-road adventures in and around southern Utah. Thus, he earns their gratitude by eliminating stress and further damage to their vehicles, which is satisfying to watch on YouTube.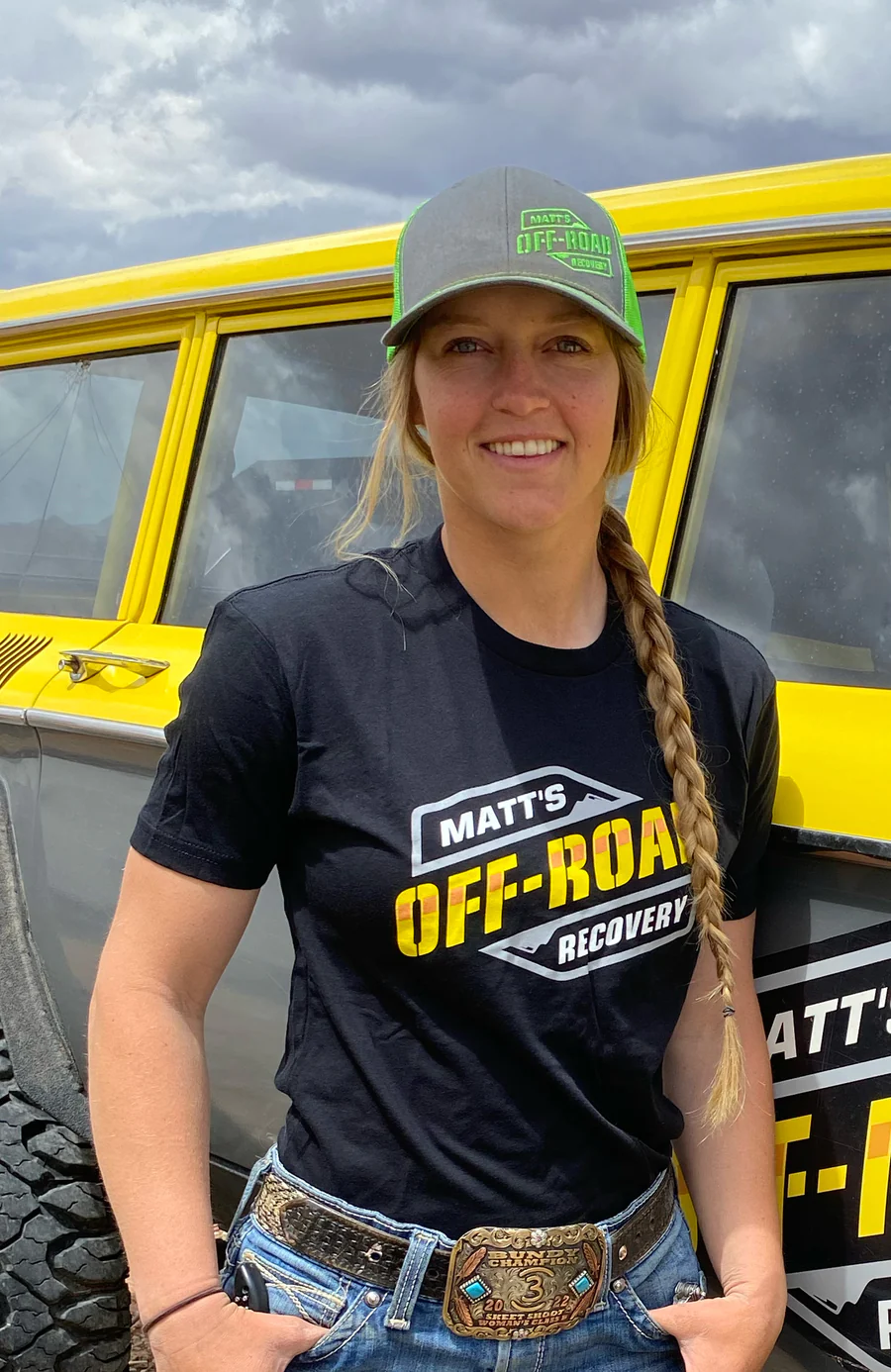 Matt's family, including his wife Jaymie and his four children, and loyal employees and great friends, have modified the towing vehicles over the years. Viewers can see Ed, who joined his towing team in 2009, and Lizzy, who has been part of the team since 2020, doing some of the work. While the team mentions a 2001 Jeep Cherokee XJ, which they painted yellow and named "The Banana," as the primary vehicle, they have built several others, including MORRVAIR, Off Road Spud, Snow Bombi, and Largest Wrecker. Those customizations added variety to their content, and attracted more subscribers. However, since new viewers frequently ask about the nature of Matt and Lizzy's relationship, we explained their history.
They have a strict business relationship
There were rumors that Lizzy may be interested in Matt romantically, or was his secret daughter since she joined the team three years ago; that was primarily because Matt's wife, Jaymie, appears in his videos sporadically. However, those suspicions have no merits; Lizzy is far younger than Matt, and religious. Additionally, both are married and have shown no indications of wanting to or having an affair. Additionally, her family has known Matt's family for generations, and she considers Matt a mix of an uncle and a second father. However, their connection is undeniable, and it's clear that Lizzy shows up to work because she loves being an auto mechanic and a technical advisor. Here's how their relationship developed.
They had known each other for years
Lizzy is the daughter of Stewart Stout, one of Matt's best friends, which is something viewers can learn by checking their social media profiles thoroughly. As mentioned, the Stouts and the Wetzels have known each other for generations, and Matt and Stuart grew up together and attended the same school. Stewart is married to Heidi Stout, and Lizzy has five siblings; two sisters and three brothers. She was passionate about swing dancing, volleyball, horse-riding, and rodeo competitions, and viewers could later see her sporting an intricate belt buckle, which she won in a rodeo match, while working on cars.
Lizzy posted a picture of herself between Stewart and Matt onto Instagram on 5 April 2022, to end all doubts. She pointed at both and added descriptions 'My Dad' and 'Not my Dad' above their heads during photos editing. She also included a #dadsarethebest tag in the post, suggesting that she considers Matt her second father. Posts that they dedicate to each other, such as wishing each other a happy birthday, also prove that they view each other as family.
Lizzy joined Matt's team in 2020
Lizzy became an employee of Matt's company, Winder Towing, a year after he created his YouTube channel, and over a decade since he started his towing company. Some viewers may not know that Matt worked in the roofing business for 12 years, 10 as an employee, where he perfected his craft, and two as the co-owner of Skyline Roofing. Matt bought his first towing company, Red Ryder Towing, in 2009, obtaining many assets that viewers could see on YouTube. He then purchased another towing company, Winder Towing, in 2013, doing so because it had a long reputation in Hurricane, Utah; Harlon Winder founded it in 1981, and it was known for integrity, speed, honesty and professionalism.
He always loved the process of 'fabricobbing,' a word that he uses for fabricating without a well-developed plan. While skilled and successful, Matt realized he needed to improve at using computers. Instead of working at it, he hired Lizzy as a technical advisor, auto mechanic, and welder. She loved what she did to the point of showing off her skills in videos, particularly at welding, letting other professionals criticize her work. She eventually began performing occasional car rescues, allowing her to host YouTube videos.
Lizzy drives a black Ford Fusion and would one day love to have a green Ford Raptor for rescues. While her wish may eventually come true, she would probably have to purchase it; Matt and his team pledged to build a Suzuki Sidekick for recoveries.
She models some merchandise
Like many YouTubers, Matt leveraged his channel to generate extra revenue for his company by offering merchandise via his official website, www.mattsoffroadrecovery.com. He sells clothing such as hats, t-shirts, jackets, and hoodies. Moreover, his fans or aspiring professionals can buy reliable accessories such as work gloves, and recovery gear, primarily rope.
With that in mind, appearing in videos isn't the only thing that Lizzy does in front of the camera. She has modeled a few products, mainly unisex T-shirts in women's sizes. Lizzy also designed the Lime Green Lizzy Hat, created out of her love for lime green, a shade of her favorite color that reminds her of riding horses through green pastures.
Lizzy is also married
Matt treats Lizzy like his daughter or niece, but they aren't blood-related. Therefore, many viewers have hoped that Lizzy and Rudy, Matt's eldest son, would find love over time; there were some indications as they had great on-screen charisma and worked well together. Rudy was also a welder but primarily designed and fabricated things for the vehicles. When Rudy stopped appearing in YouTube videos around 2022, some people thought that Lizzy caused it somehow. After all, he returned from an LDS (The Church of Jesus Christ of Latter-day Saints) mission in late 2020 and spent about two years working for his father before abruptly leaving.
That did not happen, however. Rudy quickly revealed that he left to create a YouTube channel and company, Rudy's Adventure and Design. Additionally, he dated a girl named Janelle at that time. He clarified that recovering vehicles wasn't his life's calling, and that he harbors no ill will towards his father, despite being a competitor in rebuilding and designing vehicles. Matt supported his decision, and Rudy returned a year later for a few events organized by his father's company.
She became engaged a year ago
Around the time that Rudy left in June 2022, news spread that Lizzy became engaged to Clancy Ballard. She started going by Lizzy Ballard after she married him on 30 September 2022 at Cedar City Utah Temple, an LDS temple. Not much is known about her husband – Clancy appeared in a few YouTube videos, but was either unintroduced or had his face blurred to protect his identity. He's an LDS member and an avid horse rider, like Lizzy. Her fans scoured Clancy's social media profiles, discovering that he would spend months on a mission in Dickson, Tennessee, in late 2022 and early 2023, meaning that Lizzy was physically separated from her husband for a while.
Lizzy loves Matt's dogs
Love for animals is another thing that Matt and Lizzy share. Matt's YouTube channel's loyal viewers can often see his three rescue dogs in the background. Border Collies Lady and Peanut appear in many videos but are more passive; his chocolate Labrador Max frequently steals the show because he always seems happy and excited.
Lizzy has shown love for all three, but seems to spend the most time with Peanut. She sometimes jokes that she 'has to sit in the back with Peanut because she had lost the game of rock, paper, scissors' when the team travels to the recovery site. Her affection for Peanut isn't so unusual to fans who know that Matt introduced Lizzy's puppy Border Collie named Turbo in March 2022. Turbo spends time with others but seems to follow Lady the most.