It's almost impossible to watch "America's Got Talent" and not get overjoyed by seeing artists from all over the US and abroad showing their talents on stage. One of those amazing performers who couldn't help but entice the audience with his voice and stage presence is Cakra Khan, an Indonesian singer with an incredible voice and lots of talent to share with the world.
Cakra's audition during the show's 18th season was enough to not only gain him the hearts of millions but also awaken their curiosity. So what is going on with him and what is his story? And what happened to him after his audition in the show? Stay here to discover the untold truth of Cakra Khan!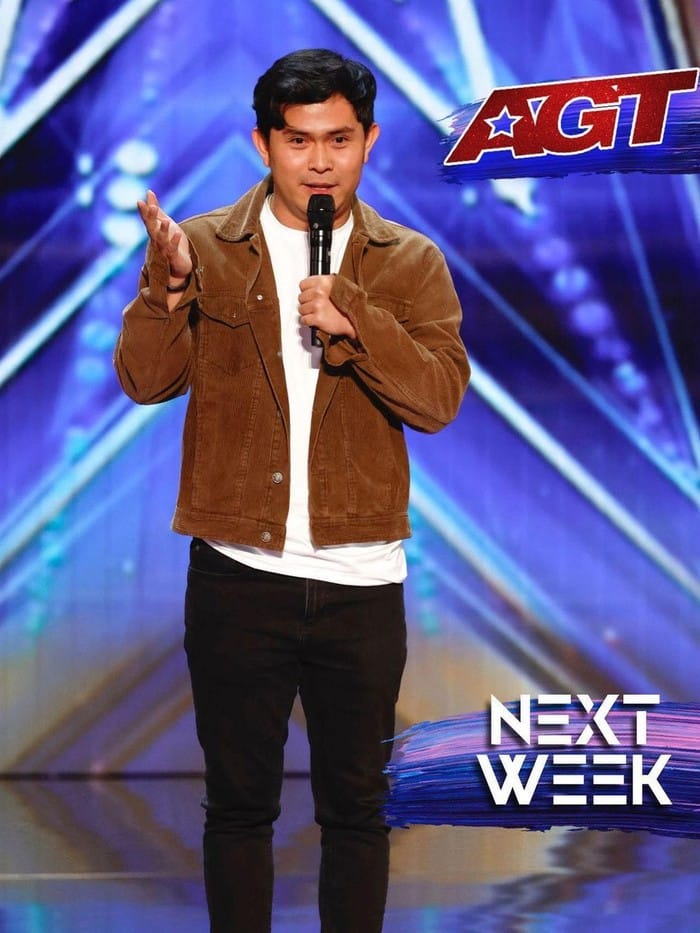 He Won't Be In The Show Anymore
While there's a lot to say about Cakra Khan and his impressive singing ability, the thing which put him at the center of attention of the Western media was his audition at "America's Got Talent" during season 18, which premiered in 2023. His renditions of Ed Sheeran's "Make It Rain" and Bob Marley's "No Woman, No Cry" convinced the audiences and judges that he was more than perfect to keep advancing in the competition, but that wasn't quite enough.
Just one month after the airing of his audition, "America's Got Talent" released a video announcing the 55 contestants which would appear in that season, except that Cakra was nowhere to be found. Though it's usual for the show to eliminate contestants during the deliberation phase, it was apparent that Cakra was none the wiser about his elimination before the video was posted, according to some reports online.
Despite the disappointment, Cakra thanked his fans for their support through a post on X, receiving in response dozens of encouragement words. However, it's unclear whether he'll give the America-based competition another try.
He Mesmerizes Audiences Worldwide
Even though Cakra Khan's stint in "America's Got Talent" was short-lived, his fantastic audition gained him the hearts of thousands of people from around the world.
For starters, the video of his audition posted by the official "America's Got Talent" accounts gained over nine million views on YouTube in less than a month, while another 10 million views can be counted on Facebook, turning it into one of the most watched videos out of all the season's auditions. The excitement over Cakra's talent is unsurprising, as the show's live audience notably went into an uproar after hearing his deep yet beautiful voice on stage, even going as far as to 'boo' when Simon Cowell interrupted Cakra to ask him to sing a different song.
The enthusiasm over Cakra doesn't stop though, as all over YouTube several reaction channels have posted live reactions to his "America's Got Talent"s audition and other songs posted by Cakra in previous years. That excitement has also turned into disappointment upon hearing of Cakra's elimination from the show, with several YouTube creators commenting and sometimes even theorizing what the cause of his cut-short journey was.
All in all, Cakra might not have been in the show for long, but appearing in it was definitely positive to spread the word about his talent.
He Has Several Viral Videos
Cakra Khan's first and only appearance on the stage in "America's Got Talent" became the reason many people got to know about him, but that's not the only video which put him under the radar of many music fans online. Back in 2020, Cakra alongside the YouTube channel Roommate Project posted a cover of Chris Stapleton's "Tennessee Whiskey" which went viral, gaining over five million views and the praise of experts and music react channels from all over the internet.
Not far behind that, Cakra's covers of songs in English and Indonesian have gained him over 84 million views combined on his YouTube channel, on which he also has over 450,000 subscribers. As if that wasn't enough, Cakra's social media reach is quite impressive, having more than 300,000 followers on Facebook and 600,000 on Instagram.
All in all, it's undeniable that Cakra has been touching people's hearts with his music for a long time.
He Is A Seasoned Artist
The name Cakra Khan is still new to American audiences, but he's a seasoned singer with over a decade of experience. According to his biography on music platforms, Cakra's beginnings in music go back to his childhood, when he performed at school festivals.
New stuff comeeeeeeing ✌️ pic.twitter.com/IZlYixf6EH

— Cakra Khan (@CakraKonta) June 25, 2020
Cakra's love for music strengthened during his teens when he became heavily influenced by jazz and pop, later enrolling at the Bandung College of Music to obtain a degree in music. However, the big turn of his career came in 2010, when he took part in a local talent contest in his native Indonesia, getting placed as a runner-up and gaining enough popularity to release his first song "Harus Terpisah" at only 20 years old.
His debut album "Cakra Khan" was published in 2013 and from then on his career was unstoppable, receiving two Indonesian Music Awards for his contributions to the local musical industry. These days, Cakra has over two million monthly listeners on Spotify and dozens of millions of streams on his most popular songs.
He's Accomplishing His Father's Dream
While Cakra Khan's interest in music can be traced back to his early childhood, it was his late father the one who played the biggest role in awakening his love for music by introducing him to blues and reggae.
Just as he affirmed during an interview with the Indonesian news portal TribunSeleb, Cakra could have followed his mother's career steps and become a teacher just as she is, but the route of an academic wasn't quite what he envisioned for his music.
Instead, Cakra followed the steps of his father, who dreamt of becoming a singer and is now content about achieving the goals which his father aspired to. That bit of information makes Cakra's mention of his father's music preferences during his "America's Got Talent" audition even more heartwarming.
Overall, it isn't difficult to see how greatly talented Cakra Khan is. While his path in "America's Got Talent" was quite short it's unclear whether he'll return to that TV stage any time in the future, there's no doubt that his appearance in the show is opening many doors for his talent to expand and be heard by more people around the world.