Despite being separated for several months, Caleb Willingham died aged 40 on 30 June 2023 before he could divorce or rekindle his marriage to Tammy Slaton. Tammy and her sister Amy gained prominence as the stars of "1000-lb Sisters," the TLC reality TV show that premiered on 1 January 2020. Although the TV series focused on weight loss, it also touched on why the two sisters reached such a staggering weight. During the four seasons that aired so far, Amy lost a drastic amount of weight through a weight loss surgical operation, workouts, and proper diet, and was at 275lbs or 125kgs when season three ended. She gained weight following her second pregnancy, after which she split from her husband, Michael Halterman, in March 2023 after four years. Thankfully, Amy revealed around 15 May this year that she had lost 125lbs or about 55kgs, and the image she uploaded suggested that she now slimmed to about 220lbs or about 100kgs.
Conversely, Tammy made excuses and seemed to be trying diets but not making significant progress. That changed in January 2022, during the season three finale, when Tammy nearly died after she suddenly stopped breathing. Her COVID-19 infection worsened her symptoms, and the doctors barely saved her life by putting her into a medically induced coma for a few days.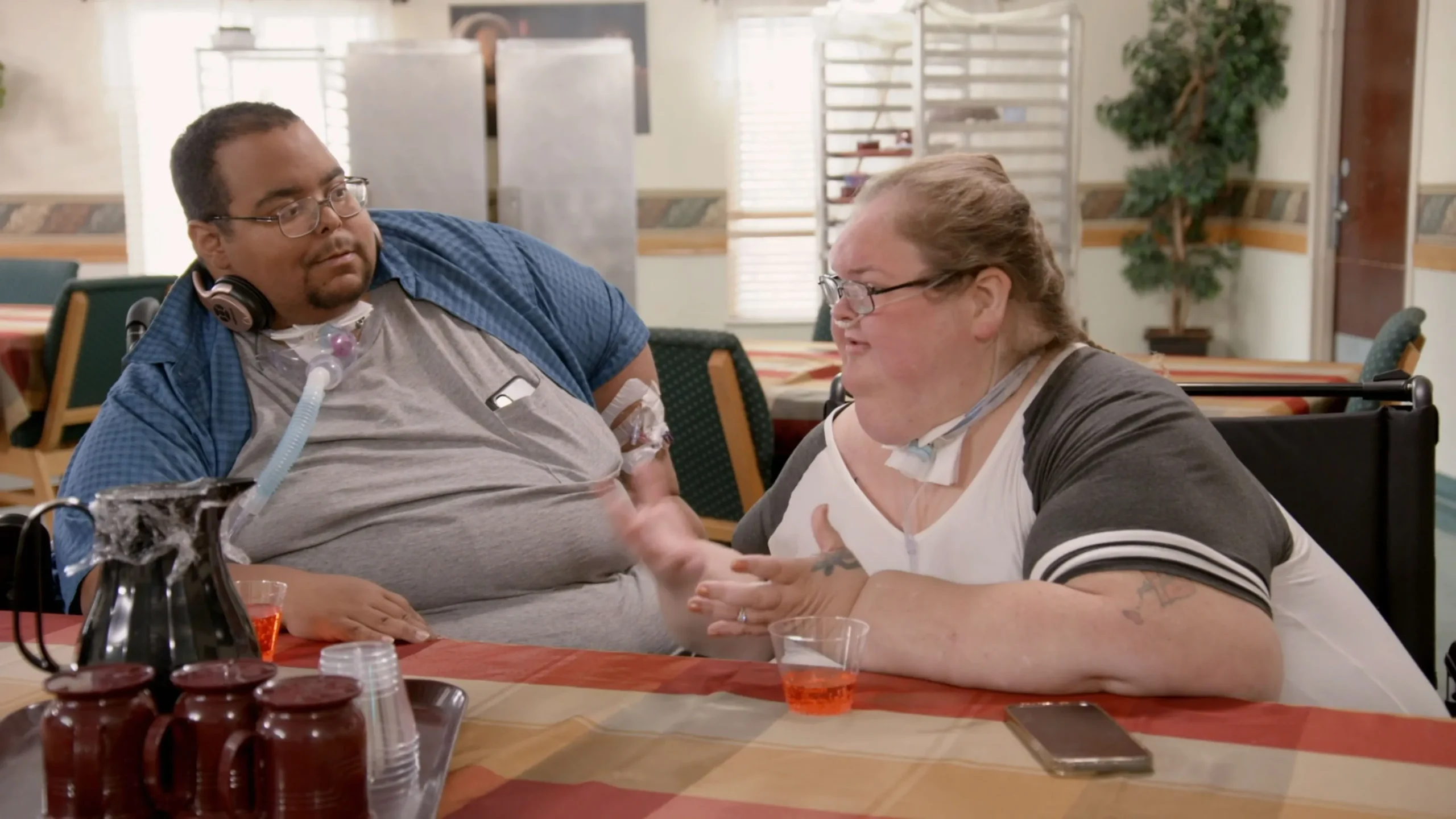 That near-death experience flipped a switch in Tammy; she checked into an Ohio-based weight loss center a few months after the incident. Today, she has lost over 400lbs or 181kgs compared to her peak weight of about 700lbs or about 317kgs. Rehabilitating from her food addiction also changed her life unexpectedly; she met Caleb at the clinic. They fell in love quickly and passionately, became engaged a few months later, in October 2022, and married the following month – TLC aired the nuptials on 21 March 2023. Unfortunately, Tammy allegedly filed for divorce in May, but rumors were confirmed shortly afterwards. She reportedly moved on with a TikTok Star, Greg Morgan, leaving Caleb devastated and struggling with excess weight. However, before they could complete the legal procedure to divorce, Caleb passed away, and Tammy publicly celebrated his short life about a month later. Here's what happened.
Caleb's death affected Tammy
Tammy and Caleb had known each other for about a year and were married for five to six months before they went their separate ways. Tammy has had enough of Caleb's unwillingness to stay on track with his weight loss progress, but his death rattled her. TLC likely mandated her silence, as they wanted to feature Caleb and Greg Morgan, Tammy's alleged rebound boyfriend, in the show's fifth season.
However, when Caleb died, Tammy became much more open; she appreciated his friendship and support and seemed genuinely anguished, even crying uncontrollably at his funeral. Greg also denied the dating allegations via his TikTok account, criticizing followers for not allowing two people to be friends rather than lovers. Caleb's death remains without an official cause, meaning that his family did not want to make it public or that TLC wanted to make his death a notable part of the fifth season's storyline, so they asked the family to remain vague.
Ohio rehab center connected them
When Tammy arrived, Caleb had been at the Windsor Lane Rehabilitation Center in Gibsonburg, Ohio, for at least a year. Still, they didn't see each other in passing for some time. That was mainly because Caleb mostly stayed in his room, and Tammy focused on recovery and weight loss; following her breathing problems, doctors added a tube in Tammy's neck and windpipe, which needed to heal.
Therefore, destiny evidently intervened when her neck wound became infected, forcing her into a longer recovery. Simultaneously, Caleb lost weight and improved his health, so he began spending more time in the center's halls. He later admitted to Tammy that his best friend's wife found her on social media and that her journey inspired him to lose weight and potentially approach her. Tammy called it 'a bit stalker-ish but wasn't mad that he looked.' Sparks flew when they met, but love was only a part of why Caleb and Tammy got together. Having a common struggle with food and many adverse events in life strengthened their bond.
Additionally, they were on the same recovery path, apparently doing excellently, and had nowhere else to be but the clinic. Caleb also proposed to her in the clinic's parking lot, so she might have felt pressured to say yes. With that in mind, the distance started a conflict when Caleb continued his treatment while Tammy checked out after 14 months.
Tammy Slaton is now a married woman!

The 1000 Lb. Sisters star tied the knot with husband Caleb Willingham on Saturday at Windsor Lane Rehabilitation Center in Gibsonburg, Ohio, PEOPLE can exclusively reveal.

More details here: https://t.co/qXtVBWheWt pic.twitter.com/zTRKjy79l5

— People (@people) November 20, 2022
Many, including Amy, doubted them
Viewers at home, bloggers, and Tammy's sister understandably had several concerns after Tammy married Caleb on 20 November 2022. Most agreed that two working towards the same goal would have much in common and be great partners. They mainly criticized Tammy's emotionally-driven decision to become engaged only a few months after meeting Caleb for the first time and marry him a month after the engagement.
They pointed out that things developed too quickly and should have waited to see how they handled problems in the real world. Most people were concerned that the two would feed off their addictions or distract each other, slowing their progress. That was a genuine concern considering that no one would supervise their diet and exercise plans, and they wouldn't have financial pressures to hit their milestones.
Most importantly, someone close to Tammy had reservations. Amy wondered whether Caleb had ulterior motives and why he loved Tammy so much. However, after meeting him, she realized that Caleb genuinely loved her sister, and stated that she appreciated how he'd changed Tammy's life.
Tammy was a proud wife
Ignoring mounting troubles and following her feelings was why Tammy's weight spiraled to endangering her life. While she became better at controlling her actions in that regard, those did not extend to her romantic life. Tammy seemed ecstatic to be in love and glowed with satisfaction when Caleb confessed that he would love her at any size.
Besides the rushed wedding at the clinic, her first drastic move was a name change. In early April, a week or two following the episode documenting her marital ceremony, Tammy changed her name to "Tammy Willingham" on social media and proudly stated 'They all knew me as Tammy Slaton, but now they will all know me as Mrs Tammy Willingham.'
Returning home affected her conviction
Unfortunately, the discord had been brewing for a while behind the scenes, but Tammy did not realize that until she returned home to Kentucky State. At that point, Tammy had lost nearly 300lbs or 135kgs, while Caleb reportedly did well, then gained about 30lbs or 14kgs after she left. Even worse, he allegedly gave up on fixing his situation, so he stopped following his program, and his health declined again.
Tammy put up with it for a while, hoping that her husband would see the error of his ways and get back on track. That didn't happen, and Caleb made their marriage more difficult by allegedly threatening divorce during their fights, but later pulling back, indicating emotional manipulation.
Amy and Amanda Halterman, the half-sister who also appeared in the show, pointed out all the problems to Tammy. She saw their point and confronted Caleb about what their life together would become. She realized that she would be his caretaker, despite struggling to tend to her own needs without outside help, and being on a complex health improvement journey herself. Knowing that they had signed a prenuptial agreement to protect their assets, Tammy didn't hesitate to tell Caleb that she wanted a divorce.
He broke the divorce news
Tammy, Amy, and the rest of the family were silent about the divorce, and the audience would have learned about it in season five, which Caleb had signed a contract for. However, he couldn't hold back, and conveyed his sadness using Facebook. Caleb spilled the beans to his friends and followers, writing in a since-deleted post, 'Delete me from friends if you were here only for my wife. We are married by paper only right now. Her decision, not mine. It was more than that. I'm hurt, mad, confused, and alone even with others around.' He thanked his followers for their prayers, love, and support afterwards. His Facebook profile also revealed that he liked to go by nicknames "Killa K" and "Double K."
That confirmed previous insider information that Tammy felt 'as if she was single' because Caleb did not want to work on himself. The insider also stated that Tammy didn't want a long-distance relationship, and Caleb didn't recognize the urgency, so he showed no signs of leaving the clinic or, at the very least, moving to a rehabilitation center in Kentucky State.
Caleb was rarely mentioned
When Tammy did not reply, fans assumed they were handling the legal issues and that TLC urged them not to discuss the situation. Moreover, reconciliation was unlikely because Caleb didn't move to Kentucky State to live with Tammy, and they began falling back into some routines and living separate lives.
Tammy had financial issues, and lost her Kentucky State home after somebody broke into it in February 2023, and she could no longer pay the rent. About a month after the break-in, following her sister's struggles with her impending divorce, the two sisters moved into a 1,372sqft or 127m2 home that the Halterman relatives generously provided.
That situation fit them perfectly, as they needed more money. Tammy wanted to score a book deal about her weight loss journey. At the same time, Amy sought to spend more time off-screen, singlehandedly raising her two sons, Gage Deon Halterman, born in November 2020, and Glenn Allen Halterman in January 2022. Unsurprisingly, both sought a better-paying contract from TLC for the upcoming season or seasons.
Tammy revealed that Caleb died
Tammy announced Caleb's death via her Instagram account, @queentammy86, on 1 July 2023, with several photos of them at the clinic. However, The US Sun discovered that he had died a day earlier. Tammy wrote that 'he was a sweet angel who will forever be missed and loved' and thanked him for showing her genuine love and happiness.
A week later, she posted a vague image that said, 'Even though we don't talk every day because you live far away, you're on my mind until each day's end. I'm proud to say you are my friend.' That resonated with Tammy's previous statement, 'Our wedding day was perfect, and there was so much love in the room because I literally married my best friend.' She also told People magazine that Caleb became her guardian angel at the clinic and is now really watching over her. Tammy also replied to fans' TikTok comments, confirming that she truly loved him but was somewhat relieved that he was no longer in pain and in a better place.
Caleb left two people behind
Despite appearing in the fourth season in connection with Tammy, and signing a new contract, Caleb preferred a private life. Although his death wasn't entirely unexpected, Caleb's younger brother, known under his artist name, I'am Willc, was shocked that he had to announce the disheartening news.
He wrote that 'he couldn't believe that he was even making his post but that God had called his big brother home.' The younger brother added that they considered themselves champions of a fictional WWF league as the tag team entitled "The W Boys" and that Caleb was his biggest supporter.
Caleb's stepmother, Shirley, confirmed that Caleb died but didn't specify the cause. His brother's Facebook post contained a picture of Caleb in a recording studio with a hat typical for hip-hop artists. That suggested that he wanted to break into the hip-hop industry under the artist names mentioned above. Considering that the brother was an artist, producer, and engineer at Bionic Entertainment, Caleb had the means to reach his goals. Caleb's brother also revealed his weight loss progress, showing before-and-after pictures from February to November 2014, which prompted him to maintain his desired physique.
TLC filmed the memorial service
In a controversial but not surprising move, TLC filmed the memorial service for Caleb in late July. People magazine exclusively reported on it on 3 August, speculating that it will be the staple of season five. They noted that Amy held Tammy's hand as they both appeared in black dresses next to Caleb's friends and family. Tammy carried a bouquet and sobbed with Amy, and an insider revealed that Tammy had been crushed by the realization that it could have been her if she did not commit to her diet and exercise plan in time.
Caleb had been cremated at the Ohio facility where he died, so the memorial service only had his ashes. Tammy picked them up with Chris Combs, her half-brother, a week earlier as his legal wife. Tammy also planned a private celebration of life in Kentucky State, which may not have been filmed as Tammy and Amy got into a physical fight around 14 July, prompting TLC to issue a six-week-long filming hiatus.