Paul John Teutul Sr is an American motorcycle manufacturer and reality television personality, who gained fame as the star and focal point of the American reality television series "American Chopper", and later as the star of Orange County Choppers.
The series focused on the day-to-day lives, and the many, often extravagant projects undertaken by the staff of Orange County Choppers, the custom motorcycle manufacturing workshop Paul Teutul founded in 1999, based in Orange County, New York State. The staff included Paul Sr, and two of his sons, Paul Teutul Jr. and Michael 'Micky' Teutul – is natural for reality television, the series' popularity was founded on the backstage family drama.
While the show was popular, the feud between Paul Sr and Paul Jr eventually led to the show's cancellation, though Paul Sr would return to television in a renewed show entitled "Orange County Choppers", which excluded Paul Jr.
Teutul continued to gain fame through the new show, but as the years passed, Paul Sr began gaining attention for all the wrong reasons, with rumours circulating that suggested his involvement in scandals, including illegal steroid doping, and defrauding a business partner out of millions.
Of course, the cases against Paul Sr. attracted public attention, and were widely published at the time. The results left Paul Sr in serious debt, so much so that he sought to declare bankruptcy, and ultimately brought his career in reality television to an end.
Regardless, due to his boisterous personality, Paul Sr. earned numerous followers and fans through what exposure he earned, and to this day, many people continue to express an interest in the now 74-year-old former reality star.
Of particular interest to people has been Paul Sr's dating history, with his failed marriages earning most of the notice, though despite the bad experiences, Teutul continued dating, and found romance with his current partner, Joan Bulger-Kay, who also happened to be a long term business partner Teutul has known for years.
Thus, for the many interested, we have looked up all of Paul Teutul Sr's romantic endeavours over the years, and compiled it in a convenient discussion.
What To Expect
As we begin discussing Paul Sr's dating history, we will spend a brief moment introducing the iconic reality star, and include a discussion about his general life before and since earning fame.
Following this, we will dive into Paul's first two marriages, to Paula Teutul and Beth Dillon, before concluding the discussion by taking a look at his current relationship with Joan Bulger-Kay.
Getting ready to take a ride, with my best friend#orange County Choppers #joanniemkay#friend#motorcycle #motorsport #lifeisbeautiful #grateful

Posted by Paul Teutul Sr on Sunday, September 9, 2018
From Sailor To Television Personality
Born on 1 May 1949, in Yonkers, New York City as Paul John Teutul, (subsequently) Senior, as he is often referred to as on "American Chopper", and in popular media, is a true New York native, having spent most of his life in the city's many suburbs.
Paul was raised in Pearl River, and later in life decided to call Orange County his home, though before becoming a full-time resident of New York, Senior sailed with the US Merchant Marines during the Vietnam War.
Following his service as a sailor, Paul returned to the US where he began a career as a fabricator and businessman with the founding of Orange County Ironworks, a workshop now owned and operated by Senior's son, Dan Teutul.
Inspired by the many custom motorcycles and American choppers that paraded the New York streets, and featured in popular films, Senior began making his own custom motorcycles as a hobby, but soon found himself expanding his already lucrative empire.
Senior founded Orange County Choppers with his oldest son Paul Jr, and hired Michael Teutul to help out with administrative duties, and before long, Orange County Choppers had earned a reputation as a trustworthy business.
Of course, Senior's success would attract the attention of reality television executives, who wanted to turn his business into a reality show. Considering it was in a time when shows like "Pimp My Ride" earned fame, it certainly seemed like a lucrative proposition that Senior couldn't refuse.
Thus "American Chopper" was born, earning a warm reception from Discovery Channel's audiences, becoming the popular show many still remember. Of course, as all the dedicated fans would know, the on-camera family drama, while entertaining, led unfortunately to the end of "American Choppers".
Naturally, Paul would not easily let go of such a profitable venture, so in 2013, following the decimation of his relationship with Junior, and with it the foreclosure of Orange County Choppers, Teutul decided to host his own show.
After obtaining full ownership of Orange County Choppers, Senior began producing a new show named after the parent company, though would continue to star in other spin-offs that also featured Paul Jr. Undoubtedly, the production companies behind "American Chopper" were not eager to let go of the entertaining drama between the Teutuls, which eventually even included Michael at one point.
In the years that followed since, Senior became involved in numerous scandals that nearly cost him everything. After a bankruptcy application, Senior was eventually able to restore his empire's former glory, doing so by investing in tattoo products. Of course, tattoos have long been a part of Teutul's image, and it came as no surprise that he would venture into this art.
Today it seems like Paul Teutul Sr is doing much better, at least financially, and according to most reports, it's even rumoured that Senior and Junior have put their differences aside, and might have reconciled. However, the likelihood of Paul Sr's return to reality television seems unlikely, though Junior continues to entertain his followers.
Paul's Failed Marriages
Although Senior's romantic life has not been a hot topic among gossip publications, the details of his first and later marriage have nonetheless survived, and attracted notice among Teutul's adoring public.
Teutul married his first wife, now known as Paula Teutul, in 1969, but unfortunately, not many details are known about how the couple met, nor much about their time together for that matter, but Senior's followers would know that the couple eventually divorced.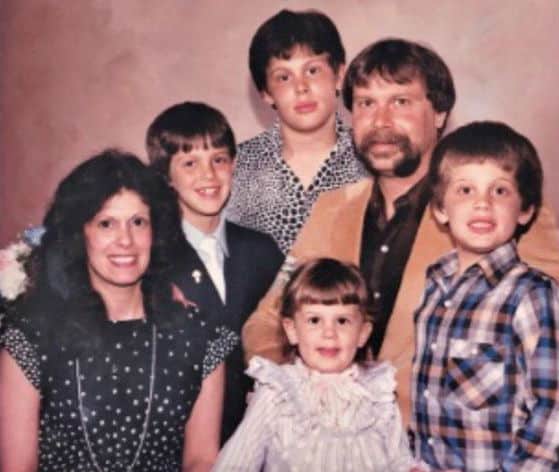 However, during their relationship, Paul and Paula welcomed four children into the world, namely Paul Jr, Michael, daughter Christin, and youngest son Daniele, or Dan as he's commonly known.
Neither Paul nor Paula ever spoke publicly about their relationship, which had ended long before Senior rose to fame, but it's known that the couple experienced many difficulties and differences, which led to their separation. Unfortunately, the nature of Paula and Paul's problems was never made known to the public, and gossipers were left to only speculate.
They officially divorced in 1995, with Senior and Paula going their different ways, while still maintaining their roles as the patriarch and matriarch of the Teutul family. Despite their parents' separation, most of the Teutul children went on to enjoy success in life.
Christin reportedly works as a nurse in Rochester, New York State, while her brothers continued with the family businesses Senior founded. Dan operates and owns Orange County Ironworks, and Paul Jr now runs his own motorcycle workshop, while Michael has shown an interest in various professions, though is still to achieve the same success as his siblings.
Following his failed marriage to Paula, Senior later found love in the arms of Beth Ann Santos, who was previously married to Burton Dillon with whom she had two children. The couple tied the knot during a private ceremony hosted at Paul's home in Montgomery, New York State on 29 July 2007.
Beth and Paul spent the better part of seven years together, seemingly a happy couple, but in 2015, Senior announced that he would be divorcing Beth, though didn't provide any explanations at the time. Most of their relationship would remain private, with only a few pictures and public appearances surviving their now-decimated relationship, and as such, very little is known about the couple's romance. To this day, no one has ever published a conclusive answer about why Beth and Paul separated.
Regardless, Paul finalised his divorce from Santos in 2015, but reports exist which suggest that the couple separated long before Paul announced the divorce. According to these reports, Paul may have been domestically partnered with his current girlfriend, Joan, as of 2011.
Of course, Joan and Teutul shared a mutual relationship stemming from their business partnership, and have known each other sincelong  before rumours suggested that they might be romantically involved.
However, in 2015, Paul confirmed his relationship with Bulger-Kay, who is publicly known as Joannie Kay, and can be found on social media as such. To date, very little is known about the nature of Paul and Joan's relationship, other than being rumoured that they are romantically engaged.
Little is known on how they met, and even less about their continued private affairs, but it's widely accepted that Paul Teutul Sr is dating Joannie Kay. While perhaps only rumours, we are glad that the 74-year-old reality television star may have found new love, and certainly wish him and Joan all the best.
Happy Birthday to the one and only Joan K! Cheers to another great year! pic.twitter.com/7zUt4aIJXU

— Paul Teutul Sr (@paulteutulsr) February 23, 2023
Conclusion
Although "American Chopper" might no longer be producing new episodes, fans and followers of the Teutul family can feel free to catch any of the re-runs of the show, perhaps only to relive the family drama, or to view the many projects completed by Orange County Choppers.