Who is Tristan Hemsworth?
Tristan Hemsworth is a celebrity child, and for now is best known to the world as the son of Chris Hemsworth, an Australian actor probably known for his portrayal of Thor in Marvel Cinematic Universe (MCU) films.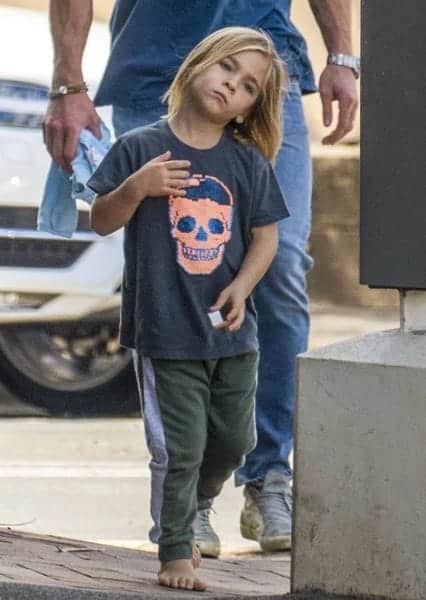 Tristan Hemsworth Wiki: Age, Childhood, and Education
Tristan Hemsworth was born on 18 March 2014, in Los Angeles, California USA, together with his twin brother Sasha. He has an older sister, India Rose, who was born in 2012. He doesn't only have a famous father, but also a famous mother, Elsa Pataky, a Spanish mode, and actress, perhaps best known as Elena Neves in the "Fast & Furious" franchise.
Tristan is currently nine years old and is attending an elementary school. A year following Tristan and Sasha's birth. the family moved to Australia, settling in Byron Bay, New South Wales. In addition to schooling, Tristan attends Brazilian jiu-jitsu under Thalison Soares. All Hemsworth children are involved with this mixed martial art, and are competing in national tournaments.
Although he's still too young to pursue a career on his own, he's already expressed interest in acting, and has made his acting debut in the Marvel blockbuster film "Thor: Love and Thunder" (2022) as Kid Thor. Since then thehas  name stuck, and he's now globally known as 'Kid Thor'.
Tristan Hemsworth's Father, Chris Hemsworth Short Bio
Christopher Hemsworth was born on 11 August 1983, in Melbourne, Victoria Australia, the son of Craig and Leonie Hemsworth. He is the middle child, with an older brother Luke and a younger one Liam. He grew up poor, but has said that his family always provided for him and that he didn't feel the financial crisis. He attended Heathmont College, but it's not known if he matriculated since the family moved away and returned to the Ootback in Bulman, Northern Territory, where he spent the majority of his childhood.
Chris embarked on his career with Australian TV appearances, notably "King Arthur" (2002), and "Home and Away" in 2004, in which he portrayed Kim Hyde for 189 episodes between 2004 and 2007. However, it was his portrayal of Thor in Marvel's "Thor" (2011) that marked a defining moment, propelling him into the international spotlight.
Hemsworth's presence on screen and his embodiment of the iconic superhero role contributed to his rapid rise to stardom. The role of Thor became synonymous with his name, and he continued to reprise the character in various Marvel films, solidifying his status as a leading figure in the Marvel Cinematic Universe.
Beyond Asgard, Hemsworth displayed his talent with a range of roles. In "Rush" (2013), he captured the intensity of the real-life Formula One rivalry as James Hunt. "Snow White and the Huntsman" (2012) saw him as the Huntsman in a darker take on a classic fairy tale.
In "In the Heart of the Sea" (2015), Hemsworth depicted the struggle for survival after a whaling ship faces disaster.
He was Billy Lee, a charismatic cult leader in "Bad Times at the El Royale" (2018), then re-emerged as Thor in "Avengers: Infinity War" (2018).
In the 2019 film "Men in Black: International", Chris Hemsworth portrayed the character Henry, also known as Agent H, starring alongside Tessa Thompson, who played Agent M. The movie revolves around the Men in Black agency, a secret organization responsible for monitoring and regulating extraterrestrial activity on Earth. In this installment, Agents H and M team up to investigate a series of alien-related incidents and uncover a conspiracy within the MIB organization.
In 2020, he portrayed Tyler Rake, a battle-hardened mercenary on a dangerous mission in the action-thriller "Extraction".
To speak further of his accomplishments, he reprised the role of Tyler Rake in "Extraction II", and is working on a number of projects, such as "Furiosa" (2024), and "Avengers: Secret Wars", among others.
According to sources, Chris Hemsworth's net worth is estimated at $130 million, as of mid-2023.
Tristan Hemsworth's Mother, Elsa Pataky Short Bio
Elsa Lafuente Medianu was born on 18 July 1976, in Madrid, Spain. Her parents are José Francisco Lafuente, a Spanish biochemist, and Cristina Medianu Pataky, a Romanian publicist. She also has a younger half-brother, Cristian Prieto Medianu, who is a cinematographic director. Pataky's choice of surname pays homage to her Hungarian maternal grandmother, Rosa Pataky.
Pataky pursued her education at Universidad CEU San Pablo, where she studied journalism and honed her acting skills through classes. Fluent in Spanish, Romanian, English, Italian, Portuguese and French, she displayed linguistic versatility early on.
Her career commenced with roles in Spanish productions, and she eventually became a part of the Madrid theatre company Teatro Cámara de Ángel Gutiérrez. Notably, she left her studies for a role in the television series "Al Salir de Clase".
Pataky's acting journey expanded as she starred in both Spanish and international films. She featured in over 10 Spanish films, and co-starred in the French film "Iznogoud" (2004). Her diverse roles included the television series "Queen of Swords" (2000), in which she portrayed Señora Vera Hidalgo.
She gained wider recognition as Officer Elena Neves in "Fast Five", part of the "Fast & Furious" franchise, alongside Dwayne Johnson. This marked her entry into Hollywood's high-octane scene. She reprised her role in subsequent franchise installments such as "Fast & Furious 6" (2013), "Furious 7" (2015), and "The Fate of the Furious" (2017).
Pataky's dynamic career also saw her as the lead in the Australian web TV series "Tidelands" (2018). The series premiered on Netflix and showcased her versatility once again.
In 2022, Pataky played the lead role in "Interceptor", directed by Matthew Reilly. Her portrayal highlighted her ability to tackle diverse characters across genres.
Apart from her acting endeavors, Pataky co-founded the skincare brand "Purely Byron", launching its first product in 2022. However, the brand faced challenges and was placed in administration for sale in March 2023.
According to sources, Elsa Pataky's net worth is estimated at $50 million, as of mid-2023.