Mike Wolfe and Danielle Colby have hosted the reality TV show "American Pickers" since 10 January 2010, and have grown incredibly close over nearly a decade and a half. Fans always considered their relationship an excellent example of on-screen charisma and chemistry as co-hosts, and that's what A&E Television Networks and Cineflix Media sought. Moreover, Danielle led the office portion of Mike's business, initially in LeClaire, Iowa, USA, then Nashville, Tennessee, meaning that they shared the highs and the lows, and spent much time together in front of the camera and behind the scenes.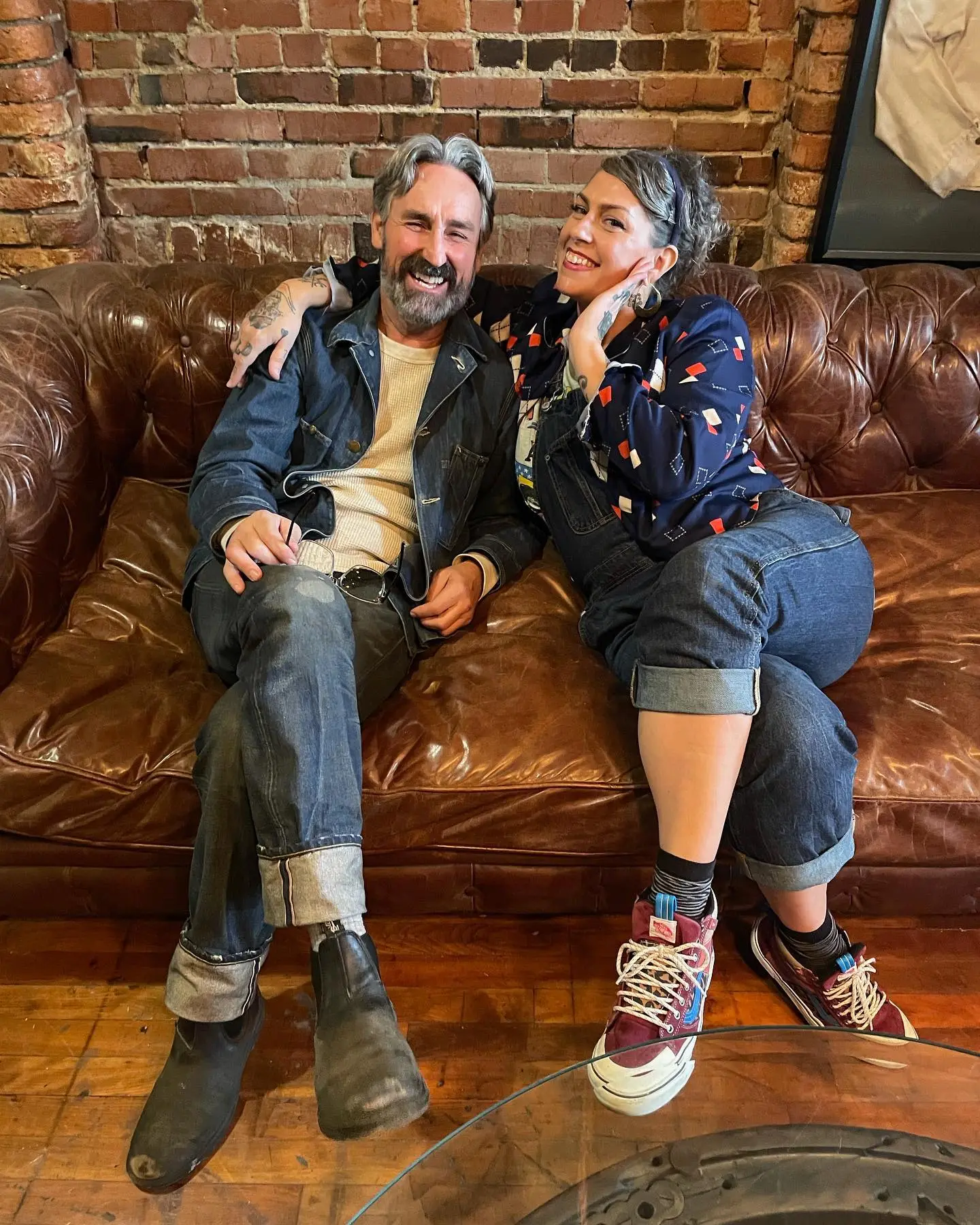 Frank Fritz was Mike's primary co-host for 10 years before he left the show or was fired; however, he only announced that he wouldn't return on 21 July 2021. While he was present, the two searched for artifacts or national treasures tied to the US or the American people, and would drive around randomly to check thrift shops, garage or estate sales, or antique shops whose owners may not know what they have. Moreover, the show's fans, friends, amateur and serious collectors, or hoarders, frequently invited Mike and Frank to look at their possessions. Once they found something valuable, they would load it into their Mercedes Benz Sprinter van up until April 2014, when they switched to the 2015 Ford Transit.
With Frank gone since 2020, Danielle and Mike are the only two original cast members, forcing them to grow closer and make their interactions fun and captivating to keep the show on the air. Mike's younger brother, Robert 'Robbie,' and a great friend and fellow professional, 'Jersey Jon' Szalay, also regularly joined Mike's hunts for antique items. Regardless, as in many cases, unaware of their real-life relationships, some viewers started speculating that Mike and Danielle became more than great friends and colleagues. Nonetheless, we investigated if there were any hints of romance between them.
They were both married
Mike and Danielle had both been married, and had met over 20 years ago during a yard sale in Iowa, but stated that they had never had more than a platonic love and a business relationship. Mike met an accountant Jodi Faeth in 1994, and they tied the knot in 2012. Unfortunately, they divorced in 2020 but co-parented their daughter Charlie afterwards. As of  2023, Mike is in a relationship with Leticia Cline .
Danielle married Robert Strong, reportedly in 2004, and had two children, son Miles born in 1996, and daughter Memphis in 2001. It's unclear whether Robert is their biological father, as Danielle mentioned dating Chad Cushman at one point. Regardless, she divorced Robert in or around 2012, then tied the knot with French artist, Alexandre De Meyer in 2015, but divorced him three years later. Danielle is currently in a relationship with an underwater photographer, Jeremy Scheuch, and the two became engaged at some point.
Despite solid proof that they ever saw each as romantic partners, the rumors that Mike and Danielle are dating or have dated persist. Here's why.
Mike and Danielle denied the rumors early
Fans saw what wasn't there from the beginning, even when Mike and Danielle's interactions involved confrontations or had different opinions. According to Danielle, even the way they met made some fans assume they would be a great couple during the first season, or that they at least attempted to date.
Danielle said they first spotted each other during the Iowa yard sale in the 1990s. Mike snatched a lamp that she wanted to buy, and an annoyed Danielle told him that she was about to pick it up. Mike calmly replied, 'Sorry girl, the time to buy it is when you see it.' Thankfully, she stated that she 'liked his sass', and that they've been inseparable since', but in business only
Mike launched Antique Archeology in 2001, nearly a decade before "American Pickers" aired. Danielle admitted that she had no doubts about joining; she knew that their real-life connection would be evident on-screen. Moreover, she predicted that anything that involved Mike would be successful, and in her words, 'kickass because he was a cool guy.' In 2010, when the Yuppie Punk.org website interviewed her, Danielle explained that Mike was taken but not by her. She felt forced to say that, because people bombed her inbox with email inquiries about their relationship status.
They could only date in 2020 or 2021
Rumors about their romantic connection almost disappeared until 2020, when Frank left, and Mike and Danielle seemingly had an opportunity to date if they wanted. Mike's wife, Jodi, ended their 26-year marriage in June 2020, citing 'irreconcilable differences,' but the reports only reached the public during the summer of 2021. He began dating Leticia Cline, whom he met as early as 2018, between April and August 2021; she's a former model and a bar owner, who was equally passionate about property renovations, journalism, and motorcycle racing.
On the other hand, Danielle quietly ended her 3-year marriage with Alexandre De Meyer in 2018, and rarely spoke about her relationship status afterwards. She made things official in December 2020, by becoming engaged to Jeremy, a semi-retired photographer based in Puerto Rico and Kansas City. Danielle shared a video of her proposal via her Patreon account, meaning that she hid the glorious moment from the public behind a paywall. She revealed that she proposed to him while they filmed her birthday burlesque show.
Danielle kept other details private, although news reported that they had been dating since 2016. If true, it meant that her marriage with Alexandre ended after a year. Danielle confirmed that she met Jeremy in 2011, when he designed a 4 Miles 2 Memphis logo. She opened this retro clothing company in January 2013 in Wicker Park, Chicago, naming it after her children, but closed it in a year.
Season 24 added fuel to the flame
Their relationships weren't a part of the show's premise. Therefore, most viewers were unaware that Mike and Danielle dated or became engaged to other people, when History Channel aired the 24th "American Pickers" season on 4 January 2023.
The viewers excitedly welcomed the team back despite Frank's absence. Everything seemed great; Mike gave a six-figure offer for five ultra-rare motorcycles, while Danielle worked for a rock 'n' roll icon, Jack White, to find the recording trailer he had been looking for for decades, then transported it to his home.
However, History Channel suddenly announced that the cast would take a break, after they aired the 10th episode on 8 March 2023, and the remaining two aired in July. That would fly under the radar if viewers didn't note that the 23rd season had 20 episodes, the 22nd had 23, and the 21st aired 21. That meant the 24th season only aired about half the usual number of episodes.
Danielle underwent an operation in 2022
Wild speculations arose, such as that something happened between Mike and Danielle that forced the production company to halt filming. However, Danielle's Patreon subscribers were privy to the truth: she had a surgical operation in late 2022, and the news spread publicly. She complained about 'incredibly painful uterine fibroids', and had finally undergone a hysterectomy. That decision was difficult, because it meant that Danielle couldn't conceive or menstruate afterwards.
Fans worried that she would be fired or prevented from returning like Frank. They had already brought guest hosts, and Danielle stated that she felt emotionally drained, unable to sleep, and had been bleeding for two months. She initially stated that she was recovering and was looking forward to working again, but then contradicted herself, saying that 'she had lost her desire to work in the emotionally taxing time following her surgical operation.'
They recently removed all doubts
Although the 24th season ended under mysterious circumstances, Danielle and Mike quickly indicated that everything was in order. She repeatedly praised her fiancé, Justin, via social media for 'dosing her medication, waking up before her in the morning to make her breakfast, doing laundry, and cleaning the house'. That left no doubt that the two were deeply in love.
Furthermore, based on their social media profiles, Mike and Leticia grew even closer in the last two years. Mike supported Leticia when she announced her campaign to become the mayor of her hometown of Cave City, Kentucky, in May 2022. Additionally, Leticia shared pictures from the locations that Mike visited in the show, and was present for some shoots, meaning that she at least followed him at work, and could even appear in some episodes.
Most importantly, Danielle revealed that she complained to Leticia, whom she calls "Tish," about her menstrual problems, and that Leticia was the one who suggested that she immediately visit a gynecologist. Danielle expressed her gratitude publicly, noting that she was 'extremely thankful for the conversation with Tish, because she was the reason that she found out about uterine fibroids.' With that in mind, it's clear that Mike and Danielle have no desire to date each other, and have never wanted to. They are also acquaintances or friends with each other's partners, an excellent sign of a healthy friendship.
Mike and Danielle should return in season 25
Danielle is already considerably better, showing herself dancing alongside her daughter Memphis on Instagram and Patreon. She hinted that she was filming new "American Pickers" content in early July 2023, while reminding fans that the last two episodes of season 24 would air shortly. Mike is as passionate about antiques as ever, and with his brother Robbie as a co-host, the three will undoubtedly return in the 25th season as soon as it's announced. A&E Networks, the production company, has no apparent reasons to cancel the show, so it's probably just a matter of ironing out its programming scheme.