In the heart of Alaska's untamed landscape, Andy Bassich epitomizes an indomitable spirit marked by resilience and a profound connection with nature. He was renowned for his adventures, survival skills, and pursuit of a simpler, more authentic existence through the reality television show "Life Below Zero." His way of life was no easy feat, and it became even more challenging when he faced a life-altering injury.
Our DD's hat is all the way in #Alaska w/ Andy Bassich on Life Below Zero. Watch it on National Geographic Channel! https://t.co/3sfg3cbj5W pic.twitter.com/GfemkpcXjs

— DoubleDave's Pizzaworks (@DoubleDaves) December 8, 2016
Early life and the path to Alaska
Born on 25 January 1958, in Washington D.C., Andy Bassich's early life couldn't have been further from the wilderness he'd later call home. Raised in Wheaton, Maryland, he led a relatively conventional life. Immediately after matriculating from John F. Kennedy High School in 1976, he journeyed across the US and developed a deep yearning to move to Alaska. Unfortunately, familial responsibilities, including his sister's wedding, kept him anchored at home. He worked as a carpenter and cabinet-maker for several years, holding a stable job.
However, a gut feeling continued to beckon him towards Alaska. His grandmother urged him to chase his dreams while he was young, and this served as the catalyst for his decision to relocate in 1980, embracing her advice and never looking back. Alaska is undeniably his home, and he harbors no regrets about his chosen path.
Life in the Alaskan Wilderness
Andy Bassich found his true calling in the vast wilderness. Living here was far from simple or easy. He couldn't pinpoint one specific person who had significantly influenced his subsistence journey – learning occurred through hands-on experience. Initially starting with three or four dogs, he soon realized the financial challenges of feeding them commercial dog food. This led him to embrace fishing as a means of sustaining both his dogs and his subsistence lifestyle, which was a gradual process.
He advises newcomers to take a similar approach: begin by exploring various subsistence activities and then seek guidance from experienced individuals in each field. By learning from others and adapting methods to suit their individual circumstances, newcomers can discover the most effective ways to navigate the unique challenges of subsistence living. It's important to recognize that each person may develop their own distinct approach.
Dog mushing
Upon his arrival in Alaska, specifically in Eagle, Andy encountered a community with numerous dog teams and subsistence trappers. In those days, dog teams served as the primary mode of transportation, due to the scarcity of both roads and snow machines. He bartered a truckload of wood for a single sled dog puppy, raising it during his first winter. Subsequently, he acquired two more dogs. For a considerable period, he maintained a team of approximately seven dogs, primarily for winter trapping expeditions. Over time, there was a desire to expand the team, making it feasible for others to join in wilderness excursions and experiences centered around dog-powered transportation. With the downturn in trapping markets, his focus shifted towards sustaining dog mushing. This transition led to offering occasional dog tours to help offset the expenses associated with his dogs.
However, the reality became apparent that generating substantial income from dog-related tourism required maintaining significantly larger kennels, a practice that deviated from his perspective of true subsistence living. In his view, genuine subsistence households should limit their dog count to approximately 15 to 18, a number that can be adequately supported by local resources. Anything beyond this threshold, he believes, turns into a purely commercial endeavor.
Andy Bassich preps the dogs for their weekend getaway. (Photo Credit: © 2012 BBC Worldwide Ltd. "All Rights Reserved") © 2012 BBC Worldwide Ltd. "All Rights Reserved"

Posted by Life Below Zero on Thursday, October 17, 2013
While he respects others' choices, he personally holds reservations about large-scale commercial dog kennels, preferring to align with his understanding of subsistence living and the responsible care of his dog team. At one point, his kennel boasted a total of 24 dogs, an indication that his perspective has changed.
Building a homestead
He settled along the Yukon River, where he built his homestead from scratch. In March 1984, while mushing down the Yukon and following a land route toward Ford Lake, he stumbled upon the very place he now calls his own. It was there, as he paused to allow his dogs a moment's respite, that a strong sense of déjà vu washed over him, as if he had lived there before. The next nine years were dedicated to securing ownership of the land, followed by another decade spent clearing the property and constructing his cabin and sheds.
Semi-subsistence living
Andy relied on his resourcefulness and survival skills to thrive in one of the most challenging environments on Earth.
During the winter months, he focused on trapping, hunting caribou and moose, and once he acquired a boat, engaging in salmon fishing. Since then, fishing has played a major role in his lifestyle, serving as a pivotal element in his subsistence efforts. Approximately 80% of his food supply comes from fish, waterfowl or game, with fish alone accounting for approximately 50% of his annual dietary intake. Furthermore, fish is indispensable for sustaining his sled dog team, as he emphasizes that commercial dog food is inadequate for maintaining their health, due to dogs being natural meat-eaters who require protein-rich diets.
During summers, he visits the town to supplement his income. Essentially, since 1983, he's divided his time between his remote cabin and a residence in Eagle, Alaska, and served as the captain of the Yukon Queen tour boat for two decades. The boat operated seasonally on the Yukon River, connecting Eagle to Dawson City in the Yukon Territory, Canada.
An active member of the community
Andy generously shares a significant portion of his fish catch with individuals in the community who do not engage in fishing themselves. This includes older residents in town who may face challenges in accessing fishing spots; approximately a quarter of his catch is distributed to those in need. Remarkably, he discovered that this practice of sharing subsistence resources is a widespread and common tradition in subsistence fisheries.
He has worked initially as an alternate member, and then later on as a member of the Yukon River Panel, an advisory body formed by the governments of the US and Canada for the conservation and management of salmon in the Yukon River. He serves as the representative for the Eagle area on the Federal Subsistence Board, operating within the Eastern Regional Advisory Council (RAC). He proudly holds a lifetime membership with the Yukon River Drainage Fishermen's Association (YRDFA). Furthermore, he actively participates in the Alaska Department of Fish and Game Advisory Council.
Surviving the catastrophic flooding in Alaska
In May of 2009, a calamity struck Alaska when the residence of Andy and his then-wife Kate became engulfed in floodwaters, and the town of Eagle faced obliteration. An exceptionally wet winter, followed by a surge of warm weather that escalated into a blistering heatwave, precipitated the rapid melting of mountain snow. While anticipation of river overflow and heightened runoff was already in the air, nothing could have prepared them for the catastrophic events that unfolded. As the waters from the river surged with alarming speed and converged with Ford Lake, situated behind their property, they found themselves abruptly immersed in water nearly up to their waists.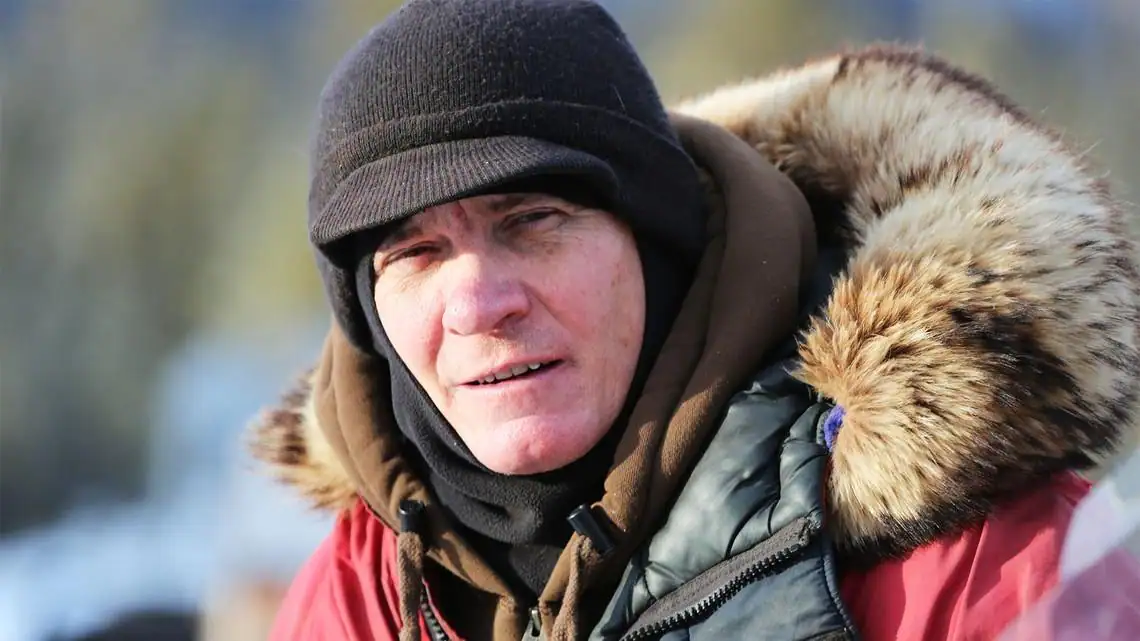 Swiftly, they undertook the task of relocating their 24 dogs to their johnboat and canoes, which they had ingeniously tethered together, secured to one of the shed posts and the porch beam. Complicating matters further was the bone-chilling coldness of the water, alongside the imminent sunset. Yet, the peril did not abate even as the deluge receded with the arrival of daylight. The water now rushed menacingly toward the river, threatening the stability of their vessels. Tragically, they lost a dog named Skipper when the johnboat capsized. Fortunately, through a fortuitous turn of events, the couple and the remainder of their canine companions were rescued by helicopter, as the ice and water encroached once more.
While the rest of the community was still grappling with shock and loss, Andy emerged as a leader in the recovery effort, swiftly formulating plans for constructing an adequate number of winter cabins to shelter those who had been left homeless. He meticulously compiled lists of required materials, calculated cost estimates, and devised schedules.
Andy searched for anything salvageable from their property and spent years rebuilding their homestead and livelihood. After the incident, he made sure to prepare for the annual river break-up, putting in a lot of hard work to protect his home and sled dogs.
A typical day in the life of Andy Bassich
Andy follows a highly seasonal lifestyle, with a significant event being the breaking of the river ice, akin to his New Year's celebration. This marks the commencement of their busy summertime activities, including gardening and preparations for building projects. In the fall, his focus shifts to hunting, gathering garden supplies, and preserving them. The most significant annual task for him is salmon fishing, which provides sustenance for his sled dogs. He aims to complete all essential tasks in preparation for winter, ensuring he isn't compelled to venture out for subsistence during the cold months. Additionally, he takes advantage of living along a latitude where the Northern Lights are prominent, making Northern Lights viewing a significant part of his activities.
As for his free time, Andy enjoys a lifestyle in which nearly all of his time is his own, allowing him to decide each morning how he wants to spend his day without any external obligations. In the wintertime, he finds pleasure in dog mushing, often embarking on mushing trips with his partner for a refreshing change of scenery. Additionally, he pursues creative endeavors such as crafting custom knives, and creating stone jewelry. His days are also occupied by carpentry and cabinet work, ensuring there is seldom any idle time in his remote setting.
Finding contentment in solitude
He has always cherished his solitude and finds contentment in being alone. He never feels lonely, savoring the tranquility of the wilderness. One aspect he missed from his time in Washington, however, was his keen interest in the fine arts. During his youth, he would ride his bike down Rock Creek Parkway to visit the Smithsonian and similar places, when he was just 12 or 13 years old.
If he were to visit Washington, D.C., he would explore the monuments and immerse himself in history, as he has a strong affinity for it, and a curiosity about how people lived and how systems operated in the past. Consequently, he finds the D.C. area immensely stimulating, considering it a treasure trove of knowledge and art accessible to the public at no cost. He views this as a unique opportunity in which individuals can be educated and entertained for weeks without any charge, making it an extraordinary place.
However, in terms of the hustle and bustle of suburban and urban living, he experienced no longing for that lifestyle. He firmly believes that he's much better suited to thrive in the wilderness environment.
Participation in "Life Below Zero"
"Life Below Zero" is a reality TV series that focuses on the lives of people who choose to live in the remote wilderness of Alaska. It follows several individuals and families as they navigate the challenges of living – some say surviving – in the extreme cold, isolation, and limited resources of this unforgiving environment. Viewers gain an insight into their daily struggles, as it highlights the resilience and resourcefulness required to thrive in such conditions. Andy's extraordinary way of life caught the attention of TV producers, leading to his involvement in the hit show. The series premiered on the National Geographic Channel in 2013 and continued airing through its 20th season in 2023.
Personal Life
Andy's personal life has been marked by both triumph and tragedy. His first wife, Kate Rorke, played a pivotal role in his early Alaskan journey. They first met in 2003 aboard the Yukon Queen, on which Andy served as the captain. From that moment, they embarked on a shared adventure, confronting the wilderness together. However, in 2015 they decided to part ways, and their divorce was finalized the following year. Kate cited physical and verbal abuse as reasons for their separation. She had initially hoped for improvement in their relationship, but as the years passed, the situation deteriorated to the point in which she felt it was necessary to end the marriage.
Currently, Andy shares his life with his girlfriend, Denise Becker, who is a vital part of his support system in the wilderness. Their relationship highlights the importance of companionship and trust when living in isolation.
Life-altering injury
The most beloved star of the documentary, Andy Bassich, shocked fans by abruptly departing from the series for a six-month period. His return in 2019 was a welcome sight for viewers, although they noticed a significant change in him, as he relied on crutches.
His need for crutches stemmed from an unfortunate hip injury he suffered during the winter of 2018, while attempting to free a snow machine stuck in the snow. This incident led to two infections, one in the bone and another in the muscle, putting his life in jeopardy. Andy explained that Alaska lacked the necessary medical treatment for his condition, which forced him to seek treatment in Florida. During those six months, he spent time with his girlfriend, Denise.
He crossed paths with Denise, a trauma nurse hailing from Florida, during a canoe trip she took with a Boy Scouts troop. Denise demonstrated her capacity to thrive in the Alaskan wilderness, a trait that quickly caught Andy's attention. She revealed her background, stating that she was born in Canada, and grew up with a strong understanding of the value of hard work. Her family homesteaded in northern Saskatchewan, where they still operate a diligent and industrious farm.
Andy acknowledged the challenges he faced upon his return, especially while using crutches, as he needed to address various tasks, including relocating his dogs and restoring his house, which had remained unattended during his absence. He emphasized the vital role his resilient girlfriend played in his survival in the Alaskan wilderness, stating that without a partner's assistance, he wouldn't have been able to return and complete these tasks.
Despite this setback, Andy's determination remains unshaken. He's continued to embrace the challenges of living off the grid, proving that his indomitable spirit can overcome even the most daunting obstacles. Andy and Denise took things day by day, with Andy recognizing the need to temper his expectations and avoid overexertion to prevent further harm. He's recovered well, and is living his best life at Calico Bluff with his partner.
Andy Bassich was once asked if he had ever thought of leaving his home in Alaska, and said no, firmly stating that he has never considered it, emphasizing that this is where he truly belongs. He intends to remain in this place unless compelled to leave by exceptional circumstances. He shares a profound and instinctual connection to this environment.
His long-term plan is to remain in this location until the end of his days. He appreciates the work inherent in this lifestyle, recognizing its role in maintaining fitness and overall health. The effort expended now in establishing a self-sufficient set-up will, in his view, yield a more comfortable future as he and his partner age. Overall, he finds great satisfaction in this way of life.
Andy's journey has been nothing short of remarkable. His enduring spirit, showcased in "Life Below Zero," serves as an inspiration to all who dream of living a life less ordinary.