• Jeannine Brooke Riley is an American actress, best known for her role in the series "Petticoat Junction".
• She has a net worth of $4 million, earned through a successful acting career.
• She started her acting career in the early 1960s and has since appeared in numerous television shows and feature films.
• She starred in the sitcom "Petticoat Junction" and the comedy variety series "Hee Haw".
• She married twice but there are no reported children from her marriages.

Known for movies
Short Info
| | |
| --- | --- |
| Fact | Jeannine Riley and Steve Ihnat co-starred together in the play, "The Fourposter", put on by the Sherman Oaks Playhouse for two months, from mid-April to mid-August, 1953. The play was directed by Roy Morton. |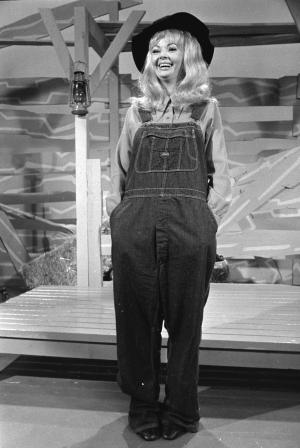 Who is Jeannine Riley?
Jeannine Brooke Riley was born on 1 October 1940, in Madera, California USA, and is an actress, perhaps still best known for her role as Billie Jo Bradley in the series entitled "Petticoat Junction", appearing in the first two seasons of the show during the mid-'60s.
The Riches of Jeannine Riley
How rich is Jeannine Riley? As of late-2018, sources estimate a net worth that is at $4 million, earned through a successful career in acting. She's also appeared in numerous other television shows and feature films throughout her career, and as she continues her endeavors even well into her '70s, it is expected that her wealth will also continue to increase.
Career Beginnings
While virtually no information is available about Jeannine's early life, it is known that she developed an interest in acting at a young age. She started her career in the early 1960s, appearing in small or uncredited roles in projects such as "Five Finger Exercise". In 1963, she was cast in the sitcom "Petticoat Junction" in the role of Billie Jo Bradley, set in the Shady Rest Hotel run by Kate Bradley, her three daughters and her uncle. The series was created after the success of "The Beverly Hillbillies" and the success of this show led to the spin-off entitled "Green Acres".
She stayed with the show until 1965, then decided to leave the series to pursue more film work, replaced by Gunila Hutton and later Meredith MacRae during the latter seasons. Jeannine then started to do film work in the late 1960s, appearing in "The Big Mouth" as Bambi Berman, filmed in San Diego and featuring Frank De Vol as an on-screen narrator.
Career Prominence
The following year Riley was cast in "Fever Heat", which was directed by Russell S. Doughten and starring alongside Nick Adams and Norman Alden. In 1969 she was cast in the film "The Comic", co-written and co-produced by Carl Reiner and starring Dick Van Dyke, Michele Lee and Mickey Rooney in a film inspired by the end of the silent film era.
After that she returned to television, as she was cast in a regular role in the comedy variety series entitled "Hee Haw" during the same year, which was set in fictional rural Kornfield Kounty, and inspired by "Rowan & Martin's Laugh-In". The show centered on rural culture and country music, with hosts Buck Owens as well as Roy Clark, but would often feature scantily clad women in stereotypical farmer's daughters attire, who came to be known as the Hee Haw Honeys. She stayed with the show for three years, and then joined another show in "Dusty's Trail", in which she played Lulu McQueen, a western-theme take-off of Ginger Grant from "Gilligan's Island", also starring Forrest Tucker and Bob Denver.
Later Career
Over the next few years, Jeannine had small roles in television shows such as "The Wild Wild West", "Route 66", and "The Man from U.N.C.L.E." She then featured in the film "Electra Glide in Blue", which starred Robert Blake as a motorcycle cop alongside Billy "Green" Bush, and based on the Harley-Davidson Electra Glide motorcycle used by traffic police. During the same year, she had an uncredited role in "The Outfit", actually appearing as a prostitute in an adaptation of the novel of the same name by Richard Stark under the pseudonym Donald E. Westlake.
As the years progressed, Jeannine took fewer roles; she was a part of the 1980s project entitled "Lone Star Bar & Grill" as Arlene, and one of her last projects was the 1991 film entitled "Timebomb", which starred Michael Biehn, Richard Jordan and Patsy Kensit.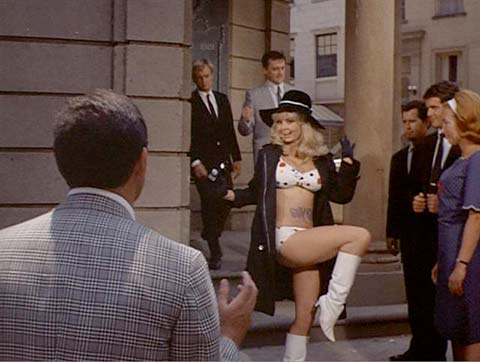 Personal Life
For her personal life, it is known that Riley married Gary Groom in 1965 but their marriage ended in divorce in 1972. She married once more in 1974 to Irwin Radnitz but it was also a marriage that ended in divorce. There are no reported children from her marriages.
Since retiring from acting work, very little information has been shared about her. One of the reasons is due to the fact that she does not have any accounts on major social media websites. In 2016, a book was released entitled "X Child Stars: Where Are They Now", written by Kathy Garver and Fred Ascher, which contained a profile of her along with her career. Many sources speculate that since ending her acting career, she focused more on other endeavors, and likely another marriage and a family, but there is no evidence to confirm these speculations.
Facts
| # | Fact |
| --- | --- |
| 1 | Jeannine Riley and Steve Ihnat co-starred together in the play, "The Fourposter", put on by the Sherman Oaks Playhouse for two months, from mid-April to mid-August, 1953. The play was directed by Roy Morton. |
Pictures
Movies
Actress
| Title | Year | Status | Character |
| --- | --- | --- | --- |
| Timebomb | 1991 | | Landlady |
| High Mountain Rangers | 1988 | TV Series | Marge Russell |
| Lone Star Bar & Grill | 1983 | | Arlene |
| Like Normal People | 1979 | TV Movie | Donna (as Jennine Riley) |
| James at 16 | 1978 | TV Series | Rochelle |
| Nashville 99 | 1977 | TV Series | |
| Dusty's Trail | 1973-1974 | TV Series | Lulu McQueen |
| The Outfit | 1973 | | Prostitute (uncredited) |
| Electra Glide in Blue | 1973 | | Jolene |
| Of Thee I Sing | 1972 | TV Movie | Hotel Chambermaid |
| Love, American Style | 1969-1971 | TV Series | Cindy Lou (segment "Love and the Traveling Salesman") / Maria (segment "Love and the Big Date") / Marylou Haskins (segment "Love and the Wild Party") |
| The Comic | 1969 | | Lorraine Margaret Bell |
| Gomer Pyle: USMC | 1969 | TV Series | Wendy Sparks |
| Fever Heat | 1968 | | Sandy Richards |
| The Wild Wild West | 1967 | TV Series | Aimee Baldwin |
| Li'l Abner | 1967 | TV Movie | Daisy Mae |
| Sheriff Who | 1967 | TV Movie | Betsy |
| The Big Mouth | 1967 | | Bambi Berman |
| The Man from U.N.C.L.E. | 1966-1967 | TV Series | Nina Lillette / Andy Francis |
| Occasional Wife | 1966 | TV Series | Linda |
| Mister Roberts | 1966 | TV Series | |
| My Brother the Angel | 1966 | TV Series | Dolores |
| The Adventures of Ozzie & Harriet | 1963-1965 | TV Series | Pam / Susan |
| Convoy | 1965 | TV Series | Suzie Mae Humbolt |
| Petticoat Junction | 1963-1965 | TV Series | Billie Jo Bradley |
| Strike Me Deadly | 1963 | | Lori Grant |
| The Virginian | 1963 | TV Series | Amelia Pryor |
| Wagon Train | 1963 | TV Series | Susan Forbes |
| My Three Sons | 1962 | TV Series | Kim |
| Route 66 | 1962 | TV Series | Molly Cross |
| Father of the Bride | 1962 | TV Series | |
| Five Finger Exercise | 1962 | | Girl (uncredited) |
Soundtrack
| Title | Year | Status | Character |
| --- | --- | --- | --- |
| Petticoat Junction | 1963-1965 | TV Series performer - 8 episodes | |
Self
| Title | Year | Status | Character |
| --- | --- | --- | --- |
| Hee Haw | 1969-1971 | TV Series | Herself |
| The New Truth and Consequences | 1970 | TV Series | Herself |
| The Real Tom Kennedy Show | 1970 | TV Series | Herself |
| The Hollywood Squares | 1970 | TV Series | Guest Appearance |
| The Ed Sullivan Show | 1964 | TV Series | Singer |
Archive Footage
| Title | Year | Status | Character |
| --- | --- | --- | --- |
| Paul Henning & The Hillbillies | 2005 | Video documentary | Billie Jo Bradley |
| Television: The First Fifty Years | 1999 | Video documentary | Billie Jo Bradley |
| The Wackiest Wagon Train in the West | 1976 | | Lulu McQueen |
Source:
IMDb
,
Wikipedia