• Chase Landry is an American alligator hunter and reality TV star, best known for his role in the History Channel show "Swamp People"
• He was born in Pierre Part, Louisiana on 25 April 1989 and was taught alligator hunting skills by his father, Troy Landry
• He appeared in "Swamp Mysteries with Troy Landry" and "Swamp People: Serpent Invasion"
• He has a long-term girlfriend, Chelsea Kinsey, and a daughter, Riley Blake Landry
• His father, Troy Landry, is known as the 'King of the Swamp' and stars in "Swamp People", "Swamp Mysteries with Troy Landry" and "Swamp People: Serpent Invasion"
 
Who is Chase Landry?
Chase was born in Pierre Part, Louisiana USA, on 25 April 1989 – his zodiac sign is Taurus, and he holds American nationality. He's an alligator hunter and reality TV star, while he's probably known best for his starring role in the History Channel reality action show "Swamp People"; it has been airing since 2010, also stars Troy Landry, R. J. Molinere and Junior Edwards, and follows the lives of alligator hunters in the swamplands of Louisiana.
Early life and education
Chase was raised in Pierre Part alongside his brother Jacob, by their mother Bernita Landry who was a high school teacher, and their father Troy Landry who's also a reality TV star and alligator hunter; Chase has an older half-brother Brandon Hotard, whose father is Bernita's former boyfriend, and Brandon also occasionally appears in "Swamp People".
Chase has been interested in hunting alligators since a very early age, and his father began teaching him tips and tricks when he was around 10; it's widely believed that this kind of work is in the Landry family's blood, as their five generations have been hunters, fishermen, lumberjacks, moss peddlers, and trappers.
Chase studied at a local high school, and was mostly interested in playing football and soccer during his four years there; he had planned to try and enroll at college on a football scholarship, but after he matriculated in 2007, chose alligator hunting instead.
Other TV appearances
Chase has appeared in two "Swamp People" spin-offs. He could've been seen guest starring in the 2018 episode "'Gator vs. Python" of the reality show "Swamp Mysteries with Troy Landry", in which his father Troy starred alongside Dusty Crum and Zak Catchem; the show aired six episodes prior to being cancelled due to low ratings, and it showed the everyday life of Troy.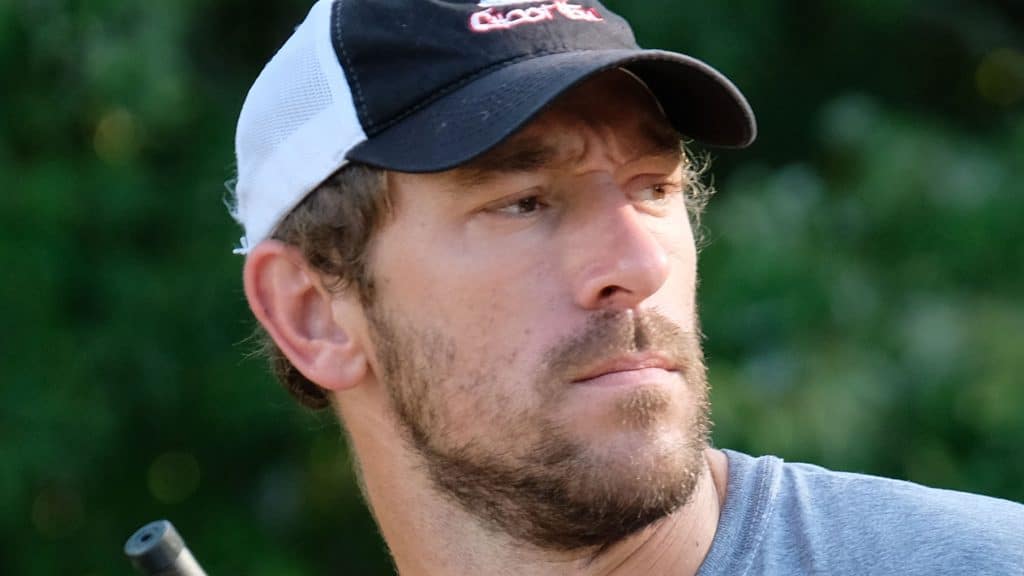 Chase appeared in four episodes of the reality action show "Swamp People: Serpent Invasion", which has aired 12 episodes since its premiere in 2020; it stars Tony Hirst, Troy Landry and Bruce Mitchell, and follows the people who are trying to save several animal species in Florida's Everglades wetland from being entirely wiped out by the invasion of Burmese pythons.
In 2016, Chase fired his gun at a boat which was speeding in Bayou Chene, Louisiana, and was thus arrested. The trial was scheduled for 2017, however, Chase failed to appear, and an arrest warrant was issued by the judge; it remains unknown what exactly happened in the case, but it's known that Chase didn't end up in jail.
Love life and wife
Chase prefers to keep the details of his love life away from the media's attention, but it's still widely known that he has a daughter. His long-term girlfriend Chelsea Kinsey gave birth to their daughter Riley Blake Landry on 18 March 2017; Riley can be seen featured in nearly all of Chase's 300 Instagram pictures, as he spends the majority of his spare time with her.
Most of Chase's fans believe that he and Chelsea are married, however, neither of them has confirmed this; there are also those who believe that they are no longer together, mostly because Chase hasn't featured Chelsea in an Instagram picture in a long time, but this hasn't been confirmed either.
Chase hasn't spoken of any other women whom he might have been with, and as of May 2022, he seems to be married to Chelsea Kinsey, and they have a five-year-old daughter Riley together.
Hobbies and other interests
Chase is quite active on Instagram and seems to be enjoying the attention which he's receiving from his close to 1,000 followers; some of his fans have stated that Chase often responds to their messages related to alligator hunting.
He's physically quite active, and has a couple of training sessions at the gym every week, mostly because he's into leading a healthy life.
Chase is a cat-lover, and his pet cat can be seen featured in some of his Instagram pictures.
He's into travelling, and has been to a couple of US states, mostly for work but also for pleasure; it's said that he's yet to travel overseas.
Chase enjoys watching movies late at night – his favorite actor and actress are Bruce Willis and Angelina Jolie, while a couple of his favorite films include "Pulp Fiction", "The Fifth Element" and "Lara Croft: Tomb Raider – The Cradle of Life".
Age, height and net worth
Chase is 33 years old. He has short brown hair and brown eyes, his height is 5ft 8ins (1.75m) and he weighs around 155lbs (70kgs).
As of May 2022, his net worth stands at over $200,000, while his father Troy's net worth has been estimated at more than $2 million.
Who is his father Troy?
Troy Landry, who's today perhaps known better as 'King of the Swamp', was born in Louisiana on 9 June 1960 – his zodiac sign is Gemini, and he holds American nationality. He only gained public recognition when cast to star in "Swamp People", while he's today believed to be amongst the best alligator hunters in the USA.
Troy was raised alongside his brother Bubba Landry in the Swamp of Atchafalaya, Louisiana, by their father Duffy Landry, and their mother whose name remains undisclosed; Duffy was a highly skilled alligator hunter, and he passed on these skills to Troy.
Troy mostly goes hunting with his sons Chase and Jacob, and this is nearly always during the 30-day gator season; during the off-season, he's focused on running his own catfish business, as he's the harvester, distributor and wholesaler.
Other than his starring roles in the reality shows "Swamp People", "Swamp Mysteries with Troy Landry" and "Swamp People: Serpent Invasion", Troy has no other credits; he did, however, appear in a 2014 episode of the popular talk-show "The Queen Latifah Show".
Troy likes to spend his spare time on Instagram, answering his fans' questions, and uploading pictures taken during his everyday life; he's today followed by more than 50,000 people on the network.