Dania Méndez is a 31-year-old Mexican social media personality, reality TV star, and model, probably best known for participating in the Mexican reality TV show "Acapulco Shore" from 2019 to 2020. She appeared in other TV shows afterwards, and has focused on modeling, acting, and starting her music career.
Early childhood and education
Dania Méndez was born on 6 February 1992, in Ciudad Guzmán, Jalisco, Mexico, where she was also raised. At some point, she earned the nickname 'La Chingona,' which refers to a bold, intelligent, and powerful woman. Dania is close to her mother, Berny Arredondo, who is her look-alike, and her father is a businessman.
Career
Dania began her online career in March 2016, by posting a now-deleted photo to her Instagram account, dania.mndz, which had over four million followers in October 2023. She slowly garnered more attention by posting pictures of fashion, modeling, and her travels, and has never stopped. After she rose in prominence in "Acapulco Shore", Dania created her TikTok account, @daniamdz, on which she has 4.6 million followers as of October 2023. She also became a model, and has collaborated with brands such as Fashion Nova following her reality TV show exit.
First reality TV show
Dania attracted the television audience's attention in 2019, as a newcomer during the sixth season of "Acapulco Shore"; she said that a fellow competitor, Brenda Zambrano, asked the producers to invite her. This reality TV series premiered on the MTV Latin America television network in September 2014, as a Mexican adaptation of the American reality TV show "Jersey Shore." It has a similar premise, with the cameras recording the lives of eight strangers obsessed with looks, who enjoy partying and fooling around, and are unafraid of controversy.
Consequently, the filming crew followed the participants for 34 days; they weren't given a script, and MTV Latin America promised not to censor them. Besides introducing fresh faces and switching the filming locations, much stayed the same when Dania joined in season six. Some participants returned, including Talia Loaiza and Luis "Jawy" Méndez, while others, such as Javier Meade, Jibranne "Jey" Bazán, Rocío Sánche, and Dania debuted.
Dania stayed in the show for 15 episodes and was entertaining, so the producers invited her to return in the seventh season, after the broadcast ended on 6 August 2019. Things were going well for nine episodes; the location had been the dreamy seaside town of Mazatlán, Sinaloa, and Dania kept attracting attention.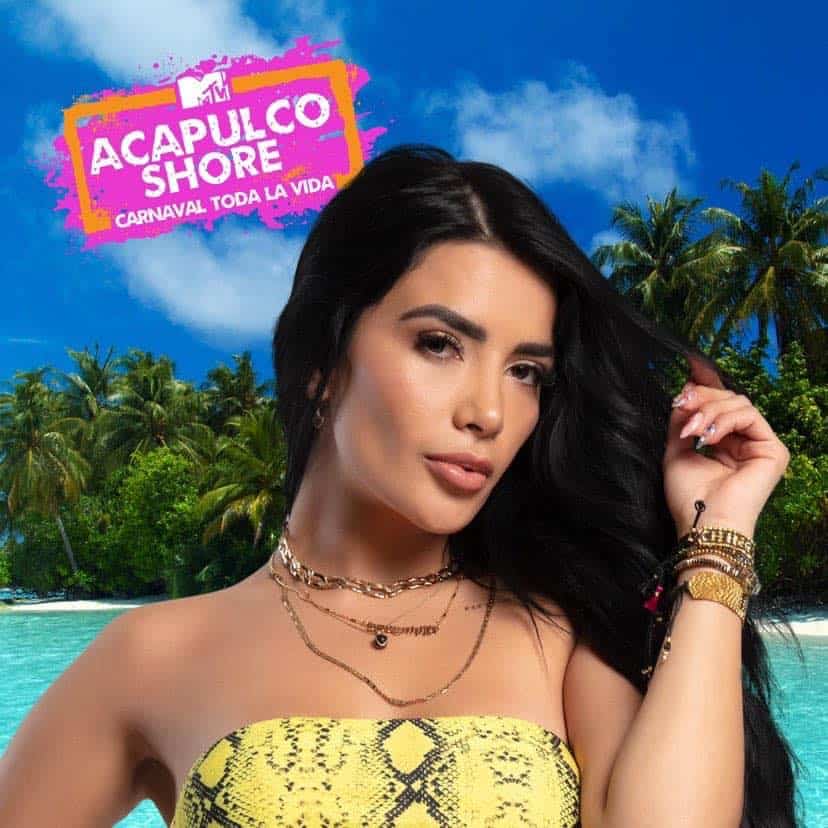 Sadly, by the 10th episode, her friendship with Manelyk Gonzalez had turned into a fierce rivalry, and Dania threw a glass at her after a verbal confrontation. Daria was nicknamed "La Buchona of Acapulco Shore" at some point, where 'La Buchona' is slang for the girlfriend or wife of a cartel member, so the term is associated with violence. She had also feuded with other housemates, including Luis Méndez, and physically fought Ingnacia Michaelson, one of Manelyk's loyal friends. Consequently, Dania returned in the 11th episode to say that she would leave the show. The seventh season of "Acapulco Shore" concluded with the 17th episode, and Dania never returned.
Harassment in the TV show
Dania was invited as  panelist for the second season of the "Acapulco Shock" talk show in 2022, which only reminded people of her unrealized potential.
Thankfully, Dania returned to TV screens in 2023 as a contestant in the "La Casa de los Famosos" reality TV show, translating to "The House of Celebrities," in which participants are isolated in the same house for a prolonged period. Dania joined during the third season, and went through three nominations for an elimination; ultimately, she was the 11th contestant to leave the house after 77 days. Many people noticed that the TV show was eerily similar to the shows in the international "Big Brother" reality TV show franchise, which wasn't a coincidence; it was based on it, as the well-known production company Endermol created both programs. Moreover, the two TV shows organized a housemate exchange during her stay, and Dania spent four days in "Big Brother Brazil 23."
Sadly, Dania was sexually harassed during that short period, and two Brazilian contestants were expelled from the house. Dania remained vague, telling People en Español, 'The truth for me was something very strong, unexpected. Something that was fun became something in one way unexpected, and in another with happy feelings but also sad, with ups and downs.' She said that she was processing what happened and learning from the situation. The public saw singer MC Guimê touching her hips and chest, even after she removed his hand. The wrestler and MMA fighter Sapato Jr. seemingly kissed her without her consent after a quick hug. After the event, Dania returned to the original show, until she was eliminated.
Moving on
Dania tried to forget what happened and participated in another reality TV show, entitled "Los 50" or "The 50s." While she stayed for a long time, being the 26th contestant to be eliminated, Dania revealed to People en Español and her Instagram followers that she ran into a metal totem during the competition, and pierced her breast implant. While things didn't worsen in the show, she had to get an emergency procedure with Dr. Luis Gilto to replace the silicone shortly after her elimination. Dania added that she had them for about 10 years, a good time for a new set, so the surgeon replaced both. Dania also admitted that the doctor performed a liposuction at her request, as she wanted to maximize the outcome under anesthesia.
Únanse al grupo de WhatsApp en apoyo a Dania Mendez y Marco León en Las Estrellas Bailan En Hoy ✨️💜👇🏼https://chat.whatsapp.com/DQ7bvjq4UrNGuzsnOXGXV9

Posted by Dania Méndez on Sunday, October 15, 2023
On 26 September 2023, Dania revealed that she would compete in the fifth season of the "Las Estrellas Bailan en Hoy" or "The Stars Dance Today" dancing TV show. During the debut episode on 2 October, Dania showed that she was skilled and had a noble heart, contrasting her previous verbal and physical fights. The show features several pairs of Mexican celebrities who prepare a dancing routine with the help of expert choreographers; if they win, they can fulfill their goal of a personal or humanitarian nature. Dania had a groin injury, which prevented her from being by her mother's side when Berny had a minor surgical operation around 10 October. Regardless, she pressed on with her dance partner, actor Marco León Pol.
Aspiring singer and actress
Dania revealed to People en Español in May 2023 that she plans to record music in the coming months. She said that 'debuting in music makes her very happy and nervous, but that it was time to get out of her comfort zone.'
Moreover, she revealed that she'd studied acting and sees herself as an actress in TV series or soap operas. Some fans might remember that she hosted the "Acapulco Shock" TV program, and interviewed people live on the LOS 40 MX radio station.
Ex-boyfriend, singer Lorduy
Meeting
In 2019, Dania started dating David Lorduy Hernandez, a Colombian singer and songwriter best known as a member of the music group Piso21, translated to 21st Floor. They had a relatively public relationship, and shared displays of affection online. Lorduy was a newcomer when they became romantically involved; the four-member music group was formed in 2007. However, they only released two studio albums, "Piso21" in July 2012, and "Ubuntu" in May 2018 before Lorduy joined. On 3 February 2019, the group announced that their founding member, Juan David "Llane" Castaño, would pursue a solo career, and that Lorduy would replace him.
Lorduy released several singles with the group that year, had a notable single, "Dulcecitos," in January 2020, and released their third studio album, "El amor en los tiempos del perreo," in March 2021. Artist Maluma was the featured artist on the third track, "Más de la una" or "More than one", and Dania joined her boyfriend as a model in its music video.
Breaking up
Sadly, things abruptly ended when according to Mag ElComercio, Dania discovered suspicious messages on the Apple Watch that she had gifted him, She said that Lorduy initially slipped up and told her that 'he arrived' through a text when he was supposed to perform. He quickly deleted the message, and replaced it with something more fitting. She was in love and moved to Columbia to be with him, but the doubt practically forced her to check the Apple Watch, and she discovered that he had been unfaithful. Even worse, his family apparently knew he had another woman, allegedly fashion designer Mafer Jaime. Lorduy dismissed her claims, pointing out that she 'waited to do a reality TV show to reveal his alleged cheating, and that long-distance relationships don't work.'
Ex-boyfriend Arturo Carmona
Viewers have watched Dania and Arturo Carmona fall in love in "La Casa de los Famosos″ in 2023. They were the first couple in the series and showed how much they cared when jealousy arose. Arturo told her not to give actor Pepe Gámez indications that something more than friendship could happen. Similarly, Dania told him to stop being so close to actress Aylín Mujica. Unfortunately, Arturo was eliminated during the ninth week, and Dania had the harassment incident and was eliminated two weeks later. Although Dania cried when he was eliminated, and Arturo mentioned a wedding and children. Regardless, passion dissipated after that break, and the two settled on a friendship during their first post-show reunion. Both admitted that they loved their time together, and had learned much from each other. She told him, 'I don't think right now it's the right time for a relationship, but time will tell.' Arturo shared that sentiment.
Rumored boyfriend Peso Pluma
In 2023, Dania sparked rumors that she was dating singer-songwriter Hassan Emilio Kabande "Peso Pluma" Laija. Peso Pluma released a music video to accompany the "Bye" song on 26 May, which starred Dania. Most fans latched onto the fact that it was his first solo single in a year, making it special. Moreover, days before the release, Peso posted a TikTok video lip-synching the song with Dania in the pool behind him. In contrast, according to RollingStone, Dania posted a video of herself writing 'Bye' in the sand of a Dominican Republic beach, and was seen golfing with him.
Physical characteristics
Dania Mendez has dark brown hair and eyes, is 5ft 4ins (1.62m) tall and weighs out 120lbs (55kgs). She has a chiseled jawline and an athletic physique, and has admitted to having breast implants and liposuction. However, she hasn't revealed whether her plump lips result from lip fillers. Dania also has several small tattoos, including an anchor on the wrist of her right hand, a dotted line around her right biceps and triceps, '22' on her right forearm, and a butterfly on her midsection.
Net worth
Dania Mendez has a net worth estimated at $500,000 s of late-2023, primarily through paid advertisements via her Instagram and TikTok accounts. She's collaborated with brands such as Shein, Orientica Perfumes, L'BEL, and Naked Wolfe. Dania has appeared in several prominent reality TV shows, but they were limited to Mexican and Brazilian audiences, with lower payouts; moreover, she's yet to win a competition. Dania has a talent agent and manager, SM Represantaciones Mexico, to help monetize her brand.