Eric Braeden, who plays Victor Newman in "The Young and the Restless" — colloquially known as "Y&R" and one of the longest-running daytime operas on CBS – revealed that he was diagnosed with high-grade bladder cancer on 23 April 2023. That wasn't how he imagined his retirement years; the 82-year-old, who started acting in 1960 and joined the TV show in 1980, celebrated his 40th anniversary as self-made businessman Victor, in 2020 and was happy to continue acting.
Even his role surprised him; the audience was supposed to hate his character with a passion and be satisfied when the writers killed Victor within eight to 12 weeks. However, after the co-creators recognized his acting chops, the power of his voice, and the way he conveyed inner strength, they didn't want to let him go. Instead, they rewrote the storyline to put him on contract, allowing Victor to gradually transform from a despicable, cruel man to a family-oriented business magnate who eventually fell in love with Nikki Newman, amid many other plots.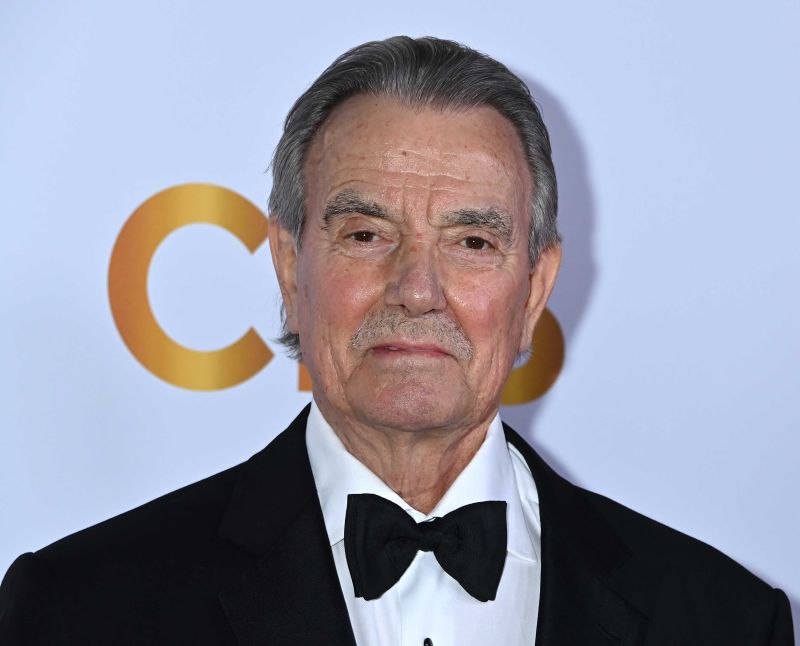 Eric was grateful for steady work, and loved his role so much that he appeared in close to 4,000 episodes over 43 years. Unfortunately, despite his wishes to keep going as if nothing had happened, he's had to rest much more in the last three to four months. Thankfully, that made Eric much more active on his Facebook profile, @officialericbraeden. Eric now uses it to communicate with his fans and share occasional health updates. Here's what he's revealed so far.
Eric is intentionally forthcoming
Eric clarified that his directness came from wanting to raise awareness and encourage fellow men to schedule doctor visits if they suspect something is wrong. Eric admitted that he could have stayed silent, but that he eventually realized that not mentioning his illness would be foolish, as he put it.
That was important because there were no indications of bladder cancer, only a problem with his urinary tract, which was diagnosed as a blockage. Eric was happy because the catheter solved it, but the pain and blockage soon returned, and he asked for another doctor's opinion, who found cancer cells. That was perhaps life-saving because he could have treated symptoms, and the cancer would have gone undetected, reducing his chances of survival.
Eric didn't delve into too many details after the initial announcement about his treatment. However, he regularly updated his Facebook followers between June and August this year, primarily through live streams and throwback photos from his life, or scenes that he filmed as Victor. Although he was clearly in good spirits and on the mend, Eric confirmed on 31 July that he was improving, posting a funny image of an older man dancing, setting his fans' minds at ease.
He didn't panic initially
Eric posted a 13-minute video via Facebook Live on 23 April, to explain what transpired before his diagnosis. He started the video positively, greeting his friends, family and fans, then slowly shifted to the topic, declaring that he had a knee replacement surgical operation in December 2022. He quickly recovered from it, although he used a cane for a while. However, Eric began having prostate issues at one point in his recovery. He was over 80 by that point, so that wasn't unusual, and felt relieved when the doctor told him that it was a minor prostate-related problem.
After knee replacement! Thinking of you all! ❤️❤️❤️💪💪💪 pic.twitter.com/7E0XDbyRry

— Eric Braeden (@EBraeden) December 16, 2022
One doctor missed another warning sign
Eric wasn't surprised when he had 'go to the potty more often,' which made things a bit more awkward on set and bothersome at home, but didn't worry him. He only started panicking when he noticed that he felt the urge to urinate every 30 minutes, followed by trouble urinating combined with pain. Things worsened when Eric could no longer urinate and felt the most intense pain he'd ever felt, prompting him to rush to the nearest clinic.
Unfortunately, the doctor didn't take Eric seriously, missed cancer, or was too sure about another diagnosis, as he said that they inspected the area using a camera. Eric stated that he was diagnosed with BPH (benign prostatic hyperplasia), a non-cancerous enlarged prostate gland. A nurse inserted a catheter and restored normal function, so he went home satisfied.
A Los Angeles doctor operated on him
Sadly, the problem returned; while suffering excruciating pain and unable to urinate again, Eric sought help at a different hospital. That proved the right decision, as the doctor at the Cedars-Sinai Medical Center in Los Angeles, California, took his concerns seriously.
Although he knew that returning symptoms were the main reason for the doctor's commitment, Eric thought that there was another minor motivation. He said that the doctor recognized him at the clinic, and thanked him for indirectly teaching him English, as he practiced by listening to Victor's accent in "Y&R." The doctor was also an immigrant, having arrived in the US from Vietnam, not Germany, where Eric moved from in 1959.
Regardless, Eric was lucky because the doctor immediately checked the area with a camera and noticed an unusual shape, however, he was honest with Eric, telling him that he couldn't determine whether it was prostate or bladder cancer until the surgical operation began. Eric was reluctant but agreed. He might have been encouraged to accept because the doctor promised to perform a UroLift while he was under anesthesia. That is a minimally invasive operation that uses an implant to expand the blocked urethra, ensuring unobstructed urine flow.
Eric trusts modern medicine
Eric surprised some fans by revealing that he was aware of the success rate of modern operations, and that he knew that cancer was survivable. Thus, Eric trusted the doctor and wanted to motivate his Facebook followers, especially fellow older men, to get regular colon, bladder, and prostate check-ups, even if they would rather not know the cause.
Following the operation, the doctor told him that they'd removed low and high-grade cancer cells that pressed against his bladder. Eric clarified that he would still need a six-week immunotherapy cycle called BCG (Bacillus Calmette-Guerin) treatment after a six-week break beginning in May  – BCG uses drugs administered through a catheter rather than orally or via injections. American Cancer Society deemed this intravesical immunotherapy one of the most effective and successful treatments. That's because bypassing pills or injectables ensures that potential adverse effects can only affect bladder cells, not the rest of the body, as is standard with chemotherapy and radiation.
He was positive from the get-go
Eric revealed that his trust in his doctors was only one reason for persevering through the tough times; another was his passion for sports. Although cancer scared him, he knew that recovery would be manageable because being physically active taught him never to give up, keep improving, and deal with situations efficiently and rapidly. Furthermore, Eric announced the prescribed therapy with, 'This bastard ain't going to get me; I'm going to get it!'
Eric surrounded himself with people
Although he didn't say it, Eric showed that part of his therapy included being around people who loved or could help him. In March, he attended "The Young and the Restless" 50th anniversary, saying he was proud of working with his old and new colleagues. During his post-operation break In May, Eric posted a picture of a Germany trip when he spent time with his three elder brothers, before which he posted videos of gym workouts with his physician and personal trainer in Los Angeles.
Eric also attended a basketball game between the Los Angeles Lakers and Golden State Warriors, and drinking nights with his close friends, some of which included wine drinking at Shifflett Ranch and Vineyard in Napa Valley.
Most importantly, on 29 May 2023, he showed a picture of himself holding an alcoholic drink alongside his wife of 57 years, Dale Russell Gudegast, signifying that their love was strong. He spent time behind the scenes with his director son, Christian Gudegast too, who lives in Los Angeles. Eric also frequently remembers his friend, "Y&R" actor Kristoff St. John, who died on 3 February 2019 from heart-related issues, and often reads social media posts that people post about him. He never forgets the fans, and called the public support 'heartwarming, because we have more in common as human beings than what separates us.'
He returned to acting
Eric maintains a positive attitude towards his work, and immediately shoots down doubts from his followers about retiring. He confirmed that the therapy would temporarily keep him out of work, but said that it won't affect his career, as he 'loves entertaining, acting, and his fans' support, and will resume working shortly.'
He also advised his fans to be patient and not worry if he looked lethargic, that he would be in top form after the immunotherapy ended. He also admitted that he would be much more in tune with his body, and refrain from going all out if he felt something was off. An indirect proof of Eric's recovery came on the 4th of July, when he attended a party to watch the fireworks in his neighborhood, and also posted videos of himself on morning walks.
However, his followers were ecstatic to see hard evidence, and his Twitter, now X followers, got it on 8 June 2023 via his account, @EBraeden. He posted an image of himself and Melody Thomas Scott, who plays Nikki Newman, and wrote, 'After a scene today!' That suggested that he was doing some acting for the soap opera, which was a relief because thousands of entertainment workers had been striking, asking for better working conditions and higher salaries. Eric explained on 22 July that soap opera actors frequently work under The American Federation of Television and Radio Artists (AFTRA) contract and that he supports the strikes and unions wholeheartedly, but that he and his colleagues can continue filming.
He now worries about others
Eric consistently mentions the importance of medical examinations, even if they're scary, expensive, or seemingly unnecessary. However, what got his point across was commenting on the situation of LeBron James' son, Bronny James, in a Facebook Live video. Bronny collapsed at a basketball practice game on 24 July, and was hospitalized at Cedars-Sinai, the same hospital Eric went to, after his heart stopped beating. Bronny survived the sudden cardiac arrest, but the situation reminded Eric of his disregard for warning signs.
Eric also shared a personal story, saying that he had been training soccer with his son, Christian when he was a teenager. Christian seemingly struggled to breathe when he pushed himself, an issue that later vanished, but Eric still asked him not to overdo his training. That's because he noticed then that cardiac arrest was more common among growing teens aged 17 or 18. Thus, Eric advises today's young men to shorten their strenuous training sessions, if they suspect they're crossing the limit.
There were two more recent signs that Eric was his usual self. First, he commented on the "Oppenheimer" movie that premiered on 21 July 2023, and pondered the philosophical and practical struggles of theoretical physicist J. Robert Oppenheimer, who developed the atomic bomb. Second, Eric posted a 22-minute commentary Facebook video on 4 August, voicing his opinion on the state of the US and its politics. Long story short, he criticized the current president and supported migration for people with proper motives and determination, praising Mexicans in the process.