Eseniia Mikheeva, a seven-year-old dancing prodigy from Moscow, Russia, is taking the world by storm with her exceptional talent and infectious charm. Her dance video went viral and it played a significant role in catapulting her to internet stardom, paving the way for her to perform on a global stage. With her wild head of curly blonde hair that bounced to the rhythm, and a passion for dance that began at just seven months old, Eseniia has captured the hearts of audiences and judges alike in "America's Got Talent" Season 18.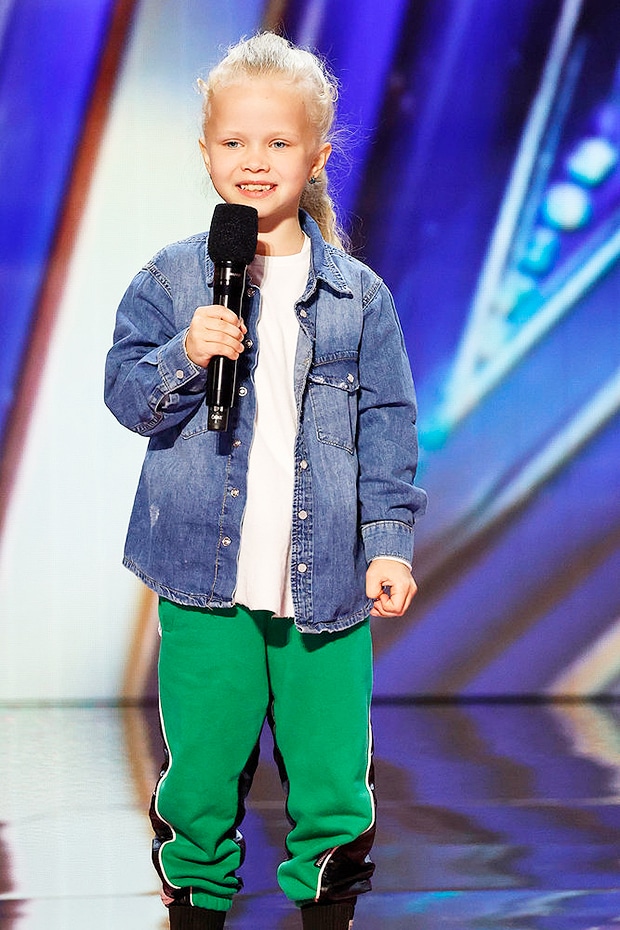 Get to know Eseniia Mikheeva
Eseniia Mikheeva was born on 29 October 2015, to Marina and Alexandr. Delving into their Instagram posts, one could easily discern that this couple was struck with an insatiable wanderlust. Among all the breathtaking locations they explored, the beach held a special place in their hearts, where they enjoyed every moment spent on the sun-kissed sands and the rhythmic waves.
With the arrival of their precious daughter, Eseniia, their adventures took on a new dimension as they introduced her to the wonders of the world. As they relished every experience, a palpable joy emanated from their photographs. Each captured moment encapsulated a tapestry of laughter, adventure, and affection. Upon reflection, Alexandr realized that regardless of where they traveled or what adventure they got into, what made the experience more fun and exciting was being together as a family.
When the couple celebrated their fourth anniversary in August 2019, it was evident that Alexandr couldn't contain his happiness. He wanted to shout it out to the whole world as he posted a photo of himself with his wife, accompanied by a heartfelt caption: 'Father of heaven, thank you for giving us the opportunity to meet each other. 4 years of fabulous days together! My wife has brightened my life by giving me a daughter, filling my life with meaning!' He even advised others to marry for love, promising that their union would be blessed by God.
On their sixth-year anniversary, Alexandr made a promise to his wife, stating that they had just begun their journey together and still had an eternity to go. Without fail, Alexandr consistently expressed his deep love for his family whenever he posted about them. He mentioned how his daughter had completely changed his life and how grateful he was to his wife for making him happy. Marina, too, was just as expressive as her husband. Her Instagram was filled with endearing photos of their daughter, who brought immense joy and happiness into their lives.
They were practicing Orthodox Christians, and made sure to instill the same faith in God and values to their daughter. Alexandr once mentioned in his Instagram post, however, that the truest religion is having a kind heart.
Their love for dancing has been passed on to their daughter
Beyond Alexandr and Marina's passion for traveling, it was their love for dancing that set their souls ablaze. Whether twirling under a clear sky on the beach or tapping their feet on the street to the beat of an urban rhythm, their bodies seemed to move in perfect harmony, as if dancing was etched into their very essence. The couple passes this kind of enthusiasm that they have for dancing on to their daughter.
Eseniia's journey into the world of dance began at an incredibly young age. In an interview, when she was asked about how long she had been dancing, she confidently replied, 'When I was two years old,' to which her father playfully corrected her and said that she began dancing when she was just seven months old. It seemed that even as a baby, she displayed an innate connection to music. According to her father, it was during a car ride when he noticed that baby Eseniia couldn't help but bob her head to the rhythm of the music that she heard being played. Her love for dance was evident from the very start. From her photos on Instagram, it seemed that she had mastered doing the splits and high kicks early on.
A Gift from the Heart
Dancing runs in Eseniia's family; her parents are dance teachers who run a special program for children at their dance center called Mikheev Pride. Her father said that he and his wife taught their daughter choreography and techniques when she was very young. However, her flair on the dance floor went beyond that. Alexandr proudly acknowledged that her talent came from within because he said that it was something that could not be taught. Eseniia firmly believes that her dancing comes straight from her heart, emphasizing the strong emotional connection she feels to dancing. This makes her performances truly unique and captivating.
A Versatile Dancer
Despite her tender age, Eseniia possesses an impressive repertoire of dance styles. From the grace of ballet to the fiery rhythms of tango, the contemporary flair, and the groove of hip-hop, she is a true dance prodigy, mastering various styles with remarkable finesse as was possible for a young child. Her fondness for dancing made it effortless for her to absorb body movements as she watched her parents dance gracefully and observed their teaching techniques. Recognizing her innate ability, her parents wholeheartedly encouraged and nurtured her love for this art form, by providing her with a supportive environment to develop her skills. After the dance workouts and classes, they told Eseniia to dance alone at the studio with no rules – just to listen and let her body feel the music and move to the rhythm.
Instagram is a popular online social networking service that allows users to post photos and videos. People share moments in their lives to connect with others, entertain, inspire, and make a positive impact. Eseniia's parents actively promoted her dancing on social media, creating an Instagram page dedicated to showcasing her performances, routines, and acrobatics. By sharing her talent with a broader audience, they helped her gain recognition and build a following.
Alexandr and Marina posted a video in late 2021 of a class performance in Moscow, with their daughter front and center, and it was easy to see why it went viral and garnered almost half a million 'likes'. Six-year-old Eseniia pulled off some incredible hip-hop moves, but more than that, she exuded confidence with each sharp movement and with that "mean mug" of hers.
6-year-old shows off dancing skills

DANCING QUEEN: This 6-year-old dancer's energy can make anyone get off their feet and dance 🕺Esenya MikheevaSee more trending and viral videos at cbsmiami.com/webextra

Posted by CBS Miami on Friday, January 28, 2022
It appeared that this spunk of hers stemmed from being accustomed to dancing alone, with her father, or with people of any age or in any setting. Furthermore, she often performed in front of crowds at festival shows in Russia as early as three or four years old. Perhaps to explain why they danced without a care in the world whenever the mood struck them, as seen on her social media pages, Alexandr shared that dancing for casual spectators on the street was a great way to distract oneself from worries. Many believed that it also helped Eseniia to be without fear or reservation that could have held her back from expressing herself through dancing.
Many opportunities came her way since that video became viral. Eseniia made a guest appearance in a Russian TV show featuring kids with immense talent; her father was grateful to them for giving Eseniia this opportunity to perform for a bigger audience; it was a dream come true. He never thought, however, that she would capture the hearts not just of those from their country but also of people from across the globe. The video and the people's reception to it was thought to be newsworthy so it was featured on various media outlets, including the "New York Post," "CBS News," and "Good Morning America." Some even hailed her as a "Dancing With The Stars" pro in the making. As her popularity grew, more doors opened for her as she received invitations to participate in dance conventions, high-profile events, and TV shows in the USA. Notably, she was given the chance to perform with the Atlanta Hawks dancers at an NBA game in late 2022.
Mesmerized the audience in "The Jennifer Hudson Show"
During her guest appearance in "The Jennifer Hudson Show," aired in April 2023, Eseniia Mikheeva charmed the audience and the host with her delightful personality. She was accompanied by her father, who revealed some fascinating insights into her dancing journey. The young dancer shared her favorite dance styles, showcasing her versatility; ballet topped her list and she demonstrated the classic ballet position. Additionally, she mentioned contemporary dance, and displayed the slow and expressive movements associated with this style. As for hip-hop, Eseniia's infectious energy shone through as she grooved with enthusiasm.
She fondly recounted a heart-warming memory of dancing the tango with her father. A delightful glimpse of their dance, set against the backdrop of a miniature Eiffel Tower at a mall, was captured in a short video clip, which her father proudly shared on his Instagram. As time passed, they continued to share these beautiful moments of dancing together on the streets, by the beach, and in the cozy ambiance of a dance studio, with her mother making sure that she captured them all on her camera. When Eseniia was asked what she loved most about dancing, she said, 'When you dance, you feel freedom, you feel happy, you feel power.' Of course, the highlight of the show was Eseniia's spectacular dance performance. On stage, she wowed everyone with her astounding hip-hop moves.
Before the show ended, the audience learned that Eseniia was a pet lover. She proudly talked about her big, fat cat and she even presented a special gift to Jennifer Hudson – a toy for her own cat. The host expressed her admiration and joy at having Eseniia on the show. As a special treat, she surprised Eseniia and her family with a gift of tickets to Universal Studios to make their time in Los Angeles even more memorable.
Upon learning that they had never been to a water park before, Jennifer Hudson also treated them to an unforgettable experience at Kalahari Resorts and Conventions, renowned for housing the largest indoor water parks in America. The family embraced the thrill of the water slides, braved the exhilarating rollercoaster rides, and engaged in action-packed laser tag games and arcade adventures at the Tom Foolerys Adventure Park. Following their fun-filled day, they unwound and rejuvenated at the spa.
Background on "America's Got Talent"
"America's Got Talent" is a reality TV show in the United States, created by Simon Cowell, that showcases a wide range of talents and performances. Contestants of all ages and backgrounds have the opportunity to audition in front of a panel of celebrity judges and a live audience. The acts can include dancers, singers, acrobats, magicians, comedians and more. The judges provide feedback, and successful acts advance to the next rounds, culminating in a grand finale where the winner receives a substantial cash prize along with the honor of being declared the champion. The show is now in its 18th season, premiering in May 2023.
Eseniia Mikheeva on "America's Got Talent"
During the live auditions, young talents continue to amaze audiences, and the latest sensation to grace the stage is the adorable seven-year-old, Eseniia Mikheeva. As she took the spotlight, the audience couldn't help but be enamored by her from the moment she stepped onto the platform and greeted them while giggling with excitement. Her long, blonde, curly ponytail caught the attention of Sofia Vergara, after which the Columbian-American actress and TV personality asked her to tell a fun story about dancing. Eseniia said, 'When I was little, I sit in baby car and I hear [music] do-do-do-do-do. I can't move my legs. I can move my head [music] do-do-do-do-do,' as she moved her head sideways to demonstrate.
Dazzled the crowd and the judges
With unwavering confidence, Eseniia showcased a jaw-dropping performance of "Soy Yo" (It's Me) by the Columbian band Bomba Estéreo that included impressive moves such as backflips, worms, handstands, and splits. Her infectious energy and genuine expressions during her hip-hop routine left a lasting impact on the audience, who gave her a standing ovation and thunderous applause.
The judges were left in awe of Eseniia's talent. Sofia Vergara was quick to shower her with praises as she said, 'Eseniia, I think you are a mini, mini star already. I am so happy that you came tonight to AGT, because this is the place where you needed to be.' Canadian TV personality Howie Mendel raved about how amazing she was on the floor. German-American model Heidi Klum admired Eseniia's dance and acrobatic skills, but what particularly impressed her were the young girl's heartfelt facial expressions, which showed true passion in her performances – she exuded a unique level of sass when she grooved to the music.
Earlier, Eseniia was asked who her favorite judge was, and as it appeared as if she was deliberating on who to choose among the four judges in front of her, Simon Cowell coached her to pick him, and she did. Having lost his voice temporarily, when it was his turn to comment on her performance, he whispered to Sofia to relay his message. However, Sofia couldn't quite get it right as she struggled playfully to convey his words accurately. Heidi tried to assist, but Simon could only shake his head, and his fellow judges seemed amused by his voiceless situation. Nevertheless, the judges proceeded with the vote, awarding Eseniia with a well-deserved four 'yeses' and moving her to the next round of the competition.
Her parents, who were watching everything on the side with the show's host, Terry Crews, were so proud of their daughter and quite ecstatic at the reaction of the crowd and the judges to Eseniia's performance. Most of the people who had watched the show raved at her stage presence and amazing moves. It was actually not merely her dance skills that captivated them but it was her fiery attitude and expression that got people cheering for her to no end.
ADORABLE 7 Year Old Dancer Brings the SASS to the America's Got Talent 2… https://t.co/QHHI4ivLoY via @YouTube

— Wafa 🥭 (@WM_2912) July 13, 2023
While some people disapproved of having kids in the limelight, and thought of it as possibly parents pushing their children to live their dreams, Eseniia's fans came to the family's defense, asserting that there was nothing wrong with a kid who shared the same passion as the parents. Others had concerns that Eseniia might not be fully enjoying her childhood, given that a significant portion of her time must have been dedicated to learning choreographies and practicing non-stop. However, they couldn't be more wrong – her life isn't solely centered around dancing. Just like any other kid, she loves playing with her toys, relishes beach days, and has a blast in the snow. It's evident on her social media pages, which are managed by her parents, that she is a picture of a happy child.
Eseniia Mikheeva has proven that age is no barrier to talent and passion. With her boundless enthusiasm and natural gift for dance, she has won the hearts of "America's Got Talent" viewers and inspired countless young dreamers to follow their hearts and pursue their passions with dedication and joy. There is no doubt that Eseniia's future as a dance sensation is incredibly bright. The world eagerly awaits to witness the next chapter in her remarkable dance journey.