George Peppard
Born on 1st October 1928 in Detroit, Michigan, USA, George William Peppard was a prominent figure during the later years of Hollywood's Golden Age – he passed away on 8th May 1994. The actor's breakthrough role was playing Paul Varjak in the classic "Breakfast at Tiffany's"; before fame, however, his parents – voice teacher Vernelle Rohrer and building contractor George Peppard, Sr. – lost all their money in the Depression, and struggled with financial woes for years.
After matriculating from Dearborn High School in 1946, George enlisted in the U Marine Corps; by the time his enlistment ended in January 1948, he'd risen to the rank of corporal. Although he initially planned on being an engineer. and studied civil engineering at Purdue University for two years, he was also a member of the Purdue Playmakers theatre troupe. and realized that his true passion lay in acting.
Upon leaving Purdue, George transferred to the Carnegie Institute of Technology and graduated with a bachelor's degree in 1955, taking a year longer than usual because he was forced to drop out when his father died and left unfinished jobs. Although badly shaken, George was undeterred by the tragic event and continued to perfect his craft at the Pittsburgh Playhouse, while working as a radio DJ to pay the bills.
Unbeknownst to many, George was also a pilot, and spent much of his second honeymoon training to fly his Learjet.
Career Highlights
George's stage debut was with the Pittsburgh Playhouse in 1949. After moving to New York City in search of acting jobs, he studied method acting with Lee Strasberg at the Actors Studio, meantime working as a taxi driver, motorcycle repair mechanic, radio station engineer, and fencing instructor. It would take a while for George's career to take off, but his first TV role in "Lamp Unto My Feet" allowed him to leave behind his taxi driver job, and give acting his undivided attention.
In April 1956, George's performance in "The Shoemaker's Holiday" was described as "beguiling" by the New York Times; just three months later, he signed to make his movie debut in Jack Garfein's "The Strange One", which was filmed in Florida. Far from being nervous, George was excited at the opportunity.
Upon returning to New York, George played a malicious dance teacher in the play "Girls of Summer", however, the bulk of his work came from TV segments in "The Kaiser Aluminum Hour", "Matinee Theatre", "Studio One in Hollywood", and other shows. His performance in the 1958 television play "Little Moon of Alban" was once again praised by a major publication, on this occasion the Los Angeles Times, which described the actor as "excellent".
After a supporting role in the Korean War movie "Pork Chop Hill", George joined the cast of the Broadway play "The Pleasure of His Company", and was again lauded by influential publications. During the show's year-long run, he auditioned for MGM's "Home from the Hill", and signed a long-term contract with the studio. The movie featured Luana Patten, George Hamilton and other young actors whom MGM hoped to develop.
George's next movie with MGM was "The Subterraneans", which unlike "Home from the Hill", was a commercial failure. For the actor, who had been banking on the movie being a hit so he could return to Broadway afterwards, this was disastrous news. For the next couple of years, George was either promised roles that never materialized, or announced for roles that went to other actors; in the meantime, he returned to guest-starring appearances in TV shows, and hoped for the best.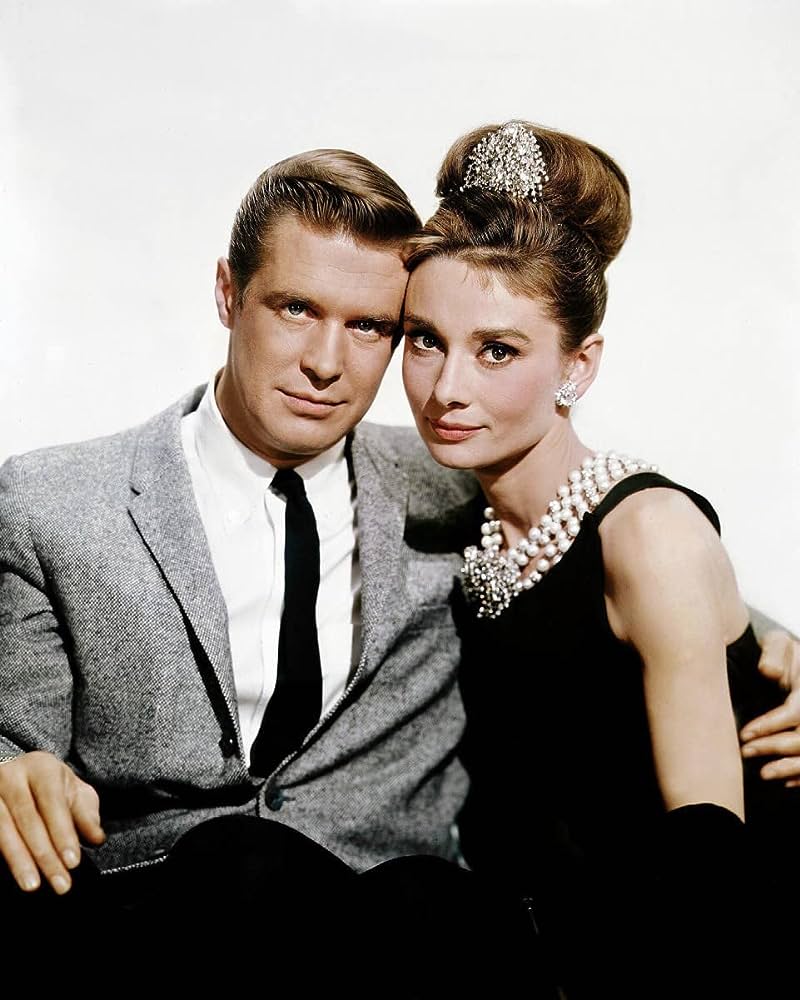 Nevertheless, George's patience paid off as he was cast as Paul Varjak in "Breakfast at Tiffany's", starring alongside Audrey Hepburn. Although George didn't get on with his co-stars – Patricia Neal described him as "cold and conceited" – he was suddenly deluged with work, and able to turn down TV series to concentrate on big screen roles; the Michigan native also had to pick his projects carefully due to the terms of his MGM contract.
In 1962, MGM cast George as the lead of "How the West Was Won", an epic western movie which he followed up with "The Victors". Despite being offered six figures to film for "The Long Ships", George turned the role down, not wanting to spend half a year in Yugoslavia. Although some of the projects he had in the pipeline never came to fruition, he was at that point an established actor with constant press coverage for his work.
Next, George starred in the 150-minute long feature "The Carpetbaggers" and would have an affair with his co-star Elizabeth Ashley, who later became his wife. Decades later, Elizabeth would recall some executives and directors feeling that George was "a pain in the ass" due to his unrelenting personality and nervous energy.
In 1965, the Hollywood star signed a new three-year contract with MGM. Despite the handsome paychecks he earned from his starring roles, he was "up to [his] ears in debt", and his economic situation was made no better when Paramount sued him for $930,555 in damages, after the actor walked off set, days into filming "Sands of the Kalahari". George later countersued and appeared in "The Blue Max", which was a huge hit, and "Tobruk".
In August 1966, George signed a multi-million-dollar contract with Universal for five films, which Elizabeth claimed ultimately hurt his career. The actor initially signed because he'd purchased a large cattle ranch that required an expensive upkeep, but the films – "Rough Night in Jericho", "House of Cards", and "What's So Bad About Feeling Good?" to name three – didn't come anywhere near George's heyday. After numerous career blunders, the actor began drinking.
As more unsuccessful films followed, George became more and more frustrated and disillusioned with where his career was headed. Forced to return to TV movies and features, in August 1971 the actor signed for a starring role in "Banacek", which lasted two seasons. His reputation took a serious hit months later, when he stood trial after being accused of attempting to rape a stripper: despite being declared of the charges, the incident took its toll on his marriage to Elizabeth, and they divorced shortly afterwards.
Although George wanted to take time off and focus on producing and directing, he was forced to act in order to pay child support and alimony. In a matter of years, his fee dwindled from $400,000 to $100,000, even though many of his projects – such as the science-fiction film "Damnation Alley" – went down well with audiences.
In 1979, George starred in, directed and produced "Five Days from Home". Years later, he would recall the late seventies and early eighties as the low point of his career – heavily in debt, and with less and less work, he was forced to take out a second mortgage on his home, and sell his car to finance the project.
With that said, the actor still had a reputation for being difficult. While filming five episodes for the NBC game show "Password Plus", George made unfortunate on-camera comments about NBC officials which forced the network to pull the episode and film an extra one two weeks later. As a consequence, he was banned from appearing on any of the network's game shows ever again.
In 1980, George was cast as Blake Carrington in "Dynasty". During the filming of the pilot episode, he butted heads with Richard and Esther Shapiro, the show's producers, and was fired three weeks later. The part was immediately offered to John Forsythe, who became the star of the show; George, meanwhile, filmed in Canada, New Zealand and Spain, and was later cast in a main role in "The A-Team".
"The A-Team" premiered in January 1983, and was an instant success, running for five seasons on NBC, and becoming George's best-known role. Initially charging $50,000 an episode, the "Breakfast at Tiffany's" star became one of the best-paid TV actors at the time after raising his fee to $65,000. Astonishingly, George later claimed that it was the first time he had money in the bank, insinuating that his pricey divorces and decades of alimony payments had left him penniless for years.
In his later years, George appeared in several stage productions, and was in the process of filming a series of TV movie features set in the 1940s. His last TV role was a guest-starring appearance in "Matlock" which aired just eight days before his death; the episode was meant to serve as a backdoor pilot for a series about a father-daughter team of private investigators.
Personal Life, Death
Somehow, George found time to marry five women and father three children throughout the course of his career. His first wife, Helen Davies, was the mother of his first two children Bradford and Julie; the couple divorced in 1964 after ten years of union, after which she never remarried.
Meanwhile, Elizabeth Ashley, his second wife and the best-known, was the mother of his last child, Christian. When George and Elizabeth divorced in 1972, he was ordered to pay the actress $2,000 a month in alimony for four years, as well as $350 a month in child support, and $400 a month for psychiatric care. When Elizabeth remarried in 1975, her two awards were nullified.
Next, George tied the knot with Louisiana-based realtor Sherry Boucher in 1975, who later married John Lytle. The marriage lasted four years. From 1984 to 1986, George was married to the bit part TV actress Alexis Adams, also known as Joyce Ann Furbee; like Helen, Alexis never remarried after the divorce. Last but not least, George was married to Laura Taylor from 1992 until the time of his death.
After overcoming his alcohol problem in 1978, George decided to help other alcoholics. However, he continued to smoke three packs of cigarettes a day – an unhealthy habit that lasted until his lung cancer diagnosis in 1992. Despite having numerous health problems and having part of one lung removed, George continued to act in his later years; finally, he died of pneumonia in his Los Angeles home in May 1994. His burial was a simple and plain one, according to his wishes, and his body lies in Northview Cemetery in Dearborn, Michigan.
The actor cut an imposing figure at 6ft (182cm) tall, with much of his success coming from his movie-star good looks and screen presence. At the time of his death, however, George was worth just $5 million, due to having such an expensive lifestyle a d commitments to former partners.