A survey ranked Canada as the most reputable country in the world– no one who's watched "Heartland" and knows Jack Bartlett, the Bartlett family's beloved patriarch, would dispute the survey's findings. Jack is arguably the most reputable and beloved character in the television drama series. He's been in the show since its premiere episode in 2007, and has appeared consistently despite a close call with death that left die-hard fans shaken, and some of the show's less loyal fans thinking that he died. Since then, he's been the subject of fake death rumors across the internet, often confusing and misleading "Heartland" fans, particularly since the show's producers love cliffhangers that leave viewers unsure of the fate of its characters. So, what happened to Jack? Is he alive, or did he die as purported?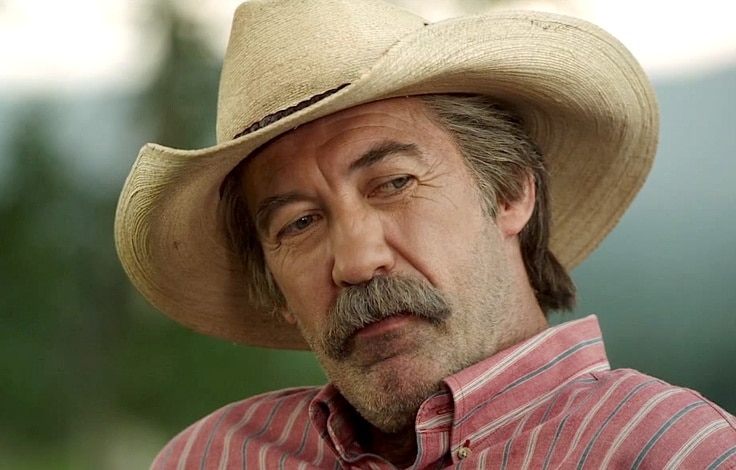 "Heartland" to the World
For over a decade, fans of the longest-running Canadian scripted drama "Heartland" could only watch their favorite show on CBC Canada. Imagine their pleasant surprise when Netflix picked up the first fifteen seasons of the show. Its characters became known all over the world, and it gained new viewers, some of whom became loyal audiences. There was only one problem – in January 2022, Netflix International removed the first six seasons of "Heartland" from its line-up. The viewers who had watched the now-missing episodes and those who caught it on CBC remember an episode in Season 6 that shattered their hearts, causing devastation that was only rivaled by the death of fan-favorite character Ty Borden. That episode was the source of all the death rumors surrounding Jack Bartlett.
The Fate of Jack Bartlett
In the episode, Jack had his first brush with death – he had a heart attack. By the time he was rushed to the hospital, it wasn't clear whether he would survive, and fans were prepared to bid goodbye to one of their favorite characters in the show. One of the reasons why fans believed that Jack had passed on, was the authenticity with which he and the actors who play his family portrayed the scenes surrounding his apparent death. Their raw emotion, panic as they prepared to say goodbye, and grief, shone all over their faces. Fans would later learn that the producers had kept all the actors in the dark about Jack's fate. Not even Shaun Johnston, the actor who has played Jack since the show premiered, knew the fate of Jack.
Jack's heart attack was conveniently slotted for the last episode of the season, which aired in April. The next season premiered in October of the following year. Naturally, millions of viewers thronged to CBC hoping to catch a glimpse of Jack's classic cowboy hat, or at least hear his classic drawl. Deep down, they were also looking at his family's outfits, hoping that neither of them would be dressed in all black, or show other telltale signs of a funeral. Every person who was tuned to CBC exhaled in a collective sigh of relief when it was revealed that Jack had survived, and was expected to make a full recovery. Unknown to fans, their relief would be momentary, since difficult times lay ahead for Jack.
Also in the first scene on Day 1 – Heartland's patriarch – Jack Bartlett, played by none other than Shaun Johnston. 👍🏼#iloveheartland #HLinProd 🎬 pic.twitter.com/GUleNcrjo8

— Heartland (@HeartlandOnCBC) May 31, 2018
Jack and Lisa
Tragedies followed Jack even before he could make a full recovery, the first was one of his own making. Any person who watched Jack and Lisa's interactions since the first season of "Heartland" knew that the two were fated to become a couple. After a series of chance encounters where they flirted innocently, but backed away from each other every time they came close to admitting what fans had known from the beginning, the two decided to test out a relationship. For a few months, the two got along and appeared to be moving forward in their relationship, after Jack took Lisa to his fishing cabin, to which he hadn't taken any other person since the death of his first wife.
Just as fans were beginning to get used to the couple, they pressed the brakes on their growing relationship. Their main issue was Lisa's love for travel while Jack loved Heartland and wished to spend the rest of his life on the ranch. Therefore, Jack wouldn't commit to buying a vacation home in France with Lisa. Unwilling to sacrifice her dreams of living overseas for a relationship with Jack, she left the country. When Jack had his brush with death, Lisa was in France, ao rushed back home to be with him and help him through recovery, but Jack wasn't pleased, creating tension between the on-again off-again couple. The two fell out when Lisa bought Jack a hospital bed to help with his recovery, but which and he hated, driving her away again. This time, she ended their relationship seemingly for good, and headed back to France. Fortunately, Jack was able to get her back after his recovery, and convince her to stay in Canada with him. The two had their wedding and Lisa eventually moved into Heartland.
A Family Man
After working on his issues with Lisa and securing his happily ever after, Jack's health improved and he spent a few tragedy-free seasons until death came knocking again. This time, the grim reaper didn't leave empty-handed, taking the husband of one of Jack's granddaughters. Since the beginning of "Heartland," Jack has done nothing but be a doting grandfather to Lou and Amy, whose mother, Jack's daughter, Marion, died in a car accident and their father, Tim, abandoned them. Although Tim returned later, Jack remained Amy and Lou's guardian and protector.
Jack was the stereotypical overprotective guardian to Amy and Lou. For instance, when Amy's future husband, Ty, started working at the ranch, Jack gave him the classic "stay away from my granddaughter" speech. For months, he was wary of Ty until the young ranch hand proved himself worthy of Amy's love and attention. Jack had accepted and loved Ty as part of his family, then the young man died from complications from a gunshot.
For the second time in the show, Jack had to remain strong for his granddaughter as she grieved her husband's death, just as he had when Amy and Lou lost their mother. For a while, viewers were worried that Jack's fragile heart wouldn't handle losing another loved one, particularly since he was the one who had found Ty unresponsive near the stables, and accompanied him to the hospital hoping that the young man's life would be saved. Fortunately, he wasn't dealing with the loss alone this time. He had Lisa by his side, who offered her shoulder whenever Jack was overwhelmed by grief. With Lisa's help, Jack recovered quickly and continued to run the ranch, while Amy took time to adjust to life as a single mother.
The Future
Besides his heart attack and the occasional flare-up of arthritis, Jack led a relatively healthy life until an accident in the recently aired season threatened both his health and his life. Working on the ranch, Jack is bound to have the occasional accident, and in one of the episodes, Jack was injured by a horse. The episode ended with a cliffhanger, as Amy rushed him to the hospital, bringing back bad memories since the last person who was rushed to the hospital was declared dead on arrival. Fortunately, Jack's injuries weren't fatal, and he was back at the ranch with his family for the rest of the season.
Fans were collectively relieved when Jack walked out of the hospital and resumed his duties at the ranch. However, the show has a history of having characters develop complications that were not caught during initial treatment, and even dropping dead a few episodes after they've been declared healed and healthy. As we wait for the 17th season of "Heartland," which is set to be released later in 2023, we can only hope to see a healthy Jack working on the ranch alongside Amy, enjoying his and Lisa's classic picnics, and doting on his great-grandchildren.