Who is Jonathan Rhys Meyers?
Jonathan is an Irish actor best known for his roles in various films and television series. He gained international fame for portraying King Henry VIII in the historical drama series "The Tudors". Additionally, he's starred in movies such as "Match Point", "Bend It Like Beckham", and "August Rush", in addition to many other roles he's had in his career.
What Is Jonathan Rhys Meyers Doing Now?
Jonathan is pursuing new acting projects despite his run-ins with the law. He's recently appeared in several films, including "97 Minutes" and "Mercy", while he's also working on a number of upcoming projects, such as the films "Run" and "Clean Up Crew", among others – all projects have no set release date and are in production.
Wiki: Age, Childhood, and Education
Jonathan Michael Francis O'Keeffe, was born on 27 July 1977 in Dublin, Ireland. He was the eldest of four boys born to Geraldine (née Myers; 1957–2007) and John O'Keeffe, a folk musician. Raised in County Cork in a Catholic family, his three younger brothers are also professional musicians. He attended North Monastery Christian Brothers School but was expelled for truancy. He spent much of his time at pool halls, where casting agents spotted him and encouraged him to pursue acting, leading to his successful career in the entertainment industry.
Career Beginnings
In 1994, Jonathan took on the name "Rhys Meyers" as he found his real name, O'Keeffe, to be unexciting. It was during this time that he secured his first acting role as the character of First Young Man in the film "A Man of No Importance"; directed by Suri Krishnamma, the film starred Albert Finney, Brenda Fricker and Michael Gambon, and revolved around the story of a Dublin bus conductor named Alfie Byrne, played by Albert Finney, who is secretly in love with his male friend. The movie explores themes of love, acceptance, and identity against the backdrop of conservative 1960s Ireland.
In 1996, Jonathan continued his acting career with multiple roles in differing films. In "Michael Collins", directed by Neil Jordan, he portrayed Denis "Sonny" O'Neill, one of the assassins involved in the assassination of Michael Collins, a key figure in Ireland's struggle for independence. The film featured stars such as Liam Neeson as Michael Collins, Julia Roberts as Kitty Kiernan, and Aidan Quinn as Harry Boland.
In the bizarre horror-comedy "Killer Tongue", directed by Alberto Sciamma, Jonathan played Rudolph, in the story of Candy, played by Melinda Clarke, whose tongue becomes possessed by an extraterrestrial creature after an encounter with a space-alien virus.
In "The Disappearance of Finbar", directed by Sue Clayton, Jonathan portrayed Finbar Flynn, a young man who mysteriously disappears, leaving his friend Danny, played by Luke Griffin, searching for answers and uncovering unsettling truths about Finbar's life.
In the late 1990s, Jonathan Rhys Meyers continued to make his mark in the entertainment industry with an array of diverse roles alongside prominent stars. In the crime thriller "The Maker" (1997), he portrayed Josh Minnell, a death row inmate with an intriguing claim. He then played Kevin Boyle in the drama "Telling Lies in America" (1997), getting involved in a corrupt radio promotion.
Jonathan then had several very busy years, In 1998, he  mesmerized as Brian Slade alongside Ewan McGregor and Christian Bale, exploring themes of identity and fame in the musical drama set in the glam rock scene of the 1970s. The period drama "The Governess" saw him as Henry Cavendish, a character caught in a web of disguise and love.  Then in "The Tribe" he depicted Adam, one of a group of friends drawn into a world of crime and betrayal. Finally that year, Jonathan took on the role of Bruno in the crime thriller "B. Monkey" in which he captivated audiences as a skilled thief entangled with a young woman.
Moving into 1999, he portrayed Nic (aged 16) in the experimental drama "The Loss of Sexual Innocence", delving into themes of love and sexuality. In "Ride with the Devil", an historical drama set during the American Civil War, he portrayed Pitt Mackeson, one of the Southern bushwhackers. Lastly that year, in "Titus" – an adaptation of Shakespeare's "Titus Andronicus" – Jonathan played Chiron in a tale of tragedy and revenge.
Rise to Stardom
Continuing his successful career into the new millennium, Jonathan, took on various roles alongside talented co-stars. In 2001's "Happy Now?", directed by Philippa Cousins, Jonathan played Mark Wraith in a psychological thriller revolving around a woman whose life becomes entangled in a web of obsession and deceit.
The same year, he portrayed Noah in "Prozac Nation", directed by Erik Skjoldbjærg, which follows the story of a young woman struggling with depression and her tumultuous journey to recovery. Later the same year, in "Tangled", directed by Jay Lowi, Jonathan portrayed Alan Hammond in a thriller centered around a woman who becomes entangled in a dangerous affair.
Moving into 2002, he took on the role of Joe in the acclaimed comedy-drama "Bend It Like Beckham", directed by Gurinder Chadha, in which he co-starred with Parminder Nagra and Keira Knightley in a heartwarming tale of a young woman's passion for soccer clashing with her traditional family's expectations.
In 2003, he appeared as Sean in "The Tesseract", directed by Oxide Pang Chun, a thriller about interconnected lives and a mysterious package in Bangkok.
Jonathan took on the character of Davey Graham in "I'll Sleep When I'm Dead" (2003), directed by Mike Hodges, a crime thriller exploring the underworld of London.
He also played a chilling role as The Father in "Octane" (2003), directed by Marcus Adams, a horror-thriller following a mother's desperate search for her missing daughter.
In the television film "The Lion in Winter" (2003), he portrayed King Philip II in a historical drama featuring Patrick Stewart and Glenn Close, exploring the intricate power dynamics of King Henry II's family.
Wonderful photo of 'The Lion In Winter' stars back at 2003 #JonathanRhysMeyers #GlenNClose #AndrewHoward #JohnLight pic.twitter.com/gNViWLgxzO

— Jonathan Rhys Meyers (@JRM_Love) December 7, 2014
In 2005, Jonathan's portrayal of Elvis Presley in the television film "Elvis" earned him critical acclaim, winning a Golden Globe Award and a Satellite Award for Best Actor in a Miniseries or Television Film, and earning a nomination for a Primetime Emmy Award for Outstanding Lead Actor in a Miniseries or a Movie.
Continuing to build his popularity, Rhys Meyers took on several starring roles in the second half of the 2000s and early 2010s.
In 2006, he appeared as Declan Gormley in "Mission: Impossible III", directed by J. J. Abrams, starring alongside Tom Cruise in the action-packed spy thriller.
From 2007 to 2010, Jonathan portrayed the iconic King Henry VIII in the historical drama series "The Tudors". His captivating performance earned him the Golden Nymph Award for Outstanding Actor in a Drama Series, and the Irish Film and Television Award for Best Actor on Television. He was also nominated for a Golden Globe Award for Best Actor in a Television Series Drama and received multiple nominations for the Golden Nymph Award and the Irish Film and Television Award for his role in subsequent seasons of the show.
In 2011, he played Viscount Yarrell in "Albert Nobbs", directed by Rodrigo García, a period drama about a woman in 19th-century Ireland who poses as a man to secure a job in a Dublin hotel.
In 2013, he portrayed Valentine Morgenstern in "The Mortal Instruments: City of Bones", directed by Harald Zwart, a fantasy adventure film based on the popular young adult novel series. The same year, he appeared as John Moffatt in "Another Me", directed by Isabel Coixet, a psychological thriller about a teenage girl who becomes haunted by a doppelganger.
Between 2013 and 2014, Jonathan made a powerful impression as he took on the titular role of "Dracula" in the television series. Portraying both the iconic vampire Dracula and his alter ego, Alexander Grayson, he delivered a captivating performance in the ten-episode series; his portrayal earned him a nomination for the People's Choice Award for Favorite Actor in a New TV Series.
In recent years, Jonathan has continued to achieve notable success in his acting career, starring in various projects alongside other talented actors. In 2016, he portrayed Joe Strummer in "London Town", directed by Derrick Borte, a musical drama set against the backdrop of the punk rock scene in 1970s London. The same year, he further showcased his talent in the television miniseries "Roots", in which he played Tom Lea. The miniseries is a retelling of Alex Haley's novel "Roots: The Saga of an American Family", exploring the experiences of Kunta Kinte and his descendants throughout the generations of slavery in America.
From 2017 to 2019, Jonathan joined the cast of the epic historical drama "Vikings", portraying the character Heahmund in seventeen episodes. Starring alongside Travis Fimmel, Katheryn Winnick, and Alexander Ludwig, among others, he garnered praise from both critics and fans alike.
In 2018's "The Aspern Papers", directed by Julien Landais, he portrayed Morton Vint, a passionate literary researcher who becomes entangled in a web of secrets and deceptions while searching for letters written by a famous poet. The film also starred Vanessa Redgrave and Joely Richardson.
Jonathan Rhys Meyers (Vikings, Bend It Like Beckham) stars as Sir James Brooke. ​​Adventure is waiting at the EDGE OF THE WORLD.​​WATCH THE TRAILER NOW 👀https://www.youtube.com/watch?v=H6Xggflmkjw​​

Posted by Defiant Screen Entertainment on Thursday, July 8, 2021
In 2021's "Edge of the World", directed by Michael Haussman, Jonathan took on the role of James Brooke, an adventurous British soldier who becomes the White Rajah of Sarawak in Borneo. The film delves into Brooke's extraordinary life and reign in the 19th century, with the cast also including Dominic Monaghan and Hannah New.
In the action-packed "Yakuza Princess" (2021), directed by Vicente Amorim, he played Shiro, a mysterious and deadly figure with a dark past. The film follows an orphaned girl who discovers her hidden heritage and the dangerous world of the Yakuza. The cast featured Masumi and Tsuyoshi Ihara.
In 2022's "The Good Neighbour", directed by Stephan Rick, Jonathan portrayed Robert Graetz, a former special forces soldier whose life takes a dark turn when he moves to a seemingly peaceful suburban neighborhood. The film explores themes of deception and paranoia. The cast included Luke Kleintank and Nicole Ari Parker.
Net Worth
According to authoritative sources, Jonathan Rhys Meyers's net worth is estimated at over $8 million, as of mid- 2023.
Personal Life, Marriage, Wife, Children, Alcohol Addiction
In the late 1990s, Meyers dated Toni Collette, his co-star from the film "Velvet Goldmine". From 2004 to 2012, he was in a relationship with Reena Hammer, daughter of make-up artist Ruby Hammer. However, despite success in his professional life, Meyers grappled with personal demons, particularly concerning alcohol. He's been married to Mara Lane since 2016 – the couple has one child together, while his wife also suffered a miscarriage.
Throughout the years, there have been multiple incidents involving alcohol-related incidents. In 2007, Meyers entered an alcohol treatment program, seeking help for his struggle with addiction. However, despite this initial effort, he encountered further challenges with alcohol. That same year, he was arrested at Dublin Airport for intoxication and disturbing the peace.
He faced another incident in Paris in 2009, when he was detained by French police for allegedly assaulting an airport lounge employee while drunk. A subsequent incident occurred in 2010 at John F. Kennedy International Airport, where he verbally abused airline staff, and used racist language after being refused boarding due to intoxication. This led to a ban by United Airlines.
Meyers' struggles with alcohol continued, and he faced additional legal consequences. In 2011, a French court ordered him to pay restitution and gave him a suspended sentence for public intoxication that occurred two years earlier.
The personal toll of his alcoholism extended to his family life as well. After his wife, Mara Lane, suffered a miscarriage in 2017, Meyers experienced a relapse at Dublin Airport, further highlighting the destructive impact of addiction on his life.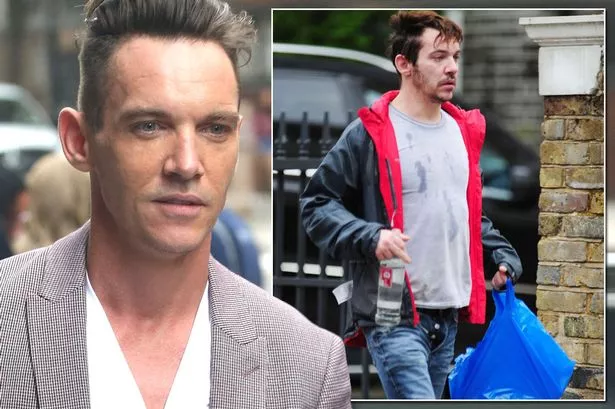 Meyers has actually sought treatment, and demonstrated a commitment to sobriety, but in 2018, he broke his sobriety on a flight, leading to a dispute with his wife at Los Angeles International Airport. However, he acknowledged his mistake and expressed his determination to maintain sobriety, stating that drinking didn't suit him.
Then in November 2020, Meyers faced further consequences when he crashed his car in Malibu, California, leading to charges of drunk driving. He received a $500 fine, and was ordered to attend alcohol and counseling programs as part of a plea deal, along with a 12-month summary probation.
Appearance and Body Measurements
Jonathan Rhys Meyers has blue eyes and brown hair. He stands at a height of 5ft 10ins (1.77m), weighs approximately 160 lbs (72kgs), and has an athletic figure.