The American actress Larisa Oleynik, is perhaps known best for starring in the children's TV show "The Secret World of Alex Mack", and the television series "3rd Rock from the Sun."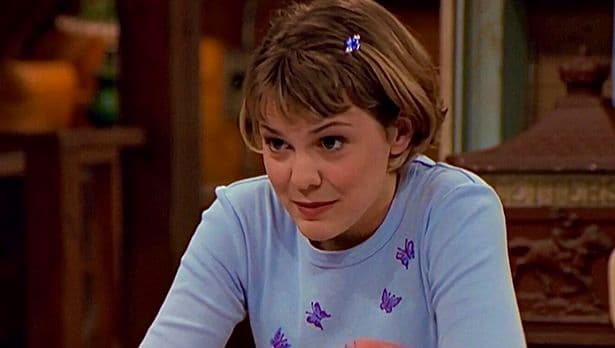 Age, Early Life, and Educational Background
Larisa Romanovna Oleynik hails from Santa Clara, California, and was born under the Gemini zodiac sign on 7 June 1981, which makes her 42 years old as of 2023. She was born to the late anesthesiologist, Roman Oleynik (who died in 2003), and his wife, retired nurse Lorraine née Allen. The actress is of Ukrainian and Slovak roots from her father's side and English, Irish and German roots through her mom; she has a sister named Bianca. Despite being raised in a family that was deep-rooted in the medical field, Oleynik grew up interested in acting, and her parents were very supportive of her dreams. She spent her formative days in the San Francisco Bay Area.
Oleynik, who goes by the nickname 'Rissy,' was educated at the Los Altos, California-based Pinewood School from 1991. She then joined Sarah Lawrence College, which is situated in Yonkers, New York, and graduated with a degree in Liberal Arts in 2004.
Hobbies and Fun Facts
Larisa is a huge animal lover, who often flaunts her pet dog on her Instagram account.
In January 2013, she filed for a restraining order against a mysterious man who was so obsessed with her, that he changed his name to match her surname and often left her presents at her mom's residence.
Oleynik considers the American actresses Claire Danes, Winona Ryder, and Kellie Martin her role models.
In a survey conducted by "People" magazine, in which the readers voted for the most beautiful woman in the world, Larisa was ranked first on the list.
Career – Stage Appearances
Oleynik began her acting career in 1989, playing Young Eponine/ Young Cosette in the musical "Les Misérables", at just eight years old. In 2016, she portrayed Giulia in the play "I Loved, I Lost, I Made Spaghetti," which was performed at the Hangar Theater in New York. In 2017 and 2018, Oleynik played Berry in the satirical musical comedy play, "Who's Your Baghdaddy, or How I Started the Iraq War," and most recently in 2019, she played Miss Lilly in "Miss Lilly Gets Boned."
TV Appearances
After the end of Oleynik's stint in the musical play "Les Misérables," Rider King Strong, whom she starred alongside in the musical, referred her to an agent, who enrolled her into an acting school to perfect her skills. She soon afterwards made her TV debut in 1993, at the age of 12, in the episode "Heroes" of the Western drama "Dr. Quinn, Medicine Woman". Oleynik landed her breakthrough role as Alexandra 'Alex' Mack in the Nickelodeon TV series, "The Secret Life of Alex Mack" in 1994; the series revolves around Alex, who develops superpowers after being involved in a factory accident, following which, she struggles to strike a balance between her extraordinary misadventures and her normal life. Larisa starred in 78 episodes during her four-year stint in the show, sharinged the screen with the likes of Meredith Bishop, Darris Love, Michael Blakley and Dorian Lopinto.
Larisa landed her next notable role – as Alissa Strudwick – in the NBC sitcom "3rd Rock from the Planet" in 1998, appearing alongside Kristen Johnston, John Lithgow, Joseph Gordon-Levitt, and French Stewart. Her stint ended in 2000, and she then appeared in an episode or two of a few series, until her next notable role in the AMC period drama TV series "Mad Men" (2010-2015), "Winx Club: Enchantix," in which she voiced various characters including Icy (2011 and 2012), and "Hawaii Five-0" (2011-2017). From 2012-2014, she reprised her voicing role of Icy – and also voiced various other characters in the animated series "Winx Club", and portrayed Maggie Cutler in the mystery teen drama "Pretty Little Liars." Larisa is credited for her appearances in the teen drama "Trinkets" in 2019 and 2020, the comedy "The Healing Powers of Dude" in 2020, and most recently in the comedy "Erin & Aaron" in 2023.
Film Appearances
Larisa made her film debut with the voicing role of Pre-teen Odette in the 1994 animated musical "Swan Princess" and her performance brought her a Young Artist Award for Best Performance by a Young Actress in a Voiceover – TV or Movie in 1995. In 1995, she appeared in Melanie Mayron's directorial debut, the comedy-drama, "The Baby-Sitters Club." In 1999, The Santa Clara native starred alongside Julia Stiles, Joseph Gordon-Levitt, and Heath Ledger in the teen romantic comedy "10 Things I Hate About You." Her next noteworthy appearances were in the 2000 romantic-comedy "100 Girls" and the 2001 biographical drama "An American Rhapsody" among others.
Larisa was cast in several other films in the 2010s: she voiced Icy in the English version of the Italian computer-animated film "Winx Club 3D: Magical Adventure" in 2010, and went on to appear in the 2013 romantic drama "Remember Sunday," the comedy "BFFs," and the supernatural horror "Jessabelle", both in 2014, and in 2021, Larisa appeared in the comedy "We Broke Up."
Awards and Nominations
Oleynik has won one out of the ten awards she's been nominated for as of September 2023. She scooped the SYS's Six-Figure Screenplay Contest and Film Festival Award for Best Actress for her performance in "Animal Among Us" in 2022. Her performance in "The Secret World of Alex Mack" saw her nominated for five Young Artist Awards in 1995, '97, '98 and '99 (two). and a YoungStar Award in 1998. Moreover, she received two Young Star Award nominations for her performances in the series "3rd Rock from the Sun", and the film "10 Things I Hate About You" both in 1999.
Oleynik is active on Instagram (@larisoleynik) with around 60,000 followers, using her account to endorse several brands, including AT&T and Wild Times Koosh Lings.
Personal Life
Oleynik is quite secretive when it comes to her personal life. She dated her "3rd Rock from the Sun" love interest, Joseph Gordon-Levitt, from 1998-2002; the duo also appeared as lovers in the romantic comedy movie "10 Things I Hate About You." Gordon, who has received several awards including a Primetime Emmy Award, has appeared in numerous romantic comedy films including "(500) Days of Summer," "Don Jon," and the 2010 sci-fi action film "Inception." Gordon walked the aisle with the American entrepreneur and robotics engineer, Tasha McCauley, in 2014. On the other hand, Larisa is presumed single, without children, as of 2023.
Currently, Oleynik splits her time between New York City, and Venice, California.
Height, Weight, and Physical Appearance
Oleynik is of Caucasian ethnicity and has a pair of hazel eyes, and long light brown hair, a dimpled nose and a sweet, soft voice. She's slim, weighs around 125lbs (57kgs), and is 5ft 7ins (1.70m) tall. Moreover, her vital statistics are 34-25-34, and she wears shoe and dress sizes 7(US) and 6(US) respectively.
Net Worth
Larisa has been active in the American showbiz industry for almost three decades, which has brought her fame and wealth. She's reportedly worth around $4 million, as of 2023.