As we head into September, which is Polycystic Ovarian Syndrome (PCOS) awareness month, the World Health Organization shared shocking statistics that up to 13% of women are affected by the disorder, with close to 70% of the cases being undiagnosed. Consequently, healthcare organizations and providers continue to reiterate their call for awareness of PCOS, and appreciate all efforts to reach women with the symptoms, management, and prevention of the reproductive disorder. One woman has taken a rather unorthodox approach to raising awareness of PCOS.
Whitney Way Thore, an American woman with the disorder, took to reality television to raise awareness of PCOS by documenting its impact on her life, particularly weight gain, and her persevering love for dancing despite weighing 380lbs, about 120kgs, due to the reproductive disorder. Her show "My Big Fat Fabulous Life" highlights her efforts to lose weight, occasionally bringing in experts to support her through the journey. One of the experts, who is arguably the most memorable fitness trainer in the show given his betrayal of Whitney, is Ryan Andreas. After keeping a deep secret from Whitney, no one is surprised that we haven't seen the personal trainer and fitness expert on television since the show's season 8 finale. With no statement from him, the network or Whitney, we can only speculate that his absence is permanent. Here is a recap of what happened to Ryan in the show, and an update on what he's been doing since he left "My Big Fat Fabulous Life."
Blind Date Gone Right
Ryan's journey to our television screens began purely by chance; he signed up on a dating app. By sheer coincidence, Whitney signed up for the same app, and they liked each other enough to arrange a date, although their hopes of finding love in each other didn't last beyond the first date. However, they left the restaurant with something more valuable than a romance that was doomed to fail, like most relationships that start on dating apps. They became friends and decided to take a leap and pursue their shared dreams of starting a fitness business.
Ryan and Whitney launched "NoBSactive," a fitness business, in 2019. Through the business, Ryan and Whitney hoped to raise awareness of body shaming through simple curated workouts for people of all sizes and body shapes. At the time, Whitney's reality series had been running on TLC for five years, and she was preparing to start filming its 7th season. As their business thrived, the two decided to elevate it, gain free publicity, and reach millions of potential clients by featuring it in "My Big Fat Fabulous Life." When Whitney returned for season 7 in 2020, she introduced Ryan as her business partner and personal trainer.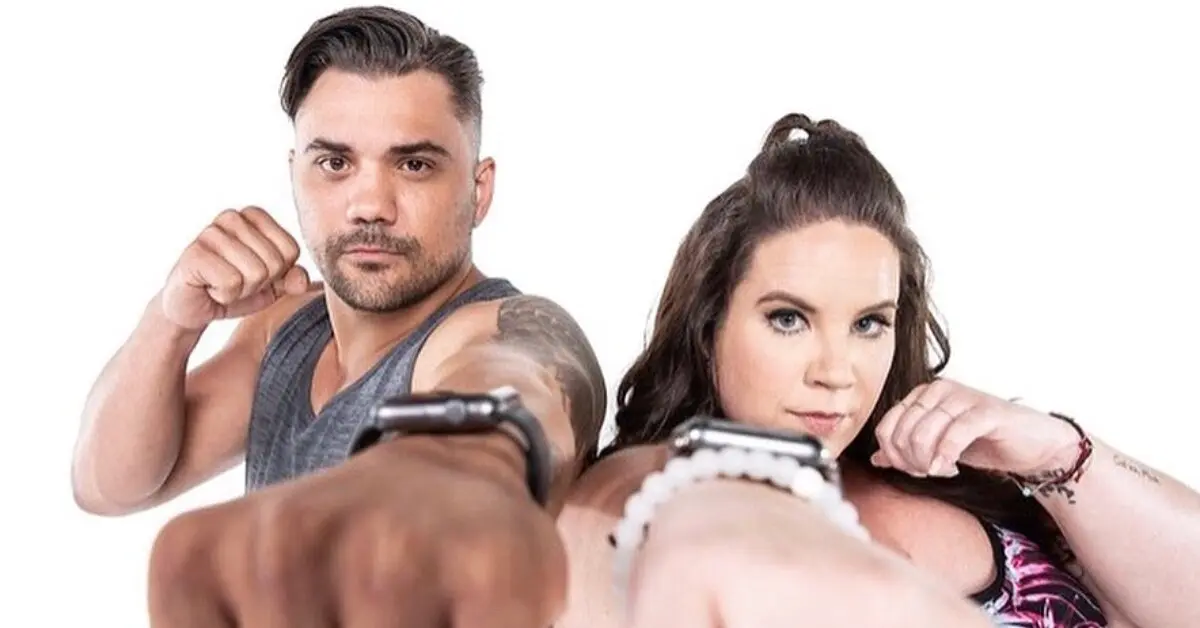 In line with the show's premise, Ryan and Whitney recorded their joint workouts, with Ryan showing the regular version, while Whitney demonstrated the modified versions for people at different levels of their fitness journeys. Together, the two grew their business into a household name, using the publicity from the show to increase subscriptions. Ryan's impact on Whitney's fitness had her move to Charlotte to be closer to him; as their business relationship grew, so did their friendship. In fact, Whitney became part of Ryan's inner circle, and he set her up with his best friend, Chase Severino.
Bros before Business Partners
Ryan's supposed romantic relationship with Whitney failed for one reason – the two were never meant to be, and fate had someone better suited for her in store, which fans understood as soon as they saw sparks fly between Whitney and Chase. Ryan's matchmaking skills were proven, when Chase asked Whitney to be his girlfriend and eventually, asked her to marry him. They met each other's families, and seemed to be heading towards marriage when the ball dropped.
In May 2020, Whitney took to Instagram to share the sad news of the end of her relationship and engagement to Chase. In the post, she revealed that she and Chase had had some problems in their relationship, and had been living apart when he betrayed her by reconnecting with an ex. Chase came clean when his affair with his ex-girlfriend, with whom he had a long  history, resulted in pregnancy; she was due in October.
As she worked through Chase's betrayal, Whitney suffered a second betrayal from his friend and business partner. After Whitney announced the end of her relationship with Chase, Ryan stood by her. The two continued to film their workout videos and post pictures of their time together, prompting fans to praise Chase for sticking by her. However, he was hiding a dark secret. It turned out that Ryan had known about Chase's infidelity but had kept Whitney in the dark, choosing to protect his friendship with Chase over his personal and business relationship with Whitney. Ryan admitted to finding out about Chase's betrayal long before Whitney did, but kept it from her after Chase convinced him not to tell Whitney.
Hey, want to work out with us? Month 11 of @nobsactive starts soon, click the link in my bio to join me and @whitneywaythore five days a week 💪🏽💪🏽

Posted by Ryan Andreas on Saturday, October 26, 2019
The Fallout: Fake or Real?
Naturally, Whitney was hurt over Ryan's betrayal, particularly after he let her know that ,however, she didn't talk about his betrayal openly, nor did she make any statements on his status in her show either, and neither did Ryan. When Season 9 of "My Big Fat Fabulous Life" premiered, Ryan was missing from the cast. Further, all signs of his involvement with "NoBSactive" had been scrapped from the business's Instagram, and the newest videos featured Whitney and a new business partner and trainer, Jess. At this point, fans didn't need statements from either Ryan or Whitney to know that the two had fallen out, and ended both their friendship and business partnership.
While most fans of Whitney's show were tearing Ryan apart, a second group was scrutinizing the entire Ryan-Chase-Whitney saga, and calling it a staged publicity stunt. According to fans, Ryan's involvement in the show, as well as his partnership with Whitney, were staged from the start to increase the show's popularity, while building his profile as a celebrity fitness coach and personal trainer. They justify their allegations by pointing out that Whitney is outspoken about everything, and doesn't shy away from confrontations, but has been conveniently quiet about Ryan's departure from her show, and exit as a partner in her business. Although the allegations are just a theory, the people who shared them were right about one thing. Despite leaving the show under unclear circumstances, Ryan had gained enough publicity and a social media following that was large enough for him to start a successful business as a fitness trainer.
The Training Partner
Ryan's passion for fitness and dream of becoming a personal trainer had started long before he met Whitney. He went to the University of North Carolina in 2009, earned his degree in Kinesiology and Exercise Science in 2014, and worked as a fitness instructor long before he cofounded "NoBSactive" with Whitney. After his quiet departure from the series with a vow never to return to reality television, Ryan put his education, experience, and the publicity he had gained in the show to use.
While Whitney was replacing him with a new personal trainer and business partner, Ryan was building his own business "My Training Partners," which he runs to date. Without a show on a television network that reaches millions to promote his business, Ryan's network is nowhere near as large as it was when he ran his business with Whitney. He's made a few jabs at his former business partner, most recently when he attacked her subscription-based business model in his Instagram bio, which promises to help women with PCOS to understand how to lose weight for free.
Family and the Future
Throwing jabs at his former business partner is not the only way Ryan is using his Instagram account, but also to share regular updates on his life. In 2021, he shared that he'd become a father of son Maddox, with his girlfriend, Sydney. He's also maintained his friendship with Chase Severino. The two long-time friends hang out often on the playdates they organize for their children.
When he's not spending time with his family or best friend, Ryan is giving his all to his business, working to bring the passion and expertise that contributed to the success of his business with Whitney to "My Training Partners." Ultimately, as we watch to see whether TLC or Whitney will make the overdue statement on Ryan's departure from "My Big Fat Fabulous Life," Ryan has left his television days behind, and is concentrating on taking care of his family, helping women lose weight, and growing his business.