• Born in Gary, Indiana, USA, on 27 December 1964
• Achieved national recognition in 1983 appearing in George Clinton's "Last Dance" music video
• Gained fame in the 1990s in films such as "Maid to Order", "Space Jam", "Bad Boys", "Bad Boys II", and "Sugar Hill"
• Starred in "Law and Order: Criminal Intent" and "State of Mind" in 2000s
• Currently married to rapper Father MC, with a net worth of $3 million
 
Who is Theresa Randle?
Born in Gary, Indiana, USA, on 27 December 1964 under the earth sign of Capricorn, Theresa E. Randle is a 54-year-old American film and television actress. Since she was a child, her dream was to have a career in the performing arts, and she trained in various forms of dance and acting, first making a name for herself in commercials and various small-time plays in Los Angeles, California. Her big break came in 1987, when she was cast in "Maid to Order", which was followed by acclaimed performances in films such as "Space Jam", "Bad Boys", "Bad Boys II", "Sugar Hill" and many others. She is generally seen as one of the actresses that made the 1990s such an iconic era in cinema history.
Happy birthday Theresa Randle. #theresarandle#badboysforlife pic.twitter.com/97h9jB2aEG

— Hansom Ransom (@HansomRansom4) December 28, 2019
Due to the wide array of genres she worked on, and roles she's assumed, versatility became her calling card in Hollywood.
Early Life and Education: From Indiana to LA
Shortly after Theresa was born, the Randle family relocated to Los Angeles, but there is no other available information about her parents, as she has always been unwilling to talk about her private life, always politely refusing to answer any questions not related to her career. However, we do know quite a lot about her education. As a child, she studied jazz, modern dance and traditional dance, in addition to practicing stand-up and improvisational comedy to build up her confidence. Already versatile and hard-working in her early teens, Theresa enrolled at Beverly Hills High School in a special program for exceptionally gifted children.
She matriculated in 1982, and went on to pursue an academic degree. While she hasn't specified her alma mater, it is widely believed that she was a student at one of California's many liberal arts universities.
Career Beginnings: Various Plays, George Clinton and More
As a teenager, Randle made frequent appearances at the Los Angeles Inner City Cultural Center (LAICCC). This theater was created in 1965, with the goal of making the finest performing arts available to minorities and any denizens of the inner city area, as well as motivating young people to nurture their artistic side. Former students and performers of the center include Academy Award winners such as Denzel Washington, Jon Voight and Beah Richards.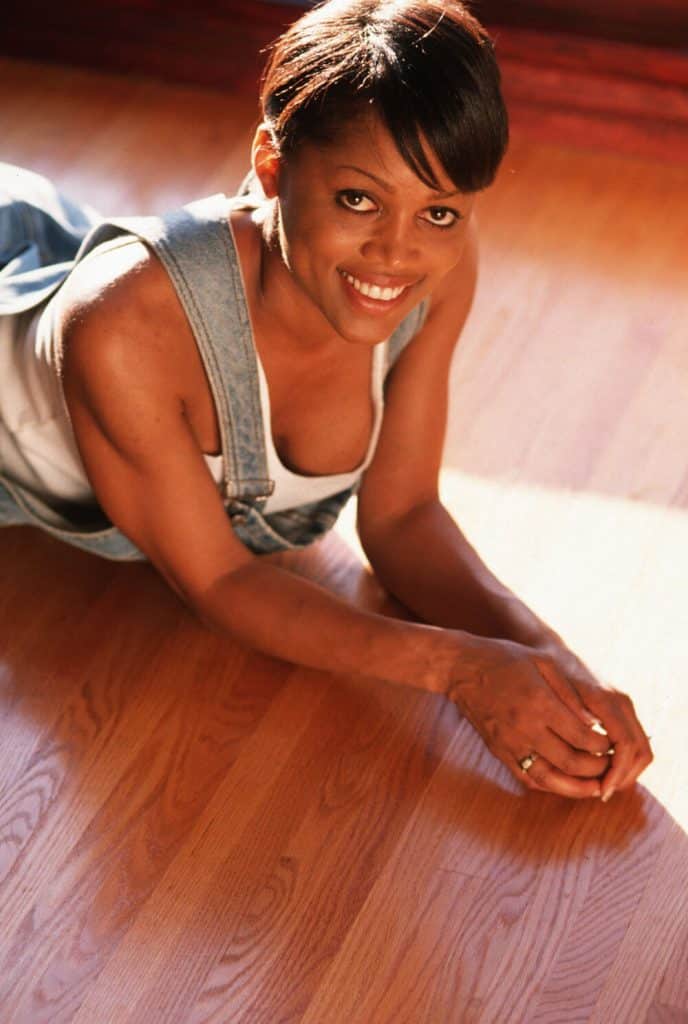 Theresa followed in their footsteps, as she appeared in "Command of the Children", "Fight the Good Fight", "Sonata", "6 Parts of Musical Broadway" and many other productions.
Around the same time, she began gaining recognition as an actress in commercials, too, and in 1983, she attracted nationwide attention by appearing in the video for "Last Dance" by funk legend George Clinton. Even though she could have taken on more prominent roles right away, she wanted to complete her education first. 'I know a lot of today's artists want to be famous as soon as possible', Randle said on the topic. 'Of course, I had that urge too, but I'm glad I persevered because college helped me in so many ways.'
Achieving Stardom: Maid to Order, Jungle Fever, Malcolm X, Space Jam and More
In 1987, Theresa landed her first big screen role as Doni in "Maid to Order" – as she'd studied comedy as a child, she felt right at home with what was asked of her during the filming. The same year, she took on another small part, in "Near Dark", followed by "Easy Wheels" and her small-screen debut – "A Different World". In 1990, she appeared in "The Guardian", "King of New York", and "Heart Condition" next to Denzel Washington and Bob Hoskins.
Slowly but surely, both the films and the roles were getting bigger for Theresa, which was a fitting testament to all the hard work she put in to make a name for herself.
After small roles in "The Five Heartbeats" and "Seinfeld", this ambitious young actress struck gold with two 'joints' from New York-based director Spike Lee; "Jungle Fever" and "Malcolm X" are considered to be seminal African-American movies of the 1990s. In 1993, Randle impressed yet again, this time in "CB4" and "Sugar Hill". By the time we could see her in "Beverly Hills Cop III", "Bad Boys" and "Space Jam", she was already a household name in Hollywood, and the only way for her was up.
Rare, But Quality Appearances: Bad Boys II, Law & Order, State of Mind and More
After "Space Jam", people predicted big things for Theresa, but she seemingly became tired of acting.
At the turn of the century, she devoted some time to voice acting, with roles in "Spawn" and "Partners and Crime" being her most significant on-screen appearances at the time. In the 2000s, she was almost nowhere to be seen, other than playing Assistant District Attorney Patricia Kent in "Law & Order: Criminal Intent", and Cordelia Banks in "State of Mind". Her last two credits are "Ink" and "Sh*t Year" in 2010, after which she seemingly dropped off the grid.
However, after an almost-ten year hiatus from acting, we are going to see her on the big screen again. Theresa herself confirmed that she will be reprising her role as Marcus' wife in the highly anticipated "Bad Boys III". Even though she is in her mid-50s, she still has a whole lot to offer fans around the world.
Personal Life: Is Theresa Randle Married? Who Is Her Husband?
Theresa Randle is married to rapper Father MC (real name Timothy Brown), but there's no information on how these two met, and when they tied the knot. Both Tim and Theresa are very private people, and won't even reveal whether they have kids or not.
Father MC has been a subject of controversy over the course of his career, for things such as late child support payments, infidelity and much more. Reports say that he was previously married to a woman named Tori Wilkinson, with whom he had a daughter named Antonia, but the girl passed away from flu-related complications – apparently Timothy didn't even attend her funeral.
His scandals don't end there, as he also cheated on Tori with her best friend, Tracy Johnson, with whom he also fathered a child – a boy named Tyson. It's unknown whether Theresa recognizes Tyson as her step-child or not.
Net Worth: How Rich is Theresa Randle?
Have you ever wondered how affluent this prominent actress really is? According to several reputable sources, Theresa Randle has a net worth of approximately $3 million, as of late-2019, accumulated by clawing her way up the ranks of Hollywood, before embarking on a series of critically acclaimed performances in the mid-1990s.
Even though she has been semi-retired for some time now, she will probably increase her modest fortune in the yet-unreleased "Bad Boys III" – if she chooses to take on more roles, who knows?
Body Measurements: How Tall is Theresa Randle?
Theresa Randle is 5ft 5in (165cm) tall, weighs approximately 119lbs (54kgs) and has a slim, hourglass figure, judging by her vital statistics of 36-25-37. Her cup size is 34B, while her shoe size is 6 (US), and she's known to wear size 6 (US) dresses.
Social Media Presence
Despite being one of the most successful actresses of the 1990s, Theresa didn't want to latch onto the trend of using social media as a means of boosting her popularity. Perhaps with "Bad Boys III" she will make a grand entrance onto the global social networking stage.