If you're looking for trucks, extraordinary customizations, and a talented team, then "Texas Metal" is right for you. Centered around the Texas-based Ekstensive Metal Works, the show has gained followers worldwide for showcasing otherworldly builds and customizations of trucks and other big cars.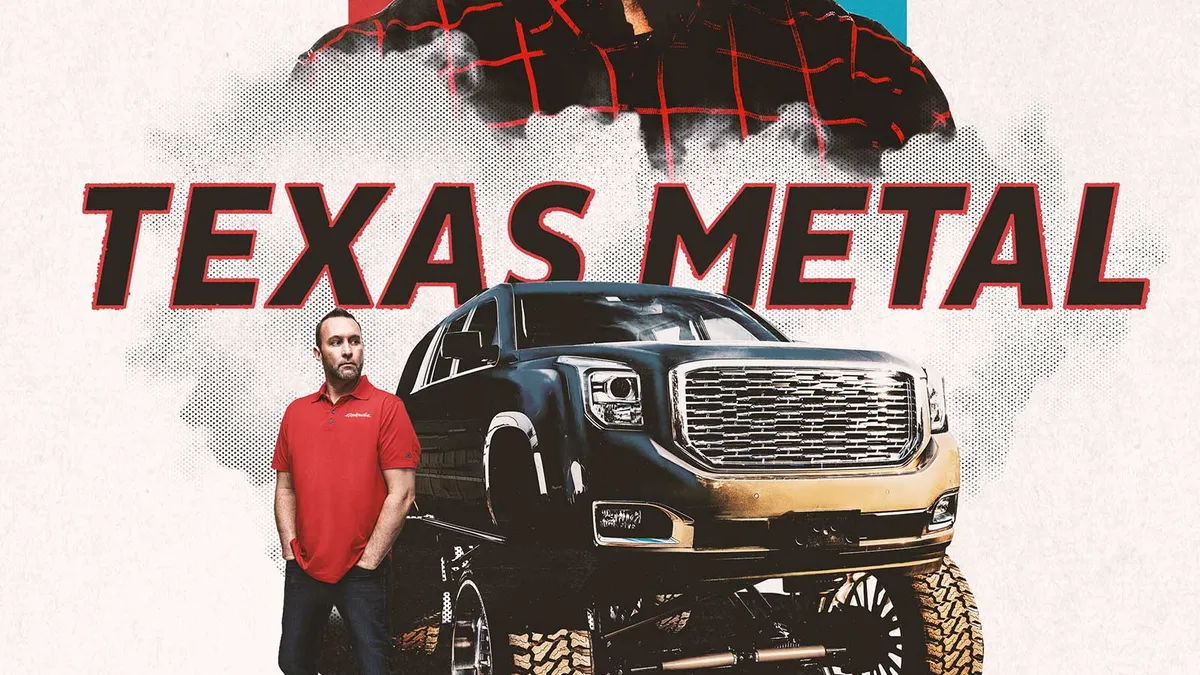 The team's focus is always on turning ordinary materials into extraordinary creations, making them one of the most creative and resourceful builders around. Nevertheless, becoming a reality TV star also has its downsides, such as turning into the focus of the curious eyes of fans who don't hesitate to ask a question or two when they see something out of place in the show.
Is this also the case for Tim Donelson? And what is the truth behind his disappearance from "Texas Metal" in recent seasons of the show? Stay here to know the truth!
Where Is Tim Donelson?
One thing about car-flipping shows is that they always make their audiences grow attached to the cast members. Such a thing happened with "Texas Metal"'s fan favorite Tim Donelson, the foreman, and builder from Ekstensive Metal Works who starred in the show for its earliest five seasons but was notably absent in the sixth one aired in 2023.
While Tim's exit from the shop wasn't explained in "Texas Metal", it seems that he won't be coming to the show any time soon. As Tim announced on Instagram in November 2022, he has definitely left Ekstensive Metal Works and founded his own business Timmy-Johns Machining & Fabrication alongside John Vega, who also appeared in "Texas Metal".
Though this change might be surprising for some, Tim revealed that he and Vega had been working half-time at Timmy-Johns for quite some time, but the increasing need to move their business forward led them to leave their old full-time jobs at Ekstensive Metal Works. Nonetheless, Tim affirmed that he isn't on bad terms with his old boss Bill Carlton, and other former employees.
All in all, fans enjoyed seeing Tim during his time in "Texas Metal" but it's great to see him building his path in the automotive business.
Tim Donelson will be selling his truck on the block! 📰Watch Mecum Auctions Houston starting April 1 on MotorTrend TV and MotorTrend+! Start your free trial now ➡️ https://bit.ly/3JoN69k

Posted by Texas Metal on Saturday, March 26, 2022
What Is Tim's Business About?
Though metal fabrication and car building are some of Tim Donelson's biggest passions, his business Timmy-Johns Machining & Fabrication goes beyond that. As seen in the business's social media, Tim and John Vega's shop had its beginnings working on metal pieces for cars and bikes, along with customized accessories, emblems, and badges. They also produced 3D-printed accessories.
As the shop became the focus of the now-former "Texas Metal" stars Tim and John, the pair expanded their business to collision work and motorized tools-produced items, making use of their skills not only at metal fabrication but also as designers. So far, Tim's company has collaborated with several other Texas-based businesses, including Martin Bros Customs from the also hit TV show "Iron Resurrection".
While it's still early to say what the future of Timmy-Johns is, it's sure that the business has great people on board to slowly but surely make itself a name in the industry.
Who Else Left The Show?
While Tim Donelson's exit from the show is sad, he's not the only one who has left "Texas Metal" since the show's premiere.
Heath Moore
If you paid attention to the earliest three seasons of "Texas Metal", then you surely remember the expert upholsterer Heath Moore, whose creations were always a big part of the success achieved by Ekstensive Metal Works' projects. However, his absence from the show from the fourth season on had his fans understandably flabbergasted and confused about his whereabouts.
With that being said, it doesn't seem that Heath is coming back to TV any time soon, though that's not necessarily a bad thing. As seen in his very active Instagram account, these days Heath is very focused on his business Heath Moore Interiors, where he designs and produces otherworldly upholstery for cars of all types. He also started a YouTube channel on which he shares upholstery tutorials and shares episodes of his podcast "Taco Time".
While Heath went through some hard times when he was infected with COVID-19 in early 2021, it seems that he's back in shape again these days. Also, it's unclear what his reason for not appearing on TV anymore is, but according to some of his Instagram posts, he occasionally still makes interiors for Ekstensive Metal Works.
All in all, Heath Moore seems to be doing quite well nowadays, but the hope of seeing him back on TV in "Texas Metal" is not lost yet.
John Vega
Viewers of "Texas Metal" surely remember John Vega for his skills as a builder and metal fabricator, yet his time with Ekstensive Metal Works had to end at some point. As he announced in September 2022, he was leaving his old job to focus on Timmy-Johns Machining & Fabrication full-time.
It's safe to assume that leaving his old job wasn't easy for John, especially considering he worked for Bill Carlton for over ten years, but that new chapter of his life as a business owner alongside Tim Donelson was surely a good choice. He didn't leave Ekstensive Metal Works on bad terms though, as Bill himself commented on John's goodbye post on Instagram and described him as an 'instrumental part' of the business history and wished him the best.
While it's sad to know that John and Tim won't be part of "Texas Metal" anymore, it's great to see the pair building something great on their own.
What's Going On With The Show Now?
Though "Texas Metal" has gone through some changes after the departure of some of its cast members, the truth is that the show is going on stronger than ever. During the show's sixth season aired in early 2023, "Texas Metal" worked on incredible projects which included customizing trucks, tankers, a car owned by John Cena, and even small coupes.
As well, in August of that year, Ekstensive Metal Works announced the staff was getting ready to film "Texas Metal"s seventh season, which is presumed to air in early 2024 if they follow a similar schedule to previous seasons.
More amazing projects are coming Bill Carlton's way, as in early 2023 the spin-off "Texas Metal's Loud and Lifted" premiered on MotorTrend. This new show is also focused on big trucks and rowdy projects, but instead of focusing on Ekstensive Metal Works, it showcases small and on-the-rise car shops from Texas as they compete to build the best trucks around. Nonetheless, Bill is also there in the show to evaluate the projects and guide competitors on their path to success.
So far, it seems that a lot of exciting things are awaiting the current "Texas Metal" stars and those who were once part of that team.