Singers have dominated the list of the winners of "America's Got Talent" – commonly referred to as "AGT" = but a lesser-known and practiced talent has delivered its share of winners. When Terry Fator, a ventriloquist, won the second season of "AGT", many considered his win a fluke. They were proven right when singers won several subsequent seasons in a row, along with magicians and dancers. In the season 10 finale, the fluke struck again, when ventriloquisbPaul Zerdin won, but twice could be just a coincidence, and a third ventriloquist needed to win to establish a pattern. Two seasons later, 12-year-old Darci Lynne cemented the place of ventriloquists as worthy contestants by beating 10-year-old singer Angelica Hale, and becoming the third ventriloquist to win the talent competition. Since Darci's win in 2017, the now 19-year-old has taken the entertainment industry by storm. Let's take a look at what happened to Darci in "AGT" and where she is today.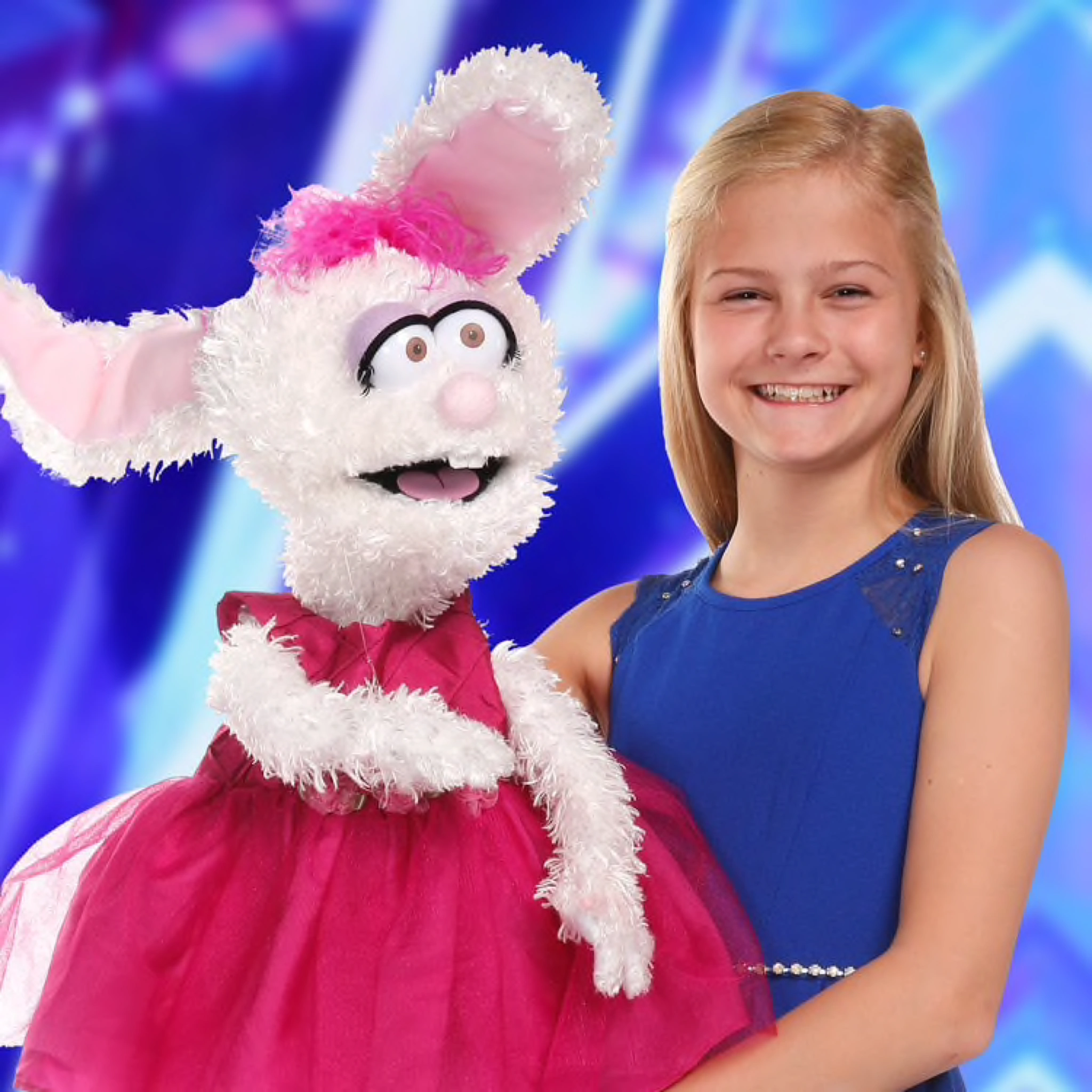 Chasing Dreams
When Darci walked onto the set of "AGT" hoping to impress the judges and make the cut, she was a nervous wreck; her nervous laughter as she interacted with the judges gave her away. The pre-teen and her puppet Petunia had two missions on stage – firstly, Darci was living her lifelong dream of winning "AGT", and secondly she hoped to bring the art of ventriloquism back and inspire people to try the craft. As soon as Darci started her performance, it was clear that she would do both. The 12-year-old clenched her teeth as Petunia belted out notes that most people would struggle to sing with their mouths open. Close-ups of all four judges showed them with eyebrows raised and mouths open in shock, which the crowd echoed with "oohs" and "aahs" every time she hit impossible notes.
As soon as Darci finished her audition, Simon led the judges and live audience in a standing ovation worthy of the outstanding performance. When the time came for the judges to share their thoughts on the audition, Mel B made a decision that would change Darcy's life – the former Spice Girl pressed the Golden Buzzer, allowing Darcy to bypass the judge's cuts and sail through to the live shows. As an emotional Darci celebrated in a cloud of golden confetti, the stars were just starting to align for her, but she had to turn them herself by beating other contestants for the coveted win.
Darci brought a new puppet to the quarterfinals. She proved that her talents go beyond singing to comedy, when she had the live audience in stitches after Oscar, the puppet, confessed to being in love with Mel B, and looped Heidi into the joke. Oscar dedicated the performance to Mel B and had the audience quite in awe as soon as he belted out the first notes of the Jackson 5's "Who's Lovin' U." Darci had chosen a difficult song for someone her age, but didn't disappoint the judges, who raved about her voice and ability to sing with her mouth closed. The highlight of their comments was Simon's prediction that Darci was headed for greatness.
Wow! What an unforgettable night Wednesday! I have always loved getting the opportunity to come back to @AGT to relive all the sweet memories.
To the Mayyas, A HUGE CONGRATULATIONS!!!! You guys are incredible and SO deserving. All my luck to you guys for an amazing future.❤️‍🔥 pic.twitter.com/wR4ClyTc9w

— Darci Lynne (@ItsDarciLynne) September 16, 2022
Keeping up with the trend she had set at the semi-finals, Darci unveiled a new puppet; an old lady named Edna. Unlike Petunia and Oscar who were shy, Edna was sassy and a little naughty, and had Simon blushing when she confessed her lust for him. She dedicated her performance to the "hunka-hunka Englishman" before launching into her rendition of Aretha Franklin's "You Make Me Feel Like a Natural Woman." Her bold choice paid off once again when the audience was on its feet at the end of the performance, and Simon doubled down on his prediction that Darci was headed for even greater heights that he'd initially predicted.
The Day She Made History
Darci was a fan favorite. She made it through to the finals easily, but was facing fierce competition from other acts, such as the singing sensation Angelica Hale. To win over the audience and sail through to the top three, Darci apparently set the bar impossibly high by performing with both Oscar and Petunia. After her usual comedic moments, Darci revealed the song she had chosen for her performance; Ringo's "With a Little Help from My Friends," an appropriate title given her choice of puppets. As usual, Darci brought the crowd and judges to their feet. She impressed the live and television audiences so much that she received enough votes to sail through to the final stage of the competition.
For her final performance, Darci proved that she can do anything, when she put on an electrifying performance of "Anything You Can Do", joined by fellow ventriloquist and former winner, Terry Fator. That night, Darci was crowned the winner of season 12, becoming the third pre-teen to win the competition. With the win came a record – Darci had received the highest number of votes among all the previous winners of "AGT". She headed to several sold-out performances at Planet Hollywood in Vegas, alongside the three runners-up. With a win, a record, and the adoration of Americans from all over the country, Darci set out to carve a name for herself in the entertainment industry.
Performances and Appearances
Darci's win unlocked countless opportunities for her. Immediately after completing her commitments to "AGT", she was on "The Ellen DeGeneres Show", talking about her experience, and returned to the Ellen's show in 2021, just before she embarked on a year-long tour. As her fame grew, popular artists, comedians and filmmakers took note of the uniquely talented pre-teen. She was featured in fellow ventriloquist Jeff Dunham's video "The Haunted House on Dunham Hill", in which her three puppets went trick-or-treating, and found his four puppets in a hilarious exchange. She later joined Fator in Tulsa for a performance in November, before winding down 2017 with a collaboration with Pentatonix in a Christmas show in December.
Darci hasn'ot had a slow year since 2017. She kicked off 2018 with a national tour with her three "friends" Petunia, Oscar and Edna, calling the tour "Darci Lynne and Friends Live." In between her 52 live performances, some of which sold out within minutes, Darci sang at Christmas concerts, made appearances on television shows, and went back to "Little Big Shots," the first talent competition she entered for a performance.  In the same year, Darci returned to "AGT" for a guest performance, before ending the year in a Christmas concert with Petunia.
The impressive performances she stages every time she brings her puppets on stage have earned Darci more bookings than she can handle. Over the past year, Darci has performed at the Dutchess County Fairground in New York, the Alaska State Fair, Pabst Theater in Wisconsin, and Downtown Edmond in Oklahoma, among other venues, and has an upcoming performance in August at The Yale Theater, before heading to the Benton Frankin Fair & Rodeo in Washington.
Films and Voice Roles
In addition to performing in theatres and events across the US, Darci has bagged a few roles in the television and film industry. She started her circuit with a guest appearance in the Food Network's "Winner Cake All," in which she challenged contestants to make a cake for her 14th birthday. The winning team earned $10,000. Darci and Petunia were featured in an episode of "Scooby-Doo and Guess Who" before she did a round as a guest in several talk shows, including Tamron Hall and "The Kelly Clarkson Shoe."
In 2022, Darci made her professional acting debut in "A Cowgirl's Song", playing Brooke Mays, a teenage girl who chases her dream together with her singer-sister with the help of their country music star grandmother. She's now set to appear in "Reagan," a historical drama, which is set for release later in 2023.
From the Stage to the Panel
Three years into her win, Darci traded her contestant's hat and moved across the stage to become a panelist on Nickelodeon's game show "Unfiltered." Her role, together with fellow panelists Gabrielle and Lex, was to listen to celebrities speak, and guess the identity of the mystery guests. The guests' voices were altered by a voice changer but enough clues were given to the panelists to enable them to identify the celebrities. Darci was on the panel for two seasons until 2021, when Nickelodeon scrapped the show, but Darci was back on a panel in 2022, this time as a guest judge on "The Vocalist."
The Future of Ventriloquism
Darci's work since winning AGT has earned her an estimated net worth of $10 million. Her life-long commitment is reviving ventriloquism and encouraging more, particularly young people, to take it up as a hobby or professionally. She's pursued her dream by taking her craft to talk shows where she can showcase her success, filling theaters and stadia with her talent. As she prepares to go back on the road later in 2023 for a couple of performances, Darci has cemented her position in the "AGT" Hall of Fame, and made a name for herself as one of the most popular and successful ventriloquists.