Who is Ali MacGraw?
From her breakthrough role that captured the essence of a generation in "Love Story", to her subsequent performances that showcased her versatility as an actress, Ali MacGraw's journey through Hollywood is a captivating tale of talent, success and enduring appeal. Although she has just 15 acting credits to her name, her presence on both the big screen and in the hearts of audiences has solidified her as an icon of grace, beauty and talent.
Join us as we delve into the life and legacy of Ali MacGraw, the actress who had her autograph and footprints engraved at Grauman's Chinese Theatre.
Early life, family, and education
Born Elizabeth Alice MacGraw under the zodiac sign of Aries on 1 April 1939, in Pound Ridge, New York State USA, she holds American nationality and comes from a family of Jewish descent, raised by her parents, Richard and Frances MacGraw (nee Klein), both commercial artists, alongside her brother Dick, also an artist.
Ali hadn't dreamed of an acting career, having an interest in fashion and photography. When it comes to her educational background, she attended Rosemary Hall, an independent girl's school, and upon matriculating in 1957, she enrolled at Wellesley College, from which she graduated with a BA degree in 1961.
Following her graduation, Ali worked as a photographic assistant to Diana Vreeland, a fashion columnist for Harper's Bazaar. There, Ali spent six years, and concurrently launched her modeling career, and became a top model working with the magazine Vogue.
Acting career
Ali made her acting debut as Melody in the 1968 movie "A Lovely Way to Die". Although her role was uncredited, it's safe to say that her appearance didn't go unnoticed.
In the following year, Ali was cast to play the lead female role in the romantic drama "Goodbye, Columbus", starring opposite Richard Benjamin and Jack Klugman in this story about an affair between a young woman and an army veteran. The film had nine award nominations and four wins, including the an Oscar nomination for Best Writing, Screenplay Based on Material from Another Medium, while Ali was nominated for the British Academy of Film and Television Art (BAFTA) Award for Most Promising Newcomer to Leading Film Roles, and won the Golden Globe Award for Most Promising Newcomer – Female, and the Golden Laurel Award for Female New Face.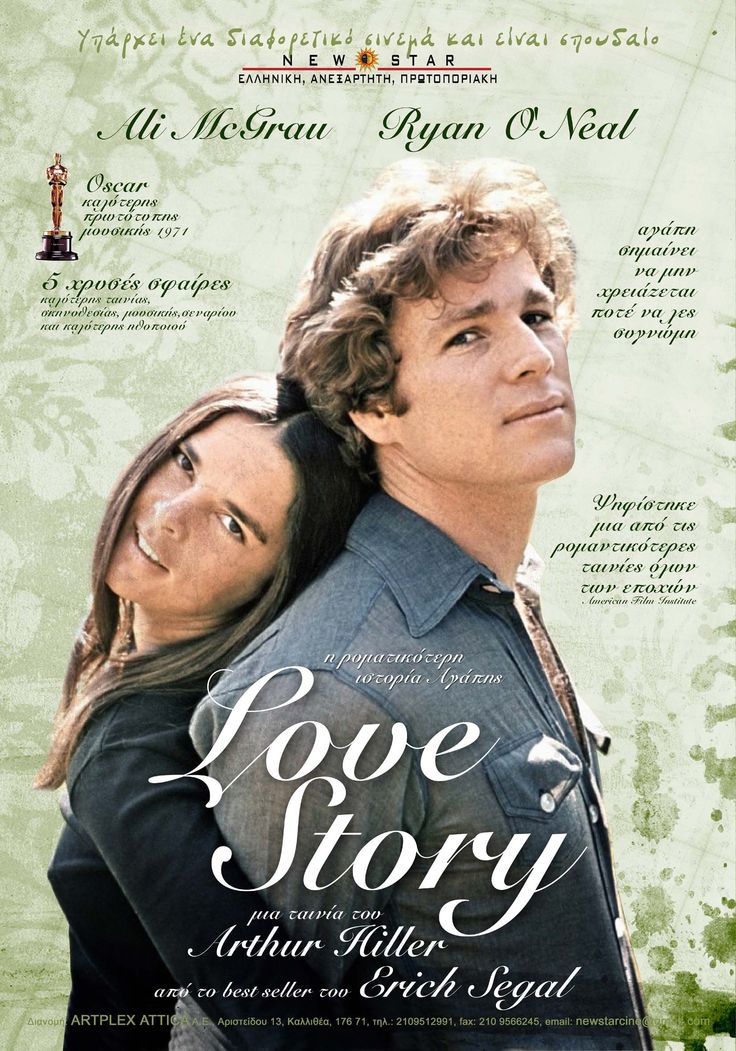 In 1970, she was seen playing her most notable role, as Jenny in the romantic drama "Love Story", also starring Ryan O'Neal and John Marley. It was a story about a girl and a boy from different backgrounds who fall in love. For her performance, Ali was nominated for the Oscar (Best Actress in a Leading Role), and also for the Golden Laurel (Best Dramatic Performance, Female), while she won the Golden Globe for Best Actress in a Motion Picture – Drama. The movie had 17 award nominations and 10 wins, including the Oscar for Best Music, Original Score. It's listed as one of the Top Ten Films by the National Board of Review, USA.
Two years later, Ali was cast to play Carol McCoy in "The Getaway", an action thriller also starring Steve McQueen, her third husband. Ali's next role came in 1978 when she landed the role of Melissa in the action drama "Convoy", based on the song of the same title by C. W. McCall.
In the following year, she was seen as Nicole in "Players", also starring Dean Paul Martin in the story of a love triangle between a rising tennis star, an older woman, and her wealthy fiancée, whom she doesn't love.
The early '80s saw Ali in the movie "Just Tell Me What You Want" (1980), followed by her first television appearance as Natalie Jastrow in the 1983 TV mini-series "The Winds of War", which won three Primetime Emmys. Later that year, she was seen in the TV movie "China Rose".
In 1985, she played Lady Ashley Mitchell in 13 episodes of the critically acclaimed drama series "Dynasty", then later that year, Ali returned on the big screen as Diane Baker in the horror thriller "Murder Elite", which didn't gain much success.
Seven years later, she landed the role of Claire Carpenter in the TV movie "Survive the Savage Sea", followed in 1993 by her role as Jane in another TV movie "Gunsmoke: The Long Ride".
In the following year, Ali was again back on the big screen, playing Fran Jakes in the action drama "Natural Causes", which also went poorly rated by both critics and the audience.
Her last role, before she withdrew from the entertainment industry, was her portrayal of Lynn Travers in the 1997 movie "Glam", written and directed by her son, Josh Evans, which the audience rated 2.7/10.
Love life, husband
Like many actresses, Ali has been the subject of various rumors about her love life, however, what we do know is that she's been married three times.
Her first husband was a non-celebrity whom she met at college named Robert Martin Hoen – the two married on 29 October 1960, but divorced a year and a half later.
Ali had a string of relationships and one abortion after her first divorce, then in the late '60s, she met her future second husband, Robert Evans, a movie producer. They married on 24 October 1969, and three years later, the couple separated over her affair with Steve McQueen, whom she met on the set of the movie "The Getaway". Ali and Robert have one son together, namely Josh Evans, a filmmaker.
On 12 July 1973, Ali married Steve McQueen, known as the 'King of Cool', but the two divorced in August 1978; he died from cancer in 1988.
In the early '80s, Ali was in relationships with Bill Hudson, Warren Beatty, Peter Weller and Rick Danko, among many other big Hollywood names. In her autobiography entitled "Moving Pictures", Ali revealed her struggles with sex and alcohol addiction.
As of August 2023, it seems that Ali is single.
Where is Ali Macgraw today?
Ali was originally supposed to play herself in the "Breaking Bad" episode "Grey Matter" as a guest at Elliot Schwartz's character's birthday party, which takes place in Santa Fe, but her appearance was cut from the final version of the episode.
Ali's had a low-key life since her last film role in the late '90s. She might conduct interviews or make public appearances on occasion, but has never returned to the big screen or television. She spends her time at her home in Tesuque, New Mexico.
Age, height, and net worth
Ali is today aged 84. She was known for her long, straight hair, parted down the middle. When it comes to her measurements, the last known data about her weight is around 120lbs (54kgs) and she stands at a height of 5ft 10ins (1.77m).
If you have wondered how rich Ali is as, of August 2023 according to sources, her net worth has been estimated at over $6 million.