Who is David Morrissey?
British actor, producer and director David Mark Joseph Morrissey was born under the zodiac sign Cancer on 21 June 1964, in Liverpool, England. He has more than 100 acting credits and is perhaps known best for portraying Philip 'The Governor' Blake in 20 episodes (2012-2015) of the popular horror thriller series "The Walking Dead", which starred Norman Reedus and Andrew Lincoln, and was created by Frank Darabont. It follows a group of people trying to survive in a world overrun by zombies, the series aired from 2010 through 2022 and won 84 of the 320 awards for which it was nominated.
David's currently shooting for the upcoming movie "Slingshot" and the series "The Long Shadow" and "Sherwood".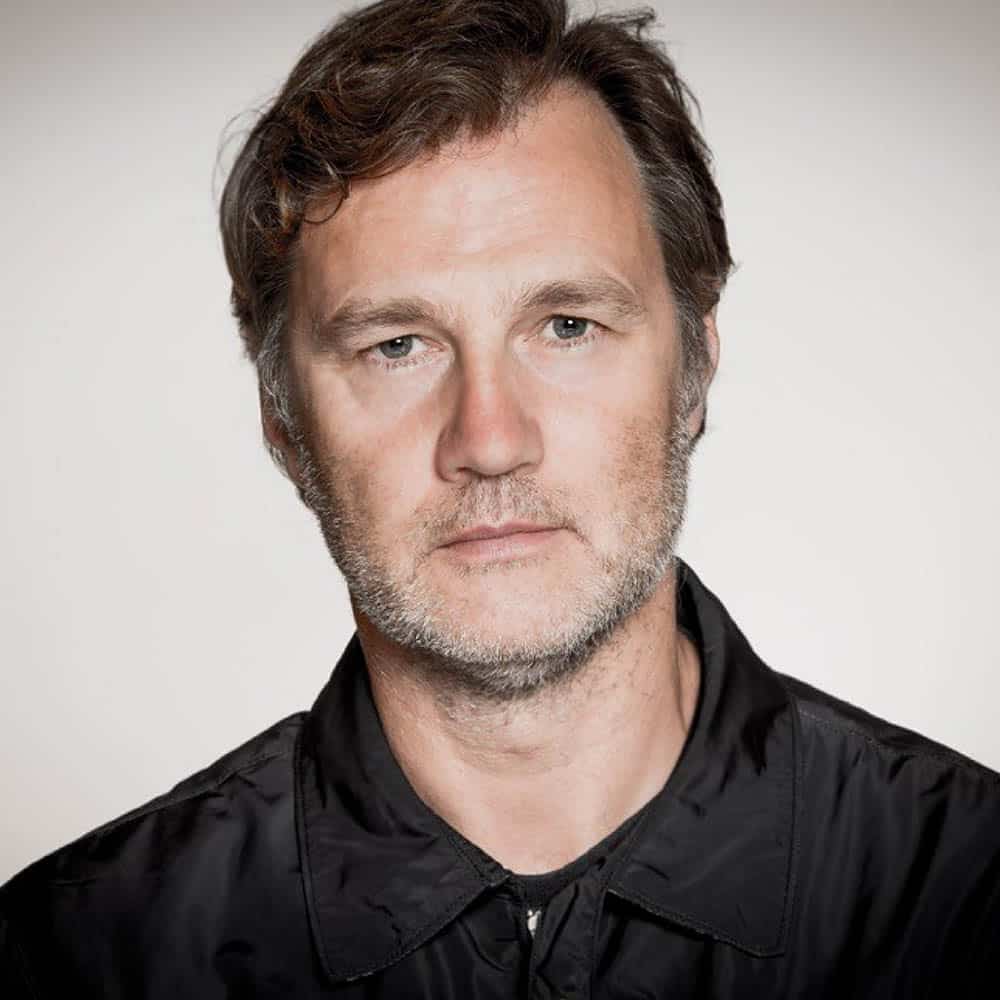 Education and early life
David was raised in Liverpool alongside his older sister Karen and older brothers Paul and Tony, by their father Joe Morrissey who was a cobbler, and mother Joan who worked at the retail and soccer betting company Littlewoods.
He enjoyed watching movies while growing up, especially Eugene Curran Kelly's musicals, and knew that he wanted to become an actor after having watched the 1969 movie "Kes". David studied at St Margaret Mary's Primary School and was 11 when his drama teacher Miss Keller cast him as Scarecrow in a school's production of "The Wonderful Wizard of Oz".
He soon transferred to De La Salle School, but there was no drama club at the new school; David was then convinced by his cousin to join the Everyman Youth Theatre where he continued acting.
He was 15 when his father developed a terminal blood disorder and died. David quit school aged 16 and joined a theatre company in Wolverhampton, England.
Roles in TV series
David's debut TV series role was playing Billy Rizley in five episodes of the 1983 drama "One Summer", and in 1990 and 1991, he played both Judd and Marcus in the drama "Screenplay", which starred Tony Doyle and John Kavanagh, and follows the lives of several people from a small town. The series aired from 1986 through 1993 and won four of its seven award nominations.
David appeared in a number of series in the '90s – some of the best amongst these were perhaps the 1992 crime thriller "Framed", the 1994 crime thriller "Finney", and the 1997 drama mini-series "Holding On".
In 2003, he portrayed one of the main characters Stephen Collins in all six episodes of the crime mystery mini-series "State of Play", which also starred Kelly Macdonald and John Simm, and follows a group of journalists who've uncovered a government conspiracy; the mini-series won 17 of its 26 award nominations. Some of the most popular series in which David appeared in the remainder of the decade were the 2004 crime comedy mini-series "Blackpool", the 2007 mystery thriller "Meadowlands" and the 2008 romantic mini-series "Sense & Sensibility".
DAVID MORRISSEY will be at #LFCC on Friday and Sunday only@davemorrissey64 is best known for his role as The Governor in #TheWalkingDead, but has also starred in Doctor Who, The Reaping, Blitz, Extant, The Water Horse & Good Omens!https://t.co/XsWn83Jocy pic.twitter.com/dAl94qsJm3

— Showmasters (@Showmasters) June 24, 2019
In 2015, he played Tobias Shepherd in 11 episodes of the science fiction thriller "Extant", which starred Pierce Gagnon and Halle Berry, and was created by Mickey Fisher. It follows an astronaut who's become pregnant during a 13-month solo space mission – the series won one of its four award nominations.
Some of David's most recent roles in TV series have been in a 2022 episode of the comedy "Ellie & Natasia", six episodes of the 2022 crime mystery "Sherwood", and the 2023 episode "Turkey: Empire of Erdogan Part 2" of the documentary "This World".
Roles in movies
David's debut film role was playing George Bowman in the 1987 crime drama "Cause Celebre", and some of his following roles were in the 1988 comedy "Drowning by Numbers", the 1989 short horror "Out of Town", and the 1990 drama "The Widowmaker".
In 1991, he played Little John in the popular action adventure "Robin Hood", which starred Uma Thurman and Patrick Bergin, and was directed by John Irvin; it follows the life of the famed outlaw of 12th century England. The remainder of the '90s saw David appear in a couple of other popular movies, such as the 1992 mystery "Waterland", the 1995 crime drama "Devil's Advocate", and the 1999 comedy "Fanny and Elvis".
He portrayed Mike in the 2002 crime drama "Out of Control", which starred Marvin Benoit and Joanne Adams, and was written and directed by Dominic Savage. It follows three teenage boys who've been sent to an offenders' institution; the movie won three awards. David could then have been seen appearing in the 2003 biographical drama "The Deal", the 2006 mystery thriller "Basic Instinct 2", and the 2009 historical crime drama "Red Riding: The Year of Our Lord 1983".
He portrayed the lead character Jon in the 2015 thriller "The Ones Below", which also starred Stephen Campbell Moore and Clemence Poesy, and was written and directed by David Farr. It follows a couple who are about to have a baby – the film was nominated for three awards.
Some of David's most recent movie roles have been in the 2021 drama "The Colour Room", and in 2022 the fantasy horror "Dampyr" and the short thriller "Trigger. Charlie. One" (voice role).
Other credits
David has five directing credits, which include the 2001 drama mini-series "Sweet Revenge", the 2004 drama "Passer By" and the 2009 drama "Don't Worry About Me".
He received special thanks for the 2016 documentary horror film "The Walking Dead: The Journey So Far".
Some of David's recent appearances in talk-shows have been in "Between the Covers", "The Great Celebrity Bake Off for SU2C" and "Aftershock".
Awards and nominations
David's won two of his nine award nominations: a 2004 Royal Television Society Award for Best Actor – Male for "The Deal", and a 2020 CinEuphoria Merit – Honorary Award for "The Walking Dead".
Some of his other nominations include a 2010 Broadcasting Press Guild Award for Best Actor, for his performance in "Red Riding: The Year of Our Lord 1983", a 2013 TV Guide Award for Favorite Villain, for "The Walking Dead", and a 2014 Academy of Science Fiction, Fantasy & Horror Films Award for Best Guest Performance in a Television Series, also for "The Walking Dead".
Love life and wife
David rarely speaks about his love life in public but we know that he's a married man. He and British actress and screenwriter Esther Freud were together for 13 years prior to exchanging vows in a small and private ceremony on 15 August 2006; they have three children together: son Albert 'Albie', daughter Anna and another son Eugene 'Gene'.
Esther has just four acting credits, and is perhaps known best for playing Threst in the 1985 episode "Attack of the Cybermen: Part Two" of the critically acclaimed adventure family series "Doctor Who".
David and Esther separated in 2020, but haven't divorced.
We don't know about any other women whom David's perhaps been with; he's married to Esther Freud as of September 2023 (separated) and they have three children together.
Interesting facts and hobbies
David's a philanthropist, and in 2009, he and several other moviemakers created workshops for Palestinian refugee children in Beirut, Lebanon; upon returning to England, he opened the Creative Arts School Trust for training acting teachers. He's today a patron of the human rights organization Reprieve, Liverpool's Unity Theatre and The SMA Trust.
David's a huge fan of soccer and cheers for Liverpool.
He's into politics, and is a supporter of the Labour Party.
David's followed by close to 350,000 people on Instagram and has posted over 2,500 pictures and videos onto the network, with most being about various kinds of art, including music, architecture and painting.
One of his favorite actors is Ian McKellen, and some of David's favorite movies include "X-Men: The Last Stand", "The Da Vinci Code" and "Mr. Holmes".
Appearance and net worth
David's age is 59. He has blue eyes and brown hair, weighs around 190lbs (87kgs) and is 6ft 3ins (1.91m) tall.
David's net worth's been estimated at over $3 million, as of September 2023.