Who is Essie Davis?
Australian actress and singer Esther 'Essie' Davis was born under the zodiac sign Capricorn in Hobart, Tasmania, Australia, on 19 January 1970. She has 55 acting credits, and is probably known best for portraying the lead character Amelia Vanek in the critically acclaimed 2014 horror mystery film "The Babadook", which also starred Noah Wiseman and Daniel Henshall, and was written and directed by Jennifer Kent. It follows a mother and her child as the strange children's book "Mister Babadook" has begun manifesting in their home; the film won 56 of its 120 award nominations.
Essie's currently shooting for the upcoming series' "One Day" and "Alien".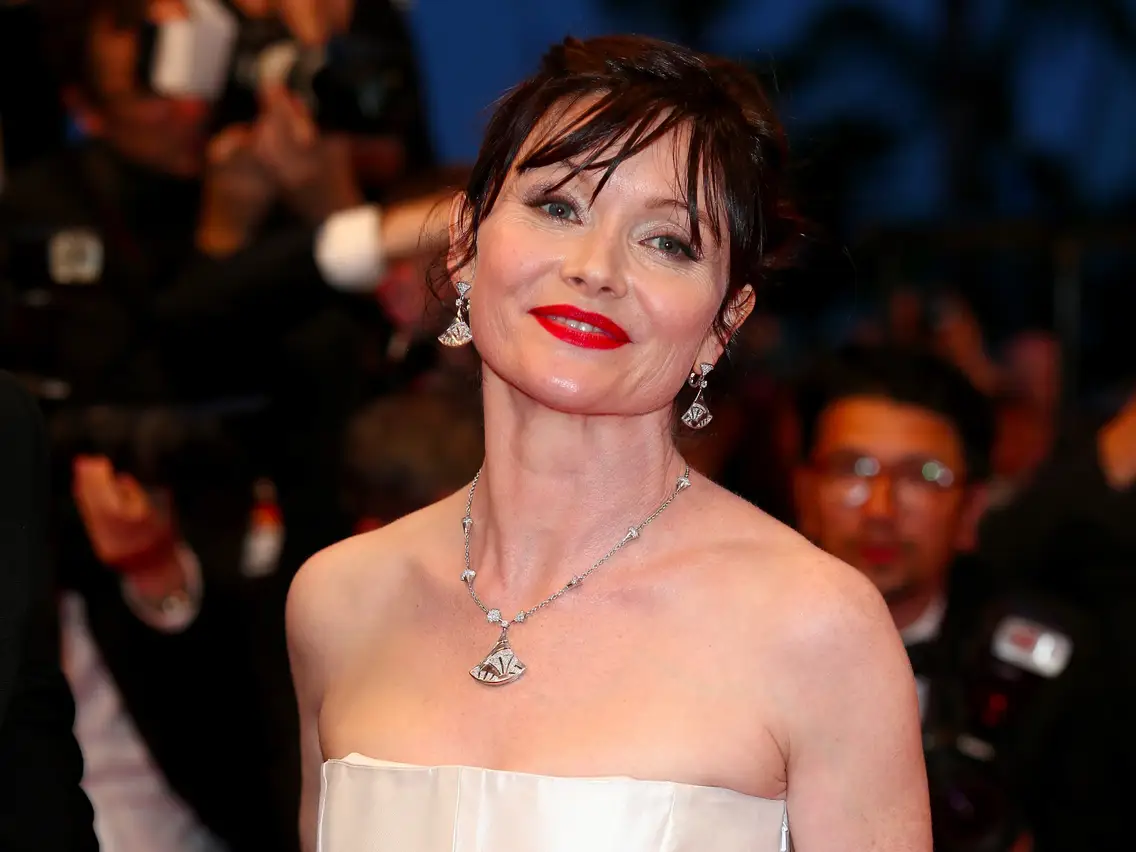 Education and early life
Essie was raised in Hobart alongside her six siblings, by their father George Davis who was an artist and mother Mary Davis who was a housewife; not many other details have been shared about Essie's family as she respects their privacy.
She studied at Clarence High School and it was during her two years there that she became interested in acting and appeared in a couple of school plays. Essie transferred to Rosny College in 1986, and matriculated in 1988.
She continued her education at the University of Tasmania, where she was a member of its Old Nick Company; Essie transferred to the National Institute of Dramatic Art two years later, and graduated with a Bachelor of Arts degree in acting in 1992.
Roles in movies
Essie's debut film role was playing Jilly in the 1993 romantic drama "The Custodian", and some of her following roles were in the 1995 comedy "Dad and Dave: On Our Selection", the drama "Lilian's Story" and the  romantic comedy "River Street" both in 1996.
In 1997, she played Detective Gilhooley in the popular thriller "Blackrock", which starred Laurence Breuls and Linda Cropper, and was directed by Steven Vidler. It follows the rape and murder of a young schoolgirl and the subsequent investigation, and the film won one of its 10 award nominations. Some of Essie's roles in the remainder of the '90s were in the short fantasy "The Two-Wheeled Time Machine" and the thriller "The Ripper" both in 1997, and the 1998 drama "The Sound of One Hand Clapping".
In 2003, she played Maggie in the hit action science fiction "The Matrix Reloaded", which Lilly and Lana Wachowski wrote and directed, and which starred Keanu Reeves and Laurence Fishburne. Second in the film trilogy "Matrix", the movie follows the continued journey of freedom fighters Morpheus, Trinity and Neo, and it won eight of its 42 award nominations. The year 2003 then saw Essie appear in the romantic drama "After the Deluge", the biographical romantic drama "Girl with a Pearl Earring" and the romantic science fiction "Code 46".
In 2006, she played Mrs Arable in the popular adventure family comedy "Charlotte's Web", which starred Dakota Fanning and Julia Roberts, and was directed by Gary Winick. It follows the pig Wilbur who's teamed up with the spider Charlotte in an attempt to avoid being eaten by his owners; the film won 10 of its 21 award nominations. Essie was then cast to play and voice characters in the 2008 comedy "Hey Hey It's Esther Blueburger", the 2008 romantic adventure "Australia" and the 2010 animated action adventure "Legend of the Guardians: The Owls of Ga'Hoole" (voice role).
The year 2016 saw Essie play Cal's Mother in the popular action science fiction adventure "Assassin's Creed", which starred Marion Cotillard and Michael Fassbender, and was directed by Justin Kurzel. It follows Callum Lynch who's re-living his master assassin ancestor Aguilar de Nerha's memories, and the movie won two of its three award nominations.
Some of Essie's most recent film roles have been in the 2020 adventure mystery "Miss Fisher & the Crypt of Tears", and in 2021 the drama "The Justice of Bunny King" and the crime thriller "Nitram".
Roles in TV series
Essie's debut TV series role was playing Senior Detective Nicola Bourke in two episodes of the 1997 crime action "Water Rats", which starred Peter Bensley and Brett Partridge, and was created by Tony Morphett and Hal McElroy. It's a series about murders, suicides, and drug lords and addicts, it aired from 1996 through 2001 and won five of its 19 award nominations.
The remainder of the '90s saw Essie appear in an episode of the crime thriller "Murder Call", the drama "Kings in Grass Castles", and the crime drama "Halifas f. p."
She appeared in only two TV series in the 2000s, portraying Sophie in a 2001 episode of the comedy "Corridors of Power" and Julie Morgan in two episodes of the 2002 crime mini-series "Young Lions".
In 2011, Essie played Dolly Pickes in all three episodes of the drama "Cloudstreet", which starred Geoff Morrell and Kerry Fox, and follows the lives of members of two Australian working-class families; the series won five of the 18 awards for which it was nominated.
Essie Davis as Dolly Pickles photographed by David Dare Parker for CLOUDSTREET (2011) pic.twitter.com/gcBMP0luet

— Essie Davis Daily (@essiedavisdaily) October 20, 2017
Some of Essie's most recent roles in TV series have been in the 2018 episode "Carol" of the comedy "True Story with Hamish & Andy", all four episodes of the 2019 drama mini-series "Lambs of God" (lead role), and the 2022 episode "The Murmuring" of the horror mystery "Guillermo del Toro's Cabinet of Curiosities".
Other credits
Essie received special thanks for the 2015 historical war movie "Macbeth", and the 2016 action adventure science fiction film "Assassin's Creed".
She produced eight episodes of the 2015 historical crime series "Miss Fisher's Murder Mysteries", and the 2020 adventure mystery movie "Miss Fisher & the Crypt of Tears".
Essie sang the songs "Tit Willow" and "Chopsticks" in the 2021 crime thriller movie "Nitram".
Some of her recent talk-show appearances have been in "Play School", "Adam Hills in Gordon St Tonight" and "Sunday Brunch".
Awards and nominations
Essie's won 22 of her 63 award nominations. Some of her wins include a 2003 Australian Film Institute Award for Best Actress in a Supporting or Guest Role in a Television Drama or Comedy, for "After the Deluge", a 2006 Screamfest Trophy for Best Actress, for "Isolation" and a 2012 Equity Ensemble Award for Outstanding Performance by an Ensemble in a Mini-Series or Telemovie, for "The Slap".
Love life and marriage
Essie shies away from sharing the details of her love life with her fans, but we still know that she's married and has two children.
She and Australian screenwriter, producer and director Justin Kurzel exchanged vows in a small and private ceremony in 2002, after they'd been together for seven years; he has 13 directing credits and is perhaps known best for directing the 2011 biographical crime movie "The Snowtown Murders", which won 23 of its 46 award nominations.
Essie gave birth to their twin daughters Stella and Ruby in 2006.
There are no other men whom she's been with, that we know about; Essie's married to Justin Kurzel as of September 2023, and they have twin daughters together.
Interesting facts and hobbies
Essie won a Laurence Olivier Award for Best Supporting Actress for her performance in a production of "A Streetcar Named Desire" at the Royal National Theatre in London, England; she was also nominated for a 2003 Tony Award for Best Actress, for her performance in a production of Tom Stoppard's "Jumpers".
More than 3,600 people are following Essie on Instagram today; she's posted 36 pictures and videos, with most of these being about protecting various animal species from extinction.
Essie's a philanthropist and has taken part in a number of fundraising events.
One of her favorite actresses is Margot Robbie, and some of Essie's favorite movies include "Once Upon a Time… in Hollywood", "I, Tonya" and "The Wolf of Wall Street".
Appearance and net worth
Essie's age is 53. She has brown hair and blue eyes, weighs around 120lbs (58kgs) and is 5ft 6ins (1.68m) tall.
Essie's net worth's been estimated at over $2 million, as of September 2023.