The growth of social media in the last two decades has made it easier for everyone to become stars on their own. This is also the case for Faith Ordway, who in recent years has achieved the status of an internet sensation thanks to her entertaining content, personality, and beautiful looks.
After making waves first as a TikTok creator with videos of everything from lip synching to working out routines, Faith's popularity also expanded to other platforms such as Instagram, YouTube, and Snapchat, on top of debuting as a boxer. Faith has undoubtedly become a force to be reckoned with, but there are still many questions about who she is, where she comes from, what she used to do before becoming TikTok-famous, and what other less-known facts are there to be learned about her. Keep reading to discover this and more about Faith Ordway!
Early Life & Beginnings
Faith Ordway was born on 23 May 2001, in Defiance, Ohio USA. Not much is known about Faith's childhood, early education, and family, but it's known that in 2019 she moved away from her native town to Florida, to enroll at the Gulf Coast University, on her way to obtain a career in marketing in 2023. Nonetheless, Faith eventually moved to California before finishing her degree, but it's unclear whether she's still studying these days, or if she graduated from a different college.
Though Faith's YouTube channel was started in 2015, her earliest content can be found on TikTok, on which she rose to fame for her dancing videos in 2019, just months before starting her Instagram account in December of that year. In 2021 she began sharing videos on her YouTube, slowly but surely building a strong presence on social media platforms.
Growth In Social Media
Since starting her presence on the internet in 2019, Faith Ordway has gained millions of followers everywhere. These days, Faith's biggest platform is TikTok, on which she's close to hitting the five million followers mark, and her videos have been liked almost 200 million times. Another 1.3 million people follow her on Instagram, while her YouTube channel has over 100,000 subscribers, and her Snapchat almost half a million followers.
Despite how massive Faith's online presence has become, her idea wasn't to become so famous, at least at the start. As she affirmed in a 2021 YouTube video, she had joined TikTok just to 'mess around', and because she thought it was funny. Those early times of having no views in her videos were soon left behind though, as she quickly got the hang of it as she continued posting videos and studied what other creators did to grow their channels, putting that knowledge to use while creating her content.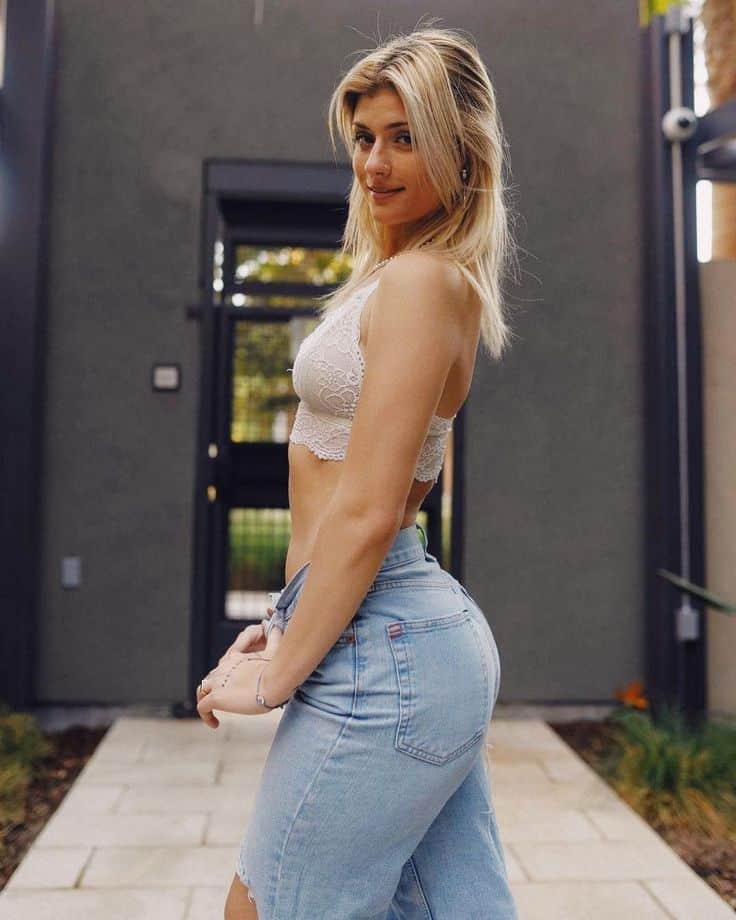 Faith's success on the internet is due to the entertainment and varied content that she shares on every platform, focusing mostly on vlogs for YouTube and Snapchat, modeling for Instagram, and workout routines and dance trends for TikTok.
Faith's growth on social media hasn't gone unnoticed, gaining her sponsorships from fitness-related brands, on top of landing collaborations with big internet names such as Charli D'Amelio.
Boxing Career
While Faith Ordway has been showing her interest in fitness from the beginning of her career as a content creator, it wasn't until later that she started casually training her boxing skills. As Faith told Dexerto in early 2022, boxing proved to be a great way to keep her focused, on top of improving her physical and mental health.
Faith's debut in the ring took place in January 2023, in a fight against British OnlyFans model Elle Brooke. According to reports, Faith and Elle first agreed to fight each other through Instagram DMs, following the British model's victory against "Love Island" contestant Andrea Jane Bunker in mid-2022.
Despite their upcoming fight, Elle and Faith kept things mostly friendly between themselves until the fight. Nonetheless, in the end, Elle took the victory against Faith in just a matter of a few minutes.
Regarding whether she'll continue boxing, Faith affirmed that it was a 'complicated' decision. As she affirmed in a TikTok video, things hadn't turned out well with her last boxing trainer, as the 60-year-old man often made sexual comments towards her, which made her feel uncomfortable. The bitter taste that the situation left in her mouth was enough to make Faith step away from the sport.
Faith Ordway will make her boxing debut tomorrow nighthttps://t.co/5nkXqvaUwZ

— Daily Star Sport (@DailyStar_Sport) January 13, 2023
Controversies
Though Faith Ordway's content is mostly light-hearted and funnily entertaining, she's gotten into a fair number of controversies. For a start, in January 2022 she accused fellow online content creator Bryce Hall of pressuring her to kiss him against her will during a hot tub livestream held by Tommy Unold.
According to reports, Faith abandoned the place before the beginning of the stream on Twitch, and her absence was explained by Bryce as her getting upset over something he said. Later on, Faith took to TikTok to claim Bryce wanted the livestream to go on a sexual route, against her wish to keep it humorous, to which he responded by accusing her of wanting 'clout' through his fame. The situation ended in a bitter tone, as both content creators received backlash over it.
Also in 2022, Faith was criticized by fellow American boxer and social media creator Jesse Lannister, who pointed out that Faith's boxing opponent Elle Brooke was at a physical disadvantage for being several inches smaller than her. The feud was fueled further when Faith affirmed that Jesse had 'fallen off' and made snide remarks about her age, and the fact that she was an OnlyFans model with children.
Despite the bad blood between Faith and Jesse, the pair never faced each other in the ring.
Personal Life
Ever since she rose to fame in 2019, Faith Ordway has had one confirmed relationship, but has been romantically linked to a couple of other content creators. Her first rumored romance was with Vinnie Hacker, after the pair appeared on a TikTok together in late 2020.
In 2021, Faith was confirmed to be dating model and content creator Gianluca Conte, with whom she moved in May of that year. The relationship was short-lived though, as that summer Faith confirmed that they'd broken up after realizing they were 'better as friends'. Faith was later romantically linked to Bryce Hall, but they fell apart after their Twitch hot tub controversy in 2022.
Physical Appearance & Net Worth
Given that most of Faith Ordway's content is centered around her appearance, she's well-praised for her looks and commitment to fitness. She's a Caucasian woman with green eyes and natural brown colored hair, though she usually dyes it blonde. She's 5ft 7ins (1.70m) tall and though some reports state that she weighs around 123lbs (56kgs), her weight during her boxing debut was 138.5lbs (62kgs).
Faith's net worth is estimated at $600,000, resulting from her career as a content creator, which includes earnings from sponsorships and views. Nonetheless, Faith's fortune is meant to increase, as she'll surely keep growing as a social media personality.