Gabriella Laberge instantly attracted attention with her apparent beauty and distinctive facial features, such as her dimpled chin and chiseled jawline. However, the audience in the studio who showed up for "America's Got Talent" — "AGT" auditions in season 16, quickly realized that there was much more to the 28-year-old French-Canadian contestant. She placed her violin on her shoulder, ran the bow over its strings, and started singing "Goodbye My Lover" by James Blunt.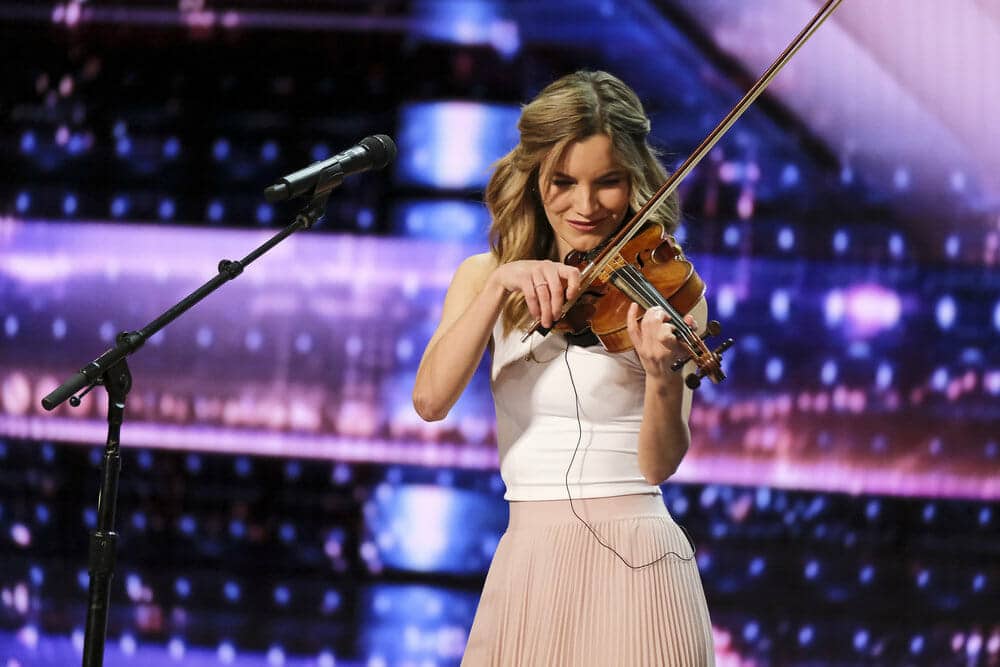 Simon Cowell was visibly uncertain and held his hand over the red buzzer, the button that, if pressed by two or more judges, means that the performance gets cut short and the contestant is disqualified. However, Gabriella's soft tones and growing confidence as the song progressed changed Simon's mind. Gabriella received 'yes' votes from the other three judges, Sofia Vergara, Heidi Klum and Howie Mandell, and proceeded to the deliberations portion of the competition.
Although she failed to place into the Top 36 stage, the judges reviewed her audition before their decision, reminding viewers how great it was. Consequently, Gabriella received an influx of YouTube subscribers and Instagram followers and debuted new songs and an album. Here's what happened.
She capitalized on her auditions
Many viewers of "America's Got Talent" found Gabriella familiar, and rightly so; Gabriella auditioned for "The Voice France," the French version of "The Voice" singing competition, in 2016 with Coldplay's "The Scientist." She didn't win, but promoted her first studio album, established a social media presence, and began recording more music. Gabriella released her second studio album in 2019, the same year she represented France in the Destination Eurovision competition. After a break from recording, during which she performed worldwide and appeared in "AGT," Gabriella returned with an extended play (EP) album and a new single in 2023. She will likely release her third studio album next year, if her history is any indicator.
She started in 2013
Gabriella Laberge, born on 20 May 1993 in Saint-Basile-le-Grand, Quebec, Canada, keeps much of her life private, considering that she's been in the industry for about a decade. However, she revealed a bit about herself during her auditions, such as that she began playing the violin at six. However, Gabriella only considered singing at 11, when she had to stop playing her violin for months, due to a hand injury.
She worked as a backing vocalist for several artists, but began pursuing a solo career after a three-year education in music, composition, and recording. Christian Sbrocca, a singer, songwriter and instrumentalist whom Gabriella considered a friend, helped her start around 2013. Gabriella released songs such as "Cloud In The Sky," "La Surprise," and "Twenty" in 2014, and established her moniker, GABRIELLA. People could hear those songs on select radio stations and buy her EP album, "While the Oak," released on 5 May 2015. She also performed at venues such as Le Théâtre Petit Champlainin Quebec City. However, she wanted wider recognition, particularly in France, the country that she wrote a song about, after the release of her debut full-length studio album, "The Story of Oak & Leafless," on 18 September 2015. Thus, she auditioned for the fifth season of "The Voice France" in 2016.
Gabriella lost in the quarter-finals
During the introduction, she said that she 'wanted to make her violin cry so that the four judges, Florent, Mika, Zazie, and Garou, would turn their chairs around after hearing "The Scientist" by Coldplay,' Pressing the button to rotate the chair is what a judge does when they want to mentor a contestant. Mika wanted her on his team, and she accepted, but getting to the next state required her to battle another contestant, Ilowna. After performing "Castle In the Snow" by The Avener and Kadebostany, she won the duel.
Gabriella then sang a French song by Julien Clerc, "Make me a place," and surprisingly played the guitar instead of her violin. In doing so, Gabriella won the Ultimate Test round and proceeded to the Bonus 1 round of the Grand Live Shows, where she performed "Stressed Out" by Twenty One Pilots. Although she performed well, many talented people reached that stage, and only the public votes saved her. In the quarter-finals, Gabriella sang "As free as me" by Calogero, but was eliminated.
"The Voice France" was crucial
Before her time in "The Voice," Gabriella uploaded videos of her live performances, often in parks or on the streets, each entitled "An Oak Session," followed by the song's name or the location. That briefly resumed when she recorded herself playing the piano and singing "Million Lights," one of her favorite songs from her first album. However, she quickly transitioned to posting music videos for other songs on the album, with a few covers and acoustic versions until 2019. During that time, her songs could be heard in TV shows such as "Mohawk Girls" and "Lance et Compte," meaning "He Shoots, He Scores."
In May 2019, Gabriella upped the video production quality by releasing the music video for "On cherche" or "Never get enough" in collaboration with Parce Que Films. A few days later, she premiered the music video for "Étrangère" or "Foreign," her debut single from the upcoming studio album. Gabriella released the eponymous studio album with 13 tracks on 20 September 2019, and that was when she represented France with "Never get enough" in the Destination Eurovision 2019 contest, the national song selection competition for the Eurovision Song Contest, so the timing was intentional. Unfortunately, she lost in the semi-finals, and Bilal Hassani represented France with the track "Roi."
"AGT" brought global recognition
Gabriella undoubtedly sought victory in "America's Got Talent", but was quickly disqualified. She said that she had watched the show weekly while it was on TV and dreamed of competing, knowing that it would benefit her career. When Gabriella auditioned in July 2021, Simon was reluctant as he thought that she was only a violin act. Thankfully, he didn't jump to his conclusion, and all four judges rose to give Gabriella a standing ovation as tears streamed down her face. All four agreed to let her through to the next round, but eliminated her when they had to make the tough choice of picking the 36 best contestants out of roughly 150.
Gabriella released a live version of "Goodbye My Lover" in August, then sang the American and Canadian national anthems for The Laval Rocket, the professional ice hockey team based in Laval, Quebec, Canada, during their game in early August 2022. Gabrielle also performed after one match by the Alouettes de Montreal football team.
Gabriella publicly revealed that she admired Joe Dassin, an American-French singer, songwriter and actor. Thus, she was ecstatic when Garou, one of "The Voice France" judges, contacted her in the spring of 2022. She spent four days in the studio helping him record the "Garou Plays Dassin" album, which he released on 4 November of that year. Gabriella performed many live shows in 2022, including 13 private ones in 11 days in Paris and Italy. She also sang at 12 concerts for the KGKL Fund and Washington Kids Foundation with Sarah McLachlan, and one at the Windsor Station in Montreal, when she raised $2 million for the MUHC Foundation in one evening.
She recently released an album
Gabriella mostly stuck to performing or mentioning songs from her extensive repertoire until 3 February 2023, when she uploaded the music video for "Crucial Conversation" onto YouTube. That brought attention to her EP "Echoes of Dreams," which contained four other pop songs, released independently on 24 February. She wrote "Arcade in Me" in 2017, but couldn't broadcast the song because it didn't fit her style, despite being her favorite to perform. Videos of her performing her latest songs live at home followed until April. When the hype rose to the level that she wanted, Gabriella announced the release of her single, "5 AM" on 26 May 2023, followed by the music video in July, and the acoustic version in September.
Gabriella wrote the song because she heard that waking up at 5 a.m. gives people the power to start the day productively. She did it for a month while writing the lyrics and the melody, and felt inner peace, cut her alcohol intake, spent less time using her electronic devices, and began to meditate. Receiving so much positive feedback made Gabriella even happier that she'd experimented. On that note, Gabriella said that the song "Unwritten" by Natasha Bedingfield makes her eager to wake up at 5 a.m., adding that "The Winner Takes It All" by ABBA is her favorite sad song, and has one of her favorite melodies.
Gabriella is growing her brand
Her recent releases brought attention to her social media and her two websites. Her oldest one, ThisIsGabriella.com, lets fans listen to her music, see when she tours, contact her, or read the latest news. It also links to GabriellaWorld.com, her merchandise website, where she primarily sells digital copies of her studio albums and EPs. However, fans can also acquire a signed physical version of her latest EP with a surprise that she packs personally.
Gabriella's had a busy 2023 so far, performing at venues in France, mainly in Paris and Nice, and in Mexico and Canada. She's spent the most time in her home country, singing and playing the violin in places such as Coco Opera Garnier, Granada Theatre in Sherbrooke, and Ritz-Carlton Montreal and during charitable events such as Souper Spectacle and fundraisers by Israel Cancer Research Fund (ICRF) Montreal. Gabriella rested from her busy schedule at the Snowbird rental in Hollywood, Florida, in March and took another vacation in August, which she used to ride her bicycle around, instead of driving.
Throughout 2023, Gabriella posted professionally edited pictures by photographers such as Mara Lafontan and studios such as The Lael Agency. She also promoted brands such as My Ora Hair and Mademoiselle EartH. Gabriella was also a guest in the fourth episode of the French podcast  "Talent to Follow" in June 2023.
She likely isn't dating
Gabriella enjoys wearing jewelry, so some fans incorrectly spotted a ring on her wedding finger a few times in her career. On a closer look, the suspicious ringer is usually on her right hand's middle finger, particularly in "The Voice France." Moreover, Gabriella has never mentioned a significant other, and no romantic partner was publicly in the audience during her competitions.
Fans who follow her on social media often assume that she;s dating the instrumentalist Zandar Howard Scott. However, Gabriella dispelled that rumor by wishing him a happy 30th birthday in mid-2023, explaining that they'd played more than 150 shows worldwide in eight years of knowing each other, and that he was her best friend, whom she considers a brother. Moreover, Zandar wears a wedding band, so he's taken.