Who is Gina Gershon?
Gina is an American actress, musician, and author. Her breakthrough performance came in 1995, with her role as Cristal Connors in the cult classic film "Showgirls". She has also been recognized for her performances in other notable films such as "Bound" and "Face/Off", and her recurring roles on television series such as "Curb Your Enthusiasm" and "Rescue Me". Apart from acting, she's released music and co-written a novel, showcasing her range of creative talents.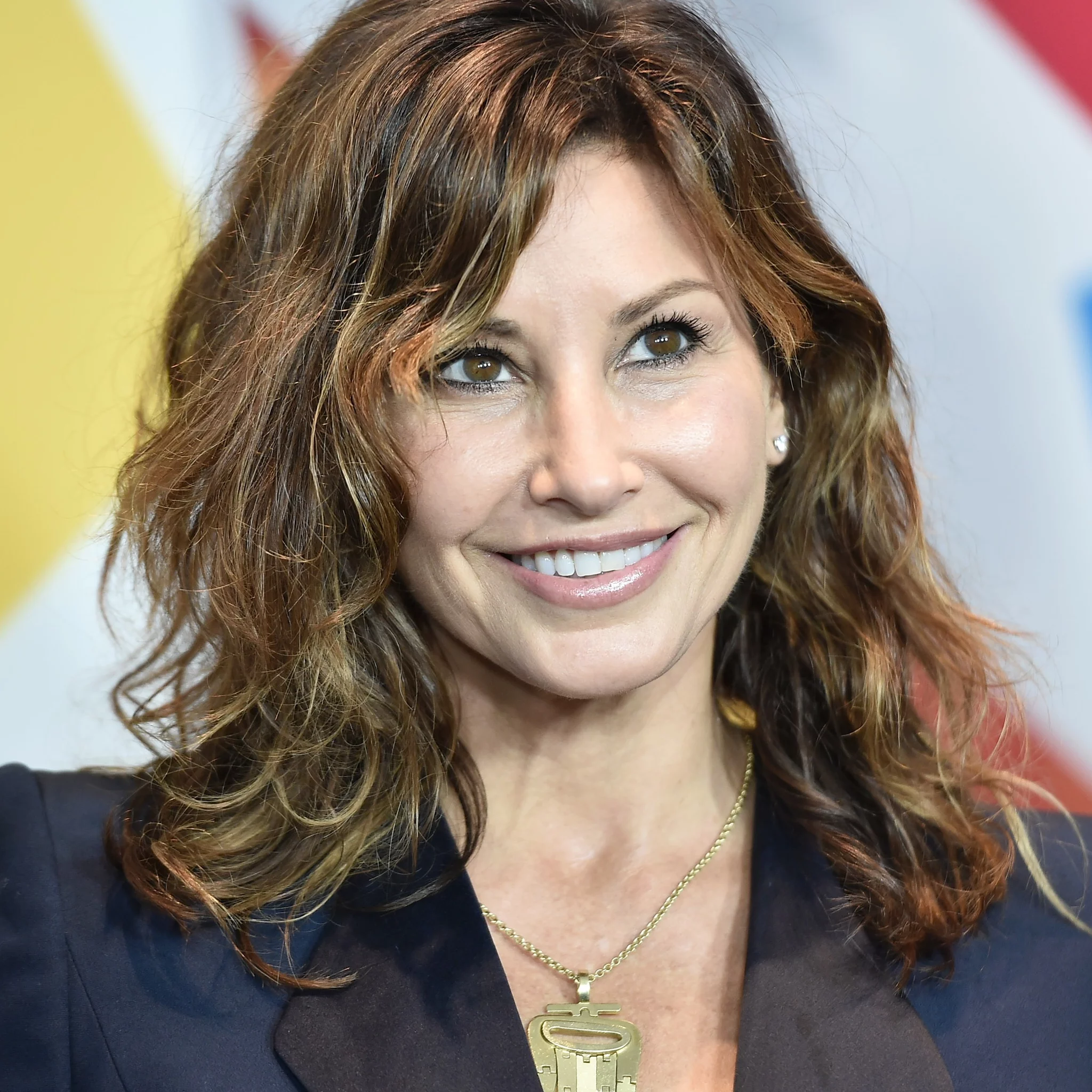 Early Life and Education
Gina Gershon was born on 10 June 1962, in Los Angeles, California, growing up in the San Fernando neighborhood, where she was raised in a Jewish family, alongside her older brother and sister.
Gina attended Collier Street Elementary School and then Woodland Hills Academy, where her love for acting first began to blossom. After graduating high school, Gina headed to the East Coast, where she attended Emerson College in Boston for a year. However, after her freshman year, her passion for the stage led her to transfer to the prestigious Tisch School of the Arts at New York University.
Roles in Movies
Gina's cinematic journey began with a series of small parts and supporting roles in the 1980s, in movies such as "Pretty in Pink" (1986), "Red Heat" (1988), and "Suffering Bastards" (1989). However, it wasn't until the mid-'90s that Gina found her breakthrough role, portraying the magnetic and ruthless Cristal Connors in the controversial film "Showgirls" (1995). Despite the movie's initial reception, Gina's nuanced performance gained attention, and the film has since gained a cult following.
Gina's next significant role came in the Wachowskis' neo-noir crime thriller "Bound" (1996). Gina played Corky, an ex-con who falls into a turbulent relationship and a daring plot with her seductive neighbor, Violet, played by Jennifer Tilly. In a time when representation was not a common aspect in mainstream cinema, Gina's performance as a lesbian character was ahead of its time, and her portrayal of Corky earned her widespread acclaim, further cementing her position in Hollywood.
In 1997, Gina appeared alongside renowned actors John Travolta and Nicolas Cage in the hit action thriller "Face/Off", directed by John Woo. Three years later, she starred in the sports drama "Driven", centered on the world of competitive racing.
In 2002, she starred in the award-winning thriller "Demonlover", depicting a power struggle between a French corporation and an American web media company over the rights for a manga pornography studio. In the following years, Gina had starring roles in movies such as "Prey for Rock & Roll" (2003), "Dreamland" (2006), and "P. S. I Love You" (2007).
Gina Gershon is the only woman talented, sexy and daring enough to pull off Sharla in Killer Joe. If you haven't seen her performance, then you're seriously missing out.

Posted by Killer Joe on Wednesday, August 22, 2012
Another notable performance of Gina's was in the psychological thriller "Killer Joe" (2011), starring alongside Matthew McConaughey, playing the role of Sharla Smith, the stepmother of a drug dealer who hires a hitman to kill his own mother for insurance money. Gina's performance was praised, and earned her a Saturn Award nomination for Best Supporting Actress.
Gina made a notable appearance in the 2015 film "Staten Island Summer", a coming-of-age comedy in which she played the role of Mary Ellen, an attractive older woman who becomes the object of affection for a young lifeguard. Her performance brought a humorous and playful element to the film, showcasing her versatility in handling comedic roles.
In 2017, Gina appeared in "Inconceivable", a psychological thriller in which she played Angela, a mother who becomes suspicious of her new nanny. In the action thriller "9/11" (2017), Gina played Eve, a woman who gets trapped in an elevator in the North Tower following the 9/11 attacks. The film received mixed reviews, but Gina's performance was praised for bringing depth and humanity to a tense, emotionally-charged story.
Throughout the decade, Gina also had roles in films including "Blockers" (2018), a comedy in whre she played Cathy, the mother of one of the main characters, and "The Mimic" (2020), a ichirky comedy-thriller portraying the character named The Kid.
Most recently, in 2022, she had a supporting role in the crime thriller drama "Emily the Criminal", written and directed by John Patton Ford, and which starred Aubrey Plaza, Theo Rossi and Bernardo Badillo.
Roles in TV Series
Gina made her TV series debut in 1987, when she appeared in an episode of the horror anthology series "The Twilight Zone". Through the 1990s, she appeared in episodic roles in shows such as "Cop Rock", "Sinatra", and "Melrose Place", but was primarily focused on her film work.
In the USA Network's crime series "Snoops" (1999), Gina starred as Glenn Hall, a private investigator known for using unconventional methods, and having an unparalleled drive to solve her cases. Despite the series' short run, Gina left a lasting impression, further demonstrating her knack for seamlessly blending into a diverse range of characters and narratives.
In the 2000s, Gina made appearances in numerous series, including "Just Shoot Me", "Kevin Hill", and "Ugly Betty".
From 2007 through 2009, Gina delivered an intense performance in the acclaimed FX series "Rescue Me", playing the role of Valerie, a woman grappling with the fallout of her brother's death, a firefighter who died on 9/11.
Another notable role for Gina was in the HBO comedy-drama "How to Make It in America" (2011), created by Ian Edelman, and which starred Bryan Greenberg, Lake Bell, and Victor Rasuk as a friends group from New York City navigating their early 20s.
In 2013 and 2014, Gina starred in the action series "Cleaners", in the role of 'Mother', the boss to two female contract killers. From 2015 through 2017, she played the recurring character Fay Getty, in the coming-of-age comedy "Red Oaks".
In "Brooklyn Nine-Nine" (2017), Gina had a recurring guest role as Lieutenant Melanie Hawkins; as a high-ranking officer, she becomes a mentor to Jake Peralta (Andy Samberg) and Rosa Diaz (Stephanie Beatriz).
More recently, in 2022, she played herself in an episode of the horror thriller "Chucky", centered on a haunted vintage doll.
In addition to live action roles, Gina has ventured into the realm of voice acting with the animated series "Tales from the Crypt" (2000), in which she voiced the character Six. Since then, she's lent her voice in several popular animated series, including "American Dad!" (2005), "The Batman" (2004-2007), and "Lost in Oz" (2017-2018)
Theatre Career
Apart from her work in film and on television, Gina is an accomplished stage actress. She made her Broadway debut in 1991 in the play "The Substance of Fire", and Gina's passion for theatre has led her to feature in several other productions, most notably as Sally Bowles in the 2001 Broadway revival of "Cabaret".
In 2010, Gina took to the stage once again, this time in the role of Rosie Alvarez in "Bye Bye Birdie". Her performance was celebrated for bringing a fresh take to a classic character, proving that Gina's talents were not limited to film and TV.
Love Life and Relationships
While Gina's professional life has been widely publicized, she has managed to keep her personal life relatively private. She was in a long-term relationship with entrepreneur Robert 'Bobby' Dekeyser from 2015 to 2018. Despite the occasional rumors linking her with other high-profile individuals, Gina has always prioritized maintaining her privacy and the confidentiality of her relationships.
Hobbies and Interesting Facts
Outside of her work, Gina has a wide range of interests to keep her occupied. She's a skilled Jaw harp player, and she can be heard playing the instrument in the Scissor Sisters' 2006 song "I Can't Decide", as well as Paul Simon's and Herbie Hancock's "I Do It For Your Love".
In 2007, Gina and her brother Dann co-wrote the children's novel "Camp Creepy Time". She also wrote the novel "In Search of Cleo: How I Found My Pussy and Lost My Mind", which echoes her love for her pet cat, Cleo.
Notably, Gina is a passionate supporter of various charities and is especially active in organizations focusing on AIDS research and patient care.
Net Worth
With a successful and diverse career spanning several decades in the entertainment industry, Gina has amassed a considerable net worth; as of August 2023, it's estimated to be around $8 million.