If you want to know whether someone is a boomer, Gen X, Millennial, or Gen Z, ask them to name one Forrester in "The Bold and the Beautiful." Boomers are likely to name Eric Forrester while Gen X name Ridge or Thorne. Millennials and older Gen Zs will unilaterally name Steffy as the most memorable member of the Forrester family. Ask any fan of the show who among the several actresses who have played the role is the most memorable and they are likely to say Jacqueline Wood, with good reason, because Jacqueline has embodied the rich but emotionally starved millennial to perfection since she took on the role in 2008. Over the years, Jacqueline has taken a few breaks from the show and is expected to take another hiatus soon. What does she do on her breaks and what else is she doing now? Let's peek into her personal life and explore the highlights of her acting career to find out.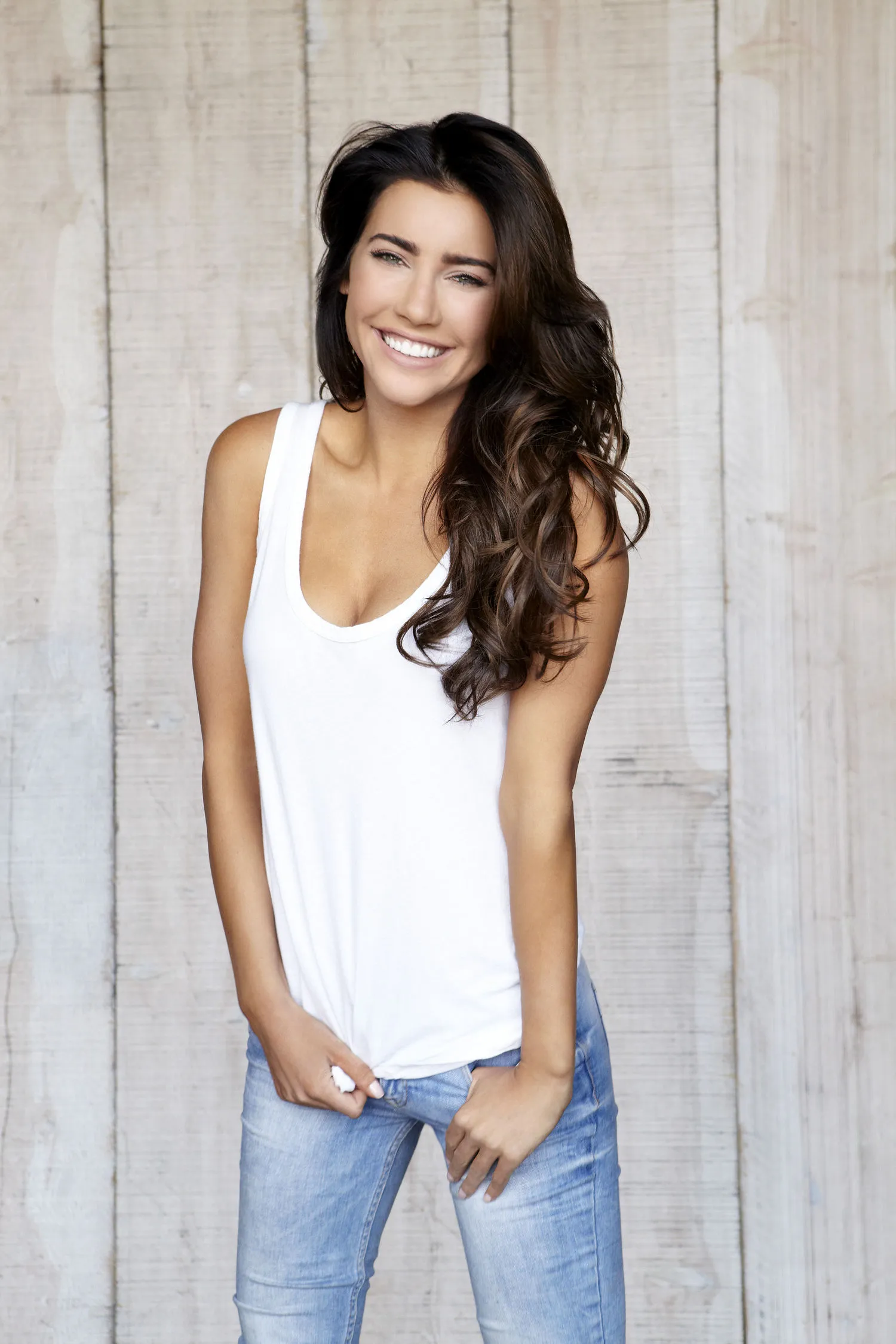 The Big Leap
Jacqueline MacInnes Wood is a Canadian-born actress who is most known for her role as Steffy in "The Bold and the Beautiful." She was born and raised in Windsor, Ontario into a family with a rich ancestry. She boasts of a diverse heritage with Indigenous, French, Scottish, and Brazilian roots. Before she became a household name in daytime television, Jacqueline Wood was a model. She landed her first major role as a model just after she turned 18 when First Choice Haircutter, a hair salon company, cast her as a hair girl in a commercial. Her face was on television for the three-year duration for which the commercial ran.
After her first taste of television and fame, Jacqueline wanted more. She made a big leap and left Windsor for Toronto hoping to debut her acting career. In her first year as an aspiring actress, Jacqueline landed one role in television. She was cast in an episode of "Runaway." Although her role was minor, she delivered a heart-felt performance that earned her three small roles in the next two years before heading to Los Angeles in 2018 to try her luck in Hollywood. Within three days, her agent told her the news that would change her life. She had been invited to audition for the role of Steffy. She must have impressed the director because she got a call back and booked the role.
Steffy Forrester
Jacqueline's acting talent shines in her portrayal of Steffy. According to the actress, she is the complete opposite of the rich bold, strong-willed, and spoilt woman she has portrayed for over 25 years. However, Wood enjoys letting loose through Steffy and getting to do things that she wouldn't do in real life. Her first act as Steffy was taking Donna Logan head-on for taking over the Forrester family business. After establishing herself as a formidable force in the business, the character took a bold step in her personal life when she started dating her twin sister's ex, Rick. For years since that moment, Steffy engaged in underhanded means to one-up her sister in their battle for Rick's attention until she set her eyes on, fell in love with, and finally another man, but not before having a child with Rick.
Steffy Forrester and her luscious locks deserve wind machine treatment! http://t.co/WcGg2Loa31 #BoldandBeautiful pic.twitter.com/AUanrP8QfD

— Bold & The Beautiful (@BandB_CBS) October 6, 2015
Wood has shown her range as an actress in the wide range of emotions she has portrayed authentically in the different seasons of Steffy's life. She has shown tenacity when fighting her sister for Rick's attention and later when fighting Hope for a place in Liam's life, depicted utter desolation when she lost her unborn child, physical pain in the episode in which she delivered her son through a home birth, and contentment when she finally settled down in a healthy relationship in which her affection was reciprocated.
Other Roles
Landing the role of Steffy was a monumental moment for Wood's career but it did not stop her from auditioning for and booking other roles. Every time she lands a role whose filming schedule crashes with her role as Steffy, Wood takes a break and either asks to be written out of the show for some time or works overtime to film all her scenes beforehand. The first time she asked to reduce her screen time in "The Bold and the Beautiful" was in 2011, when she took a hiatus to film "Final Destination." She worked with the director and producers to film her scenes ahead of time and was back on set in December. Jacqueline has taken other breaks, with the show's executives choosing not to recast her since she plans her absences and returns every time. Besides, recasting Steffy would alienate fans, who cannot get enough of Jacqueline.
Nominations and Awards
Besides "Final Destination 5," Jacqueline has had roles in an episode of "Anger Management," "Chelsea," "South Beach," and "Her Husband's Betrayal." She was also among the initial cast of "Arrow" and was featured in the premiere episode of the series but was recast due to scheduling conflicts. Of all her roles, Jacqueline's role as Steffy remains the most iconic one, which has earned her several accolades, including 11 nominations for Best and outstanding actress. Out of the 11 nominations, Jacquelin has won four. She won the "Daytime Emmy Award" for "Outstanding Lead Actress in a Drama Series" in 2019 and 2021, and the "Soap Hub Award" for Favorite Actress in "The Bold and the Beautiful" in 2020, and 2021.
A Woman of Many Talents
Acting is Jacqueline's main profession but she has dabbled in other performing arts over the years. For instance, in 2012, she dipped her toes in the music industry with the release of two singles "After Hours" and Girl You Knew" under the pseudonym "Jacqui Mac." In the year before, Jacqueline had made her debut as a video vixen when she was featured in the music video of Miles Fisher's song "New Romance." Besides singing and her one-time role as a video vixen, Jacqueline is a professional DJ. She deejays under the name "Jacqui Mac." Finally, Wood is a television host most known for her stint as the host of "Party On" on "E!"
Family First
Away from television and music, Jacqueline is a family-oriented wife and mother. She married Elan Ruspoli, a talent manager, in an impromptu wedding in 2018 while the couple was on Vacation in Italy with some family and friends. She had their first child, a son, the following year. The couple named him Rise to signify growth and moving forward. Since then, Wood has had two more children Lenix and Brando. Jacqueline takes some time off "The Bold and the Beautiful" every time she has a child to spend some time with the newborn.
In April this year, Jacqueline announced the exciting news that she and Elan are expecting their fourth child. In August, she revealed that she was due in two weeks. She has stayed out of the public eye since then as fans eagerly wait for a gender and name reveal. All we know for sure is that she is taking a break from filming to bond with the baby after opting not to renew her contract earlier in the year. Don't worry, we have confirmation that she will be back as she is only taking a break like she has done many times before.