Kristina Lilley
Born on 31st August 1963, in New York City, USA, Kristina Lilley is an American-Norwegian actress with Colombian citizenship, who moved to the country at just three years old. The Lilley family possibly moved to Colombia for work-related reasons, as Kristina's father, John, was an American diplomat. Her mother, Ellen Christensen, is believed to have been a housewife.
Prior to becoming an actress, Kristina, who is fluent in Spanish and English, studied biology at the Pontifical Xavierian University, one of the oldest and most prestigious Colombian universities known for educating the country's young elite.
TV Career
Kristina's acting career commenced way back in 1976 with a minor role in "Amigas". Over the next two years, she made various appearances in "The Wilson Family", before taking a decade-long break from the small screen for unspecified reasons.
In the late 1980s, Kristina had small parts in "Jeremias mujeres mías" and "Azúcar". Some of her projects throughout the early 1990s were "Sangre de lobos", "Pasiones secretas", and "Almas de Piedra". Most of the actress's shows were broadcast by Canal A or Canal 1, some of the most famous Colombian channels at the time, although in the late 1990s she became a regular in the Caracol Television shows "Las ejecutivas", "Dios se lo pague", and "La dama del pantano".
Kristina's breakthrough role came in 2003 when she was cast as Gabriela Acevedo in the long-running telenovela "Pasión de Gavilanes", her most famous role to date. The matriarch is tied to many of the show's main characters and is known for ruling over them with an iron fist; for example, when her daughter Norma was raped in season one, Gabriela forced her to marry in order to cover up the unfortunate incident.
Throughout the show, Gabriela was a central part of many storylines. In season two, she discovered that her grandsons had been accused of murder and organized various family meetings to fix the situation. "Pasión de Gavilanes" originally aired from October 2003 to September 2004, with the season lasting 188 episodes, and returned to screens in February 2022. Although the reboot was well-received, it failed to reach the popularity of its 2003 heyday.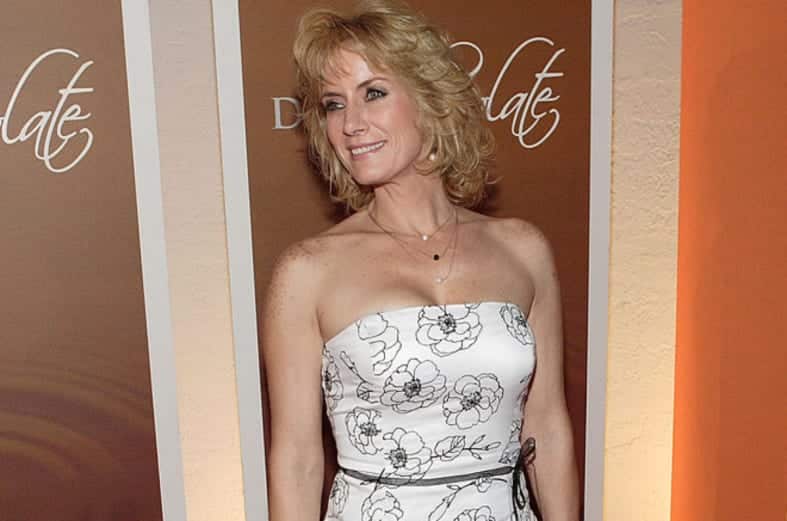 After her first portrayal of Gabriela, Kristina was offered various secondary and leading roles in telenovelas and drama series such as "La mujer en el espejo", "Alma Pirata", and "Dame Chocolate". From 2011 to 2015, she played Eugenia, Lina, and Patricia Salgado in the Caracol Television series "Mujeres al Limite", while also filming for the drama-mystery show "Cumbia Ninja".
Other recurring roles include the actress's portrayal of Elena Vargas de Fernandez in "Dulce amor" and her depiction of Maria Eugenia Dominguez in "Heart's Decree", which aired from 2016 to 2019. The last decade has seen Kristina collaborate frequently with Caracol Television on shows such as "La mamá de 10", "La nocturna", and "La venganza de Analía".
Kristina's most recent TV roles have been that of Lucía Ponce de León in "Lala's Spa" and Sofia de Mackenzie in "Nurses".
Film Career
Kristina made her movie debut in the 2004 production "Rosario Tijeras" with a role as Emilio's mother. Three years later, she had a minor part in "Amores ilícitos", which was followed by a rare English project, "The Whole Truth".
The majority of Kristina's film projects ("Plata o plomo", "El paseo 2", "Cinco") have been low-budget productions that failed to achieve theatrical release. The Hatem Khraiche sci-fi drama, "Orbiter 9", was slightly more successful and premiered in Spanish cinemas in April 2017. Although "Orbiter 9" wasn't a huge success at the Spanish box office, it was nominated for Best European Film at the Brussels International Fantastic Film Festival as well as for the Nueva Vision Award at the Santa Barbara International Film Festival.
@kristililley I'm not really sure in Instagram direct so here it is ♥️ Smile!! pic.twitter.com/wkoNFTJsMV

— Kristina Lilley Fan (@kristililleyfc) May 29, 2016
In 2016, Kristina also had a role in the Greg McLean horror film "The Belko Experiment", which made $11.1 million against a $5 million budget and starred Tony Goldwyn, Adria Arjona, and Melonie Diaz. The movie premiered at the Toronto International Film Festival and pulled out all the stops in the marketing department with a virtual reality videogame.
Since then, Kristina has played Barbara Clark in "Regreso a casa", Celia in "¿Cómo te llamas?", and Francisca Suárez in "Perseguida". Her last movie role was in 2019.
Personal Life
Kristina married her first husband, Oscar Suarez, at a young age, and had two daughters with him. The couple divorced in 2003, and six years later she began a relationship with Colombian philosopher Mauricio Lombana. According to Colombian gossip blogs, Kristina and Mauricio met at a mutual friend's birthday party and hit it off immediately; however, they have since broken up.
In November 2022, it became public knowledge that Kristina had been diagnosed with breast cancer for the second time. This is the third time the actress has battled against the disease, as she was previously diagnosed with cervical cancer, which she overcame in 2010 – according to some sources, she was diagnosed with breast and cervical cancer at the same time.
"Today was my last chemotherapy session," she told Instagram in May 2023. "It was a day full of laughter and tears, a day of finishing an old cycle to begin a new cycle in my life. A day spent with family, a few weeks of rest, and now, with new energies for whatever comes my way." [Translated from Spanish]
The "Pasión de Gavilanes" star has recently taken to Instagram to promote breast cancer awareness, and share her journey. According to the actress, her family is her number-one support system and deals with difficult days by "accepting my feelings, living them, honoring them, and moving on." Although the TV star is no stranger to chemotherapy and its side effects, she previously posted a video of herself crying after shaving off her hair, but thanked her loved ones for staying by her side throughout the difficult process.
Online sources list Kristina's net worth at as much as $5 million. The TV matriarch is 5ft 7in (170cm) tall.