Who is Manu Bennett?
New Zealand actor Jonathan Manu Bennett was born in Rotorua, New Zealand, on 10 October 1969, making Libra his zodiac sign. He has 38 acting credits, and is perhaps known best for portraying one of the lead characters Crixus in all 33 episodes of the critically acclaimed biographical action adventure series "Spartacus", which also starred Lucy Lawless and Andy Whitfield, and was created by Steven S. DeKnight. It follows the life of gladiator Spartacus who led a rebellion against the Romans, the series aired from 2010 through 2013, and won four of its 20 award nominations.
Manu's still today active in the film industry, and is currently shooting for the upcoming film "Notes".
Education and early life
Manu was raised alongside his brother Stephen Bennett in Sydney and Newcastle as the family moved to Australia only a couple of months after Manu was born. His mother Jean Bennett was an Australian model while his New Zealand father Ted Bennett was a singer; Jean died in a car accident when Manu was a teenager, and the accident also put his brother into a two-week coma. He's of British descent from his mother's side and of Maori from his father's.
He studied at Merewether High School, Newcastle and was passionate about many activities during his teenage years, as he loved to play football, surf and run track; Manu's initial plan was to pursue a career as an athlete, and he had no intentions to become an actor.
He transferred to Te Aute College in New Zealand in 1986 and continued playing football there; Manu matriculated in 1988 and then returned to Australia and began playing for the New South Wales Schoolboys Rugby Union Team. As he then became interested in playing the piano and dancing classical ballet, he quit football and enrolled at Lee Strasberg Theatre Institute in Los Angeles, California USA.
Roles in TV series
Manu's debut TV series role was playing one of the main characters Kirk Barsby in 254 episodes of the Australian drama "Paradise Beach", which also starred Robert Coleby and Megan Connolly, and was created by Bevan Lee and Wayne Doyle. It follows the lives of three best friends who like to spend their time listening to music and surfing – the series aired in 1993 and 1994.
The following years saw Manu appear in an episode or two of the crime action "Water Rats", the drama "All Saints" and the drama mini-series "The Violent Earth". In 2000 and 2001, he played Jack Hewitt in seven episodes of the soap opera "Shortland Street", which has aired over 4,200 episodes since 1992, and today stars Ben Mitchell and Michael Galvin. It follows the lives of people working at an Auckland City hospital in New Zealand, and it's won one of its four award nominations. The remainder of the 2000s saw Manu make an appearance in the adventure comedy mini-series "Head Start", the crime drama "Street Legal", and the fantasy horror "Mataku".
Young @manubennett in Mataku movie. So CUTE!!! pic.twitter.com/YUSwflPzos

— Manu Bennett fanclub (@ManuBennettFans) June 18, 2013
In 2011, he reprised his role as Crixus in all six episodes of the biographical action adventure mini-series "Spartacus: Gods of the Arena", which also starred Peter Mensah and John Hannah, and was created by Steven S. DeKnight. It follows the House of Batiatus before the arrival of Spartacus, and the mini-series won one of its five award nominations.
From 2013 through 2020, Manu portrayed Slade Wilson in the action crime adventure "Arrow", which starred Katie Cassidy and Stephen Amell, and was created by Marc Guggenheim and Greg Berlanti. It follows the life of vigilante Oliver Queen aka Arrow and the series won 22 of the 111 awards for which it was nominated.
Manu's since appeared in two more TV series: he played Arlin Frey in six episodes of the 2022 science fiction "Broken Road", and Tamati in six episodes of the 2023 mystery "The Gone".
Roles in movies
Manu's debut film role was playing Steve in the 2001 romantic mystery "Lantana", which starred Geoffrey Rush and Anthony LaPaglia, and was directed by Ray Lawrence. It follows the relationships of four couples and the movie won 36 of its 58 award nominations.
A couple of Manu's following roles were in the 2006 action comedy "The Marine", the 2006 short drama "Tango Trois" and the 2007 action crime thriller "The Condemned". Also in 2007, he played Billy Kitka in the action adventure horror "30 Days of Night", which starred Melissa George and Josh Hartnett, and was directed by David Slade. It follows a gang of vampires as they're attacking an Alaskan city which has been in the darkness for an entire month, and the movie was nominated for 14 awards.
Manu could then have been seen playing Azog in the critically acclaimed film trilogy "The Hobbit", comprising the 2012 "An Unexpected Journey", the 2013 "The Desolation of Smaug" and the 2014 "The Battle of the Five Armies".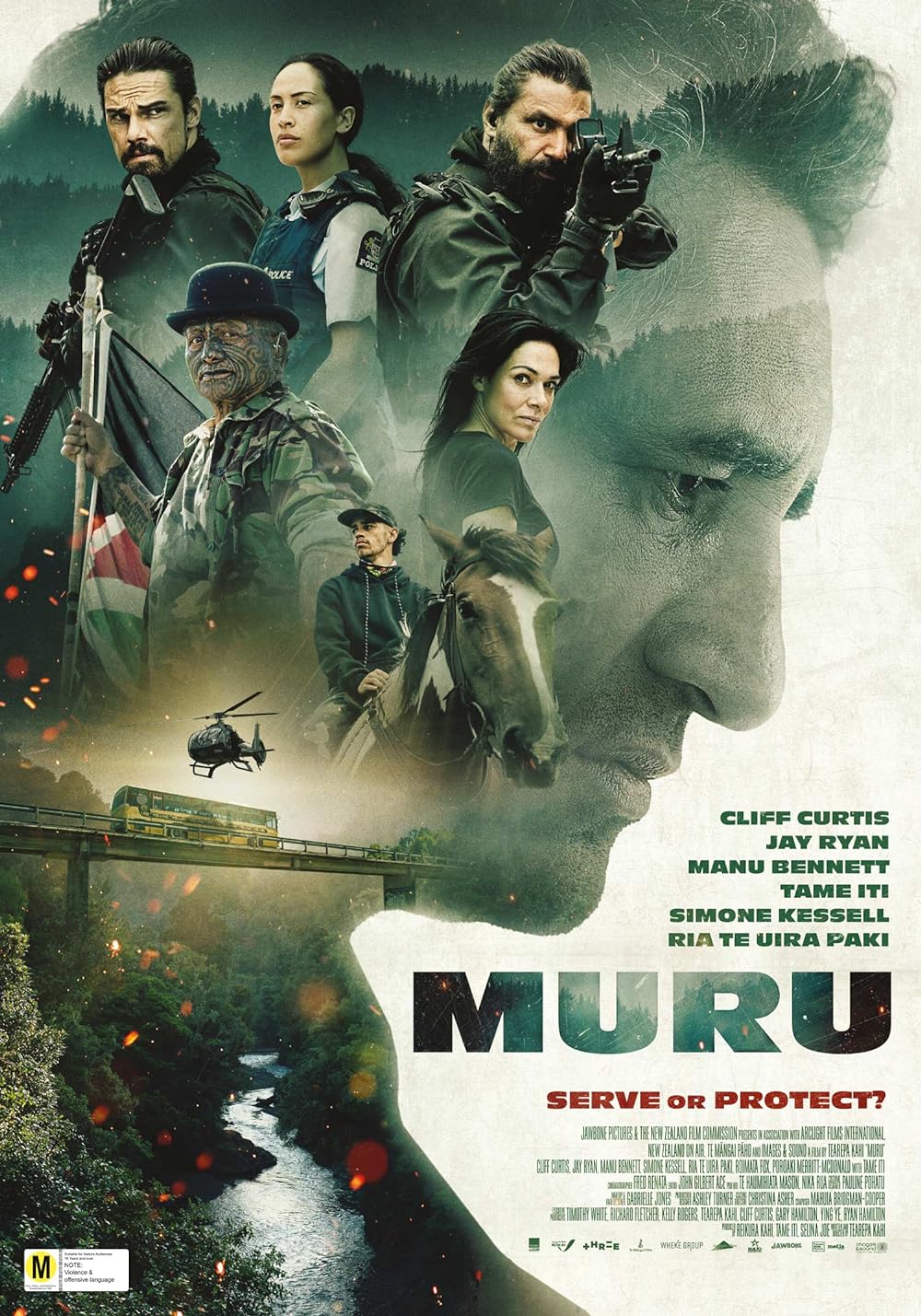 In 2022, he played Kimiora in the action "Muru", which starred Jay Ryan and Cliff Curtis, and was written and directed by Tearepa Kahi. It tells the true story of Police Sergeant 'Taffy' Tawharau who had to choose between his people and his badge when an armed raid was launched through his Ruatoki community on a school day by the Army; the film won a 2022 Asia Pacific Screen UNESCO Award.
Some of Manu's most recent film roles have been in the 2022 short action science fiction "Mobius' Trip" (voice role), and in 2023 the romantic action "Perfect Addiction" and the historical war drama "Pente 5 Five".
Other credits
Manu received special thanks for the 2014 short documentary movie "Arrow: From Vigilante to Hero" and the 2014 biographical documentary film "Showrunners: The Art of Running a TV Show".
He produced and directed the 2006 short drama movie "The Bridge", and he then also produced the 2014 short drama film "The Day After Today", and all 11 episodes of the 2022 science fiction series "Broken Road".
Some of Manu's most recent talk-show appearances have been in "The New Release Wednesday Show", "Hellblazerbiz" and "Surge of Power: Big City Chronicles".
Love life and children
Manu shies away from speaking about his love life in public but it's known that he was in a long-term relationship with Israeli-born Australian woman Karin Horen. The two began dating in 2007 and were together for the following 10 years, during which Karin gave birth to their three children. Karin nowadays often speaks about her relationship with Manu, and has revealed that not all about it was great, as he began spending more time away from home; she wrote about her life with Manu and her fight against breast cancer in her book "I Am More Than Just My Tits", published on 4 October 2019.
There are no other women whom Manu's perhaps been with, that we know about; he was in a long-term relationship with Karin Horen, and they have three children together.
Interesting facts and hobbies
Manu's late uncle once played the piano for the late American singer-songwriter Elvis Presley.
Manu appeared alongside Lucy Lawless in both the 1995 series "Xena: Warrior Princess", and the 2011 series "Spartacus: Gods of the Arena".
Manu's mother was a former Queensland beauty queen.
He and American actress Wendi McLendon-Covey were born on the exact same day.
Close to 400,000 people are following Manu on Instagram today, and he's posted over 2,700 pictures and videos onto the network, with most featuring him appearing in his TV series and movies.
He spends most of his spare time working out at the gym, thus his muscular body.
One of Manu's favorite actors is John Cena, and some of his favorite movies include "Bumblebee", "Trainwreck" and "Playing with Fire".
Appearance and net worth
Manu's age is 53. He has brown hair and eyes, weighs around 190lbs (85kgs) and is 5ft 11ins (1.8m) tall.
Manu's net worth's been estimated at over $1.5 million, as of September 2023.