In the ever-evolving landscape of the entertainment industry, emerging talents often shine through, captivating audiences and critics. Momona Tamada, a young Canadian actress, is a prime example of a rising star, whose talent and charisma have thrust her into the spotlight. At the age of 13, she landed her breakout role as Claudia Kishi in the highly acclaimed Netflix series "The Baby-Sitters Club." It's evident that this talented young actress is poised for an exciting and enduring career in film and on television.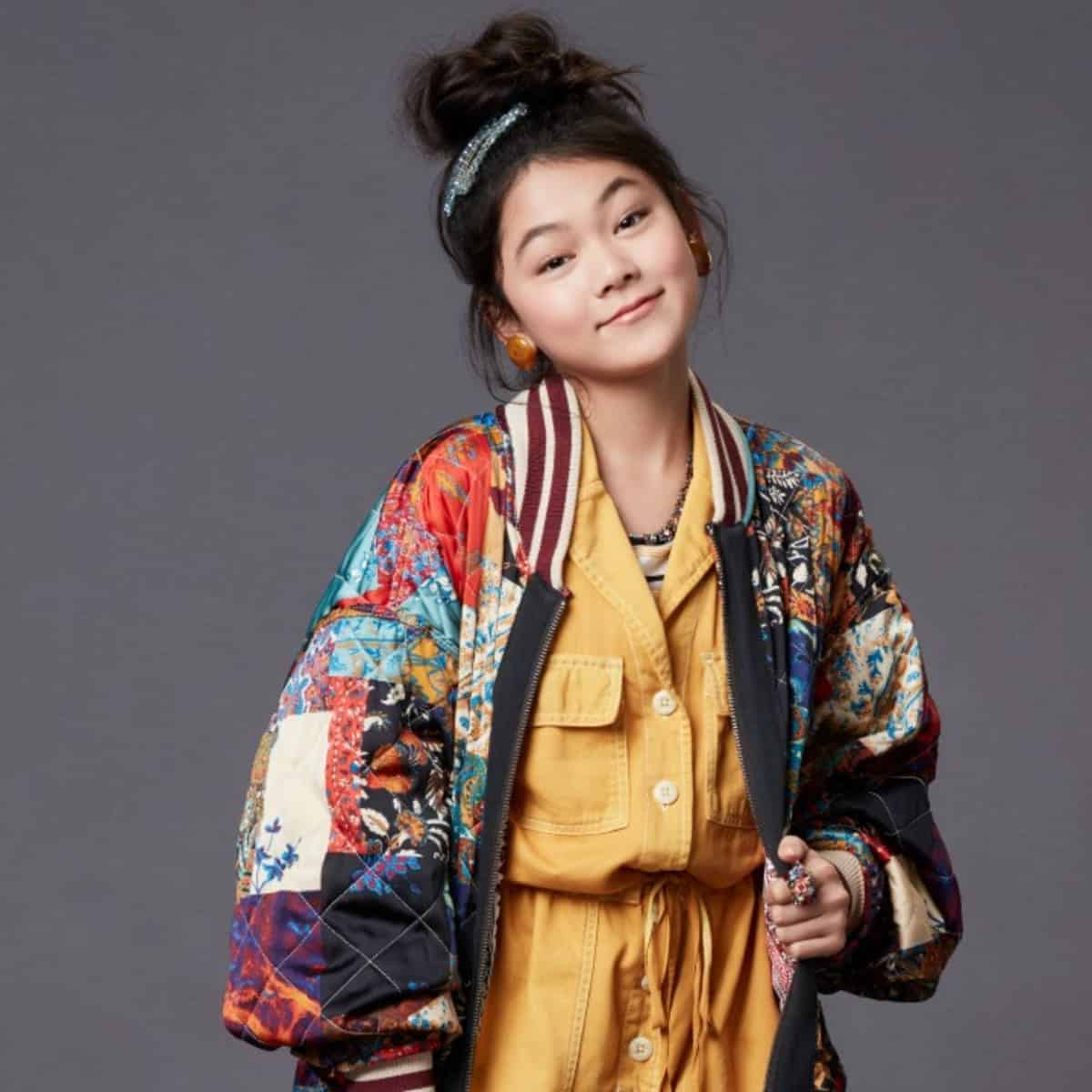 Early Life and Background
Born on 28 September 2006, in Vancouver, British Columbia, Canada, Momona Tamada is of Japanese heritage. From an early age, it was evident that she possessed a remarkable gift for performance, as she began dancing competitively at four years old. Her first solo tap dance performance took place in 2012. She had graced the stage at the B.C. Summer Games Opening Ceremonies, and showcased her talent alongside the prestigious Royal Winnipeg Ballet.
She embarked on her acting career through a talent agency, which recognized her potential after she attended an open call for dancers. To her joy, she emerged as a standout among the 200-plus artists who auditioned, so her agent began to send her to auditions for acting roles. This transition to acting, distinct from her dance background, kindled a fervor for self-expression within her. Each moment was savored, and she yearned eagerly for more opportunities. She received exhilarating news before long – her first acting role was secured. She was around 11 at that time, and since that pivotal moment, her acting journey has been a thrilling and unstoppable adventure.
Her thoughts on acting
Acting felt like a natural fit for her, given her innate passion for expressing emotions in diverse ways, which quickly deepened her affection for the art. Momona possesses a strong inclination for crafting characters that diverge from her own identity. The prospect of fully engaging with unfamiliar roles fills her with excitement. Furthermore, she recognizes the powerful influence of TV and film in inspiring and shaping the lives of many. Drawing from her own experiences, she recalls how her cherished movies and shows during her formative years inspired her, and gave her hope during difficult times. She firmly believes that these forms of media can provide a valuable means of escape for those facing adversity.
Despite her youth, Tamada offers insights into the industry that reflect wisdom beyond her years. In a candid interview, she revealed a valuable lesson she's learned – that when it comes to booking jobs, much of it lies beyond her control. She has come to appreciate the importance of resilience, persevering through the inevitable "no's". Tamada recognizes that even the smallest factors can tip the scales toward a rejection, emphasizing that much of this industry relies on instinct and intuition. Consequently, she's acquired the skill of not being overly critical of herself when it comes to securing new roles, and awaiting responses, acknowledging the inherent unpredictability in this field. She believes this perspective is vital for budding actors navigating the industry's challenges and uncertainties.
People who inspire her
Reflecting on her career journey and the individuals who've inspired her the most, Momona Tamada acknowledges a multitude of people who have influenced her creatively, both professionally and personally. She expresses her admiration for numerous professionals she looks up to, including Gemma Chan, an acting inspiration she dreams of working with, and the Chinese-born Canadian actor Simu Liu, whom she greatly enjoyed watching in "Shang-Chi and the Legend of the Ten Rings." She openly admits to being a total fangirl for the entire cast of that movie.
Moreover, she draws inspiration from the amazing individuals she had the privilege of working with on "The Baby-Sitters Club." They instilled in her the belief that if she conceives an idea, she has the power to make it her own, and can achieve anything she sets her mind to.
On a personal level, Momona finds her family, particularly her mother and grandmother, to be her most profound sources of inspiration. She describes them as exceptionally powerful and independent women, figures she has admired throughout her life, considering herself fortunate to have such role models close to her. As she continues to traverse her career path, she remains open to discovering and learning from new individuals who inspire her.
Early works
Momona began her acting journey in 2019 on Amazon Prime Video in an episode of "The Boys," an adaptation of a comic book series. This unique show is set in a universe where superpowered individuals are celebrated as heroes, and are employed by a corporation that markets and profits from their abilities. In this series, Momona assumed the role of Young Kimiko Miyashiro, also known as "The Female." Kimiko is a member of the Boys, a group of vigilantes, who possesses remarkable super strength and regenerative healing abilities, and is known for her mute character. During that same year, she secured a minor role in AMC's "The Terror," a supernatural horror anthology series, in which she had the opportunity to co-star alongside the legendary George Takei.
In 2020, Momona took on the role of young Lara Jean, the central character in Netflix's teen comedy film, "To All the Boys: P.S. I Still Love You." Working with Lana Condor, whom she idolizes so much as a young Asian Canadian girl, was an incredible experience. She was so honored to be there, and to play the young version of Lana's character.
"The Baby-Sitters Club"
"The Baby-Sitters Club" is a Netflix series adapted from Ann M. Martin's beloved book series of the same name, published from 1986 to 2000, and found international acclaim with translations in numerous languages, accumulating over 180 million copies in sales. Originally brought to the small screen on HBO in 1990, the news of a Netflix reboot sent waves of excitement and anticipation through the hearts of devoted fans.
The series centers on a group of middle-school girls who join forces to establish a babysitting service in the fictional town of Stoneybrook. Each of these young girls brings her unique personality, skills, and individual challenges to the table, forming a compelling narrative as they navigate the diverse babysitting assignments that come their way. In 2020, "The Baby-Sitters Club" was unleashed upon the world through its global release on the American subscription streaming platform, marking a triumphant return for fans, and a delightful introduction for new audiences.
Momona's audition
Momona read the books during her elementary school years, and adored them. When she landed the audition for the reboot, her excitement was boundless. Upon reading the script, she found it particularly fascinating to witness how the writers had skillfully modernized the story, while retaining its timeless and nostalgic essence.
She first auditioned for the role through a self-tape; describing her initial experience, she recalled not hearing back for an extended period, leading her to believe that the opportunity had slipped away. However, much to her delight, about a month later she received an email inviting her for a callback. For this, Momona had the opportunity to engage in a Zoom audition with the show's executive producers, Rachel Shukert and Lucia Aniello, describing the experience as 'fun.'
Subsequently, this led her to Los Angeles for a screen test alongside other potential cast members, to check if they had good chemistry. It was her first time in L.A. for an audition, which naturally evoked a sense of nervousness. Yet, upon her arrival, she found that everyone was exceptionally welcoming, and a strong connection quickly formed among all the girls vying for roles.
Following their audition as an ensemble, the team was called back the next day. To everyone's surprise, they were informed that there had been an issue with the audition tape, and were asked to perform the scene once more. As they were about to leave, the thrilling announcement was made – they had officially landed their roles in "The Baby-Sitters Club." It was a moment etched in memory as one of the best and most exhilarating experiences in Momona's career.
Her Breakthrough Role
Momona Tamada's career experienced a significant turning point when she secured the role of Claudia Kishi in the Netflix series "The Baby-Sitters Club." Known for her artistic flair and impeccable sense of style, Claudia is an immensely adored and influential character, and Momona's portrayal of her was nothing short of extraordinary. She brought this fashion icon to life with authenticity, endearing herself to fans and earning accolades from critics.
Assuming the role of Claudia was a momentous occasion for Momona, and she was immensely grateful for the opportunity. There was a touch of pressure because of what Claudia had accomplished as a character in the books; she apparently broke many stereotypes associated with Asian characters. Over time, her appreciation for Claudia continued to grow, especially as she heard heartfelt stories about how the character had profoundly impacted people's lives. Momona acknowledges that she and Claudia share a lot in common – they both have a bubbly nature and a deep passion for art. She naturally incorporates some of her own personality traits into the character.
The show's portrayal of Claudia's fashion choices has catapulted her into icon status, consistently inciting fervor among online fans. She warmly embraces the exhilarating experience of embodying a character celebrated for her impeccable fashion sense. She's equally fascinated by the excitement around Claudia's wardrobe – she couldn't help but be a big fan herself when she first wore those fabulous outfits.
Cancellation of "The Baby-Sitters Club"
"The Baby-Sitters Club" was a critically acclaimed series, achieving a rare and perfect approval score of 100% on Rotten Tomatoes throughout its two-season run. However, to the dismay of fans, Netflix made the heartbreaking decision to cancel the show in March 2022. In line with their usual practice, Netflix didn't immediately disclose the specific reasons for the cancellation. With no controversies, scandals involving the cast, or production-related conflicts, fans were left to speculate that the most probable cause behind Netflix's decision was the show's underwhelming ratings.
In spite of earning accolades from various award-giving bodies, including the Children's and Family Emmy Awards for Outstanding Series, and nurturing a dedicated fan base, "The Baby-Sitters Club" was unable to capture a broad audience – its second season struggled to secure a spot in Nielsen's Top 10 weekly streaming rankings. Adding to this, the season only managed to break into Netflix's Top 10 for a single week, securing ninth position. Many attributed this predicament to Netflix's inadequate promotion and marketing of the series. It was disheartening to learn that a significant number of fans of the original books were even unaware of the show's existence, until news of its cancellation surfaced.
Growth as an actress
Despite "The Baby-Sitters Club's" brief two-season run, Momona's portrayal of Claudia Kishi garnered favorable reviews. This success opened doors to more opportunities, contributing to her growth as an actress. In 2022, she was cast in the role of Maya Monroe in the superhero comedy "Secret Headquarters", in which she shared the screen with Owen Wilson, who held a leading role.
She described her experience in that movie as entirely unique, since it allowed her to immerse herself in a fresh character, and collaborate with incredibly talented individuals. Momona views this as one of the most enriching experiences she's ever encountered. Being on that set served as a defining moment, that made her realize how integral acting had become in her life, and she couldn't imagine a future without it.
Future plans
In an interview, Momona expressed her aspiration to venture into directing, writing and producing in the future. While she's in no hurry to dive into these roles, her genuine interest in working behind the camera has always been a part of her. She envisions herself as a part of the emerging generation of filmmakers, believing that they have important stories to share, and she eagerly anticipates what they can all accomplish.
Meanwhile, fans are eagerly awaiting her next project, the adventure-fantasy series "Avatar: The Last Airbender," scheduled for a Netflix release in 2024. This live-action adaptation of the beloved animated TV series features Momona in the role of Ty Lee, a skilled acrobatic friend of Princess Azula. Ty Lee possesses expertise in chi-blocking, an ancient technique that disrupts a bender's abilities by blocking their chi. Many see her as a perfect fit for this role, given her background in dance, which aligns with Ty Lee's character traits. Interestingly, she once expressed her enthusiasm for venturing into various genres of acting, such as action. Given her background as a dancer, and her enjoyment of activities such as tumbling, she contemplated the possibility of incorporating those skills into her roles.
Momona was also among the cast of "The Spiderwick Chronicles," a project intended for Disney+ in 2022. However, it didn't come to fruition, even if it was already completed. Instead, the series was later picked up by the Roku Channel, and is now scheduled for an eight-episode release in early 2024.
Personal Life
Like many young celebrities, Momona Tamada values her privacy, maintaining a relatively low profile regarding her personal life. This allowed her to balance the demands of fame with a sense of normalcy, preserving her individuality and personal space. Naturally, her fans are curious about her dating life, however, at 17 years old, Momona is presently unattached and not in a romantic relationship. She often posts pictures with friends and fellow actors, but you won't find any photos of a romantic partner on her social media. It seems she's really focused on her career.
Appearance
Momona Tamada stands at a height of 5ft (153cms) and maintains a weight of approximately 100lbs (46kgs). Her physique leans towards the slim side, with body measurements of 28-26-29 inches. She boasts a striking combination of black hair and deep brown eyes.
Net worth
Despite her relatively recent entry into the industry, Momona Tamada has already secured her breakout role in "The Baby-Sitters Club." This pivotal opportunity not only earned her a dedicated fan base but also ushered in a multitude of new prospects in her career. According to authoritative sources, her estimated net worth is close to $4 million, as of October 2023.
Momona Tamada's swift ascent in the entertainment industry has been nothing short of remarkable. Her authenticity, dedication to her craft, and the emotional depth she brought to her roles set her apart as a promising young actress. With "The Baby-Sitters Club" under her belt, she solidified her place as a captivating talent in the industry. What's striking is her ability to maintain a clean and positive public image, entirely devoid of major controversies or scandals. This not only reflects her professionalism, but also endears her further to fans and industry peers alike.