Nutsa Buzaladze is a Georgian-born lady who traveled 17 hours from Dubai, UAE, where she resided, to Las Vegas, Nevada, USA, to audition for the 21st season of the ABC TV show "American Idol." Although her voice charmed Luke Bryan, Katy Perry and Lionel Richie, the three singing competition judges, Katy thought that 'she did too much' when she sang "Lady Marmalade" by Pink, Mýa, Lil' Kim, and Christina Aguilera. Thankfully, Nutsa got a green light after performing the second song, Whitney Houston's "Greatest Love of All."
Nutsa completed the three stages of the Hollywood Round, then battled her way into the Top 12 before her elimination. Although Nutsa wanted to win, she'd dreamed about going to Hollywood since she was seven, and the competition was a stepping stone in her carefully planned career. Here's what she did after the contest ended.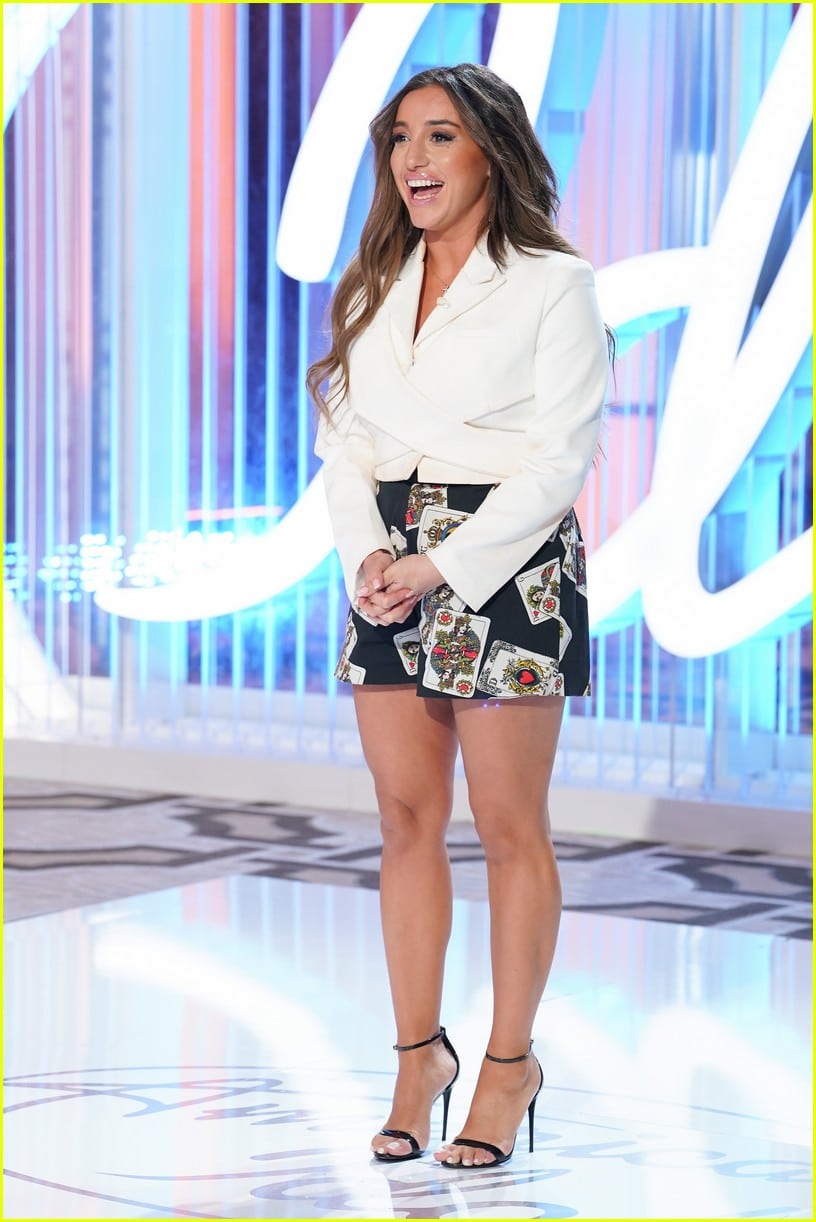 Her career is taking off
Immediately after her elimination, Nutsa said that she'd stay in Hollywood instead of returning to Dubai or Tbilisi, Georgia, her hometown. Nutsa had a limited period to prove her commitment, but has made several significant career moves since the 21st season of the show ended on 21 May 2023. She modeled more, became increasingly active on social media, and started networking by meeting influential people in Hollywood. Nutsa signed with a talent management agency after releasing one single, "Alone," and is growing her multi-industry brand, which will soon include clothing, fashion collections, and a fragrance line. Moreover, she began recording her hit single in August, and plans to release a new album. Moreover, while there are no hints of a romantic partner, Nutsa is committed to inspiring women to pursue their goals.
Nutsa was an accomplished singer
Many "American Idol" viewers don't realize that the show was a logical continuation of her career. Nutsa established her name in Europe by competing and performing since she was eight. One of the earliest notable competitions was when she reached the "Georgia's Got Talent" semi-finals in 2011. Moreover, she participated in the Georgian version of "Dancing with the Stars" and even lived in Turkey, eventually reaching the semi-finals of the local version of "The Voice" in 2015. Nutsa reportedly competed in other singing contests, such as "Georgian Idol," "Georgian Pop Idol," and "X Factor Georgia."
She's also performed at various music festivals, and at one point joined DJ Paul Oakenfold for a New Year's Eve concert. Nutsa notably sang "White Horses Run," an original ballad, at the Georgian version of Eurovision in 2017. Nutsa released an album, "Nutsa22," in 2019, with seven other songs. Moreover, she recorded three English-language songs, "Let U Go," "We Are One," and "You Broke My Heart" in 2020 and 2021.
As a model, Nutsa has appeared on the covers of several Georgian magazines. Her father, Gia Buzaladze, a singer and composer, and her mother, Nino, a pianist, are supportive. Nutsa appeared alongside Nino in the Turkish TV show "Mimgere" in October 2022, her mother's TV performance debut. Nutsa lived in Dubai during her time in "American Idol", back and forth several times because she previously signed a contract with a theater in Dubai, and sang at various venues and expos.
Her competition was unforgettable
Although Nutsa didn't win, her time in the competition was undoubtedly memorable. The first song that she performed, "Lady Marmalade," was credited as the 1974 single by LaBelle. However, the lyrics showed that she sang the so-called Moulin Rouge! version, released in 2001 by Pink, Christina Aguilera, Mýa, and Lil' Kim. Both versions topped the US Billboard Top 100 chart, making it the ninth song to reach the top spot on a US chart by different artists. Regardless, the mistake the video editors made ultimately helped Nutsa. The same applied to her receiving the Golden Ticket from the judges, a privilege that allowed her to evade the cut-off from the audition to the first week of the Hollywood Round. Also, the audience began calling Nutsa 'J.Lo. from Georgia', because she resembled actress and singer Jennifer Lopez.
Nutsa also clashed with Carina DeAngelo when they performed a duet during the Hollywood Round. They were unprepared and disorganized, since Nutsa missed the additional rehearsal, which she apologized to Carina for, and it showed. Thankfully, her excellent performance of Tina Turner's "Proud Mary" saved her, and she went into the Top 26 while Carina did not.
Unfortunately, the problems didn't end there, as it seemed that Katy was never satisfied. In the next round, Nutsa sang "Paris (Ooh La La)" by Grace Potter and the Nocturnals. Although Katy praised the musical side, she said, 'Nutsa, every time you take the stage, it's like you glitter bomb it. I think one thing I would like to see from you is not one piece of glitter next time. I know that's going to be hard.' The audience started booing her commentary, but Katy ignored it. She clarified that 'she only wanted Nutsa to flip the script and pull them by their heartstrings, as that's what America might love too.'
She reached the Top 12
Despite criticism, Nutsa proceeded to the Top 20, but her journey nearly ended after her rendition of "Un-Break My Heart" by Toni Braxton, as she didn't get enough votes to place within the Top 10. Katy, Luke, and Lionel saved her from elimination because she impressed them with her "And I Am Telling You I'm Not Going" song performance. Reaching the Top 12 earned her a unique achievement; Nutsa was the first foreigner outside North America to become a semi-finalist or finalist, and the third non-US competitor who reached the semi-finals after Nicolina and Lauren Spencer-Smith, both Canadians. Sadly, her luck ran out after she sang Queen's "The Show Must Go On" iconic song and was eliminated alongside Lucy Love.
She settled in Hollywood
Her time in the show ended, but Nutsa took the judges' comments to heart. For instance, Luke said that she 'makes all eyes in the room go on her' while Lionel chimed in that 'she was a star who made it as far as was concerned." Nutsa thanked them and said, 'Can't thank "American Idol" enough! It was a thrill of a lifetime, and I made friends who will be in my life forever. Having mentorship from the judges and Adam Lambert and Kylie Minogue was a dream come true for this Georgian girl. I know I'm just getting started.' She also told her Instagram followers that 'she expected the elimination, but was full of energy, motivation, determination, and strength for the next steps in her career.'
Nutsa then embraced all chances to gain publicity, and was invited by the Los Angeles Lakers co-owner, Jeanie Buss, to be the VIP guest for the fourth game of the Lakers versus Nuggets playoff in June. She met Adam Sandler, Jay Mohr, Linda Rambis, and Kris Jenner on that occasion. Nutsa also said that she befriended Darren Prince, the best-selling author of the "Aiming High" book and an advocate for global mental health and addiction recovery.
On the professional side, after a two-year break, Nutsa released the single "Alone" on 10 March 2023, on platforms such as Spotify, Apple Music, Last.fm, and YouTube, through her label Nutsa.
David Zalkaliani, Georgian ambassador to the US, invited her to Washington DC shortly after. She sang "The Star-Spangled Banner," the US national anthem alongside the Georgian anthem, in the Washington Library of Congress on 26 May to celebrate Georgia's Independence Day. Nutsa returned to Georgia to perform a solo concert in the cultural and entertainment space, Sphere, in Batumi on 30 June.
Nutsa is developing her brand
She announced in early June that her brand, Nutsa ♥, would launch soon, starting with a clothing line consisting of T-shirts, hoodies, and hats for men and women with the slogan "Nuts for Nutsa," which Katy Perry mentioned in the singing competition. Nutsa plans to expand later to perfume, jewelry, and fashion collections afterwards. That's unsurprising, as people called her a fashionista in the show, and her fans and professionals had lauded her style for years.
Nutsa launched her website, www.nutsaofficial.com, to help her with that goal. She clarified that her brand's goal was 'empowering young women worldwide to never give up on their dreams, and to always believe in God and manifest good things to get through the hard times.' Nutsa has modeled for companies in Dubai, and attended openings and special events there. However, she's appeared in more modeling shots since her competition, and posted them on Instagram and Facebook, always thanking the dressmaker, photographer, make-up artist, and stylist. That proved that Nutsa does what she preaches, and treats people the way she wants to be treated.
She signed with an agency
On 24 August, news broke that Nutsa had struck a deal with her previously mentioned friend, Darren Prince. He's been the marketing agent and CEO of Prince Marketing Group for over three decades, and she tagged him on social media for a few months, so the move wasn't shocking. Darren had represented entertainers, athletes, and celebrities such as Earvin "Magic" Johnson, Charlie Sheen, Denise Richards, and Carmen Electra. Darren said, 'It matters who you know in life and not always what you know. My contacts and relationships are as deep as they get. Nutsa is already a star overseas, and now we will make it happen in the US.'
He revealed that they're working on a fragrance deal, and that he set up meetings for Nutsa to record an album and a (hit) single. Nutsa declared, 'I couldn't be happier finding someone like Darren Prince as we connected with our love for God. I'm so proud that he recently celebrated 15 years sober and has used his gift to help many.' Nutsa is a devout Orthodox Christian, and has given her social media followers her 'reasons to walk with God,' as she believed that life would work itself out with His help. Therefore, Nutsa refused to compromise her integrity and waited for the right person to advance her career. She also revealed that her wish list as a teenager included competing in "American Idol", getting an agent, and that she manifested those desires.
Nutsa is meeting influential people
Nutsa had a respectable following on her Instagram and Facebook accounts, both under the handle @nutsabuza. Her Instagram is now in the lead, with almost 450,000 followers, but she also started uploading content in English to her old YouTube channel, @OfficialNutsa. She primarily posts recordings of her interviews, talk show appearances, and live performances. Moreover, on 31 July 2023, she talked about the power of manifestation and goal-setting in the one-hour-long episode 610 of the podcast "Dropping Bombs", hosted by author, businessman, salesman, and YouTuber Brad Lea. She also met boxer Mike Tyson in July and might appear in an episode of his podcast, "Hotboxin' with Mike Tyson."
Nutsa is also expanding her reach through Darren. In late August, she met "Magic" Johnson, his wife, and the Los Angeles Dodgers owner, Mark Walter, at the Dodger Stadium, and sang the US anthem. She also networked with actress Nina Dobrev, entrepreneur Jason Binn, and singers Pitbull and Noah Cyrus.
She is seemingly single
Although her fans and "American Idol" viewers seem interested in whether she's taken, Nutsa hasn't posted or hinted at having a partner. She indirectly suggested that her career is her priority; her official website describes her as 'a self-motivated, active, energetic girl who is an honest hard worker, and a workaholic who loves what she does.'
A partial confirmation came in July when she attended a friend's wedding in Rome, Italy, without a date. Nutsa is also a big fan of traveling, and has traveled presumably alone to the French Riviera, where she stayed in her favorite Hotel de Paris. She's also visited New York City and Montenegro. Nutsa publicly thanked Turkish Airlines for supporting her frequent flying, suggesting they sponsored her career.
In the second half of August, Nutsa posted several photos from The Cutting Room Studios in New York City around 20 August, where she was recording the first hit single that Darren promised her.