Some people overlooked Phillip Phillips, the winner of the 11th season of the singing reality TV competition "American Idol," until this year. The show debuted in 2002 and has launched the careers of artists such as Kelly Clarkson, Carrie Underwood, Scotty McCreery, and Laine Hardy, and had notable judges such as Lionel Richie, Katy Perry, Luke Bryan, and Keith Urban. Phillip, a Georgia, USA native, won in May 2012, joining the group of promising singers and musicians. Phillip released some music for a few years afterwards, primarily two studio albums and two notable singles.
However, his recording contract impacted his artistic freedom and ability to make money, and he had kidney issues. Thankfully, Phillip resolved the matter in court, got better physically, released his third album, focused on performing live, and caring for his wife and son during the COVID-19 pandemic. Phillip remained relevant to viewers at home by opening the Top 10 show for the 18th "American Idol" season in May 2020, with his five-times certified platinum hit, "Home." Phillip returned to the music industry with a bang, releasing his first independent studio album, "Drift Back" in June 2023. Here's what else Phillip is up to today.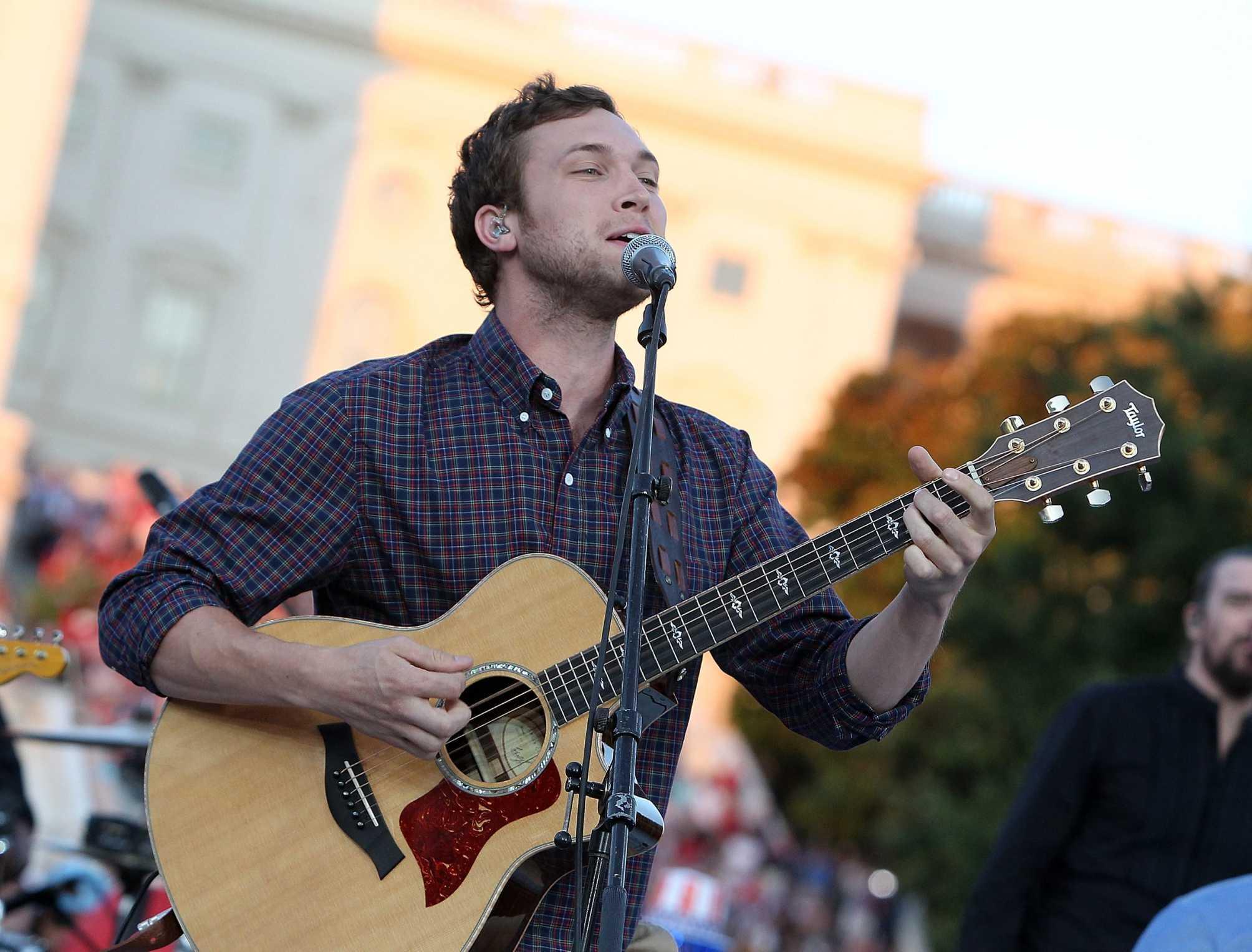 Phillip is now independent
Phillip LaDon Phillips, Jr., born 20 September 1990, publicly sacrificed many things to win "American Idol" in season 11. For one, because he was competing, he missed his graduation ceremony at Albany Technical College, where he majored in industrial systems technology, Moreover, Phillip has had a kidney condition since birth, which caused him immense pain throughout the show. He considered quitting because he needed a surgical operation to reconstruct one of his kidneys. Still, Phillip stuck out to finish the competition, and had the surgical procedure a month after the season finale.
Phillip was criticized for his fashion choices, such as wearing too much gray, bringing his guitar to all performances, and sounding too much like Dave Matthews, the lead singer, songwriter, and guitarist of the Dave Matthews Band. However, that didn't bother Phillip; he solved his health issues enough to tour several times in 2013 and 2014, and release three studio albums between 2012 and 2018. Phillip also sued the record label that signed him, 19 Entertainment, in early 2015, and settled the lawsuit two and a half years later. That was a few months before his third album, "Collateral," was released through a different label, Interscope Records.
Phillip kept his name in the news through the pandemic, despite being busy as a new father with an ill wife who battled an unknown sickness. He is promoting his latest studio album, "Drift Back," and will begin touring again in October 2023. Phillip's new music was personal and well-received, and he's been active on social media more than ever. That allows him to interact with fans, a crucial part of being an artist without a major record label. He also uses his online presence to promote his Christian values, and share his love for his wife, Hannah, and son Patch, with his fans.
He debuted with "Superstition"
Phillip auditioned for "American Idol" in early 2012 in Savannah, the Georgian town where he was born, with Stevie Wonder's hit "Superstition" and Michael Jackson's "Thriller". Interestingly, one of the executive producers for the show immediately felt that Phillip would win. Singer and musician Steven Tyler whispered to his fellow judge, singer and actress Jennifer Lopez, that he 'had a funny feeling about this performance' before Phillip even started singing.
Phillip later admitted that he auditioned for the "America's Got Talent" talent competition season two, but his performance was unaired. On the other hand, he won a local singing competition, "Albany Star" in 2010. That aside, Phillip smoothly advanced through three stages of the Hollywood Round and the Las Vegas Round with songs such as "Papa's Got a Brand New Bag," "Wicked Game," "Broken String," and "Nice & Slow." When he sang Phil Collins' "In the Air Tonight" during the Top 25 stage, he advanced to the Top 5 placement for men, meaning that he entered the Top 13.
His singles were successful
Phillip continued to have a smooth run singing solo, in duets with Joshua Ledet and Elise Testone, and in trios and quartets. He performed songs by singers such as Billy Joe, Otis Redding, Ben E. King, and Bob Seger, and music groups such as Queen, Creedence Clearwater Revival, Maroon 5, and Foreigner. Phillip was in the bottom two only once, with Hollie Cavanagh, but the judges eliminated her. He performed his debut single and coronation song, "Home," in the finale – it eventually became five-times platinum certified.
Furthermore, the audience was ecstatic to hear Phillip on his debut studio album, "The World from the Side of the Moon," released on 19 November 2012. It debuted at number four on the Billboard 200 chart, and was certified gold in the US in January of next year, and platinum seven months later.
Phillip also had another highly successful single, releasing "Gone, Gone, Gone" in February 2013. It was twice certified platinum by August, a month before it sold its first million copies. Furthermore, it became the farewell tune for eliminated candidates in the next season of "American Idol."
Phillip overcame his health issues
Phillip's kidney condition from birth makes his body produce oversized kidney stones. Consequently, they sometimes cannot pass through the ureter to the bladder, causing him excruciating pain.
Consequently, Phillip had eight operations to remove kidney stones during the competition, and even rushed to the doctor's surgery when the pain became unbearable following the Top 13 performance night. Thankfully, once he won, he had time and funds to tackle the problem, and had a surgical operation on the problematic kidney on 6 June 2012.
A sign that he either quickly recovered or had strong willpower is that he shortly afterwards embarked on the American Idol Live Tour with ChipsAhoy and the other season 11 competitors. He continued performing, and toured with the bands Matchbox Twenty and O.A.R., and singers John Mayer and Bruce Springsteen in 2013 and 2014. Phillip released his second studio album, "Behind the Light," on 19 May 2014.
Minneapolis! So sorry to reschedule the show tonight. Having some health stuff but I'll be alright! Rescheduling for July 26th! @cities97radio pic.twitter.com/PBm33fzB0Z

— Phillip Phillips (@Phillips) June 7, 2023
He fought the establishment
Although Phillip toured the US to promote his commercially successful second album, conflict was brewing behind the scenes. Phillip sued 19 Entertainment on 26 January 2015, claiming that his recording artist contract was too oppressive and manipulating. He filed a motion with the California Labor Commissioner, wanting to be released from the contractual obligations regarding recording, merchandising, and management. Phillip settled the lawsuit in June 2017 under undisclosed terms.
His legal troubles didn't dissuade his professional efforts, however. In April 2016, Phillip performed a David Bowie tribute at the finale of season 15 of "American Idol" with four previous winners. Simon Cowell, former "American Idol" and current "America's Got Talent" judge, stated that Phillip was the only contestant he liked after leaving the position. Moreover, Jennifer Lopez said that he was her favorite winner.
His third album was out in 2018
Phillip confessed that he felt a bit depressed, because he thought that 'the legal battle would never end and that he might never release new music.' Nonetheless, he continued to promote his old music throughout 2016 and '17, and released his "Miles" single in August 2017, shortly after the legal proceedings concluded, to promote his third studio album, "Collateral," released on 19 January 2018. He also tried out as an actor, playing a diamond smuggler in an episode of the law enforcement TV show, "Hawaii Five-0" around that time. Phillip then embarked on his 40-show tour from February through April.
Returning to "American Idol"
After he recorded a new version of the 1966 classic "Bring It on Home" in September 2019, there were some indicators that he would appear in "American Idol" again; that's because he collaborated with the American Authors band and season 16 winner Maddie Poppe on that project. The rumors were confirmed on 3 May 2020, when Phillip performed his best-known single, "Home," during the Top 10 phase of season 18. He sang it several times during the COVID-19 pandemic between 2020 and 2022, urging people to stay home. Phillip even helped raise $1 million for the Project Angel Food organization during their July 2021 telethon event.
He came back in 2023
When the restrictions were lifted, Phillip performed his new single, "Love Like That," in April 2022, which simultaneously marked the 10th anniversary of his win and the show's 20th anniversary. Around that time, Phillip recorded a video of support for the 20th-season competitor Fritz Hager. Fritz never hid his admiration of Phillip and said that he learned to play the guitar because of him. However, he tested positive for COVID-19 in May, so his rehearsal had to be shown as a live performance.
Shortly afterwards, Phillip toured with American Authors before returning to the show to mentor the songwriting group in the 21st season alongside Catie Turner, 16th season contestant. He also performed his "Gone, Gone, Gone" single at the May 2023 National Memorial Day Concert. Getting there was special, as it was his son's first flight.
Phillip sang the National Anthem on 8 June during the third game of the 2023 Stanley Cup Final. All this was part of his promotion for his fourth studio album, "Drift Back," released on 9 June under his label Phil Phil Music. Five days later, he debuted at Grand Ole Opry, one of the most prestigious stages for country musicians. Phillip then announced the 2023 Drift Back Tour, which will include 23 cities, and start on 5 October.
His fourth album is intimate
Phillip stated that he was constantly writing new music, making it challenging to pick the best songs, but that this changed in 2023. Phillip explained, 'It is a love album, but it's not all happy. Love takes work; you have to stick it out through moments of difficulty to get to the beauty on the other side. The title represents me taking a step back to figure things out and then drifting back to my life and my fans.' He called the album's 10 songs 'self-reflective and the best he has ever written.' For instance, "Love Come Back to Me" describes Phillip's search for inner happiness, and "Long Time" explores his insecurities about being the best version of himself. Another, "Love Like That," was the most personal look into his life, as Phillip wanted to convey the transformation their son's birth and development into a toddler caused. Its music video, which Phillip's brother-in-law edited, includes key moments in their marriage, his wife's pregnancy, and the birth of their son.
Phillip began dating Hannah Blackwell in 2010 and became engaged to her on 26 December 2014. They married on 24 October 2015, and had a son, Patch Shepherd Phillips, named after the main character in the 1998 movie "Patch Adams," on 10 November 2019. Phillip dedicated several songs to his wife, most notably the single "Before I Loved You." He said it 'was a love song for his wife because she pushes him to be the best man, husband, musician, and father, and he slips love notes into her jacket, lunchbox, or near her computer.' Similarly, "Strangers" describes the early stages of love, the eagerness for the first kiss, and the stomach butterflies during the ordeal.
He also wrote "Dancing With Your Shadows" about a person who struggled but couldn't accept help, only wishing that he was by their side during the rough period. Phillip later clarified via Instagram that it was about Hannah struggling with an illness, saying that he had to watch it all, knowing that he couldn't fix the problem, and felt helpless because the doctors couldn't diagnose her. Hannah is a therapist who often goes into the metaphorical hole with her patients until they use the tools to climb out themselves. It's important to note that Phillip funded the entire album, and edited its cover photo.
Phillip is passionate about charity
Phillip picked up the guitar at 14 and began songwriting and singing at 18, inspired by his family, who sang and played an instrument. However, Phillip had no desire to audition for "American Idol" until he saw season 10 contestant Casey Abrams, and would have worked with children. Phillip admitted, 'I am kind of awkward with people my age, and tend to get along better with younger kids. Kids just want to have fun, and so do I. I'm still a little kid at heart in that respect.'
Phillip'is a big food lover; he recently mentioned chips with salsa and chicken as favorites. His mantra is that he will inevitably die, so he might as well die with a happy stomach.
Phillip met Hannah when they both volunteered at a children's and women's shelter, and he plans to use his success to help people. He's publicly supported DoSomething, the National Park Foundation, and the Gibson Flood Relief Campaign. Phillip was also named the Sarah Foundation ambassador and has promoted Habitat for Humanity, Save The Music Foundation, and Armed Forces Entertainment. Phillip even live-streamed on Instagram to support the Phoebe Foundation corona virus relief fund during the pandemic, and handed the profits to the Phoebe Putney Health System; he, Hannah, and Patch were born in a hospital in their network.
Phillip uses social media to convey his emotions, or show his goofy side. For example, he performed a victory dance when his song, "Dancing With Your Shadows," reached the Top 20 placement on the Mediabase Hot A.C. charts. Phillip was the only artist without a major record label on that list. He also jokingly proposed playing Ken instead of Ryan Gosling in the remake of the 2023 movie "Barbie." Phillip frequently ponders on the passing of time, how fast or slow it can go depending on the moment, and that his parents and two older sisters are getting older. He also posts throwback pictures of himself in unusual outfits, such as wearing a firefighter costume or straw hat.
Phillip is unafraid to reveal moments when he isn't as confident. For instance, he recorded five videos of himself preparing to propose to Hannah in the car because he was nervous and shaking. Similarly, he revealed that he didn't speak to her when they first met. They celebrate two anniversaries, one for the official first date. That suggests that one of them initially misunderstood the purpose of the actual first date.
Phillip also confessed that his nerves bother him before a show, so he paces around beforehand. He used to chew gum during performances to calm his nerves, but the constant chewing affected his jaw, so he switched to cough drops. Moreover, one of his favorite things includes listening to Patch, whom he calls 'buddy boy,' sing and dance to his songs. Finally, Phillip's valued photography his entire life, but only started learning more in 2021, inspired by his brother-in-law and social media.