Stories of ordinary individuals who've captivated the world with their extraordinary talents are nothing short of inspiring. Tom Ball, a dedicated teacher from West Sussex,England, found himself in this spotlight when he embarked on a journey that took him from the classroom to the grand stage of "Britain's Got Talent", often referred to as "BGT" While he may not have claimed the top spot in the competition, his incredible vocals and heartfelt performances left a lasting impression on audiences and judges alike.
Meet Tom Ball
Tom's love for music took root and began to flourish at a young age. From the age of seven, he started singing and performing with local theater groups, while also attending singing and acting lessons. As he entered adulthood, his commitment to music only grew stronger, leading him to pursue a degree in Musical Theater at university.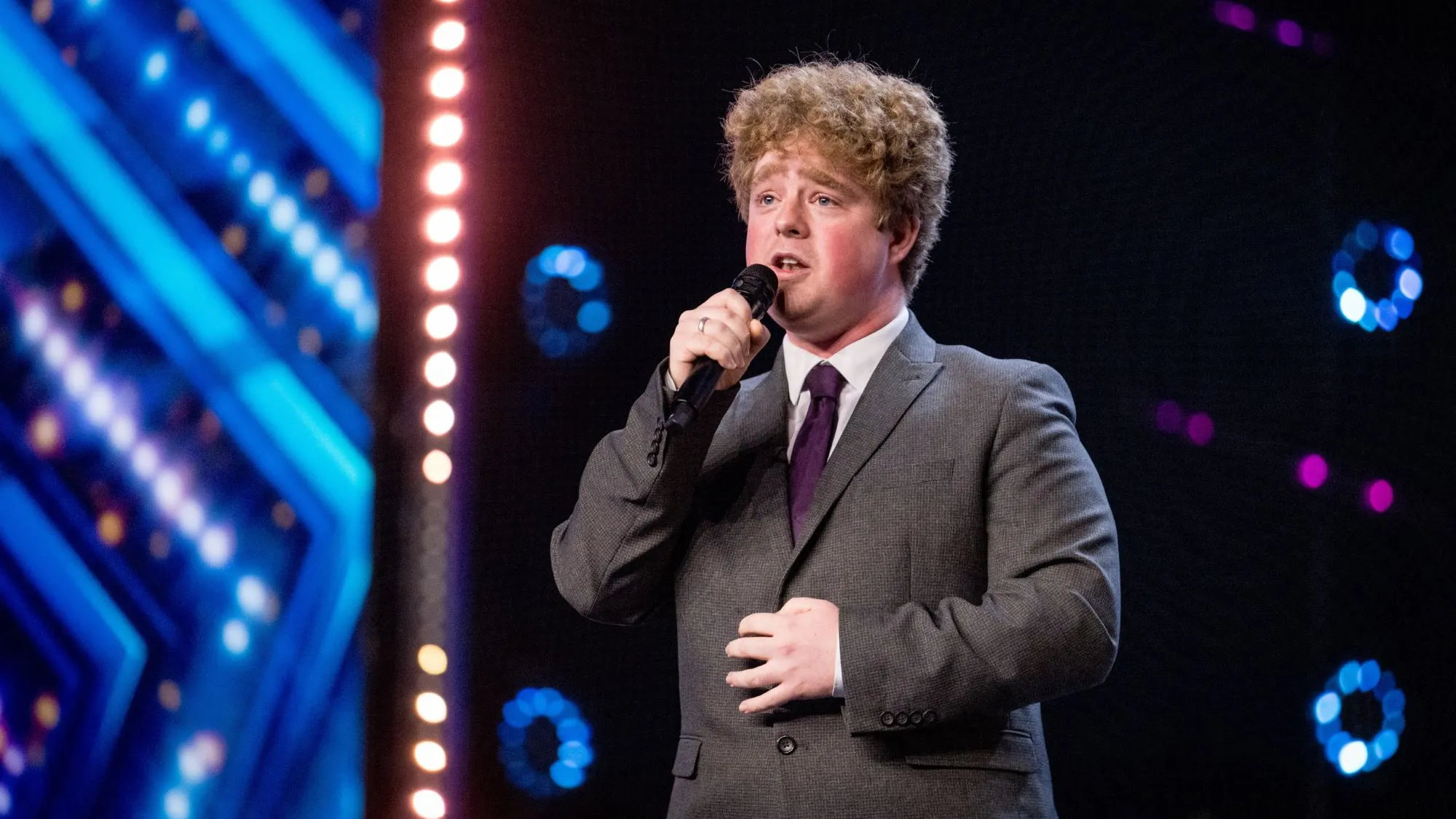 Inspired by his personal musical journey, he found his calling in teaching music and drama to children. As passionate as he is about his job, his ultimate dream has always been to take the stage as a singer. He firmly believes that the most valuable lesson he can impart to his students is to follow their dreams. Following his successful audition, he returned to school and shared his experience with them. His students were previously unaware of his singing talent, as he kept his audition a secret. He knew that performing on a televised talent competition show was a risk, because one could never be too sure of how it would turn out. Tom explained his reason behind his decision, saying, 'When i step out on stage live to the nation, I'm stepping out for you to lead by example and prove that if you have a dream, you've got to take a chance on yourself,' and added. 'Believe in you and it can change your life forever.'
While none of his family members share his penchant for singing or performing, they are all supportive of him. His father, Chris, a former dedicated police officer now working as a driving instructor, has been a steadfast presence in the audience during Tom's audition and subsequent performances. His mother, Claire, who makes a living out of knitting baby clothes, was unable to attend as she was still recovering from a cataract operation. However, he attributed a significant portion of his YouTube views to her, declaring her as his number one fan.
His five musical influences
Tom's life has always been intertwined with music, and he eagerly shared on his Facebook page those that have significantly shaped his artistic path. From his early singing days, one constant has been the timeless allure of "Les Miserables" in a childhood ritual that laid a strong musical foundation. He fondly recalled moments when his mother would pick him up from school, and during the ride home, they would listen to it. Moving forward, Michael Bublé's captivating melodies served as an inspiring backdrop during Tom's university years, and his incredible artistry remains a daily source of inspiration. More recently, the discovery of Gregory Porter's soulful tunes has captured his heart. As for songwriting and musical theater, Jason Robert Brown's impact cannot be overstated—his influence has been pivotal in nurturing his creative passions. Lastly, Jack Garratt's talent as a songwriter resonates deeply, especially through his latest album, serving as a reflection of his evolving musical exploration.
Tom Ball's Got Talent journey
The Got Talent franchise provided a platform for amateur artists to showcase their talents with the hope that it would gain them national and even international acclaim, successfully launching their careers. Tom shared that he used to sing in pubs, but not having done so for a couple of years made him feel weird and lonely. This prompted his decision to audition. Stepping onto the world's biggest stage was the most nervous he had ever been, as he seemed to have lost the feeling of what it was like to be on stage.
"Britain's Got Talent" (BGT)
He was 23 when he first appeared on BGT in its 15th series, aired in 2022. He gave a mind-blowing performance during the audition as he sang Sam Smith's "Writing's on the Wall." The entire auditorium erupted in a standing ovation that lasted for a full minute. Amanda Holden was all praise, acknowledging Tom as an unexpected powerhouse, and one of the best singers that the show had seen in the last 16 years. David Williams found Tom to be a lovely person, and praised him for having exceptional talent. Alesha Dixon was deeply moved by Tom's vocals and performance, saying further that his humble demeanor, quiet self-assurance but lively personality made this audition 'perfect.'
Simon Cowell, renowned for his discerning judgment, echoed these sentiments as he said, 'There's lots and lots and lots of good singers out there. I always believe your personality plays a huge part in these auditions as well. There's something very likeable about you.' The judges' unanimous approval, expressed through their enthusiastic votes, propelled Tom Ball to the next stage of the competition; he recalled being completely overwhelmed by it all, and believed that it went better than he could ever have hoped.
Heading into the semi-final round, he told himself not to mess it up, as it might be his last chance to perform in front of such a large crowd. He need not have worried because his rendition of Conchita Wurst's "Rise Like a Phoenix" exceeded expectations. Simon disclosed that the judges had a discussion about the missed opportunity to grant Tom a group golden buzzer during his initial audition. He said that one of the things that he learned over the years in doing this type of show was that when it came to judging singers, it was all about how one made him feel, and Tom's performance moved him.
For the Grand Finale, he delivered an incredible performance as he sang Tom Jones' "I Have Nothing" – the judges couldn't seem to get over how amazing his voice was. The song choice was important in winning over audiences, but Simon said that it didn't matter whether one liked that kind of music or not, because talent was talent. He could envision Tom landing a leading part in the West End. After the votes were in, Tom placed third behind a comedian and a ventriloquist.
Tom Ball after BGT
"America's Got Talent: All Stars"
In 2023, NBC launched "AGT: All Stars," the main series' third spin-off, featuring fan favorites, finalists, and even winners from previous seasons of the Got Talent franchise. Over the course of six weeks, 60 acts would vie for the title of AGT Ultimate All-Star, with only 10 advancing to the final round by receiving the most votes from viewers, or the Golden Buzzer.
Tom acknowledged that this edition was even more nerve-wracking than his first venture onto the Got Talent stage, given the competition. That said, it also made him push himself further to win. Coming here was another opportunity for him to inspire his students to reach greater heights, despite having already achieved their dreams.
His haunting rendition of Simon & Garfunkel's "The Sound of Silence" earned him standing ovations from the audience and the judges. The stark contrast between his unassuming appearance and the sheer intensity of his performance perhaps reminded Simon Cowell of Susan Boyle, as he likened Tom to her grandson. He wished that this was the first time he had ever heard Tom sing, as he speculated that had Tom delivered this extraordinary performance earlier with this song, it could have secured him victory in that year's edition of BGT. The judges along with the host, Terry Crews, hit the Golden Buzzer, sending him straight to the Final Round.
Tom sang Radiohead's "Creep", which left audiences awestruck, bringing them to their feet twice, Simon saying that this performance proved to everyone that he deserved to be on that stage. Heidi Klum said that his ability to express his emotions while singing was so incredible. Tom continued to impress the judges during his second performance, as he collaborated with the Voices of Hope Children's Choir on Queen's "Who Wants to Live Forever." Regardless of the judges' opinions, however, the decision would be made by the 'superfans.' Unfortunately, he didn't make it to the Top 5.
Lent his voice to a cat called Noodle
Series 16 of BGT, which began airing in early 2023, featured Noodle, the show's first animated contestant. Of note, Noodle was the second fictional contestant while Teletubbies was the first one. In 2020, the cartoon cat became popular due to online videos centered around the misadventures of Noodle and his friends, Bun in particular. In the original shorts, he was only capable of making cat noises.
I'm pretty sure Noodle was called Nouille last year on France's Got Talent 😉

Spoiler: In the semi final it was revealed that it was a former contestant singing.

So hopefully we'll see last year's finalist Tom Ball again.#bgt #lfauit pic.twitter.com/dLYRSY5Lno

— Markus (@mrksbmr) April 29, 2023
As he appeared on stage, viewers were quite confused initially as they couldn't figure out if he was a puppet or a computer-generated imagery (CGI) effect. As for the audience, they were watching him on the screen. During his audition, he belted out "Feeling Good," recorded originally by Nina Simone. The panel of judges was clearly stunned by his amazing vocals, giving him four yeses, Simon observing that his singing voice was different from his talking voice.
Many speculated on his true identity, but it wasn't until the semi-final round that everyone would meet the person behind the voice. Prior to his performance, Noodle shared how he had always wanted to become a singer, and while "BGT" was the perfect opportunity for him to realize this dream, it turned out that he couldn't sing; he and his friend Bun held auditions to find his new voice. Back on the BGT stage, the grey feline sang "Live and Let Die" by the British-American Rock Band, Paul McCartney and Wings, and halfway through the performance, Tom Ball came out on stage. That he sounded phenomenal wasn't surprising, but his appearance made an impression. He had a complete makeover, and Amanda Holden couldn't help but gush over his new look that night, which she said was a cross between Justin Timberlake and Michael Buble. Unfortunately, Tom failed to advance to the Final Round.
Many were divided on their reaction to Tom's participation. Most of his fans were delighted to see him again on the show as they hoped that he would win the title this time around. However, some felt that it was unfair for him to compete again considering he already signed a record deal. Later on, it was revealed that Noodle contacted Tom to ask him if he wanted to be the voice of Noodle, and Tom wasn't one to pass up this chance.
Improving his craft
One of the things that Got Talent fans noticed, was that every time Tom stepped onto the stage to perform in the show, he was getting better and better at it. In an interview, he shared that he was constantly pushing himself to deliver his best performance, saying that he was always training his voice to hit higher notes, or hit notes in a certain way. Moreover, he worked hard to find the meaning of the songs that he sang, making sure that every song had a purpose as to why he was performing that.
His preparation before every performance
As excited as they might be, most artists became anxious or nervous backstage as they waited for their turn. When Tom was younger, he was superstitious about doing certain things before going on stage, but he had since simplified it, as he realized that it all became too much. To prepare, he now just goes to the side of the stage, breathing in and out as well as jumping up and down a few times to give himself some energy.
Set up an online school for children
As he found success in his singing career, it was inevitable that he would quit his job as a secondary school teacher. He did go back, but only to finish the school year. After that, he focused on writing and recording songs as well as performing around the globe. That said, he set up an online music school called Tom Ball's Rising Stars. The school provides an opportunity for everyone to develop their musical skills as it offers lessons on music theory and singing techniques. He not only shares his expertise but also ignites the same passion for the arts that he has to his students.
Launched the "I Belong" campaign
Tom recently became an official ambassador for Diabetes UK, as he hoped to raise awareness and support for people suffering from this condition. Unbeknownst to many, he was diagnosed with Type I Diabetes at the age of eight, a condition in which a person has difficulty controlling the blood sugar level and requires insulin treatment so that sugar won't stay in the bloodstream, causing problems. Growing up, he felt that he didn't belong mainly due to his medical condition, and would hide in music rooms where he could inject insulin privately.
In his March 2023 Instagram post, Tom candidly revealed the significance behind his performance of "Creep" in "AGT: All Stars", explaining that it was a message for himself and to anyone out there who felt like they didn't belong. With these words, he launched a campaign that celebrates diversity and individuality—the #iBelong campaign. Inviting everyone to embrace their uniqueness and stand tall in their own skin, this movement seeks to create an environment where every person feels valued and cherished for who they are.
Married to his long-time girlfriend
Tom and Hannah Burtenshaw, his girlfriend of five years, were married at a manor house in October 2022; it was said to be a relaxed affair with 65 guests. They spent their honeymoon in the Maldives. Their love story started online in 2017, but they had unexpected connections, like Hannah's sister being in Tom's theater group. She had actually seen 12-year-old Tom perform in an amateur production of "Miss Saigon." The two first met in Brighton, bonding over bowling and walks by the sea. They clicked, and moved in together after 18 months.
They separated for about three months during the pandemic. Tom's well-being was a significant worry due to the increased vulnerability of diabetes patients to Covid-19. Hannah, who was in the last year of her nursing training, couldn't risk exposing Tom to the virus. When the restrictions eased, they got to see each other once a week, but still practiced social distancing. It was a tough time for them but it made their relationship stronger.
Debut album and concert tours
In May 2023, Westway Music, the London-based label established in 2020, announced their collaboration with Tom Ball. His debut album, "Curtain Call," promises to be a testament to Tom's extraordinary vocal prowess as it will include a mixture of newly composed tracks as well as stage and screen classics. It's available for pre-order, and slated for a November release, so his fans didn't have to wait long. Previously released were studio versions of covers he performed on the BGT stage, such as "Sound of Silence," "Creep," and "I Have Nothing." Tom currently headlines shows across Europe and the UK, and is set to perform as a special guest to a harmony group called The Overtones in their "Good Times Tour" in the latter part of 2023.
Tom Ball's story is a reminder that life's most remarkable journeys often begin with a single step into the unknown, and embracing an unexpected opportunity.