Tylen Jacob William is an American actor, who is possibly best known for his appearance in the TV series "Instant Mom."
Tylen Jacob Williams
Born: December 8, 2001
Bio: https://t.co/QxtFfNENY8https://t.co/HNpHcSDeY7#BlackCelebrityBirthdays#Tylen_Jacob_Williams@TylenJacobWill pic.twitter.com/B7Sa9J0L5C

— Black Celebrity Birthdays (@blackcelebbdays) December 8, 2021
Age, Early Life, and Education Background
Tylen Jacob Williams is a native of Westchester County, New York State, who was born under the Sagittarius zodiac sign on 8 December 2001, which makes him 22 years old as of 2023. He is the son of Police Sergeant Le'Roy Williams, and the singer-songwriter, Angela Williams. His mom is also a life coach and writer, who recently released the book "My Child Is Going To Be Rich and Famous." Tylen is the younger brother of the actors and voice artists, Tyler James Williams and Tyrel Jackson Williams. He spent most of his childhood days in Yonkers and The Bronx in New York City.
Tylen hasn't revealed any details about his educational background but it's widely believed that he was home-schooled.
Hobbies and Facts
Both of Tylen's brothers live with Crohn's disease, a lifelong inflammatory bowel disease (IBD), which affects the gastrointestinal tract (GI) causing stomach cramps, diarrhea, and other abdominal problems. He's revealed that his oldest brother, Tyler, almost died from the disease when he was in his mid-20s.
Tylen is a culinary enthusiast, revealing in an interview that his favorite dish is lasagna.
He is a big fan of photography and traveling.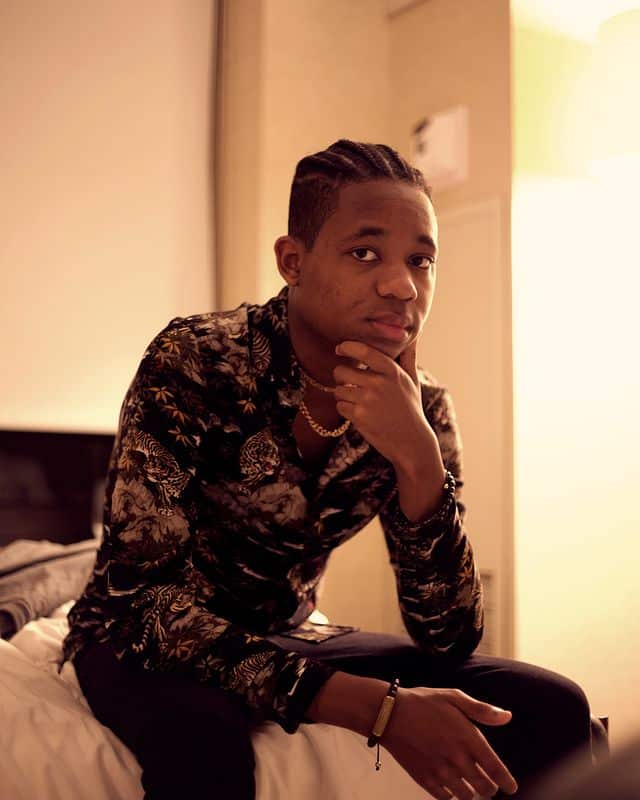 Career Beginnings
One of Tylen's earliest uncredited performances was in the long-running children's TV series "Sesame Street." When he was four years old (2004), he joined the cast of the TV semi-autobiographical sitcom "Everybody Hates Chris" as Baby Drew – he appeared in two episodes: "Everybody Hates Halloween" and "Everybody Hates Greg." "Everybody Hates Chris" is set in the early-to-late '80s and follows the teenage years of the prolific comedian and actor Chris Rock. Tylen's following appearances were in single episodes of the CBS police procedural drama series "Without a Trace" (2006) and the NBC political satire sitcom "Parks and Recreation" (2012).
Rise to Prominence and "Instant Mom"
Tylen rose to stardom in 2013 in the TV sitcom "Instant Mom", when he began portraying James Phillips, a very mischievous boy known for his pranks and tricks; the sitcom aired on NickMom, Nick and Nite, and TV Land. Set in the city of Philadelphia, the sitcom follows Stephanie Phillips (Tia Mowry), a 25-year-old partygoer and food blogger who becomes an instant mom after marrying Charlie Phillips (Michael Boatman), a older man with three kids. Tylen starred alongside Damarr Calhoun, Boatman and Sydney Park. The series was a success, and won two awards including a Young Entertainer Award in 2016. Tylen appeared in the series for two years (2013-2015).
During his stint in "Instant Mom," Williams appeared in an episode of the Nickelodeon children's game show "Webheads" in 2014. In the year that followed, he was interviewed in an episode of the talk show, "Minay TV" and his next performances were in single episodes of the animated interactive preschool and musical children's TV series "Jake and the Never Land Pirates" in 2015, and the drama series "Wisdom of the Crowds" in 2017.
Social Media Presence
Tylen is active on Instagram (@tylenjacobwill) with over 27,000 followers. He opened his Twitter account in June 2012, but hasn't posted anything yet.
Personal Life
It's rumored that Tylen is gay. He shed light on his sexuality on Instagram when he wrote, 'The way Tyler unashamedly and instantaneously accepted me and Tyrel's coming out without batting an eye and continued to rally behind us and fight for us whenever we needed it, even when we felt as though we could not, speaks volumes for people like me and how powerful it is to have such an active straight ally in your life .' The "Instant Mom" actor is unmarried and without children as of 2023.
Tylen currently lives in Los Angeles, California.
Height, Weight, and Physical Appearance
Jacob is of Afro-American ethnicity, and has a deep-set pair of dark brown eyes and black hair. He's slim, standing 5ft 5ins (1.65m) tall, and weighing approximately 150lbs (68kgs). The actor sports cornrow braids.
Net Worth
Tylen has accumulated most of his net worth from his acting career. He's reportedly worth approximately $500,000 as of 2023. On the other hand, his brother, Tyler is worth around $5 million.
Tylen's Brothers
Tyler James Williams
Tyler was born in Westchester County under the Libra zodiac sign on 9 October 1992, which makes him 31 years old as of 2023. He began his acting career as a child, with appearances in "Sesame Street," "Little Bill," and "Sunday Night Live." Tyler rose to stardom for his portrayal of Chris Rock in the TV sitcom "Everybody Hates Chris" (2005-2009), then after his stint in the sitcom, he starred in the 2012 Disney Channel movie "Let It Shine", and later in the acclaimed AMC post-apocalyptic horror TV series "The Walking Dead" (2014 and 2015).
Some of Tyler's notable film appearances were in the 2014 satirical dark comedy-drama "Dear White People," the 2019 romantic comedy "The Wedding Year," and the 2020 drama "The Argument." Moreover, Tyler has appeared in various TV series, including the sitcom "Go On" in 2012 and 2013, "RePlay" in 2016, "Criminal Minds: Beyond Borders" in 2016 and 2017, and the action comedy-drama "Whiskey Cavalier" in 2019. He began starring (as Gregory Eddie) in the ABC mockumentary sitcom "Abbott Elementary" in 2021. Tyler is a recipient of various awards including three NAACP Image Awards (for his performances in "Everybody Hates Chris" in 2007, "Detroit" in 2018, and "Abbott Elementary" in 2023), a Young Artist Award (for "Everybody Hates Chris" in 2008), a Golden Globe Award (for "Abbott Elementary in 2023), and Screen Actors Guild award (for "Abbott Elementary" in 2023).
Tyrel Jackson Williams
Tyrel, who doubles as a singer and rapper, hails from Westchester County, and was born under the Pisces zodiac sign on 16 March 1997, which makes him 26 years old as of 2023. Just like Tylen, Tyrel made his TV debut in the sitcom "Everybody Hates Chris" (2005 and 2007) and his next appearance was in the 2005 children's musical comedy movie "The Naked Brothers Band: The Movie." From 2008 to 2013, Tyrel assumed a singing voice role in the third and fourth seasons of the animated musical children's TV series "The Backyardigans."
Tyrel is possibly best known for his starring role as Leo Dooley in the Disney XD TV comedy "Lab Rats" (2012-2016). He served as the co-host of the Canadian live-action reality series "Just Kidding" (2012-2014), and starred in the IFC sitcom "Brockmire" (2017-2020). Most recently in 2023, Tyrel starred as Sackson in the TV sitcom "Party Down." Tyrel's performance in "Lab Rats" saw him nominated for two "Kids' Choice Awards" in 2016 and 2017.