Who is Lukita Maxwell?
American actress Lukita Maxwell was born under the zodiac sign Scorpio on 27 October 2001, in Jakarta, Indonesia. She has just 10 acting credits, and is perhaps known best for portraying Alice in all 10 episodes of the 2023 comedy series "Shrinking", which stars Harrison Ford, Jessica Williams and Jason Segel, and was created by Bill Lawrence and Brett Goldstein. It follows a psychologist who's begun ignoring his training and ethics, and is now telling his clients exactly what he thinks; the series has won one of its 11 award nominations.
Lukita's currently shooting for the upcoming movies "They Listen" and "An Autumn Summer".
Education and early life
Lukita spent her early childhood in Bali, Indonesia where she was raised by her American father who's originally from Salt Lake City, Utah and Chinese-Indonesian mother; the family then settled in St. George, Utah.
Lukita fell in love with acting when she began reading Shakespeare while attending elementary school, and she once even competed at a local Shakespeare Festival. She was then homeschooled, and was 14 when she made her debut TV series appearance, playing Jillian in four episodes (2016) of the popular comedy "Speechless", which starred John Ross Bowie and Minnie Driver, and was created by Scott Silveri. It follows a family of a special needs teenager, the series aired from 2016 through 2019, and won five of its 10 award nominations.
Lukita took and passed her GED tests in 2021, and then continued her education at the Pratt Institute in New York, from which she should be graduating in 2024.
Roles in movies
Lukita's debut film role was playing Susan in the 2016 short drama "Where the End Begins", which starred Danielle Beckwith and Dakota Buchanan, and was directed by Ron Vignone; it's a film about bullying, and how it can affect one's life.
In 2021, Lukita starred as Olive in the short drama "The Beginning & The Middle", which also starred Genneya Walton and Aaron Holliday, and was written and directed by Alexis G. Zall; it follows two childhood best friends who've reunited at a house party, and are thinking about dating each other.
The year 2022 saw Lukita play the lead character Edith in the short drama "Wake", which also starred Havana Rose Liu and Emily May Jampel, and was written and directed by Chase Sui Wonders; it follows 'an unsettling romance spark in the wake of tragedy'. Also in 2022, she starred as Maggie in the short romantic drama "Lucky Fish".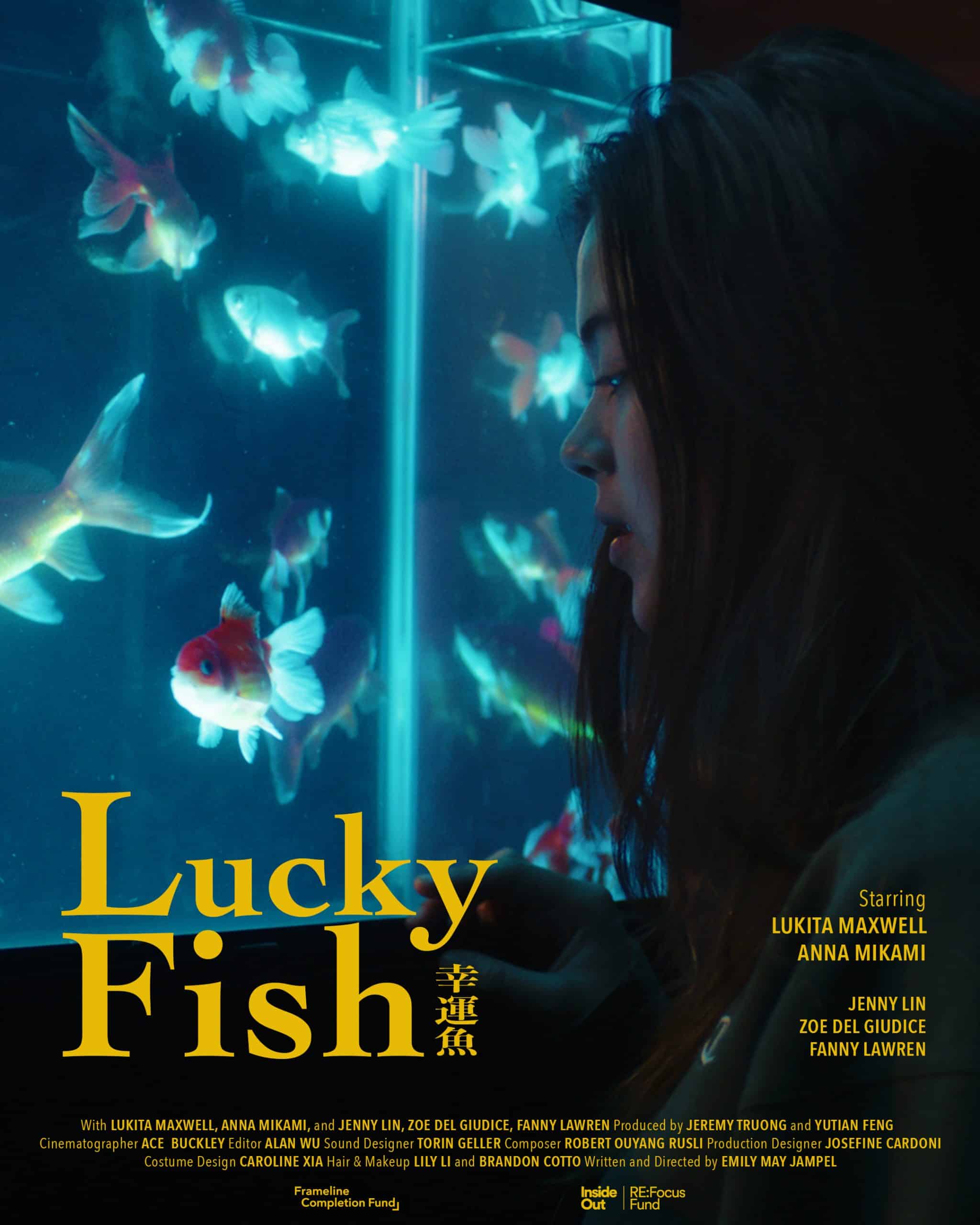 Lukita's only other film role has been playing a supporting character in the 2023 comedy "The Young Wife", which starred Aya Cash and Leon Bridges, and was written and directed by Tayarisha Poe. It follows a young woman as she's thinking about love and commitment, and the film was nominated for a 2023 SXSW Adam Yauch Hornblower Award for Tayarisha.
Roles in TV series
Lukita's appeared in only three TV series, including "Shrinking" and "Speechless".
Her only other role has been playing Delilah in all 16 episodes of the 2021 comedy "Generation", which starred Nava Mau, Chloe East and Nathanya Alexander, and was created by Zelda and Daniel Barnz. It follows a group of high school students as they're exploring love and sexuality; the series was nominated for six awards.
Other credits
Lukita made a guest appearance in a 2023 episode of the talk-show "Made in Hollywood".
More than 60,000 people are following Lukita on Instagram today, and she's posted close to 150 pictures and videos onto the network; most of her content shows her during her everyday life, whether she's preparing for her roles, spending time with her pet dog, or swimming in the ocean.
She's also active on Facebook, but uses the account only to chat with her close friends and family members; Lukita has 14 friends on Facebook.
She doesn't have a TikTok account, but is still popular on the network as many users have posted videos of her, and all of these together have been watched more than 3.3 million times.
Lukita Maxwell is too good! 🥲 #Shrinking pic.twitter.com/kHjWlmvV5h

— Farah (@rhythmnbIooms) March 24, 2023
Love life and girlfriend
Lukita rarely speaks about her love life in public but has recently opened up about it and revealed that she's lesbian, and in a relationship with Aly Candland, whom she met at college.
Aly's today mostly into dancing, and is attending her senior year at the University of North Carolina School of the Arts' School of Dance; she's trained in various dance styles, including contemporary, tap and jazz. More than 1,100 people are following Aly on Instagram today, and she's posted 36 pictures and videos, with most of her content featuring her dancing and spending time with Lukita.
There are no other girls whom Lukita's perhaps been with, that we know about; she's in a relationship with Aly Candland as of October 2023, hasn't married and doesn't have children.
Interesting facts and hobbies
Lukita's into fashion, and enjoys reading magazines and attending fashion shows.
She loves to travel, and has been to a number of US states and Asian countries, while her dream travel destination is Bari, Italy.
Lukita's a huge animal lover ,and had various pets while she was growing up; her favorites are parrots and dogs.
She enjoys spending her spare time at the beach, either sun tanning or playing beach sports with her friends; summer and spring are her two favorite seasons as she dislikes cold weather.
Lukita loves music and plays the guitar; her two favorite bands are Fleetwood Mac and Angus & Julia Stone.
Some of her favorite actresses are Tan Sri Michelle Yeoh, Awkwafina and Mindy Kaling, and some of Lukita's favorite movies are "Everything Everywhere All at Once", "Crazy Rich Asians" and "Crouching Tiger, Hidden Dragon".
Appearance and net worth
Lukita's age is 21. Her hair and eyes are brown, she weighs around 115lbs (52kgs) and is 5ft 5ins (1.65m) tall.
Lukita's net worth's been estimated at over $200,000, as of October 2023.