Erica Pinkett is an American-born actress and TV personality, who is perhaps best known for her appearance in the reality TV show "Love & Hip-Hop: Atlanta." She's also credited for her performances in the films "All Eyez on Me" and "The Secret Society", and the TV series "Insatiable."
Age, Early Life, and Education Background
Erica Pinkett hails from Boston, Massachusetts, and was born under the Leo zodiac sign on 13 August 1982, which makes her 41 years old as of 2023. She hasn't revealed the names of her parents, who are Trinidadian and American, nbut was raised alongside her four siblings by her mom. She spent most of her childhood in Atlanta, Georgia.
When she was 18 years old, she relocated to Los Angeles, where she began taking acting classes, and shortly afterwards began modeling.
Career
Pinkett made her acting debut in the second season of the VH1 reality TV series "Love and Hip Hop: Atlanta." She joined the show as an antagonist and rival to Adi "Bambi" Benson, vying for the rapper Lil Scrappy. She was supported by Scrappy's mother, Momma Dee, but the rapper ended up choosing Bambi over her, which ignited a feud between them. By the end of season two, Pinkett had become very popular among viewers, which saw her given a recurring role in the season that followed (season three).
In 2015, Pinkett made her film debut portraying Jackie in the Terry Miles-directed movie "Recognize 2." In the same year, she made a brief appearance in the TV series "Bankroll Squad." One of Pinkett's most notable performances was as Briana in the 2017 Benny Boom-directed biographical movie "All Eyez on Me," which follows the story of the legendary rapper, actor, activist, and poet, Tupac Shakur, as he uses his raw talent, revolutionary mindset, and powerful lyrics to establish himself as one of the world's most influential and recognized voices in the hip-hop and urban music scenes –  he was murdered in 1996.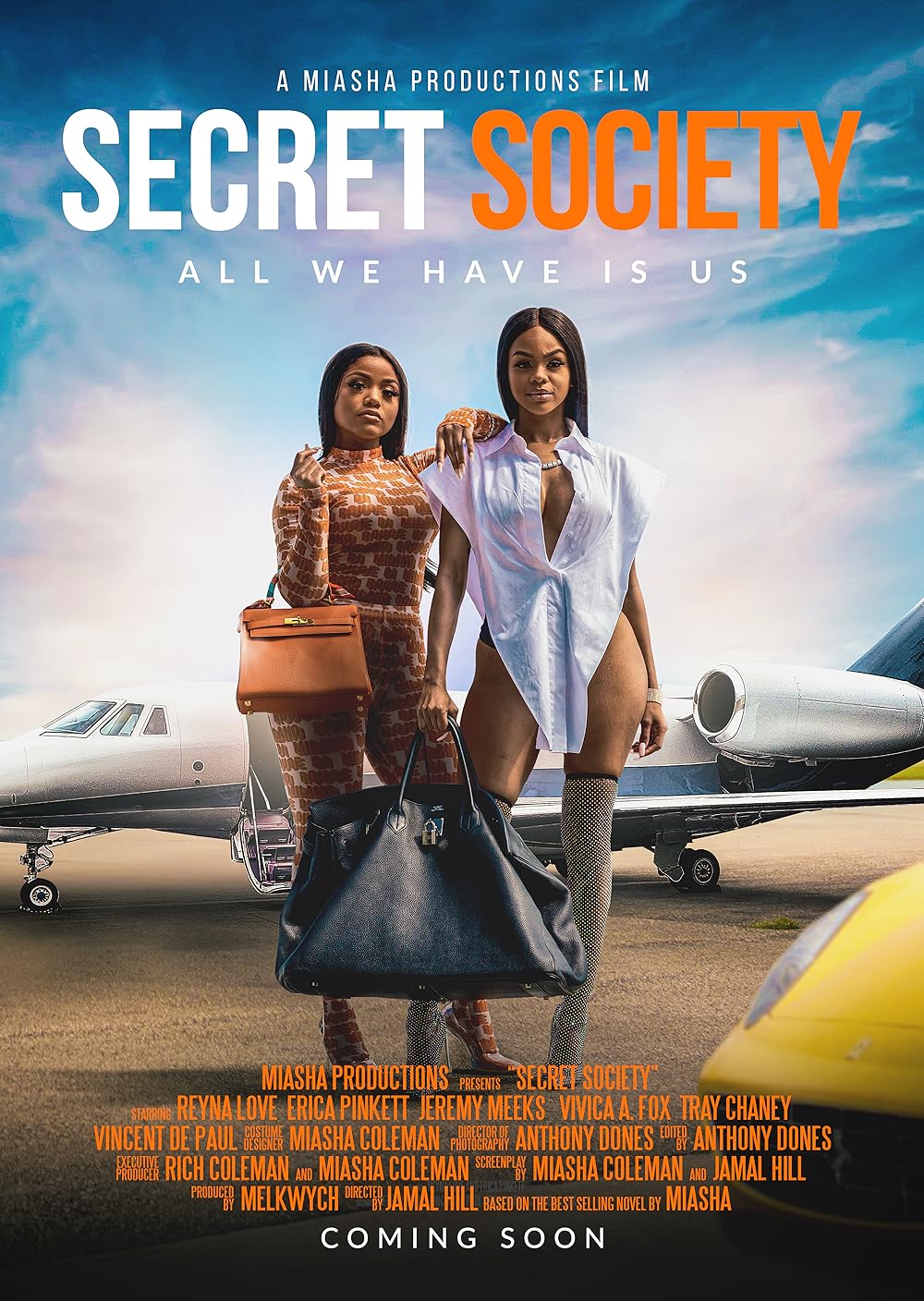 2019 saw Erica appear in an episode of the TV comedy-drama series "Insatiable", then in 2020, Erica landed a starring role in the film "Steppin' Back to Love", sharing the screen with Monique Coleman, Porsha Williams, and Darrin Henson. In the year that followed, she was cast as Tina Prince Rossi, a masterly gold digger, in the film "Secret Society", starring alongside Reyna Love, Jeremy Meeks, and Tray Chaney. In the year that followed, Erica reprised her role of Tina in "Secret Society 2: Never Enough" and in 2023, she appeared in two episodes of the Starz crime TV series "BMF" and the films "Women of the Jury" and "When It Rains."
Pinkett has appeared in music videos for songs by Trey Songs, 8-Ball, MJG, and DJ Kay Slay.
Social Media Presence
Pinkett joined Twitter in July 2009. She goes by @EricaPinkett, and has around 42,000 followers as of late 2023. She is also active on Instagram (@ericapinkett) with over 460,000 followers. Moreover, the TV personality has over 6,500 followers on Facebook.
Personal Life
In an interview with DJ Scream on Hoodrich Radio, Erica spoke about her view on relationships, stating 'I've learned in life is that a lot of us have experienced things in relationships that cause for us to break up or whatever, but when you find someone that's always trying to better themselves, you can pretty much get through anything…If you're dating someone who's not trying to elevate, you're probably gonna have a lot of toxic situations.'
In 2014, Erica had a fling with her "Love and Hip Hop: Atlanta" castmate, the American rapper, Lil Scrappy, who married the urban model, rapper, and vixen, Adi "Bambi" Benson in September 2017. Bambi previously starred in the reality TV show "Basketball Wives LA." It's rumored that Scrappy and Bambi recently ended their marriage with a divorce.
Pinkett has a daughter named Jada Bella – she often posts her photos on her Instagram account. Multiple sources and "Love and Hip Hop: Atlanta" cast members including Bambi have alleged that the father of the child is Lil Scrappy, but Erica hasn't addressed these allegations, leaving the name of the child's father a mystery. Bella has her own Instagram (@jadabellatheactor) which has over 4,000 followers. Pinkett lives with her daughter in Atlanta, Georgia.
Philanthropy and Activism
Pinkett is a dedicated philanthropist, who is also keen on doing volunteer work. She uses her social media presence to speak against domestic abuse and often helps victims of gender-based violence. Pinkett travels across the US encouraging women and teenagers to speak up about their experiences.
Altercation with Bambi
On 9 June 2014, Erica became the victim of a vicious attack at an Atlanta nightclub. According to reports, Erica was leaving a bathroom when a woman named Stephanie Nicole Harp allegedly hit her in the face, violently threw her on the ground, and cut one of her arms with a razor blade. Erica was convinced that Lil Scrappy's then-girlfriend, Bambi, was responsible for ordering the hit because they were feuding over Lil Scrappy. She also suspected Bambi because she (Bambi) had made it clear that she was not okay with her sending her condolences after she suffered a miscarriage. It's reported that Erica tried to get her revenge on Bambi by throwing hot food at her during their meeting with Lil Scrappy's mother.
Altercation with Lil Scrappy
Erica and Lil Scrappy made a scene in an episode of "Love and Hip Hop: Atlanta" when they had an altercation. The duo got into a heated argument on the set when Erica confronted the rapper, asking him to stop sending her late-night texts and sex requests. When Lil Scrappy denied her allegations, Erica grew very angry, threw a drink at him, and threatened to slap him. In an attempt to calm her down, Lil Scrappy warned Erica that he would not hesitate to hit her if she slapped him. Lil Scrappy's mother later visited Erica in her apartment with a bouquet of flowers to apologize on behalf of her son.
Height, Weight, and Physical Appearance
Erica is of Afro-American ethnicity, and has black hair and dark brown eyes. She stands 5ft 3ins (1.60m) tall and weighs approximately 120lbs (54kgs). Some of her distinctive features include plush lips and a thick waist-long hairstyle.
Net worth
Erica's main source of income is her acting career. She's worth approximately $1.5 million as of 2023.