Who is Isabella Crovetti?
Isabella Crovetti is a young American actress, known for her work in both live-action and animated roles. She gained recognition for voicing Vampirina Hauntley in the animated series "Vampirina", and has appeared in live-action shows such as "Colony" and "Shimmer and Shine".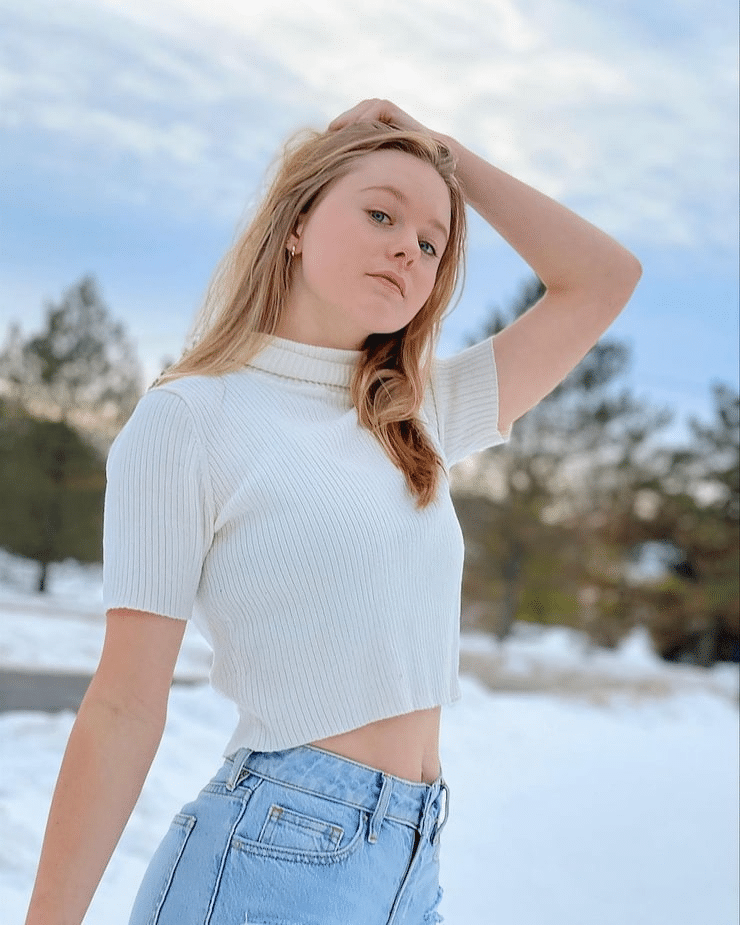 Isabella Crovetti Wiki: Age, Childhood, and Education
Isabella Veneranda-Patricia Cramp was born on 18 December 2004, in California, USA. She has two brothers, Cameron and Nicholas Crovetti. Her mother, Denise Crovetti, is a Broadway and film actress, while her father, Bradley Cramp, works as a producer and writer. Isabella hasn't shared which school she attended, but has said that she's passionate about history and enjoys learning about it, although she dislikes memorizing dates for tests.
Career Beginnings
Isabella Crovetti started acting in 2010, through her parents' industry connections. She joined the Osbrink Talent Agency, a leading agency for kids in Los Angeles, and within a month, she began booking commercials, voice-overs, and TV roles. She also had opportunities to meet renowned film directors such as Cameron Crowe, Chris Koch, Shawn Levy, Juan José Campanella and David O Russell.
In 2011, Isabella Crovetti had her first roles. In the TV series "Mike & Molly", she played Cindy in the episode "Christmas Break". The show starred Melissa McCarthy and Billy Gardell and followed the lives of a couple in Chicago.
She also appeared as Young Amy in the episode "Consider Helen" of "Enlightened". This series featured Laura Dern, and focused on a woman who tries to improve her life after a breakdown.
Crovetti took on more roles, including in the soap opera "The Young and the Restless". She portrayed Young Avery in the episode "Lily Convinces Cane to Visit Genevieve". The show features actors such as Eric Braeden and Amelia Heinle.
Amazing time at the @wreckitralph premiere! Loved hanging with @aubreyandersonemmons and @theallantwins ! #wreckitralph2 #wreckitralph #premier @sarahkatesilverman @janelynchofficial @alantudyk

Posted by Isabella Crovetti on Tuesday, November 6, 2018
Additionally, she appeared as Young Jan Gramercy in the episode "Crowned" of the long-running crime drama "CSI: Miami", starring David Caruso and Emily Procter.
Isabella Crovetti's television career was on a steady rise. After her early appearances, she continued to secure roles in popular shows. In the series "Happy Endings", in which she portrayed Young Alex from 2011 to 2012, she shared the screen with notable stars such as Elisha Cuthbert and Eliza Coupe. The show revolved around the humorous adventures of a group of friends living in Chicago.
In 2012, Isabella made her mark in "In Plain Sight", playing Young Mary in the episode "The Medal of Mary". This crime drama series featured Mary McCormack and Frederick Weller, focusing on the life of a US Marshal involved in the witness protection program. Isabella's early roles were only a glimpse of what was to come for her in the following years.
Rise to Stardom
Isabella took on a significant role playing Abby Weaver, one of the main characters in the TV series "The Neighbors" from 2012 to 2014, This science fiction sitcom also featured stars such as Jami Gertz and Lenny Venito, and followed the story of a family who moved to a suburban community only to discover that their neighbors were aliens from another planet, leading to comical and often absurd situations. This role marked a substantial step in Isabella's growing acting career.
While she was busy with her role in "The Neighbors", Isabella Crovetti also made two guest appearances in popular series. In 2013, she appeared as Sarah in the episode "The Gang Saves the Day" of the sitcom "It's Always Sunny in Philadelphia" This long-running comedy series featured main stars such as Charlie Day and Kaitlin Olson, and focused on the hilarious misadventures of a group of friends.
In 2014, she guest-starredas Wendy McMillan in the episode "Snack Attack" of "Jessie". The show was led by Debby Ryan, and portrayed the life of a young nanny and her experiences taking care of a high-profile family.
Isabella Crovetti expanded her repertoire by entering the world of voice acting in 2015. She took on the central role of Shine in the animated series "Shimmer and Shine", in which she was the main voice talent for this character, alongside main stars such as Eva Bella and Alina Foley, who voiced the other titular characters, Shimmer and Leah.
"Shimmer and Shine" is a beloved children's animated series that captivated young audiences with its enchanting tales of two genie sisters-in-training, who grant wishes to their human friend, Leah.
The same year, Isabella played the role of Young Joy in the film "Joy", alongside main stars Jennifer Lawrence, Robert De Niro, and Bradley Cooper. This biographical comedy-drama weaves the inspiring narrative of Joy Mangano, a self-made millionaire and successful entrepreneur. Isabella's portrayal of Young Joy in this star-studded film underlined her growing influence in the world of cinema.
Isabella Crovetti's journey in entertainment continued to flourish, even as she excelled in voice acting. In 2016, she secured the significant role of Gracie Bowman in the TV series "Colony", a science fiction drama that unfolds in a dystopian future in which Earth is occupied by an extraterrestrial force, sharing the screen with prominent stars such as Josh Holloway and Sarah Wayne Callies.
Isabella Crovetti's career remained diverse, as she balanced voice acting and on-screen roles. In 2017, she lent her voice to the character Ash in the animated series "Whisker Haven", taking on this voice role for three episodes. Her ability to transition seamlessly between voice acting and on-screen performances highlighted her adaptability and growing presence in the entertainment industry.
Another prominent voice acting project in Isabella's career was in "Vampirina" from 2017 to 2021. Isabella was the lead voice talent, giving life to the character Vampirina, also known as "Vee" Hauntley. The show featured other notable voice actors, such as Lauren Graham, James Van Der Beek and Patti Lu Pone, based on the series of books written by Anne Marie Pace, and followed the adventures of a young vampire girl who moves to Pennsylvania, facing the challenges of being different while trying to fit in with her human friends.
Crovetti continued to broaden her acting portfolio  – in 2020, she appeared in Disney's film "Magic Camp" playing Ruth; the film featured notable stars such as Adam Devine and Jeffrey Tambor and followed the story of a magician who returns to the camp of his youth.
In 2021, Isabella was part of the film "He's All That", in which she portrayed Brin Kweller. This modern adaptation of the classic teen comedy "She's All That" starred actors such as Addison Rae and Tanner Buchanan.
Most recently, Isabella Crovetti was selected to voice the character Zsa Zsa in the animated series "SuperKitties" in 2023.
Net Worth
According to authoritative sources, Isabella Crovetti's net worth is estimated at $2 million, as of late 2023.
Personal Life, Dating, Boyfriend, Single
Isabella Crovetti is very secretive about her personal life and as a result, there's no information about it, including relationships. According to some reports, Isabella is currently single, and solely focused on her rising career.
Appearance and Body Measurements
Isabella Crovetti has blonde hair and blue eyes. She stands at a height of 5ft 2ins (1.62m), weighs approximately 115lbs (52kgs), with vital statistics of 32-24-35 and bra size 30A.